Stupid is as stupid does
Rizzolo loses another case in Small Claims Court


INSIDE VEGAS by Steve Miller
AmericanMafia.com
October 10, 2005
This is a very old and very stupid story -- a story that doesn't seem to have an end.
LAS VEGAS - According to sources close to the FBI's investigation,
Rick Rizzolo
is days away from being indicted for racketeering, but
the purported owner of the blood soaked Crazy Horse Too strip bar, continues pestering his next door neighbor, Buffalo Jim Barrier, by illegally towing Barrier's customer's cars from a bogus "Fire Lane."
.
(L to R) Ralph Rizzolo and attorney Jon Norheim Rizzolo's "Fire Lane" is blocked by electrical transformers,
listen as Rick Rizzolo points to his "Fire Lane." and used as valet parking area at night.
(Photo by Buffalo Jim Barrier)
Rizzolo's "Fire Lane" was removed by the city several years ago because of electrical transformers blocking the movement of emergency equipment. But that didn't stop the strip club mogul. He had his own "Fire Lane" signs painted and posted on the side of Buffalo Jim's auto repair shop. Then, with the city's help, Barrier's customer's cars were towed during the day, while the strip club used the space at night for VIP parking.
You see, Barrier's business of 29 years is blocking the
expansion
of Rizzolo's club, and Rizzolo, for some unknown reason, doesn't want to buy out the remainder of Barrier's lease (Barrier pays only forty-three cents per square foot rent). Instead, Rizzolo bought the shopping center that houses both businesses, and three times unsuccessfully attempted to evict Barrier. That was 2002, this is 2005, and the highly publicized conflict rages on.
Immediately after he bought the center, while Barrier tried to make a living fixing cars as he has done in the same location since 1976, Rizzolo, who moved next door in 1987, called in favors from the
mayor
-- a former criminal defense attorney who represented a number of Rizzolo's associates in the 70s and 80s. City Parking Enforcement officers obediently began patrolling the topless bar's parking lot on an hourly basis to ticket only Barrier's customers. Barrier was forced to sue Rizzolo for
harassment
. When I began writing
stories
about the city helping to harass Barrier, the city suddenly stopped their patrols, but Rizzolo continued towing!
.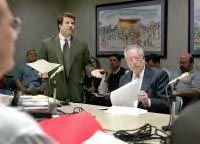 City patrolled topless bar parking lot hourly Rizzolo's lawyer Dean Patti and mayor speak
in favor of
ordinances
to expand Crazy Horse
and allow
teenage stripers
Barrier sued Rizzolo in small claims court each time a car was towed. Every judge ruled Rizzolo could not arbitrarily tow cars, and assessed him damages. Rizzolo continued the towing, claiming he was helping to clear a fire lane! Last Monday, a court referee
decided
that Rizzolo must again reimburse the car's owner $405 for the inconvenience saying: "Plaintiff's testimony is credible as to how car was parked and towed. No evidence from Defendant on actual boundaries of Fire Lane. Plaintiff is entitled to damages..."
For the past several years, each time Barrier prevailed in small claims court -- and that's
every
time, Rizzolo's attorneys, Dean Patti and Tony Sgro,
, appealed the rulings to District Court while charging their client thousands in legal fees. However, despite their best efforts, all appeals failed, and their client continues to suffer humiliating defeats, defeats I report in my daily Insider E-Briefs that are read by most attorneys and judges in the Las Vegas area.
This is the same prestigious legal team that in 2002 advised Rizzolo he could evict Barrier if he purchased the shopping center. Rizzolo went forward and offered the property's owner twice its worth, and as soon as the ink dried on the deed of trust, filed the eviction papers. The case went to court, and Rizzolo lost. He had been advised by Patti and Sgro to sign a secret agreement stating: "...Buyer has been advised that the property is subject to certain leases... and it agrees to purchase the Property subject to the terms of said leases."

This agreement was meant to be confidential, but soon after it was signed, an employee of Patti and Sgro handed it to INSIDE VEGAS. I included it in a column. When the document suddenly appeared in court, Rizzolo suffered the first in a series of humiliating court defeats. That's when his towing fetish first started.


Barrier displays cash judgment District Court
awarded
on April 16, 2004
for illegal towing.
Plaque says, "Buffalo whups Rizzolo"
Then, the esteemed Patti and Sgro did it again. This time they advised their biggest client to divorce his wife and transfer all his assets to her, plus $85,000 per month in alimony to purportedly escape forfeiture and awards at upcoming trials. This move inspired Jane Ann Morrison of the

Las Vegas Review-Journal

to write, "Rizzolo didn't have the smarts to seal his records, which showed his wife of 27 years was treated generously, receiving three of their homes, three of their cars and remains his insurance beneficiary. Rizzolo's exposure to a potential criminal indictment and a pending civil lawsuit could have prompted the divorce as a way to put Rizzolo's assets in his ex-wife's name."


The only fact Patti and Sgro didn't tell Rizzolo was that he should have done it
prior
to the
federal investigation
, and that this sham will most likely be reversed if and when he's convicted of racketeering by the feds, and ordered to pay damages in the
Kirk Henry
civil case.
When INSIDE VEGAS writes of other Sin City subjects, e-mails begin arriving from AmericanMafia.com readers asking about the status of Mr. Rizzolo. Its obvious the mercurial Rick Rizzolo is one of your favorite subjects. A man once referred to as a "Pillar of the community," now reduced to wasting immeasurable hours and money fighting a juvenile war in a "Judge Judy" type courtroom.

On the other hand, there's Buffalo Jim Barrier, the former pro wrestler who loves publicity. His garage business has never been better, and this year he was named "Las Vegas most colorful character" in the

Review-Journal

Reader's Poll. His claim to fame? He's standing up to the Mob! Never before has the Mob so

underestimated

a foe!

.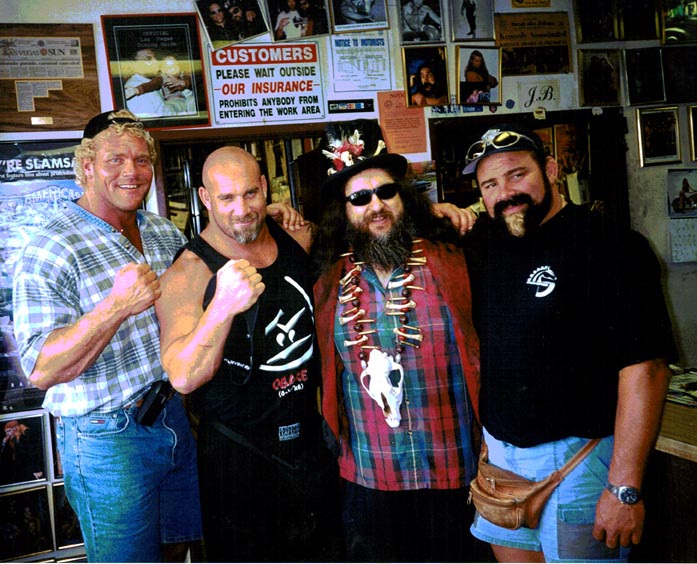 Rizzolo's crew: Greg Liosi, Bobby D'Apice,
Joe Blasko
, Pro wrestlers Psycho Sid, Bill Goldberg, and Rick Steiner
Ray Randazzo,
Mo McKenna
, and
Vinnie Faraci
. show Buffalo Jim their support. (photo by Mike Christ)
This is a very old story, and parts of it fall into the realm of pure stupidity -- even sick comedy. I'm almost embarrassed to keep repeating it. However, the antics of the principal players show that Mr. Rizzolo and his pals are not fully aware they may be facing years in prison. Meanwhile, they tow cars and appear in small claims court demanding justice.
Though the amount of effort I've expended on telling this sordid tale seems excessive -- even compulsive, the end of the story is finally in sight. For those doing research for the upcoming trials, I provide the following chronology with links to
Las Vegas Tribune
,
TwistedBadge.com
, and
AmericanMafia.com
articles I authored about Rick Rizzolo, et. al. My research began on February 11, 1999, and continues through the present day. Included are additional links to in-depth investigative reports by Glen Meek, John William Tuohy, Jon Ralston, Jeff German, Jon Moser, Cathy Scott, John L. Smith, and Dateline NBC.
Las Vegas Tribune - 02/11/1999 through
11/20/2002
:
http://www.stevemiller4lasvegas.com/crazyh1.html
http://www.stevemiller4lasvegas.com/MANIPULATION.htm
http://www.stevemiller4lasvegas.com/McDonaldsMafia.htm
http://www.stevemiller4lasvegas.com/CitySuedOverIllegalExpansionofToplessNightclub.htm
http://www.stevemiller4lasvegas.com/CouncilmanRizzolo.htm
http://www.stevemiller4lasvegas.com/TheHorsesAss.htm
http://www.stevemiller4lasvegas.com/CrazyHorseandtheBattleofLittleBigHorn.htm
http://www.stevemiller4lasvegas.com/WrongfulDeath.htm
http://www.stevemiller4lasvegas.com/MotionDenied.htm
http://www.stevemiller4lasvegas.com/ABrokenNeck.htm
http://www.stevemiller4lasvegas.com/BeatingAtToplessBar.htm
http://www.stevemiller4lasvegas.com/TIPSProgramIgnored.htm
http://www.stevemiller4lasvegas.com/ShowCauseHearing.htm
http://www.stevemiller4lasvegas.com/MrRizzoloShootsAtTheMessenger.htm
http://www.stevemiller4lasvegas.com/RizzoloLetterToEditor.htm
http://www.stevemiller4lasvegas.com/TerrorAndCarnageOnIndustrialRoad.htm
http://www.stevemiller4lasvegas.com/AnotherVictim.html
http://www.stevemiller4lasvegas.com/CabbieDiversionHypocrisy.htm
http://www.stevemiller4lasvegas.com/WrongfulDeathTrialPostponed.htm
http://www.stevemiller4lasvegas.com/RenatasExposure.htm
http://www.stevemiller4lasvegas.com/AnotherBeatingAtCrazyHorse.htm
http://www.stevemiller4lasvegas.com/ExpansionOfToplessBarStymied.htm
http://www.stevemiller4lasvegas.com/MoronInTheirMidst.htm
http://www.stevemiller4lasvegas.com/FireDepartmentUsedAsPawn.htm
http://www.stevemiller4lasvegas.com/FireOfficialsAccused.htm
http://www.stevemiller4lasvegas.com/SaittaShouldRecuse.htm
http://www.stevemiller4lasvegas.com/ChildrenPicketToplessBar.htm
http://www.stevemiller4lasvegas.com/LoiteringControversy.htm
http://www.stevemiller4lasvegas.com/WeHaveTheRightToBrag.htm
http://www.stevemiller4lasvegas.com/BarrierSuesRizzolo.htm
http://www.stevemiller4lasvegas.com/FauCaseScheduledThirdTime.htm
http://www.stevemiller4lasvegas.com/CityEnforcingParkingOnPrivateProperty.htm
http://www.stevemiller4lasvegas.com/Clout.htm
http://www.stevemiller4lasvegas.com/DistrictAttorneyShowsHisPriorities.htm
http://www.stevemiller4lasvegas.com/TwoTrialsSetForRizzolo.htm
http://www.stevemiller4lasvegas.com/IsItPaybackTime.htm
http://www.stevemiller4lasvegas.com/BarrierWinsRoundAgainstRizzolo.htm
http://www.stevemiller4lasvegas.com/MoreHarassmentAllegationsFiled.htm
http://www.stevemiller4lasvegas.com/CrazyHorseAttemptsToEvictBuffalo.htm
http://www.stevemiller4lasvegas.com/AnotherAssualtAllegedAtCrazyHorseTwo.htm
http://www.stevemiller4lasvegas.com/RizzoloExplainsWhatHappened.htm
TwistedBadge.com -
12/27/2001 through 9/04/2004
:

http://twistedbadge.com/nevada_9.htm
http://twistedbadge.com/nevada_12.htm
http://twistedbadge.com/nevada_14.htm
http://twistedbadge.com/nevada_15.htm
http://twistedbadge.com/nevada_16.htm
http://twistedbadge.com/nevada_18.htm
http://twistedbadge.com/nevada_24.htm
http://twistedbadge.com/nevada_25.htm
http://twistedbadge.com/nevada_26.htm
AmericanMafia.com -
9/16/2002 through 9/5/2005
:
http://www.americanmafia.com/Inside_Vegas/9-16-02_Inside_Vegas.html
http://www.americanmafia.com/Inside_Vegas/10-7-02_Inside_Vegas.html
http://www.americanmafia.com/Inside_Vegas/10-14-02_Inside_Vegas.html
http://www.americanmafia.com/Inside_Vegas/10-28-02_Inside_Vegas.html
http://www.americanmafia.com/Inside_Vegas/11-4-02_Inside_Vegas.html
http://www.americanmafia.com/Inside_Vegas/11-11-02_Inside_Vegas.html
http://www.americanmafia.com/Inside_Vegas/11-18-02_Inside_Vegas.html
http://www.americanmafia.com/Inside_Vegas/11-25-02_Inside_Vegas.html
http://www.americanmafia.com/Inside_Vegas/12-2-02_Inside_Vegas.html
http://www.americanmafia.com/Inside_Vegas/12-9-02_Inside_Vegas.html
http://www.americanmafia.com/Inside_Vegas/12-16-02_Inside_Vegas.html
http://www.americanmafia.com/Inside_Vegas/1-6-03_Inside_Vegas.html

http://www.americanmafia.com/Inside_Vegas/1-13-03_Inside_Vegas.html
http://www.americanmafia.com/Inside_Vegas/1-20-03_Inside_Vegas.html

http://www.americanmafia.com/Inside_Vegas/2-3-03_Inside_Vegas.html
http://www.americanmafia.com/Inside_Vegas/2-10-03_Inside_Vegas.html

http://www.americanmafia.com/Inside_Vegas/2-24-03_Inside_Vegas.html

http://www.americanmafia.com/Inside_Vegas/3-10-03_Inside_Vegas.html

http://www.americanmafia.com/Inside_Vegas/3-24-03_Inside_Vegas.html
http://www.americanmafia.com/Inside_Vegas/4-14-03_Inside_Vegas.html
http://www.americanmafia.com/Inside_Vegas/4-28-03_Inside_Vegas.html
http://www.americanmafia.com/Inside_Vegas/5-5-03_Inside_Vegas.html
http://www.americanmafia.com/Inside_Vegas/5-12-03_Inside_Vegas.html
http://www.americanmafia.com/Inside_Vegas/5-19-03_Inside_Vegas.html

http://www.americanmafia.com/Inside_Vegas/5-26-03_Inside_Vegas.html

http://www.americanmafia.com/Inside_Vegas/6-2-03_Inside_Vegas.html
http://www.americanmafia.com/Inside_Vegas/6-23-03_Inside_Vegas.html

http://www.americanmafia.com/Inside_Vegas/7-7-03_Inside_Vegas.html

http://www.americanmafia.com/Inside_Vegas/7-28-03_Inside_Vegas.html

http://www.americanmafia.com/Inside_Vegas/8-4-03_Inside_Vegas.html
http://www.americanmafia.com/Inside_Vegas/8-11-03_Inside_Vegas.html
http://www.americanmafia.com/Inside_Vegas/8-18-03_Inside_Vegas.html

http://www.americanmafia.com/Inside_Vegas/9-1-03_Inside_Vegas.html
http://www.americanmafia.com/Inside_Vegas/9-8-03_Inside_Vegas.html

http://www.americanmafia.com/Inside_Vegas/9-15-03_Inside_Vegas.html
http://www.americanmafia.com/Inside_Vegas/9-29-03_Inside_Vegas.html
http://www.americanmafia.com/Inside_Vegas/10-6-03_Inside_Vegas.html
http://www.americanmafia.com/Inside_Vegas/10-20-03_Inside_Vegas.html

http://www.americanmafia.com/Inside_Vegas/10-27-03_Inside_Vegas.html

http://www.americanmafia.com/Inside_Vegas/11-3-03_Inside_Vegas.html

http://www.americanmafia.com/Inside_Vegas/11-10-03_Inside_Vegas.html

http://www.americanmafia.com/Inside_Vegas/11-17-03_Inside_Vegas.htm
l
http://www.americanmafia.com/Inside_Vegas/11-24-03_Inside_Vegas.html

http://www.americanmafia.com/Inside_Vegas/12-29-03_Inside_Vegas.html

http://www.americanmafia.com/Inside_Vegas/1-12-04_Inside_Vegas.html

http://www.americanmafia.com/Inside_Vegas/1-19-04_Inside_Vegas.html
http://www.americanmafia.com/Inside_Vegas/1-26-04_Inside_Vegas.html
http://www.americanmafia.com/Inside_Vegas/2-2-04_Inside_Vegas.html
http://www.americanmafia.com/Inside_Vegas/2-16-04_Inside_Vegas.html
http://www.americanmafia.com/Inside_Vegas/2-23-04_Inside_Vegas.html
http://www.americanmafia.com/Inside_Vegas/3-29-04_Inside_Vegas.html
http://www.americanmafia.com/Inside_Vegas/4-5-04_Inside_Vegas.html
http://www.americanmafia.com/Inside_Vegas/4-26-04_Inside_Vegas.html
http://www.americanmafia.com/Inside_Vegas/5-17-04_Inside_Vegas.html
http://www.americanmafia.com/Inside_Vegas/5-24-04_Inside_Vegas.html
http://www.americanmafia.com/Inside_Vegas/5-31-04_Inside_Vegas.html
http://www.americanmafia.com/Inside_Vegas/6-14-04_Inside_Vegas.html
http://www.americanmafia.com/Inside_Vegas/6-21-04_Inside_Vegas.html

http://www.americanmafia.com/Inside_Vegas/7-5-04_Inside_Vegas.html
http://www.americanmafia.com/Inside_Vegas/7-19-04_Inside_Vegas.html

http://www.americanmafia.com/Inside_Vegas/7-26-04_Inside_Vegas.html
http://www.americanmafia.com/Inside_Vegas/8-2-04_Inside_Vegas.html
http://www.americanmafia.com/Inside_Vegas/8-9-04_Inside_Vegas.html
http://www.americanmafia.com/Inside_Vegas/8-16-04_Inside_Vegas.html
http://www.americanmafia.com/Inside_Vegas/8-23-04_Inside_Vegas.html

http://www.americanmafia.com/Inside_Vegas/8-30-04_Inside_Vegas.html
http://www.americanmafia.com/Inside_Vegas/9-20-04_Inside_Vegas.html

http://www.americanmafia.com/Inside_Vegas/10-4-04_Inside_Vegas.html
http://www.americanmafia.com/Inside_Vegas/11-1-04_Inside_Vegas.html
http://www.americanmafia.com/Inside_Vegas/11-8-04_Inside_Vegas.html
http://www.americanmafia.com/Inside_Vegas/11-15-04_Inside_Vegas.html

http://www.americanmafia.com/Inside_Vegas/12-6-04_Inside_Vegas.html
http://www.americanmafia.com/Inside_Vegas/12-27-04_Inside_Vegas.html
http://www.americanmafia.com/Inside_Vegas/1-24-05_Inside_Vegas.html
http://www.americanmafia.com/Inside_Vegas/1-31-05_Inside_Vegas.html

http://www.americanmafia.com/Inside_Vegas/2-14-05_Inside_Vegas.html

http://www.americanmafia.com/Inside_Vegas/2-21-05_Inside_Vegas.html
http://www.americanmafia.com/Inside_Vegas/3-14-05_Inside_Vegas.html
http://www.americanmafia.com/Inside_Vegas/3-21-05_Inside_Vegas.html
http://www.americanmafia.com/Inside_Vegas/4-4-05_Inside_Vegas.html
http://www.americanmafia.com/Inside_Vegas/4-18-05_Inside_Vegas.html

http://www.americanmafia.com/Inside_Vegas/4-25-05_Inside_Vegas.html
http://www.americanmafia.com/Inside_Vegas/5-9-05_Inside_Vegas.html

http://www.americanmafia.com/Inside_Vegas/5-30-05_Inside_Vegas.html

http://www.americanmafia.com/Inside_Vegas/6-13-05_Inside_Vegas.html
http://www.americanmafia.com/Inside_Vegas/7-4-05_Inside_Vegas.html

http://www.americanmafia.com/Inside_Vegas/8-1-05_Inside_Vegas.html

http://www.americanmafia.com/Inside_Vegas/8-15-05_Inside_Vegas.html

http://www.americanmafia.com/Inside_Vegas/9-5-05_Inside_Vegas.html