---
Steve Miller is a former Las Vegas City Councilman. In 1991, the readers of the Las Vegas Review Journal voted him the "Most Effective Public Official" in Southern Nevada. Visit his website at: http://www.SteveMiller4LasVegas.com

---
Rizzolo Honored at Prison Themed Party in Newport Beach,

then a Judge Gives Him a Bon Voyage Present by
Throwing Out Buffalo Jim Barrier's Lawsuit!


"You and Steve fought a good fight. You should be proud of yourselves. I read everything Steve writes. I voted the way Steve suggested so I could bring the item back, but nobody cared. It wouldn't have made a difference. Incidentally, tell Steve I'm having the pot holes on his street fixed." - Councilwoman Lois Tarkanian to Buffalo Jim Barrier the day after the Crazy Horse Too received a permanent liquor license


INSIDE VEGAS by Steve Miller
AmericanMafia.com
May 7, 2007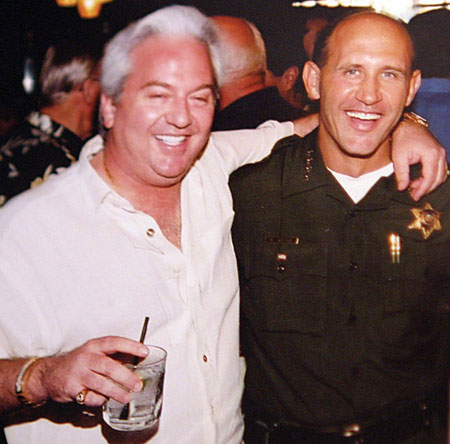 .
.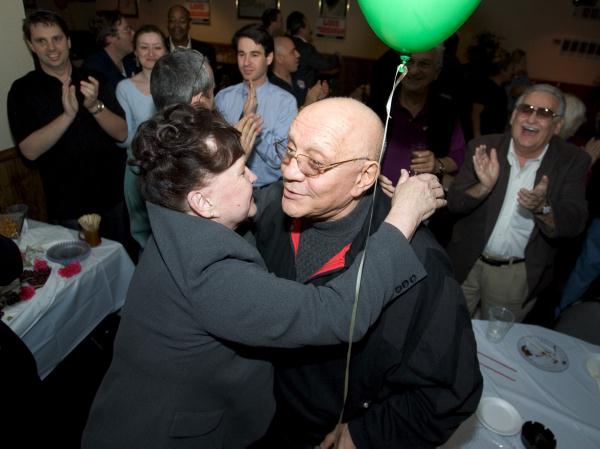 Rick Rizzolo and O.C. Sheriff Mike Carona,
Freddie Glusman,
Carona and Gary Primm, Lois and Jerry Tarkanian



NEWPORT BEACH - My source in lush Newport Beach, California described a bunch of Orange County and Las Vegas businessmen and mob guys acting like amateur OB/GYN's "practicing their love"
with a bunch of
Sin City
silicon babes last Sunday at a party to honor convicted felon Rick Rizzolo three weeks before he goes off to the slammer.

Why was the party held in Newport Beach instead of Vegas? Possibly because of who attended and their desire not to be identified. And Newport and Laguna Beach are the sanctuaries of Sin City movers and shakers.


It was a grand bon voyage party at Freddie Glusman's Ritz Restaurant (Rizzolo is the suspected hidden owner), but after the last guest vanished into the foggy night, Rizzolo came to the realization he has only three weeks left of his freedom. On May 22, he'll turn himself in at the gate of Taft Federal Prison Camp for a lonely twelve month stay as pay back for years of racketeering and tax evasion.
Buffalo Jim Barrier was

not

invited to the party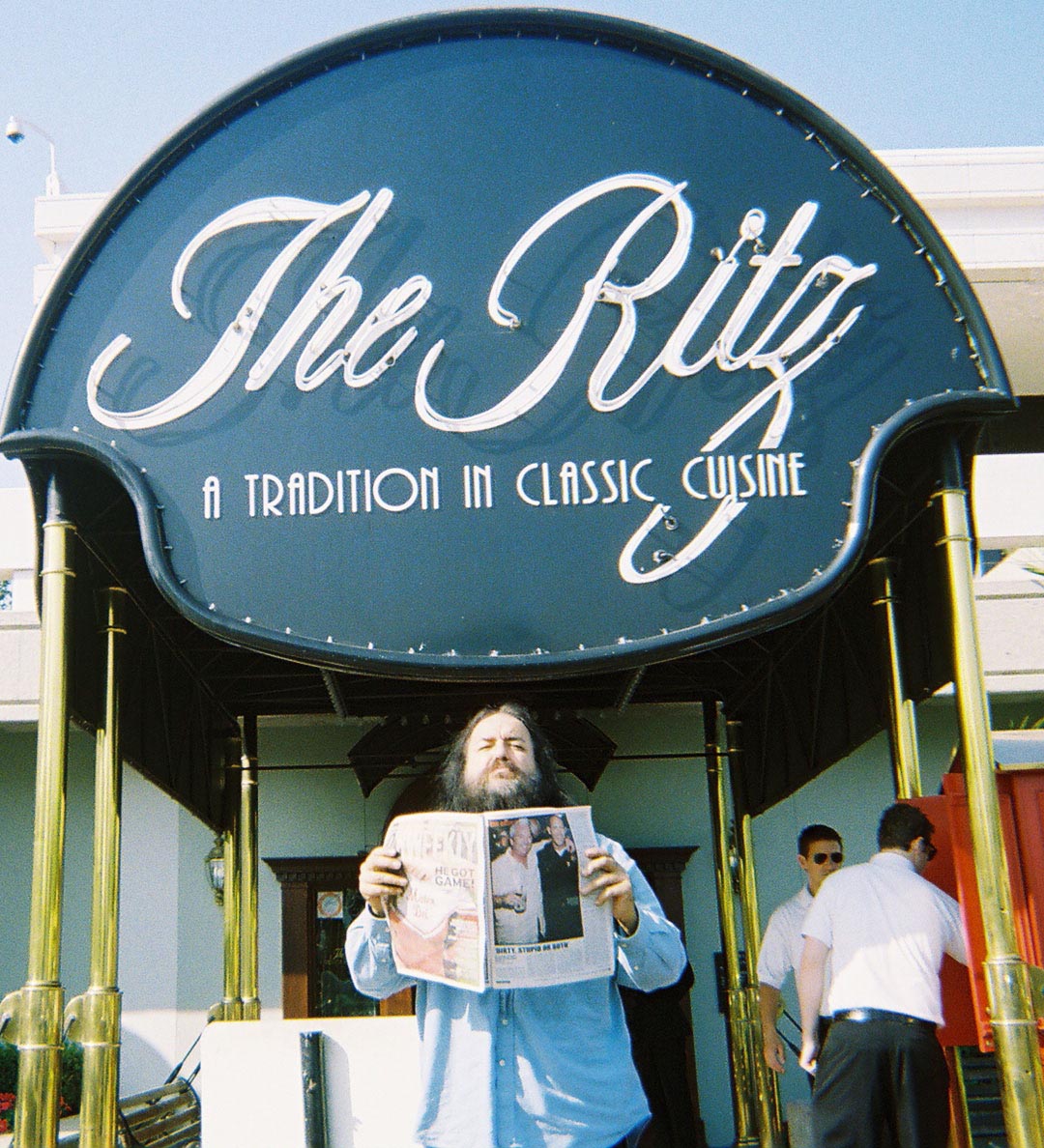 Among the honored guests were casino owner Gary Primm, and former UNLV basketball coach Jerry Tarkanian.

Inspired by my INSIDE VEGAS column, "Coming Soon!

The Frederick Rizzolo Collection

,"
Glusman spent thousands for authentic costumes and party favors.
This is how my source described the melancholy evening: "I despise these people. Rizzolo had Joe Pesci, Jerry Tarkanian, Gary Primm among other old Las Vegas cronies of his that have one foot in the grave. They were accompanied by silicon filled hookers that stood out at the Ritz like the Grand Wizard of the KKK at a Martin Luther King rally. Others present were very prominent professionals in business in the Newport Beach area. Guests were all met by Ritz employees dressed in prison outfits pointing machine guns at them. All guests were provided with handcuffs and other prison/inmate related novelties. In addition, all guests had their pictures taken while standing behind a makeshift prison cell with jail bars with Taft Penitentiary booking number and all.
It was meant to be a slap in the face to the Feds."
Party favors included: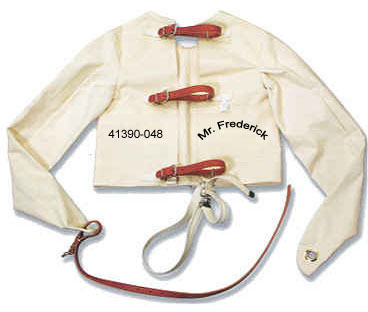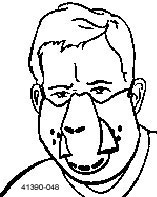 Mr. Frederick

Designer Strait Jackets

Mr. Frederick

Designer Bite Masks
Includes crotch strap to prevent slipping jacket over head To be used with Wrist Cuffs (below)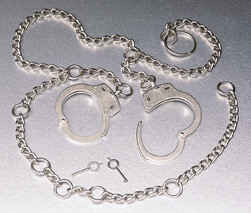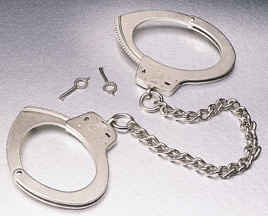 Mr. Frederick
Belly Chain-Separated Wrist Cuffs
Mr. Frederick
Leg Irons (satin finish w/2 keys)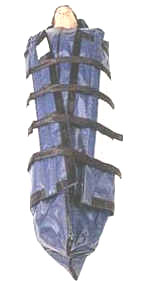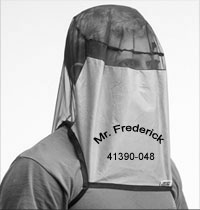 (Left)
Mr. Frederick
Rubber Suicide Smocks (one size fits all)

(Middle)
Mr. Frederick
Full Body Restraint &
Quit Smoking
Bags

(Right)

Mr. Frederick

Spit Nets



Imitation is the sincerest form of flattery, but when I penned the column that linked to the manufacturer and distributor of real jail products, I never imagined inspiring a sick going away party for a hoodlum, or the expenditure of thousands of dollars to purchase bite masks, spit nets, straight jackets, and hand cuffs to be used as party favors!

That said, two ironies occurred last Sunday. One of the guests, Gary Primm, is the holder of an unlimited gaming license. In Nevada, unlimited gaming license holders are not allowed to associate with known felons. But there he was, hob knobbing with Rizzolo and his pals, many of whom are very familiar with the inside of a jail cell.

Then there was former UNLV basketball coach Jerry Tarkanian. His presence wouldn't be problematic other than his wife is a Las Vegas City Councilwoman who had just voted to grant a mob straw man a permanent liquor license to run Rizzolo's blood soaked Crazy Horse Too topless bar in his absence.

Granted, Councilwoman Lois Tarkanian said she purposely voted with the majority to give her the option of bringing the item back for reconsideration, especially after LV Metro Police and her own City Attorney implored her to deny the license. But alas, the five days allowed for scheduling a reconsideration passed without her taking action.


Then there's Jerry Tarkanian's appearance at Rizzolo's farewell. Jerry and Lois' son Danny has ambition to run for high political office, but his dad's friendship with mob guys may not be
an asset to Danny's political plans. One thing's for sure, the heaviest of Vegas' political campaign contributors are regulars at the Ritz, and many were spotted mingling with Danny's dad at last Sunday's event.

Another Ritz regular is Orange County Sheriff Mike Corana. Suspected of having mob ties, Sheriff Corana has access to
secret organized-crime databases. Maybe that's why he's the favorite son of Rizzolo's cronies who have second homes in the beach cities. (Rick Rizzolo owns a 3,700 sq. ft. beach front estate, but has not yet paid beating victim Kirk Henry one cent from his personal assets, or those he transferred to his ex-wife in a hastily
arranged divorce settlement
during the middle of the Federal investigation -- an action that can be reversed by the Federal Court.)

Reverberations from the City Council's ethical lapse keep coming. Weeks after the permanent liquor license for the Crazy Horse was approved, a story entitled "American Success - Vegas Style" appeared on the front page of the

Las Vegas SUN

. City Hall

reporter Mark Hansel wrote: "
Several on the council said they went along with a second temporary license only to give Metro time to finish an investigation of the business.
But when the report came back last month, the council disregarded Metro's recommendations..."



"
The City Council, though, ignored the advice from its top law enforcement officials and awarded the license to Signorelli...
It's also a question most council members are not eager to answer. Of the five who voted for the license, two - Steve Wolfson and Gary Reese - were willing to discuss the issue. Three others - Lois Tarkanian, Larry Brown and Steven Ross - did not return the Sun's phone calls...
Former Councilman Steve Miller, who has accused Signorelli of being a front for owner Rick Rizzolo - under a court order to sell the club after pleading guilty to federal racketeering charges that this month will send him to prison to serve a 366-day term - threw up his hands in disgust," Hansel wrote.
Then a Vegas judge threw the baby out with the bath water!

A seven year old harassment law suit filed by Rick Rizzolo's next door neighbor Buffalo Jim Barrier was capriciously dismissed last Tuesday by Clark County District Court Judge Elizabeth Gonzalez. This after neither party requested such a dismissal, at least not on the record.
Frankly, I'd rather be attacked by a swarm of malaria-crazed mosquitoes
than have Miller and Barrier on my case.

- John L. Smith,
LV Review-Journal
, 07/27/05
Rick Rizzolo is followed out of Las Vegas Federal Court House by Steve Miller and Buffalo Jim Barrier
after pleading guilty to racketeering and tax evasion. (AmericanMafia.com photo by Mike Christ, 06/01/06)
Judge Gonzalez gave no explanation for her dismissal of the harassment portion of the law suit. It came at the same time as Barrier's motion to dismiss a years old defamation of character lawsuit Rizzolo had against him. Nothing else was supposed to be dismissed.

Rizzolo sued Barrier in 2000 for telling a reporter he thought Rizzolo was involved in racketeering.

It's understandable why a judge would toss out a defamation lawsuit against a person about to go to prison for

racketeering

-- the same word Rizzolo claimed defamed him -- but the harassment portion of the suit was well proven in over a half dozen small claims cases Barrier won for Rizzolo's illegal towing of Barrier's auto shop customer's cars, along with other solid evidence of Rizzolo's actions to illegally evict his neighbor.

The only reason given by Judge Gonzalez for her decision was "Judicial economy," whatever that means.

This was not the first time a portion of Barrier's lawsuit against Rizzolo was scuttled. Judge Nancy M. Saitta (now a Nevada Supreme Court Justice) in 2001 arbitrarily dismissed Barrier's original racketeering claim against Rizzolo that alleged a pattern of activity that qualified under a civil RICO statute. After dismissing his case, Saitta ordered Barrier to pay $4,500 to Rizzolo's lawyers for "wasting their time," though Rizzolo pleaded guilty to racketeering five years later. However, Saitta reluctantly left the harassment element in Barrier's suit and gladly left the defamation element in Rizzolo's counter suit. But Judge Gonzalez
last week
suddenly and without notice dismissed both lawsuits after Barrier and his attorney Gus Flangas had spent years preparing their harassment case.

Judge Saitta has accepted Rizzolo's campaign contributions. Judge Gonzalez has not according to the Secretary of State. In Nevada, it's completely legal for a judge to preside over a case in which a major campaign contributor is a litigant, and at one time Judge Saitta had five consecutive cases on her docket in which Rick Rizzolo was a litigant including one to gag Steve Miller. She said having so many cases involving the same litigant was just a coincidence.

It's well understood why Barrier's remaining harassment case could not go to trial during the Federal investigation, but after Rizzolo was sentenced last June, Judge Gonzalez had ample time before he reports to prison to schedule a non-jury trial date, but never did.

Also, Judge Gonzalez never mentioned holding Rick Rizzolo in contempt of court for failing to appear at five subpoenaed depositions.

Even though Councilwoman Tarkanian's apologetic words were spoken in the past tense, Barrier says he's not discouraged. He believes his civil rights may have been violated by the cursory dismissal of his hard fought for harassment case, and is looking forward to filing a new lawsuit in U.S. Federal Court in the event Judge Gonzalez refuses to reconsider her decision.


Posted on Rick Porrello's Organized Crime Board,
Mon. Apr 30, 2007
:
There is corruption in Vegas like any other city. Vegas is NOT ran by OC. I have personally met Vinny and Rick from Crazy Horse II and neither one is tied to OC. Personally makes me sick that if your name ends in an a, i, e, or o your (sp) in a family and tried with RICO. By the way... what is the proportion of Italian Americans charged with RICO to other ethic groups? Talk about racisim (sp)....
Vegas has crime problem but it isnt (sp) OC...
Ask Miller what his solution is for the black thugs that shoot off pistols in casinos and jump security guards at the MGM. That is a major problem in Vegas... tourist are becoming victims of street gangs and the mayor cant (sp) do nothing.
By the way... Vinny doesnt (sp) have the right to work?? What the **** is that??
I'm tired of this bullshit! -
bd
And so am I. - SM
Copyright © Steve Miller
---
* If you would like to receive Steve's frequent E-Briefs about Las Vegas' scandals, click here: Steve Miller's Las Vegas E-Briefs
Copyright © Steve Miller

email Steve Miller at: Stevemiller4lv@aol.com

---