---
Steve Miller is a former Las Vegas City Councilman. In 1991, the readers of the Las Vegas Review Journal voted him the "Most Effective Public Official" in Southern Nevada. Visit his website at: http://www.SteveMiller4LasVegas.com

---
Galardi checks out before he and
Rizzolo get "quality time" together
INSIDE VEGAS by Steve Miller
AmericanMafia.com
March 26, 2007
Ex-Vegas strip club moguls
Rick Rizzolo
(left) and Mike Galardi (right) were expected to spend five months together in the same minimum security prison, but Galardi is probably having second thoughts after reading last week's
INSIDE VEGAS
.
Sentenced to 30 months for bribing Las Vegas and San Diego politicians, Galardi is still wondering why his Vegas competitor Rizzolo is getting off with a much lighter sentence -- only 12 months for racketeering which included dozens of Crazy Horse Too patrons being beaten if they refused to sign bogus credit card receipts.
Last week, I warned Rizzolo and Galardi: "
Maybe by now Galardi has had time to figure out just who fingered him, and wonder why he's getting so much harsher a sentence than Rizzolo who obviously has much better
political connections
. And after (Vinny) Faraci vacates TCI (Taft Correctional Institution) and leaves Rizzolo unprotected, Galardi, who's as big as a bear and was a standout University of Nevada Reno football player, will have seven months alone with Rizzolo to ask questions and settle their differences. At that time, Rizzolo's political connections may not be able to help him."


Few who are familiar with the brutality at the Crazy Horse will shed a tear if Rizzolo is assigned the bunk above Big Bubba, but Galardi has never been known to condone violence at his former strip clubs, and some were concerned that he might try to take out revenge on the guy who fingered him if he was forced to spend "quality time" at the same Camp.
Days after my March 19 article appeared on AmericanMafia.com, attorneys for Mike Galardi asked the judge to sentence their client to a different low security prison.

On March 23, the Las Vegas Review-Journal reported: "
Galardi's lawyer, Robert Rose, asked that his client serve his term in Lompoc, Calif., Sheridan, Ore., or Yankton, S.D., all facilities that offer drug and alcohol rehabilitation programs. The federal camp in Taft, Calif.,
the facility originally requested by Galardi
, has no such program."


Based on the fact that Galardi was never known to have a drug or alcohol problem, this is a strange request.

Maybe the reality of his one and a half years more of incarceration than Rizzolo has just begun to sink in. Galardi admitted to bribing every politician he could, but he learned his trade from Rizzolo who was not punished for doing the same thing.



Mike McDonald and Mike Galardi in San Diego (FBI photo)



It was Rizzolo who first paid then-LV Councilman Mike McDonald $5,000 per month "consulting fees" to allegedly harass Galardi and other strip club owners.

When Galardi also began paying McDonald $5,000 per month to reportedly leave him alone, Rizzolo was heard on wire taps mocking Galardi and calling him stupid.

Rizzolo continued paying McDonald, an ex-cop, and the beatings and robberies at the Crazy Horse continued while McDonald's cronies at Metro P.D. looked the other way while reportedly accepting comps in the club's V.I.P. room.

In addition to McDonald, Rizzolo tried to pay off David Roger, the local District Attorney. After I exposed the attempt in an article I authored for TwistedBadge.com, Roger hastily returned Rizzolo's money, but still dutifully dropped all prosecutions associated with Rizzolo's club.

Neither Roger nor McDonald were prosecuted for accepting Rizzolo's money, but several San Diego City Councilmen and four Clark County Commissioners were sentenced to prison for accepting Galardi's cash.

What's the difference?

McDonald called the money "consulting fees," and Roger called it "campaign contributions." Those who were convicted conveniently "forgot" to report it on their IRS or campaign contribution forms. But birds of a feather clearly flocked together on this one even though some got away with only their feathers ruffled.

Nonetheless, Galardi testified that McDonald was one of the politicians he bribed, but somehow the slick politician has escaped prosecution -- so far, and Roger did say he returned Rizzolo's money...

Another politician who escaped by the skin of his teeth is LV Mayor Oscar Goodman. To prove my point, Goodman was forced to abstain on all items that come before his City Council that pertain to Rizzolo or the Crazy Horse. Nonetheless, Goodman over the years has made a fortune defending guys associated with the Crazy Horse, and his two law partners David Chesnoff and Jay Brown continue to rake in big bucks defending and representing Rizzolo's cronies.

Rizzolo was also not charged with paying off several local judges.

All of this in combination with Galardi's additional 18 months behind bars was probably enough reason for Galardi's lawyers to beg the court to reassign him in order to keep their client away from Rizzolo.


Inside Taft Correctional Institution
Satellite Camp
(AmericanMafia.com photo by Steve Miller)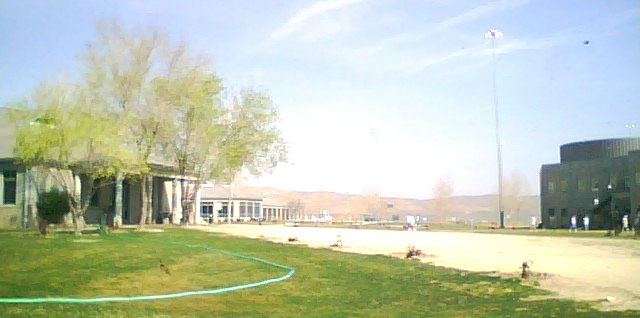 I
agree with Galardi's attorneys. Mike Galardi being locked up near his main accuser could tempt him to do something he'd later regret. Taft Camp is a country club compared to the medium security prison next door; a place that's a very convenient receptacle for anyone found breaking rules (or necks) at the adjacent honor Camp.

In a way I feel sorry for Galardi who has no history of violence. He has small children he adores, and he never beat up or killed anyone as did Rizzolo. Though both will emerge from confinement multimillionaires, In my opinion, Galardi should emerge much sooner than Rizzolo.

I've known Mike's dad Jack Galardi for over two decades. I've attended parties at his home, and Jack's always been a generous contributor to my political campaigns.

Jack Galardi (
Courtesy
KGTV
)
If Mike had heeded his dad's wishes and actions, he'd never have ended up in this mess.

When Jack donated money to my campaigns, he always gave it in the form of a check from his "Mr. G's Catering," or "Galardi Enterprises." Also, after I had accepted and reported his campaign contributions (totaling $15,000 over a 13 year period) Jack never called to ask for favors.

Jack also never tried to hide his feelings about Rizzolo or the politicians on Rizzolo's payroll.

In 2000 when I led a campaign to recall Mike McDonald who was Rizzolo's biggest stooge on the City Council, Jack happily donated a check for $5,000 to the cause. (The recall did not succeed, but Steve orchestrated a campaign that unseated McDonald at the next election.)

Jack Galardi is the largest strip club owner in the country. He owns over 40 clubs throughout the U.S., causing Rizzolo to be jealous and making him look small time.

Jack never appreciated Rizzolo's method of operation including the beatings, extortion, or political bribes. Over the years, Jack was known to have advised his stepson Mike to avoid Rizzolo and his gang at all costs. That lasted until Mike got his own club, Cheetah's, and McDonald went into action.

At first I thought Mike Galardi would take legal action to stop the harassment. Instead he decided to fight fire with fire and hired McDonald. Jack was furious!

But that wasn't the last straw in their faltering father/son relationship. Jack had always been adamant about Mike staying far away from Rizzolo's cronies including Joey Cusumano who at the time was housing McDonald rent free in a million dollar Canyon Gate Golf Course villa just down the street from Rizzolo's estate.

When Cusumano was spotted driving around town in Mike Galardi's red Ferrari, Jack reportedly blew his top!

From that moment on, Mike was on his own. And we sure know how that ended up!

Well, it's now reported that Mike and Jack have reconciled, especially after the fate the courts dealt the younger Galardi. Jack knows all too well that in Sin City, it's who you know, not what you did.

Back in January 2004, Mayor Goodman helped his law firm's former and present Crazy Horse clients by spearheading a $1 million fine on their closest competitor Cheetah's -- a fine based on Mike Galardi pleading guilty to bribing public officials. Goodman also shut down Treasures, another nearby competitor. In the meantime, Rizzolo's goons continued to beat up and extort Crazy Horse customers with no action taken by the Mayor.

Jack sat silently in the Council Chambers watching as Rizzolo fulfilled his vendetta through his lackeys on the Council.


Because of his obvious bias, I felt compelled to file an ethics complaint against the Mayor. Based on it, Goodman no longer participates in discussions or votes that affect the Crazy Horse, but he still has stooges on City staff to do his bidding.

Three years after he paid the City the million dollar fine -- after his son fully cooperated with the Federal Prosecutors and Rizzolo refused to do the same -- Jack Galardi again watched as his only son was sentenced to almost three times the punishment of Rizzolo. Jack decided to move from Las Vegas.

Though I don't condone Mike Galardi bribing public officials, I abhor the violence Rizzolo routinely used to extract money from his patrons at the Crazy Horse Too. I also abhor the unequal treatment afforded the two men by our criminal justice system.

If Mike Galardi were to
lose his temper
and extract revenge on Rizzolo, it would be his father and his kids who ultimately pay the price if his sentence were extended or he was transferred to a more secure facility. So it's best that Mike be placed as far away from Rizzolo as possible.

Now, I hope you understand why I wrote those foreboding words in last week's column.

Next week: Advice to Rick, Vinny, and Mike from INSIDE VEGAS readers.

(Photos of Rick Rizzolo and Mike Galardi courtesy of the

Las Vegas Review-Journal

.)

Copyright © Steve Miller
---
* If you would like to receive Steve's frequent E-Briefs about Las Vegas' scandals, click here: Steve Miller's Las Vegas E-Briefs
Copyright © Steve Miller

email Steve Miller at: Stevemiller4lv@aol.com

---