---
Steve Miller is a former Las Vegas City Councilman. In 1991, the readers of the Las Vegas Review Journal voted him the "Most Effective Public Official" in Southern Nevada. Visit his website at: http://www.SteveMiller4LasVegas.com

---
Spilotro's nephew defends brother of
the man accused of his uncle's murder
Rocco Lombardo and lawyer John Spilotro at the
Rick Rizzolo and Rocco during happier times
Federal Courthouse
(
Review-Journal
photo by Gary Thompson)
INSIDE VEGAS by Steve Miller
AmericanMafia.com
February 26, 2007


LAS VEGAS -
If there were a sequel to the movie

Casino

, Tony "The Ant" Spilotro (played by Joe Pesci) would be shown conducting business at the Crazy Horse Too topless bar.

During the 1980's, Tony was often seen at the club in the company of Joey Cusumano and Fred Doumani. When Spilotro wanted to meet with club owner Rick Rizzolo in Rizzolo's private office, the ritual would always include Cusumano placing a chair in front of Rizzolo's office door and sitting there until the meeting concluded.


(Left) Tony Spilotro, Oscar Goodman, and Herb Blitzstein. (Middle) Joey Cusumano and Goodman. (Right) Goodman and Harry Claiborne
During Spilotro's crime spree in Vegas, local criminal attorney Oscar Goodman (who played himself in the movie) stayed close to his mob clients while becoming rich collecting their hefty legal fees.

At the time, Goodman was highly successful in
encouraging friendly judges to keep his clients out of jail, though he was not considered that good a trial attorney by most court observers. Nonetheless, Goodman usually got his way before local judges, and because of Goodman's lawyering, Spilotro's crime spree was allowed to go on unabated for several years despite the best efforts of local law enforcement.

Goodman's mentor and first law partner was Harry Claiborne who became a Federal Court Judge. Claiborne was the only Federal Judge ever to be impeached and put in prison for taking bribes. Claiborne was also credited for teaching Goodman his trade. Goodman unsuccessfully defended the disgraced jurist during his impeachment hearing and criminal trial -- the first time Goodman ever lost a high profile case.

Ironically,
Frank Cullotta,
a member of Spilotro's
notorious "Hole in the wall gang,"
told authorities that Spilotro's crew planned their heists in Goodman's 520 South Fourth Street
law office conference room. He never said whether Goodman was aware of how his private office was being used.

Shortly after Spilotro's 1986 murder in an Indiana corn field, a murder the FBI suspects was carried out on an order given by Chicago crime boss Joey "The Clown" Lombardo, a new face suddenly appeared in the Vegas underworld scene.


Joey's brother Rocco Lombardo arrived at the Crazy Horse within hours of Spilotro's death. Long time bar employees were immediately taken aback by Rocco's brazen actions. One described the then-unknown Rocco going into the storeroom and removing several bottles of the club's most expensive champaign. When a manager questioned the action, he was told that Rocco was one of the new owners and to leave him alone.

Following Joey Lombardo's January 2006 arrest in Chicago, the Feds first revealed that they believe Joey "The Clown" arranged the killing of Rizzolo's pal Tony Spilotro. It's also alleged that Rocco and Rizzolo had concealed Rocco's brother's whereabouts from authorities when they came asking questions.

During a 2001 video taped deposition shown by investigative reporter Glen Meek on

KVBC TV News

, Rizzolo was asked about his relationship with Rocco Lombardo's brother Joey "The Clown." Rizzolo replied, "I don't know. His brother's named Joey. I don't know if he's a clown or not."

Rick Rizzolo reportedly became friends with Joey "The Clown"
soon after Spilotro's murder in 1986
. They were seen dining together two or three times
in Chicago restaurants
with Crazy Horse Too boss Al Rapuano. Since then, the Lombardo brothers have been suspected hidden owners in the Crazy Horse along with Joey Cusumano,
Fred Doumani, and
Vinny Faraci. However, the suspected hidden ownership by any of these men has not yet been confirmed by the FBI or any other law enforcement agency, though Faraci, Rapuano, and Rocco Lombardo pleaded guilty to skimming cash from the club. Faraci received five months, Rapuano received ten months, and Lombardo was placed on probation.

Now, Tony Spilotro's nephew who has a Las Vegas law practice is representing the brother of the guy who allegedly killed his uncle! Go figure that one out!

At his trial, Rocco Lombardo was described by John Spilotro as being
in poor health, and worked only as
a "doorman" at the Crazy Horse. Judge James Mahan
took sympathy and last week let Rocco off with a slap on the wrist claiming he is too sickly to go to prison.

Meanwhile, ex (current?) mob lawyer Goodman is running unopposed for his third term as Mayor of Sin City, and unabashedly protects the Crazy Horse every chance he gets.

Even with his current and past associations, Oscar Goodman remains immensely popular and is considered the modern day image, and moral compass of our town on a national and international basis.


Hip Hop City?

After

five

shootings, five rapes, and 352 arrests, the person who refers to himself as "The Happiest Mayor in the Universe" called last week's
NBA All-Star weekend
a huge success!

That's not surprising since this is the same Mayor who

discounted

the dozens of beatings and two murders at his friend's Crazy Horse Too topless bar as "

...just

a business practice that's entirely unacceptable."

Never mind that local residents had to wait and wait for Metro Police to respond to calls for service -- cops who normally patrol neighborhoods were seen en-masse on the Strip during the entire weekend of mayhem that the Mayor called
one of the great weekends in Las Vegas history
.
He even went so far as to gleefully propose that the same local citizens who could have ended up in the hospital or morgue for lack of police protection, be taxed up to $450 million to build a new stadium
for the future enjoyment of those who wreaked havoc on our city
.

This while the casino owners refuse to pay for overtime police protection in the resort corridor where business owners reported mass shoplifting and problems in restaurants over the NBA weekend. One 24 hour coffee shop near the Strip had to close to avoid exposing employees to the violent crowd who would eat and walk out without paying.

In the meantime, cops are investigating a shooting at the Minxx strip club that injured three people and left a club employee paralyzed.


Jones Dupri Haynes
The owner of the club says he has surveillance showing Adam "Pacman" Jones, 23, a Tennessee Titans football player who was in town with his entourage to attend the NBA game. With him in the club's VIP section was rapper Jermaine Dupri and Cornelius Haynes Jr., better known as Nelly, who were drinking with the shooter.
Police reports indicate Jones punched a female dancer which sparked his eviction from the club and the subsequent shooting of the club employees who ejected Jones. According to the latest reports, Jones went back to Tennessee and is refusing to cooperate with Vegas police. Since then, the owner and employees of the club have received numerous telephone threats, one saying "If you don't leave Pacman alone, we're going to kill you, your family and everyone in the club," according to club co-owner Robert Susnar.

But even this hasn't dampened our Mayor's spirits. He still insists that the NBA weekend went well no matter the damage done to our town's reputation, and a new stadium is needed to host more such NBA events and the clientele they attract. The likely reason for his enthusiasm is that the name of the proposed stadium and basketball team are rumored to be "Goodman Stadium, Home of the Las Vegas Oscars."

Proud Papa!
Rick Rizzolo and daughter Monica Rizzolo-Pendelton
He has less than three months remaining until he must turn himself in at Taft Federal Correctional Facility, but in the meantime Rick Rizzolo is biding his time squandering hundreds of thousands of dollars per week gambling in Strip casinos.

A young man recently told INSIDE VEGAS that he had the pleasure of dating Rick Rizzolo's unique daughter Monica when she was single. He described being invited to dinner at the Rizzolo Canyon Gate estate where he said the Rizzolos acted like an ordinary family. After a cordial dinner, he said Rick and his wife Lisa invited everyone to the Hard Rock Hotel where Rick immediately went to the tables and promptly lost over two million dollars. The young man said the Rizzolo's seemed unfazed by the loss and continued enjoying their evening without further mention. However, Monica's date said the nonchalant way the incident was treated by the Rizzolo family inspired him to find another girlfriend.

If Monica, 25, intends to visit her dad at Taft
Prison, she'll need to know the dress rules. Monica is featured on the

A&E

hit show

Inked

, a program that gets top ratings at state and federal penitentiaries where tattoos are
the ultimate status symbol. Therefore, she's probably already well known and admired by the inmates at Taft. So for Monica's information, here are the dress rules for visiting a family member in a Federal Penitentiary as provided by the U.S. Bureau of Prisons:
Visiting is an extremely important family function and dress code requirements are necessary to maintain the dignity of those involved. Appropriate dress is required and must be in good taste. Excessively provocative, immodest or revealing attire is reason to deny visiting. Visitors over the age of 12 years old will not be allowed into the institution in skirts, shorts, or dresses exceeding above the top of the kneecap in length. See-through clothing, halter tops, tube tops, sleeveless shirts, tank tops, and any kind of clothing that reveal the midriff area of the anatomy, radically low-cut shirts or blouses, revealing (front) and backless clothing are prohibited. No skin-tight clothing or spandex clothing is allowed. All visitors are required to wear footwear. All visitors are also required to wear undergarments, including bras for females visitors. - http://www.bop.gov/

Rizzolo will be joined at Taft for five months of his twelve month sentence by his associate Vinny Faraci who like most of the Crazy Horse crew got off with a slap on the wrist from local Federal Judges who act like they don't want to bite the hand that feeds them, or kill a goose who lays golden eggs in Strip casinos. Faraci's excuse for a lighter sentence? He would lose custody of his child (even though his ex-wife is now married to Rizzolo's lawyer Tony Sgro who is the child's step father).


David Chesnoff Jay Brown and Mike Signorelli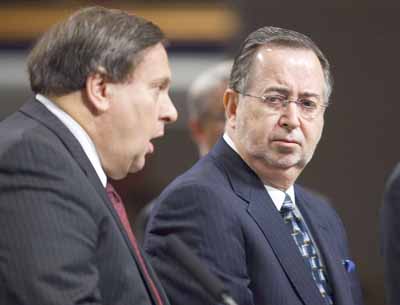 In Faraci's case, his judge, Kent Dawson, was appointed by Nevada's U.S. Senator Harry Reid who is a business partner of Jay Brown, an attorney who works in the same
520 South Fourth Street
law office as Faraci's lawyer David Chesnoff. Brown, who served with Oscar Goodman as a Resident Agent for Rizzolo's corporation, is now representing the man who claims to be buying the Crazy Horse Too.


Anywhere else in America, this would be called a conflict of interest. In Vegas, it's business as usual.


This April, the Las Vegas City Council will be faced with the decision of whether to grant a permanent liquor license to Mike Signorelli, a man who has no money but says he's buying the Crazy Horse for $45 million dollars. Many believe Signorelli was placed as a front to represent the bar's hidden owners who refuse to give up control, and to stall the City Council and Federal Court long enough for Rizzolo to get out of prison.

With the mob attorney-cum-Mayor of "Hip Hop City" calling the shots from behind the scenes at City Hall, and lawyers from his law firm representing some of the players, it won't be a surprise to anyone around here if the straw man gets a permanent liquor license to run the Crazy Horse for the mob; the new NBA stadium is built at taxpayer expense and named after the Mayor; "Pacman" Jones doesn't have to reveal the name of the shooter; and Monica Rizzolo receives an Emmy for her performance on

Inked

.

Why not? This freak show

is

the

new

Las Vegas.


Copyright © Steve Miller
---
* If you would like to receive Steve's frequent E-Briefs about Las Vegas' scandals, click here: Steve Miller's Las Vegas E-Briefs
Copyright © Steve Miller

email Steve Miller at: Stevemiller4lv@aol.com

---