Outside of Las Vegas, there is probably no city in the United States that owes more of its development to the mob than Miami and, in fact, all of South Florida. And, most of that development, one way or another, had Meyer Lansky's finger in it. A lot of myth surrounds Meyer. Here is some of the facts, partially supplied by Meyer's nephew, Mark Lansky, as we work on a book proposal about his uncle: "Meyer and Me: The Man and his Memories"

Right now there is a stage play ending its run in Los Angeles, directed by Joe Bologna, called "Lansky." It focuses on Meyer's battle to stay in Israel under the Right of Return policy for Jews, and has been favorably reviewed by at least one member of the Lansky family, Mark Lansky, who is in the process of writing a book about his cousin. There have been dozens of books about him or including him, films that presented parts of his life…the early years, his role in Havana, his relationship with Lucky Luciano and the Unione Siciliano…and countless stories and myths about the man. He's alternately been called the brain of modern organized crime, its CEO, a cold blooded killer, and a member of the fabled Commission of mob family leaders. He was some of the first, less of the next two, and none of the third. But whatever you think of Meyer Lansky, no matter how bad you think the man was, in the course of his life he left his mark in a number of places both here and in Cuba, but none as lasting as in South Florida.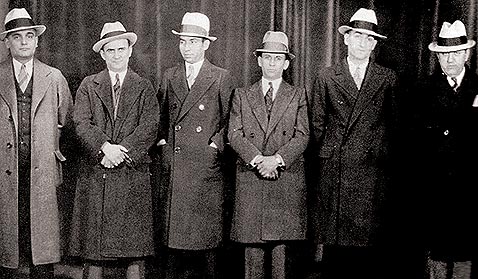 Lansky was a genius. Numbers spun around his head like a roulette wheel and always came up with the right numbers. From his youth, when he'd first encountered crap games in the alleys of the Lower East Side of Manhattan ghetto that his Polish-Jewish parents had emigrated to from Grodno, Russia, he'd been able to calculate odds and find a way to turn them in his favor. One way of doing that was foregoing the daily routine of a twelve to fourteen hour workday for the freedom of the hoodlum's life. He'd do just about anything to survive, and as a small man fought doubly hard to earn the respect of other young thugs he'd come across, like Bugsy Siegel, Albert Anastasia, Lucky Luciano, and Frank Costello, who would become lifelong friends and business partners. In that diverse group, where each member brought a significant and unique talent…Bugsy was the warrior, Lucky was the manipulator (that's why he became boss), and Costello was the diplomat…Meyer was the financial brain. His was the brain that brought gambling in Miami, New Orleans, the Bahamas, and Cuba to the mob. He was even invited by Cuba's strongman Fulgencio Batista to sit on the gaming board of his country. For a time, Meyer really was a CEO, using his executive power to clean up Cuban casinos' crooked gambling and draw players from the States in record numbers…especially to the Nacional, a hotel that still stands in Havana, where he and his partners had a substantial ownership position.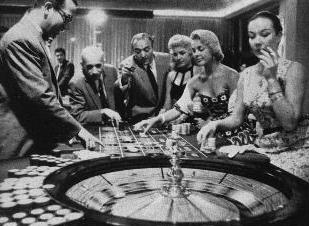 Cold blooded killer was not what Lansky was about. Surely, in his early years, he may have accumulated a notch or two in his belt, but just as easily might not have. Once he'd partnered up with Bugsy Siegel to form the Bug and Meyer gang, he didn't have to. Meyer stepped into his first leadership position and ran it with his brain….a brain tutored by another Jewish gangster actually nicknamed "The Brain," Arnold Rothstein.

Bugsy was, as previously mentioned, a warrior. He'd kill fast and hard, and would not hesitate to use those talents to protect his friends and their earning potential, or to remove a thorn in any of their sides. Since a mob rule has always been that one cannot kill his boss and become boss, it was Bugsy, along with his Jewish cohorts, like Red Levine, who eliminated both Giuseppe "Joe the Boss" Masseria and Salvatore Maranzano to make way for Lucky to take overall power (that rule kept John Gotti from being recognized by the Commission a half-century later). Lansky was not among the shooters. Instead, he was expanding the financial interests of his partners with the millions they'd made from Prohibition. While known for his gaming business prowess, Lansky also used their overflowing funds to invest in land, nightclubs, hotels, and anything else that made sense. Much of that investment was in South Florida.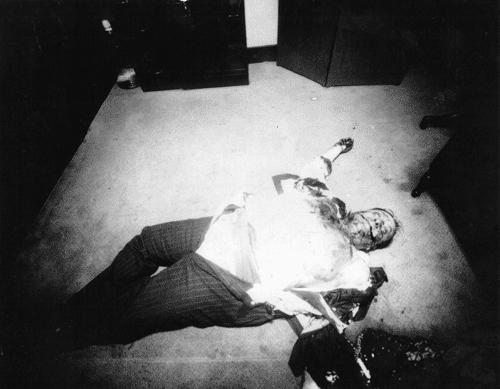 The biggest erroneous story about Meyer Lansky was that he was part of the now fabled Commission of organized crime. Nothing could be farther from the truth. To understand why Meyer never made it to a seat on the Commission, is to go back to the murders of Moustachio mob bosses Giuseppe Masseria and Salvatore Maranzano and the subsequent murder of more than sixty more Sicilian old timer Mafiosi from September 10th to the 11th, 1931, in what is now known as the "Night of the Sicilian Vespers." The Moustache Petes, as they were called, had lived and died for vendettas during their rule; for wars between themselves and those of other towns and regions of Sicily. Those continuous battles cost a lot of profit to everyone involved. They also refused to do business with anyone except other Sicilians. Mainland Italians were as bad to them as Jews or Irishmen. To a group of younger, more Americanized gangsters, made up of men like Lucky Luciano, Frank Costello, Bugsy Siegel, and Meyer Lansky, not only didn't the Moustachioes rule make sense, but something had to be done about it. With Bugsy Siegel in the lead, dozens of old timers across the country were murdered. Little Davey Petillo, who later went to prison with Luciano on the prostitution charges brought by Thomas Dewey, was just a boy at the time of the Vespers. When a top Moustachio escaped the first round of murders, Little Davey was dispatched to the Mafioso's city. He set up a shoe shine box outside the boss's club and ingratiated himself to the Sicilian mobsters with glossy spit shines. When the extra cautious boss finally put a foot out for Davey to shine, the boy pulled a pistol from his shine box and shot both the boss and his bodyguard to death.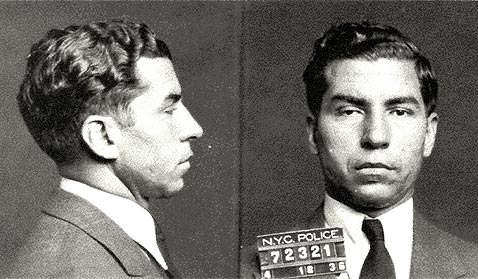 When the smoke cleared, and the new order was ready to go to work, Lucky Luciano surprised everyone by claiming that though all ethnic groups would be welcome to do business, the Unione Siciliano would reign supreme. He divided the Unione into five families under Sicilian rule, and assigned other ethnic associates to Sicilians who would act as their "liaisons." To Bugsy Siegel, who had done the heavy lifting in murdering Masseria and Maranzano, this was unacceptable. When he left for the West Coast, it was to be his own boss, not, as commonly thought, to establish mob outposts. For Lansky, who was only interested in making money, it didn't matter what status he did or didn't receive. He would accept one of his closest friends, Vincent "Jimmy Blue Eyes" Alo as his man in the mob (notice that the Lansky character's man in Godfather II was named Johnny Ola, Alo backwards, as was the relationship portrayed). Lansky was forever an associate, not member, of the traditional mob, though he remained a trusted advisor to the mob's hierarchy throughout his life, a life spent in a large part in South Florida.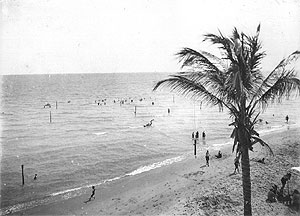 There are a lot of businesses and structures in Miami and the greater South Florida area that owe(d) their existence to Meyer Lansky. To this area that catered in large part in early- to mid-Twentieth Century years to vacationers and escapees from cold northern states, Meyer brought organized gambling: crap and card games, horse betting, and slot machines. With gambling came bigger hotels that brought national celebrities and beautiful showgirls. As South Florida grew it needed an economic infrastructure to support vacationers' paradise: wholesalers, hotel workers, grocers, haberdashers and women's clothing salespeople, police, and, especially, restaurants. Some world famous hotels like the Eden Roc and restaurants like the Forge owe their very existence to the foundation that Meyer Lansky and his organized crime cohorts set down. Hospitals expanded with Meyer Lansky donations. Mobsters and Lansky front men for businesses like the Singapore Hotel threw money around like it was confetti, making locals well to do and leaving a legacy of extreme public tolerance of mobsters that remains today. South Beach embraced a small time gangster wannabe, Chris Paciello, until he turned rat when prison loomed. Chances are if Paciello returns to Miami tomorrow, locals and celebrities will embrace him just the same. South Florida has grown up with a live and let live attitude.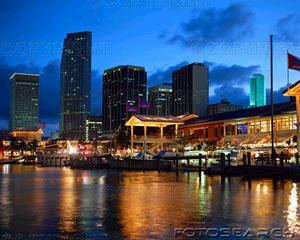 Part of that is because of Meyer himself; the man he was when he was not scheming how to wash money or bury it in Swiss bank accounts. Meyer's cousin, Mark, who Meyer always referred to as his "little nephew," tells of an incident in which members of the Lansky family were having dinner at the Embers restaurant, in Miami Beach. Behind Meyer, at the next table, a man that he had never met went on and on to his party about how much of a pal he was with Meyer Lansky. All of the family members in Meyer's party ate and drank with knots in their stomachs, wondering what their fabled gangster patriarch would do. When their meal was done, Meyer approached the liar behind him. The Lansky relatives held their breaths. The man turned ashen. However, instead of berating the man, as he certainly had the right to do, Meyer graciously stuck out his hand and greeted the man as if he were a long lost friend; said it had been a long time, and asked how he was, elevating the man in the eyes of his guests and making him beam with, albeit surprised, pride. That was the kind of good feeling toward the mob that Meyer Lansky infused into South Florida's culture, including Hollywood, which had been the early sight of his largest gambling operations, and Hallandale, which at that time was often referred to as "Lanskyland." That generous gesture toward man at dinner was typical of the man he was.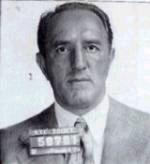 Of course not all of Miami's mob history is peaches 'n cream and full of good will. There were bodies that happened to turn up every now and then, and one story, true or not, which stands out as an example of the violent undertones that weren't far from sunshine and palm trees. The story is that Meyer's close pal and mob go-between, Jimmy Blue Eyes, was approached by an acquaintance who pitched him on the idea of opening an informal café or diner-type eatery that would import New York newspapers for the overwhelming number of visitors to that area who seemed to be lost without knowing what was going on back home. After all, it was not a time of cell phones or a 24 hour television news cycle. Blue Eyes agreed to finance the operation, but with one stipulation: there would be one table set aside for him in a corner that no one else would ever be allowed to sit at. The café became an instant success. No one visiting Miami Beach from the north didn't breakfast or lunch there and read the news from New York, Philadelphia, or Boston. Lines formed to get in. One day, Blue Eyes passed a queue of waiting diners and stopped dead in his tracks. "What the f_ _ k is going on?" he angrily asked his partner, who explained that he was so overwhelmed with business that he'd sat a group at the table. He gulped more of the coffee he drank all day to keep him hyper enough to handle the business then swore the people would be leaving soon. Blue Eyes left and returned later, when that meal's rush was over. He ate and drank while his partner continued to apologize, swearing that the offense would never be committed again. "I'm sure it won't," Jimmy Blue Eyes replied. A short time later the restaurateur collapsed and died from a cup of coffee laced with arsenic. Blue Eyes, a silent partner, laid out more money when he sympathetically purchased the eatery from the dead man's wife for a new partner of record to run.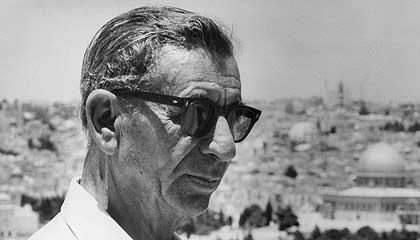 Long after Meyer Lansky's most active days in the gambling business were over, and after F.B.I. Director J. Edgar Hoover had passed away, the Feds jumped all over him for tax evasion. Maybe they knew that Lansky had blackmailed Hoover to lay off the mob for too long (Lansky privately claimed to have proof of Hoover's homosexuality); maybe it was for headlines. Whatever the motivation, the aging Lansky tried to escape to Israel, depending on that country's Right of Return policy for Jews to protect him from American charges. Sand, sunshine, and the sea reminded him of his beloved Miami Beach. He was a confident and happy man as he fought to stay in Israel. The problem was that Israel owed more to the U.S., which financed and protected its very existence, than it did to any Jewish gangster. Meyer was returned to Miami in 1972, when he was seventy years old.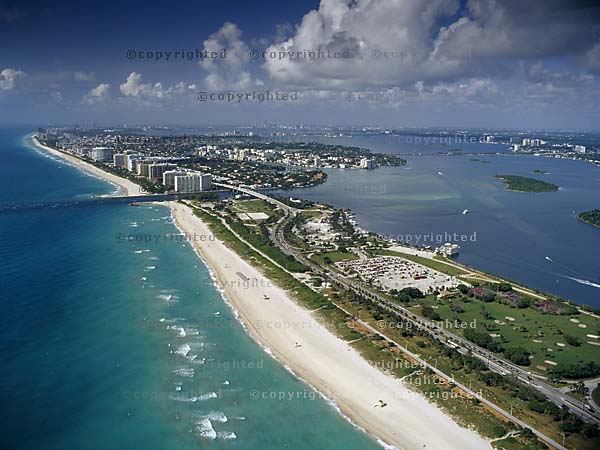 Lansky's last years were spent in Florida. He was not just an important part of Miami…a true King of Miami…but the city was an important part of him and his family as well. He lived with his second wife, Teddy, in Miami Beach; one son, Buddy, ran the switchboard at the Hawaiian Isles Hotel; Sandy, his only daughter, lived close to him; a stepson, Richard Schwartz, murdered a relative of a mobster at the Forge restaurant and was later murdered in revenge. Had Lansky truly been a Commission member, as he was believed to be, he could have saved the lives of both his stepson, Richard, and his friend and partner, Bugsy Siegel.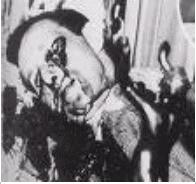 Meyer Lansky was indirectly a contributor to America as well, having been the go-between for Lucky Luciano to order longshoremen to protect the U.S. docks against sabotage and helping with the invasion of Sicily in WWII; having broken up Nazi meetings in New York by sending in a crew to break heads; by indirectly having his family produce a foreign service diplomat at the United Nations, who he was infinitely proud of, and a CIA Agent. His last days were spent modestly and increasingly ill, with his greatest pleasure coming from walks with his beloved Shih Tzu, "Bruiser." There was no evidence in his life of the hundreds of millions of dollars he is purported to have stashed away. Meyer Lansky succumbed to lung cancer in 1983, at the age of 81, and is buried in the place that was most important to him throughout his adult life: Miami.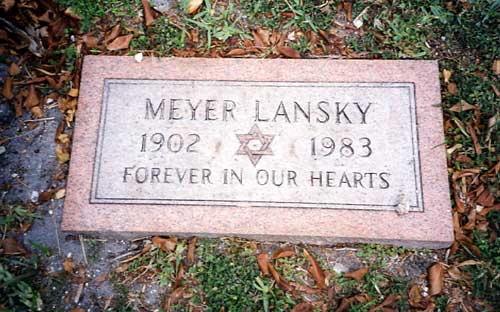 * * *
---
Click these links to purchase Sonny Girard books online.....