Arrivederci, Little Italy
I remember Manhattan's Little Italy from years ago, when people actually lived there. There were well known regional Italian restaurants like Grotto Azurra, Angelo's, and Luna. Each had claims to fame and some kind of attractiveness of its own besides the food. Grotto Azzurra had served food to Lucky Luciano, was downstairs, and was close enough to Police Headquarters for mobsters to mingle with police brass, some of the latter who were on the former's payrolls. Angelo's was upstairs, fed President Reagan, and had been a more well known name for decades. Luna was the first restaurant you saw on your right as you crossed Canal Street from Chinatown, was where "Crazy Joe" Gallo made the threat that sent him to prison. Chubby's was the best: open all night on weekends, with brasciola, sausage, pork livers grilling in the window, all served with sweet or hot peppers and whisky or wine in a coffee cup. You could meet drunken "friends" from all over New York at 4 or 5 a.m.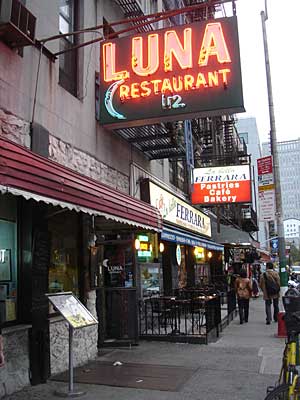 DAYS GONE BY STORY: Across an open parking lot from Luna was Marconi's Restaurant, also a popular tourist and celebrity magnet. One night, while Frank Sinatra and Sammy Davis Jr. were dining at Marconi's, they were told that Dean Martin was across the parking lot at Luna's. However each side found out the other was across the lot, when their meals were over they all came out with cannolis, which became ammunition for a duel between these international stars. That was what Little Italy was in the good old days.

Besides the numerous Italian restaurants, there were espresso cafes where tourists mingled with residents and mob social clubs with "Private – Members Only" signs on darkened doors and windows for the general public but invisible "Welcome" signs for pals. The Ravenite became the most famous after Paul Castellano was murdered on orders from John Gotti, but there were so many with innocuous names like the Alto Knights, on Mulberry and Kenmare Streets (where the actual murder in a bathroom that Martin Scorsese portrayed in "Mean Streets" took place), the Chatham Square Association, or the Old Mill Club, that catered to legitimate residents and wiseguys alike. There were also Italian restaurants, bars, even funeral parlors on the Chinatown side of Canal Street: Antica Roma, The Lime House, Bunny's Bar, Bacciagalupo Funeral Home. They were the last remnants of what had become Little Italy at the Turn of the Twentieth Century, when the Irish were moving out and up and the Five Points area was being filled by Southern Italian immigrants; when Paolo Vacarelli called himself Paul Kelly when he took over the Five Points Gang to make the ethnic transition easier.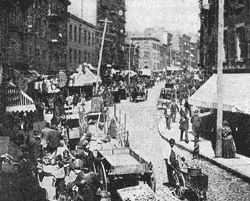 It has always been the pattern of those on the lower end of the socio-economic urban ladder to move out of a neighborhood to make room for the group on the rung below them. Bedford-Stuyvesant was once home to Jews; the same with Harlem; the Irish left the Five Points to the Italians; East Harlem was Italian before it was almost totally inhabited by Hispanics and blacks. This change, however, is different. This is a change from a vibrant, expensive neighborhood that is an ethnic tourist attraction and slice of what once was and what might have been, to a lesser variety in the patchwork quilt that makes up New York City. The beauty of Manhattan is that you can walk from the Bohemian-style Greenwich Village, to the ever bustling Chinatown, to artsy SoHo, to Little Italy in a matter of a couple of hours. The way it's going, Little Italy will soon be removed from that list. The current demise of Little Italy can only be compared to the decades-long downward plunge of Atlantic City and Miami before their rebirths. Little Italy will have no such rebirth.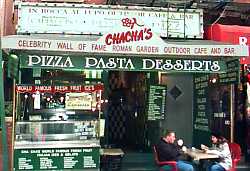 Neighborhood residents have different opinions of when their area started its downward cycle. Johnny "Cha Cha" Ciarcia, the undisputed unofficial Mayor of Little Italy, believes it began when the James Center of the Children's Aid Society, that spanned Hester Street from Elizabeth Street to Mott Street, was abandoned for commercial use in the 1960s. "The James Center's playground that I used to play in as a kid was sold to make a parking lot," says Cha Cha. "It was a shame then, and set a pattern of nobody giving a flying f_ _k about the neighborhood. They only care about their pockets." He's one of the few diehards who have clung to their roots all their lives. His Caffe in Bocca in Lupo, at 113 Mulberry Street is a landmark. The walls are covered with photos of celebrities who are friends and patrons: Tony Danza, Danny DeVito, Robert DeNiro, and on and on and on. "When God takes me, that will be the end," says a saddened Cha Cha. "My cafe will probably be turned into a dim sum joint."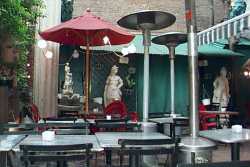 Oddly, the big sale began when the buildings with stores on the bottom and apartments above were selling for five figures instead of the seven today. Older residents who had raised children on Mulberry Street, or Grand Street, or Hester Street wanted to desert the city for suburban areas. The recently built Verrazano Bridge gave them an opportunity to permanently live in an area that they had taken the ferry during the summers to spend some time in bungalows. It had then been called "the country." The problem was that they were so eager to move and upgrade their living conditions that they sold to whoever offered them as low as five thousand dollars more…usually Chinese. Obviously, loyalty was a word that wasn't in their vocabulary. Few saw what would happen to the neighborhood that had given them so much and looked beyond the pittance.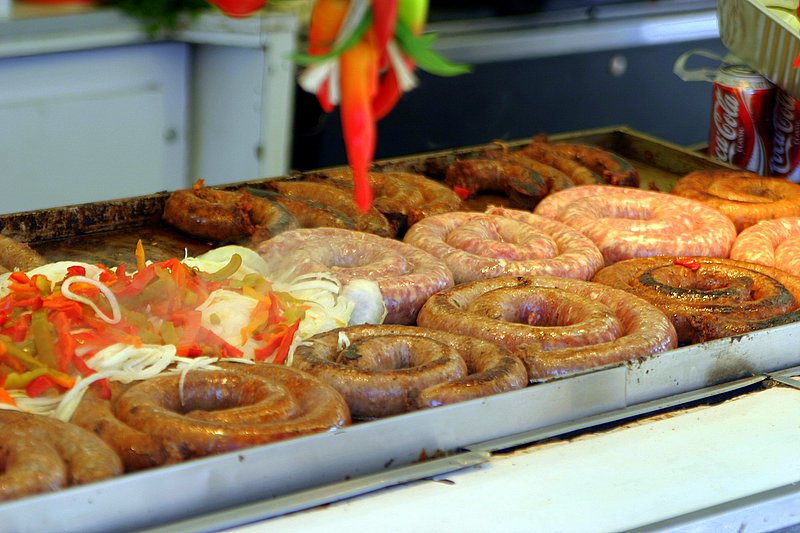 Those Little Italy heroes sold to Italians who wanted to build the area into a major tourist attraction for Southern Italian-style hospitality. Some, like my dear departed friend, "Joe Carlo" Calabro, talked the talk, cursing out the neighborhood traitors, and walked the walk, refusing to sell a building he had to Chinatown expansionists. Oddly enough, one major hero in the survival of Little Italy was a Jew, Sidney Saulstein, a haberdasher and owner of many properties in both Chinatown and Little Italy. Though he was married to an Asian woman, he refused to sell his Little Italy properties to anyone but Italians, even if he had to take less money, and made sure he did the same for Chinese buyers on the Chinatown side, helping to preserve the ethnic individuality of each area for decades. Saulstein had the distinction of doing exactly that when he sold to Robert Ianello, "Matty The Horse" Ianello's brother, who built Umberto's Clam House at the location… a seafood restaurant later made famous when "Crazy Joe" Gallo was gunned down there one night. Instead of the killing scaring visitors away, they flocked to the eatery in such numbers that now it has moved to a larger location where it can offer a full Italian menu instead of the limited fried seafood items it originally served (okay, the scungilli wasn't fried. Nitpickers!). That says more about the sanguinary fascination of society than it does about Little Italy. God Bless Sidney Saulstein.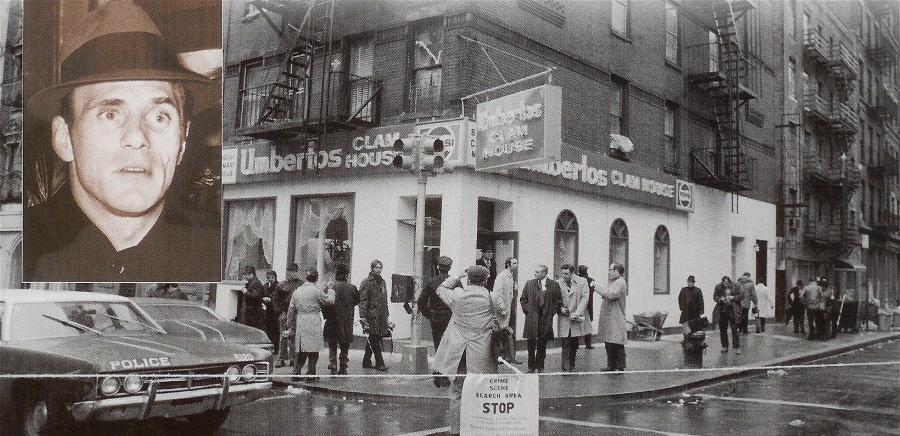 THE FEAST OF SAN GENNARO: In 1927, Neapolitans in Little Italy staged the first Festa San Gennaro in the history of New York. Over the following decades it became internationally famous for food (fried calamari, sausage and pepper sandwiches, zeppoles, etc.) and fun (Ferris wheel, barkers calling to pitch a ball or bet on which hole a mouse will disappear to, card games, souvenirs, etc.). It was the most concentrated Southern Italian experience in the country each September…that is, until political correctness and political pressure brought San Gennaro to his knees…something a Roman furnace and beheading couldn't.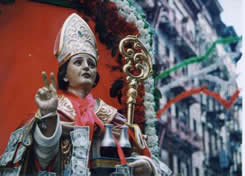 By the 1980's, a politically correct shift had brought an inordinate number of non-Italian spots into the Feast. There were always a scattered number of tables or booths that peddled incongruous things: fortune tellers, egg rolls, maybe a tee shirt or two with outsider messages, but suddenly there were Rastafarians with multicolored caps and shirts, falafel, cactus kitchen magnets, and things that I turned my head away too fast to capture in my memory. The feeling was ebbing. Less of the people I knew showed up. Less of the unique feeling that I'd get even in a garlic festival. Less special.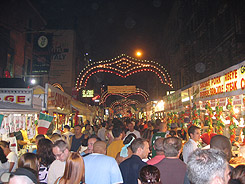 An assault by Mayor Giuliani threatened the Feast's survival as he relentlessly fought the windmills of organized crime. I haven't been to New York's Festa San Gennaro for years, instead participating in the founding of the first feast by that name in Los Angeles' history. The dedication of a few men, like restaurateur Frankie Competelli, Jimmy Kimmel producer Doug DeLuca, and filmmaker Gregg Cannizzaro combined with the newness of the experience on that coast has resulted in a more pure ethnic experience. How long will that last in L.A. before the PC police gets to it? Who knows? Hopefully, eighty years like New York.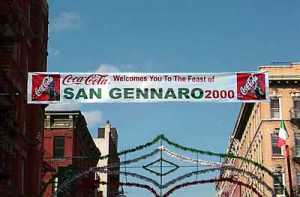 All of those things have contributed to the creeping demise of Little Italy, but none as much as the sellouts who betray their heritage for money. The Manna family of Luna's Restaurant, which includes the newest mob rat, Nicholas "P.J." Pisciotti, is only the latest. Are they all headed for the Witness Protection Program with him? A Luna's in Iowa or Idaho? It's shameful and it's sad, and all New Yorkers and visitors to New York are the losers. It would be just as sad if Chinatown were lost. Or Greenwich Village. Or SoHo.
But Chinatown, Greenwich Village, and SoHo are not in jeopardy; Little Italy is because of greedy property owners who owed so much to the neighborhood and chose to pay back nothing. Shame on them.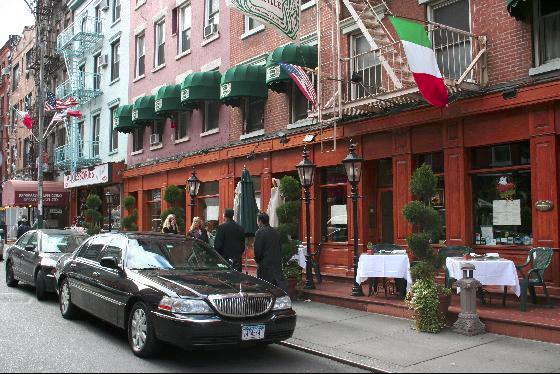 P.S.: There are many "dogs" who have hurt the neighborhood for their own greed. I've collected the names of many of them and was going to list them. However, after some thought, I decided it would only hurt their children and grandchildren, none of whom had any part in the betrayal. The dogs know who they are, and so do others. That's enough.
Sonny
WILL OUR KIDS GET TO SEE THIS SIGN?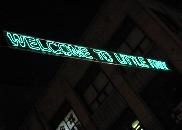 * * *
---
Click these links to purchase Sonny Girard books online.....