Rapuano Granted Liquor License by Council
Alleged Mob Ties Ignored
By Steve Miller
Las Vegas Tribune
October 9, 2002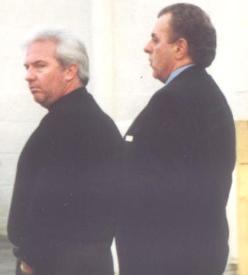 Frederick "Rick" Rizzolo (left) walking with Albert Rapuano
LV Tribune Photo
LAS VEGAS - On October 2, an alleged mob associate was granted a liquor license by the Las Vegas City Council.
City law requires managers of liquor serving establishments to be licensed, however, Albert J. Rapuano has been functioning in that capacity since at least October 5, 2001, when he was identified in a KLAS TV news story as the "general manager" of the Crazy Horse Too topless bar.
Rapuano has had difficulty obtaining licenses in the past.
"It appears that Mr. Rapuano may have had some problems with gaming authorities, but the application before us today is for a liquor license and has nothing to do with gaming," said Mayor Oscar Goodman during the hearing.
Concerning the "problems" alluded to by the Mayor, Randall Sayre, the Nevada Gaming Control Board Chief of Investigations stated, "It's no secret that we have concerns with some of the associations that he has," referring to Rapuano's close association with Nevada Black Book member Joey Cusumano and others.
Rapuano worked as the general manager of a Mesquite, Nevada casino once owned by Merv Griffin. He lasted only two weeks until he was fired when the casino's owners learned details of Rapuano's past including allegations of a possible friendship with a man police said was connected to organized crime.
Nonetheless, the Las Vegas City Council unanimously voted to license Rapuano with the exception of Councilman Michael McDonald who abstained because of his close friendship with Rapuano's boss, Crazy Horse owner Frederick "Rick" Rizzolo.
McDonald, until 1999, lived rent-free in a half-million dollar Canyon Gate Country Club villa owned by the family of Joey Cusumano. Cusumano is also a known associate of Rizzolo. After a front page Tribune story revealed McDonald's living arrangement, the councilman suddenly moved out.
Mayor Oscar Goodman, prior to being elected, was the criminal defense attorney for Cusumano and other known mob associates.
In addition to his association with Rapuano and Cusumano, Rizzolo is a known associate of Black Book member Fred Pascente, and the Crazy Horse employs Vinny Faraci, son of Bonanno crime family capo "Johnny Green" Faraci, and Rocco Lombardo, brother of former Chicago Outfit boss Joseph Lombardo.
Also employed at the topless bar is ex-felon Joe Blasko. Blasko, a former LVMPD police officer, works the 1 PM - 9 PM shift at the club. While a police officer, he was known for beating up suspects -- one died. In 1978, the FBI learned that the former Detective was on Chicago mobster Anthony Spilotro's payroll.
Spilotro, until his gangland slaying in 1987, was also one of Oscar Goodman's clients.
After several reported instances of Crazy Horse patrons being allowed to leave the club drunk and drive away, and three reports of patrons allegedly being robbed or beaten by club personnel, Mayor Goodman, in 2001, was asked to bring the bar
before the City Council on a Show Cause Hearing to defend its' liquor license.
Goodman refused to do so.
Instead of looking into and trying to correct the well publicized problems at the nightclub, Goodman sponsored an ordinance to allow the Crazy Horse to expand within 1,000 feet of another adult business, a practice previously prohibited by city ordinance.
Then, most recently, Goodman voted to grant a liquor license to Rapuano.
In October 2001, during an exclusive interview with the Tribune about problems at the Crazy Horse, Mayor Goodman said, "I'm not doing any favors for Joey Cusumano," though the reporter never mentioned Mr. Cusumano by name. Since then, several City Hall observers have questioned whether Rizzolo was receiving special favors from the city based on past friendships between Goodman and associates of the topless bar owner.
The Crazy Horse Too faces two upcoming jury trials; one for a wrongful death, the other for an alleged beating that permanently crippled a Kansas tourist.
In November 2001, a District Court judge denied a motion for a Gag Order to be placed on the Las Vegas Tribune to stop this newspaper from reporting incidents at the Crazy Horse Too. Rizzolo has also sued the Tribune and reporter Steve
Miller for defamation of character.
©1997-2002 Las Vegas Tribune

email Steve Miller at: Stevemiller4lv@aol.com

---