US Supreme Court desecrates Fifth Amendment
The Supreme Court on Thursday ruled that local governments may seize people's homes and
businesses

-- even against their will -- for private economic development.

-- Associated Press
1960s era apartment house refuses to move off Mirage grounds while offering $550 per month rates
INSIDE VEGAS by Steve Miller
AmericanMafia.com
July 4, 2005
Location! Location! Location! How would you like to have a year round one bedroom apartment on the grounds of the posh Mirage Hotel on the Las Vegas Strip for $550 per month which breaks down to only $18.33 per night? Well now's your chance to live affordably only steps away from the lavish casino, buffets, shows, etc. -- that's unless the Clark County government exercises its new, unlimited power of eminent domain!
Just imagine how pissed off the Mirage owners have been for the past 15 years since the opulent hotel opened within spitting distance of the humble Villa De Flores, and how they'd probably love to get some help from the government to end this embarrassment.
The United States Supreme Court to the rescue!.
.

Private apartments are available in the middle of the Mirage grounds. Owner had to post a sign to end the confusion.


This situation is so bizarre that the owner of the 36 unit apartment house went so far as to post signs stating, "This is not Treasure Island or Mirage Property!" As if that's not totally obvious.
The apartment house owner would like to build a 13 story time-share on the property. MGM/Mirage would like it to disappear. Should the government take sides? Now they'll have the chance, and let's not forget that MGM/Mirage is a huge political campaign contributor.
On May 12, 1997, I attended an auction at Villa De Flores. The next day, I was quoted in the
Las Vegas SUN
boasting, "'I'm happy to see someone other than Steve Wynn owning this property,' Miller said with a smile. 'I'm thrilled to see the Villa De Flores in the middle of the Mirage parking lot. I think it's a just reward for Steve.'"
After that remark, my invitation to the grand opening of the new Wynn Las Vegas Resort was mysteriously lost in the mail.
Though the Villa De Flores story seems surreal, the fact of the matter is that Michael Flores refused to sell his little apartment house to the powerful Mirage folks, and up until last week, MGM/Mirage could do nothing about it because it would violate his Fifth Amendment rights.
Michael Flores


(LV Mercury

photo by CHRISTINE H. WETZEL)

One week before our Independence Day celebration, the US Supreme Court shocked Constitutionalists by ripping apart our God given Fifth Amendment right to

not

"be deprived of life, liberty, or property, without due process of law; nor shall private property be taken for public use without just compensation."

So much for the Constitution!


Las Vegas has grown to be the poster child of illicit land grabs, two of which made it all the way to the US Supreme Court to sadly be declined hearings. The biggest grabs to date have happened in the floundering Las Vegas "Downtown Redevelopment Area" once known as "Casino Center."

Now the fate of the little Flores apartment building along with other private holdings are in jeopardy, but this time the travesty may happen with the blessings of five of the nine US Supreme Court Justices. No longer is it necessary to prove the taking will be for "public use," or that the property taken was "blighted." Now its just a case of who has the most juice.

After last week's decision, its only necessary to prove to a city, county, or state government that the use will be "higher and better" than the previous, and that it will provide more jobs, pay more taxes, or look prettier. To Hell with the little guy's property rights!

Back to the "poster child." Under the mis-direction of two fair-weather mayors, what was once the hub of Las Vegas' community activity, and our world renown icon, was transformed into an armed camp now seldom visited by locals who have all but forgotten its there. The 1994 erection of the canopy over historic Fremont Street and its closing to vehicular traffic including tour busses, taxis, parades, and any other reason or means for locals or visitors to go there, caused gaming revenues to flatten and locals to flock to neighborhood casinos.

Because the canopy blocks the view of that famous skyline, current motion picture and TV productions opt to show the old, uncovered Fremont Street almost every time Downtown Las Vegas makes it onto the screen.

THEN NOW
.
"The KLAS TV Family"
ride
in Christmas parade on historic Fremont Street, circa 1964
Closed off Fremont Street, circa 2005
(L to R) Dennis Hunt, Ron Vitto, Steve Miller,
Hank Thornley, Gus Guffrie
(Steve Marcus /
LAS VEGAS SUN
)
Up until last week's US Supreme Court decision, the most notable local land grab was when in 1994, the downtown casinos represented by former Mayor Jan Jones (herself a stockholder in the downtown Golden Nugget), in the name of "redevelopment" stole 75 year old Greek immigrant Carol Pappas' immaculate corner shopping plaza to build a casino parking garage. The project, then called a "Festival Marketplace," was touted to be the savior of Downtown, but soon became one of our city's biggest white elephants after merchants and entertainment venues failed when locals began avoiding the area.

.
1996
rendering of now-failed project. Pappas' corner on far left. 2005 - Empty parking garage sits on Pappas' corner
After reportedly being told by Jones, "Mrs. Pappas, you've had your property long enough. It's time to give it up," Carol Pappas' elder son Harry mounted a ten-year-long battle to try to get his family's property returned, or be fairly compensated for something his family had nurtured for over 50 years! Instead of giving in and accepting the $345,000 offered by the City of Las Vegas, he put his money where his mouth is.
.
Jones (LV SUN photo)
Harry Pappas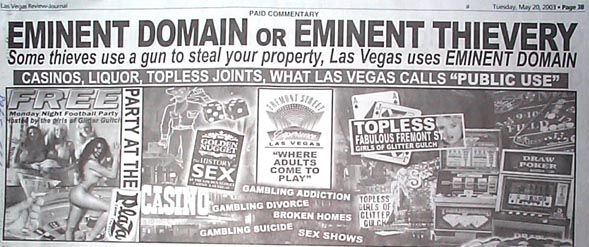 Harry Pappas bought full page ads that appeared in the
Las Vegas Review Journal
on May 20, 2003, and again in 2004
Harry Pappas' publicity campaign hit home. Locals began boycotting the casinos that benefited from the eminent domain taking, especially after John Kennedy's

George Magazine

wrote an article on the subject that drew national attention. Ten years after the eminent domain taking, the City gave in and paid the Pappas family $4.5 million, but much of it was eaten up by legal fees and lost rental income.

With last week's Supreme Court ruling however, the City would probably have gotten away with the $345,000.

After leaving office in 1999, Jan Jones abandoned Downtown and went on to become an executive with Harrahs, a company with no business interests within the City of Las Vegas. Under her guidance, Harrahs recently purchased the rights to the historic "Horseshoe Club" name, logo, and
"World Series of Poker,
" leaving the once bustling downtown casino struggling to find a new identity. The last time that occurred, the once successful Showboat on East Fremont Street sold its valuable name and logo to out of state interests, and soon went broke.
Horseshoe closes, then sells name to
company run by former Mayor Jones
(
LV Review-Journal
photo by Jeff Scheid)
In the meantime, entrepreneurs came and went within the "redevelopment area." The first casualties were the team of Tim Poster and Tom Breitling who recently liquidated their interest in the once booming Golden Nugget after only one year of highly controversial ownership.

Tim Poster, left, and Tom Breitling
gave up Golden Nugget
one year after buying it
(
REVIEW-JOURNAL
FILE PHOTO)
Then came Barrick Gaming. The mining company bought four Downtown casinos one year ago with grandiose plans. Last month, they couldn't make payroll and were forced to sell out.

The above troubled examples including the
former Showboat and
Horseshoe, the Golden Nugget abandoned by Steve Wynn in 2000 when he sold it to MGM, and Barrick's
failed Plaza, Las Vegas Club, Western, and Gold Spike casinos prove that the indiscriminate misuse of eminent domain law under the guise of "redevelopment" doesn't work and discourages locals from patronizing the businesses that sought to benefit from someone else's loss.
Just because one company says they can enhance a city's tax base by converting someone else's property into
their
"higher and better" use is no excuse to trample all over a citizen's Fifth Amendment rights, no matter what the US Supreme Court says.
In most cases, especially in Vegas, eminent domain in the name of "redevelopment" offends good citizens and repels local business.
It often ends up costing the taxpayers millions in legal defense fees, and in some cases may inspire feelings such as those expressed this week by Harry Pappas who
told the
Las Vegas Review-Journal
, "When they come to take your property, kill them!"
.

Type of "new businesses" that infested downtown neighborhoods in the name of "redevelopment"
Sometimes a city or county government, as a favor to political movers and shakers, will secretly coerce property owners to sell out before eminent domain is needed. This practice can save face for greedy elected officials. The city reportedly cuts back on city services, or harasses tenants or owners until property values fall and the aggressor can buy out exhausted owners at bargain basement prices.

In the mid 1980s, a city councilman who owned a real estate company was accused of stopping city services to an entire neighborhood near what is now University Medical Center and Valley Hospital. Long time neighbors complained that street lights stopped working, police stopped patrolling the area, pot holes went un-repaired, and streets stopped being swept. Then they started getting low-ball offers for their homes from the councilman's company, Levy Realty. In this case, eminent domain was not needed, and had I not reveled the scam during the election in which I replaced the two term councilman, no one would have known the illicit methods used to clear the land for the hospitals.

Recently, downtown "redevelopment" spilled over into a troubled neighborhood called
Meadows Village
.
True to form, police and city services immediately diminished and properties were allowed to deteriorate. In response to burgeoning crime statistics, property owner Peter Christoff fueled controversy by printing fliers telling his neighbors how to obtain concealed weapons permits for self protection. In the meantime, eminent domain is rumored to be pending for his historic neighborhood to make way for high rise condominiums.
.
Christoff urges Meadows Village residents to arm themselves Dope pushers work Meadows Village in plain sight of police
(

LV SUN

)
(Photo by Peter Christoff)
Carol Pappas in her lawsuit against the City of Las Vegas Downtown Redevelopment Agency also complained of city harassment. She stated that city inspectors visited her tenants telling them that they should not renew their leases because the city planned to use eminent domain on their landlord. Affidavits of the tenants backed up her allegations. The city didn't want to be forced into eminent domain in order to help elected leaders save face, so they evidently tried to destroy her rental income. Eventually though, the city had to use eminent domain in order to get their hands on the elderly lady's corner property so the casinos would have more parking spaces.
Then there's 80 year old
Christina Von Sturm
who is being sued by Mayor Oscar Goodman's son because she refuses to sell her prime Las Vegas Blvd. property at the low ball price he offered. The mayor once said he wanted Christina's property so he could open a bar called "
Oscar's Speakeasy
." Now, Christina is fearful that the US Supreme Court has opened up the door for the mayor's son and partner to take her property at their price.
Christina Von Sturm

(

LV Review-Journal

)
Last but not least is
Buffalo Jim Barrier
, the owner of an auto repair business that stands in the way of a mob owned topless bar's expansion plans. With the US Supreme Court's decision, it could be much easier now to remove him to make way for the expansion, especially since the
topless bar
is owned by the mayor's former criminal defense clients. In the meantime, city fire officials, building inspectors, and parking enforcement officers wage a continued regime of
harassment
against the mechanic and his clients.
In two extreme examples, city inspectors in June told Barrier that his "Auto Electrical Specialists" sign, standing since 1976, was against city code and must be removed. Barrier refused. Then last week, a city employee posted a warning on the city's computer system saying Barrier was a "
crook
," and city employees should not patronize his auto repair business. Barrier's attorneys have since had the missive removed from the city's computer network. Then last Friday, Barrier arrived at his shop to find all his customer's cars towed away. These actions caused Barrier to be even more determined to hold his ground.
Buffalo Jim Barrier

(

LV Review-Journal

)


Now thanks to the unconstitutional actions of the US Supreme Court, people like Michael Flores, Peter Christoff, Christina Von Sturm, and Jim Barrier, along with their attorneys, must nervously wait to learn who's to be the next victim of the abuse of the now unbridled power of eminent domain.
HAPPY INDEPENDENCE DAY?