Be Careful What You Ask For…
You might just get it!
Now, more than ever, it looks like Rizzolo's asking
price of $35 - 40 million is hugely inflated, and is
based on what the club skims -- not reports.
INSIDE VEGAS by Steve Miller
AmericanMafia.com
July 3, 2006
"It makes so much money, I wouldn't do something stupid to jeopardize it."
- Rick Rizzolo,
Feb. 2003,
LV Review Journal
"Three years later, Rizzolo did something stupid

that jeopardized

his business and now he's going to prison!"
- Buffalo Jim Barrier, July, 2006
LAS VEGAS - It's ironic that Crazy Horse Too strip club owner and convicted felon
Rick Rizzolo
, the person who once tried to use the power of eminent domain to rid himself of a next door nemesis, is now the victim of a decline in his property's value because eminent domain is threatening to take the main entrance of his club for a road widening.
Though the original threat sounded more like a political favor to get rid of a pesky neighbor, the city Department of Public Works and the state Department of Transportation (NDOT) may have inadvertently been forced to delay the eminent domain seizure because of clever legal maneuvers by the pesky neighbor's attorney. Now the mere mention of eminent domain seriously devalues Rizzolo's asking price, something he probably never anticipated.
Revised Design Drawing by the City of Las Vegas Dept. of Public Works
(Red annotations and yellow highlights by Steve Miller)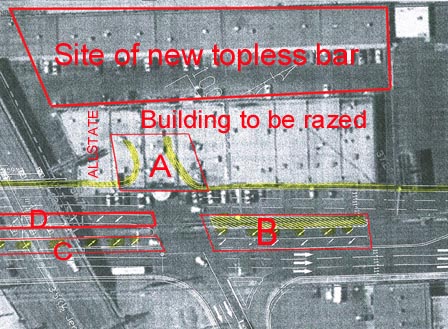 In 2003, before he and his corporation were convicted of multiple felonies, Rizzolo proudly distributed City of Las Vegas Department of Public Works Revised Design Drawings showing a custom designed street enhancement that would, at taxpayer expense, provide a 50 foot wide curved driveway into what would have been a new Crazy Horse Too building. The city's drawing conveniently placed a sidewalk directly through Allstate Auto, the garage owned by Buffalo Jim Barrier. This caused speculation that someone in the city Dept. of Public Works was aiding and abetting Rizzolo in getting rid of his arch nemesis.
This was not a far fetched scheme at the time because Rizzolo was
secretly paying his City Hall stooge
, then-councilman Mike McDonald, $5,000 per month as a "consulting fee," and the mayor had once accepted hundreds of thousands of dollars in legal fees to
defend Rizzolo
after he pleaded guilty to beating a man almost to death with a baseball bat. Also there's the fact that LV Mayor
Oscar Goodman's law partner
David Chesnoff represents Vinny Faraci, one of Rizzolo's managers who has since
fled the country
. In other words, plenty of past and present legal fees may be greasing the skids at City Hall.
Now that Rizzolo has
pleaded guilty
to tax evasion, and his closely held corporation, the Power Company, pleaded guilty to tax evasion and conspiracy to participate in an enterprise engaged in racketeering activity, he's been ordered by U.S. Chief District Judge Philip Pro to sell his club within one year (with a sixty day extension if needed); pay $5 million in fines and forfeiture and $1.7 million to settle tax liability; and pay beating victim Kirk Henry $10 million. In the meantime, the judge is amazingly allowing Rizzolo's father, brother, and sister to run the club long enough to raise the money even though they were also involved in the skimming and racketeering.
During the next year and two months, it needs to be disclosed to all potential buyers that the road widening could still occur, and if it does, it will severely affect the value of the property. This probably is the reason that, prior to being indicted, Rizzolo unveiled an artist's rendering of a totally new building he wanted to build at the back of his property.
Of course, if this building were to be built, the expense of purchasing the old structure and tearing it down would be wasted, thereby rendering moot the $35 - 40 million Rizzolo is asking for the existing Crazy Horse Too.
Photo of existing structure with emergency vehicles responding to patron who disputed his tab
(AmericanMafia.com photo by Buffalo Jim Barrier used on
Dateline NBC
)
The estimated cost of the new structure shown on the Crazy Horse
web site
is around $30 million. If someone were to buy the land and existing building at Rizzolo's asking price, they could be faced with enough city generated problems to make them regret their purchase. Any potential buyer, once informed, would probably be better off purchasing one of several nearby clubs that are not facing threat of eminent domain.
I've been told that
Cheetahs
, located a quarter mile away -- a club that reported making $6.5 million in 2004 -- is available for $25 million, and is not threatened by eminent domain. But I don't think Judge Pro knew all this when he accepted Rizzolo's guilty plea and put his family in position to ostensibly continue the skimmming and racketeering -- exactly what they pleaded guilty to through a corporation of which they are the only stockholders.
Therefore, I predict that beating victim
Kirk Henry
and the IRS will be waiting a long long time for their money, and that the Rizzolos will be operating the Crazy Horse years after their one-year and sixty day extension has expired. This could happen if the Feds and Judge Pro don't immediately place a receiver in the club and throw out Rizzolo's relatives and goons, along with placing garnishments and attachments on all of Rizzolo's personal assets and real estate including those he recently transferred to his ex-wife to
avoid forfeiture
.
Ironically, Buffalo Jim Barrier may have made this prolonged agony possible by discouraging the city from taking Rizzolo's property for the widening of Industrial Road. More on this later.
The city's delayed eminent domain plan slices 50 feet from the front of Rizzolo's property. The draconian Design Drawing shows a custom designed driveway (A) and a new signalized left turn lane (C) into the entrance of the not-yet-approved "Gentleman's Club." (Yellow highlights on the Design Drawing emphasize the city's proposed driveway conveniently cutting through Barrier's garage.) Keep in mind that this drawing was generated at taxpayer expense. That takes juice, especially when its intended to destroy an enemy's long time place of business as a favor to a friend by a beholden councilman and mayor.
However, in previous NDOT design drawings, the road was only to be widened by 28 feet making the construction of a new Crazy Horse building, and the eminent domain taking of Allstate Auto, unnecessary. The state plan would still greatly inconvenience Rizzolo by forcing him to move his main entrance to the alley at the rear of the existing building, while virtually leaving Barrier unscathed by taking only three parking spaces from the front of his garage. That obviously displeased Rizzolo who didn't plan on staying much longer in his dilapidated building and needed to get rid of Barrier to make his new club possible. Instead of offering to buy out Barrier though, Rizzolo apparently asked for help from his friends at City Hall, a move that peaked the interest of the FBI.
Prior to the city's Design Drawings being made public, the
Las Vegas Mercury
reported, "Rizzolo says a street-widening project that's slated to get rolling in the next few years will render the whole conflict moot, as Barrier will have to negotiate with the state Department of Transportation and Rizzolo will raze the whole shopping center--including Crazy Horse Too and Buffalo Jim's auto marine shop--and build a new 60,000-square-foot gentlemen's club."
Rizzolo said this three weeks before the city's Design Drawings were made public, so he obviously had advance knowledge of the scope of the city's taxpayer funded project -- a project that looked to be custom designed to fulfill his wish of removing Barrier at public expense to make way for his new building.
When Gus Flangas*, attorney for Barrier, first saw the city's Drawings back in 2003, he subpoenaed city Public Works Director Dick Goecke, and NDOT 's Tony Letizia, the Transportation Department's program development manager in Southern Nevada.
At their depositions, Flangas asked
Tony Letizia
about his cousin
Tom Letizia
who handles the advertising for the Crazy Horse, and is Mayor Goodman's
campaign manager
, fund raiser, and advisor. Flangas inquired whether Tony had been influenced in any way to help his cousin's two clients? Flangas also asked Goecke if he had been ordered by Mayor Goodman or
Councilman McDonald
to design the driveway in such a way as to ruin Barrier's business? Both denied the allegations, but must have gotten the hint.
By the fact that Letizia and Goecke were the only public officials deposed, it was made clear that if Barrier is somehow removed by the city to make way for the expansion of a topless bar, he's going to sue those public officials who he considers co-conspirators to put him out of business. According to Nevada legal precedent, former and present public officials can be named as defendants in their individual capacities in civil suits, and have to pay their own legal fees.
Coincidentally, since the road widening didn't take place as scheduled, this gives the old Crazy Horse a chance to stay in business for at least another year -- possibly long enough to find an uninformed buyer, and long enough for the Rizzolos to continue skimming right under the eyes of the Feds and Judge Pro.
This is the irony I mentioned earlier.
But that's not all that devalues the Crazy Horse Too. There was a mysterious shooting last February that allegedly involved a club bouncer and a patron. That occurrence went unreported by the LV Metro Police though there was police crime scene tape all over the front entrance of the club immediately following the incident. Another clue that major juice may be at play, and one of the possible reasons our good Sheriff,
Bill Young
, is not seeking reelection to a second term. His department is sprinkled with a dozen or more crooked cops who have accepted Rizzolo's monetary largesse, or sexual favors to protect his illegal activities.
In the meantime, the city has finally been
embarrassed
into bringing the Crazy Horse up on a long-avoided
license revocation action
(an action that Mayor Goodman should recuse from because of his blatant conflict of interest). If after the hearing, the city irresponsibly allows the club to stay open in spite of Rizzolo's racketeering and tax evasion convictions and the beatings and killings, our mayor and council may expose the taxpayers to liability in the likely event another bar patron is beaten or killed -- old habits die hard.
The Rizzolos have proven time and again they're not legitimate business people. The family and their thugs only know how to make money by beating, extorting, or drugging patrons who refuse to pay inflated tabs; offering fellatio in the VIP room; and paying off a few crooked cops,
judges
, politicians, the
District Attorney
, and mayor who keeps his Business License Manager Jim DiFiori at bay allowing his former client to stay in business at the expense of our tourist's safety and town's reputation.
But there's much more to this sordid story.
Rizzolo's corporate tax returns and his public comments don't jive. The
Las Vegas SUN
reported on May 21, 2006, "In a deposition that Rizzolo gave in the (Kirk) Henry case in July 2005, he said the club grossed $800,000 to $1 million a month, which translates to annual gross sales of $9.6 million to $12 million."
However his 2003 and 2004 tax returns tell a far different story.
The Crazy Horse made $6.08 million in 2003 (per their tax returns) and $3.6 million in 2004, showing a major decline in business following national news of Henry's beating, or that's what Rizzolo wants the IRS to believe.
In contrast, during those same years, Rizzolo continued his million dollar gambling addiction and kept bragging about all the money he was making -- if true, much more than he reported to the IRS. In February 2003, he told the
LV Review Journal
that his club makes more than $10 million a year. "It makes so much money, I wouldn't do something stupid to jeopardize it."
Rick Rizzolo doesn't seem to realize that his bragging revealed what will probably continue to be a skimming/extortion operation -- the only way his family knows how to do business, and something his family can continue while he's in prison. Judge Pro should have taken this probability more seriously. Now, more than ever, it looks like Rizzolo's asking price of $35 - 40 million is hugely inflated, and is based on what the club skims -- not reports.
It continues to amaze me that the Federal Government is letting him get away with this scam, and that the City of Las Vegas has not shut the bloody place down. But when the dust settles, it may be Rizzolo's own bragging, and wish that eminent domain rids him of his nemesis, that comes back to wipe him out financially.
*Steve Miller is a consultant for the Flangas McMillan Law Group.