What happens here, stays here

W
as the popular slogan plagiarized from
Alcoholics Anonymous?

.
"Steve Miller is degrading Las Vegas!" - Mayor Oscar Goodman
Why Goodman is livid
(
LV Review-Journal
photo) (Photo by Steve Miller)
INSIDE VEGAS by Steve Miller
AmericanMafia.com
July 18, 2005
LAS VEGAS - Last Thursday, during his weekly press conference, a bitter Mayor Oscar Goodman said, "Steve Miller is degrading Las Vegas" by offering a "$19.95 T-shirt" that uses an offshoot of the LVCVA's supposedly proprietary slogan,
"What happens here, stays here."
Goodman, who chairs the LVCVA, also said "Steve Miller should be ashamed of himself," and that he (Goodman) met with officials of the LVCVA (Las Vegas Convention and Visitors Authority) Thursday to discuss Miller's T-shirt advertisement. He said "Miller will be receiving a cease and desist letter" from the LVCVA within the next several days (its been over five days, so it must be lost in the mail).
Last week was one of those times when I just couldn't control my urge to "thumb my nose at the lot of them" as
opined
by John L. Smith in last Friday's
Review Journal
.
For the past 16 years, the governors of Nevada have been anointed by just two guys, Sig Rogich and Billy Vassiliadis. The duo has also had a lot to do with who gets appointed to the LVCVA board of directors. Together they own the two most influential political PR firms in our state -- Rogich Communications, and R&R Advertising.

For over 25 years, R&R has held an exclusive contract with the LVCVA that is rarely challenged. Other better known national ad agencies have tried in vain to compete for the contract, spending huge sums to make lavish presentations to the lock-step board of directors, but have consistently failed to usurp the politically powerful R&R.

Last year, the obedient LVCVA board voted to pay R&R a whopping $64.5 million taxpayer dollars out of their $190.1 million budget to duplicate the efforts of many Strip hotel PR departments in promoting Sin City. In the meantime, R&R is also being paid separately by a number of hotels who have board members on the LVCVA. Some of those casinos covertly take advantage of the LVCVA's taxpayer-funded promotion, and defer part of their advertising budgets to promote their competitive casinos in other states.
The original mission of the LVCVA, formerly known as the Clark County Parks and Recreation Board, was to build parks and provide wholesome family activities in a city that sadly lacks both, but that mission was forgotten long ago. Now their mission is to do the bidding of the county casinos by spending taxpayer dollars promoting the Strip, while downtown LV is left to languish.

To guarantee the board's full cooperation, the LVCVA's $400,000 per year salaried President has the ability to send hand picked directors and their spouses or companions on lavish taxpayer funded First Class trips around the world to purportedly "market" LV. A position on that board is the most coveted appointment in Vegas political circles, and being friends with Billy and Sig doesn't hurt a bit!

I should know. I was never on the LVCVA board, but on city fact finding trips, when I rode in the back of the plane, slept in budget rooms, and ate in coffee shops, the LVCVA members always traveled up front in First Class, slept in suites, and ate in gourmet restaurants. Most of the time the LVCVA members slept late and missed the meetings, or took side trips while we worked. With the exception of one or two, most were totally useless moochers. I doubt much has changed since then.

In 2003, R&R was paid millions of taxpayer dollars to purportedly originate a phrase such as "What happens here, stays here" for the LVCVA -- not copy and alter the motto of a hard working charity.

However, for decades,
Alcoholics Anonymous
has used the similar motto
"What you see here, what you hear here, whom you see here, stays here," according to Mike Christ, the AmericanMafia.com photographer here who also does research for INSIDE VEGAS.
Until last month, neither motto was trademarked.
In June, R&R secretly bought the LV version of the motto from the LVCVA's
President Rossi Ralenkotter
for one dollar, without gaining board approval. The same day, R&R applied for a trademark for the slogan. Now they want to pull it from the public domain and stop its use on T-shirts and other LV promotional items even though such products help promote our city.

The reaction from the LVCVA board?

In other words, R&R wants to trademark a slogan they may have
plagiarized,
after its been public domain for over two years - maybe longer considering AA's original version, and nobody wants to talk about it at board meetings.

Bon Voyage LVCVA board members! Enjoy your European vacations, but don't rock the boat!

Mayor Oscar Goodman may coincidentally be familiar with
Alcoholics Anonymous
and their motto.
In 2004, he accepted $100,000 to endorse
Bombay Sapphire Gin, his booze of choice. After the story went national and he received wide spread criticism, he split the proceeds with the city to try to save face.
This action helped bring Goodman before the state ethics commission inspiring the following comment about his alcoholism from Commission Vice Chairwoman
Caren Jenkins, Esq.
"It just struck me that the fifty-thousand dollars the city received went to a chronic inebriate fund. So, I thought that just tickled me a little bit seeing as
he is an admitted chronic inebriate
."
In Al-Anon's mission statement, they explain under
Anonymity:
"The motto
'What you see here, what you hear here, whom you see here, stays here'

sums up anonymity outside Al-Anon. We guard the anonymity of others in Al-Anon, Alateen, and AA by not revealing whom we see or what we hear in meetings."

Sound familiar?

Their statement continues, "We all come to Al-Anon because we want and need help."
Oscar Goodman needs help and could have been exposed to the motto at an Alcoholics Anonymous meeting. Or possibly, someone from R&R has a drinking problem and subconsciously picked it up. If true, I commend them for seeking help, but plagiarism is still not acceptable -- even if you don't remember doing it -- and using an obviously plagiarized motto
degrades
our city more than my dumb T-shirts.
Like most Nevada politicians, the mayor bows to
Billy Vassiliadis
and Sig Rogich.
Oscar Goodman, is considering a run for governor, and if so, will need friends like Billy and Sig if he plans to succeed, hence his obvious efforts to help Billy save face.


Up until this week, Billy and his firm have been mostly off limits to criticism (or competition) and have been held in the highest local esteem -- that's until I became a "
professional pain in the neck
," and stepped into a court battle between the LVCVA and California T-shirt entrepreneur
Dorothy Tovar
.

Dorothy Tovar



Billy and Oscar want Dorothy to cease and desist manufacturing and selling her version of the "stays here" T-shirt.
Its hard to imagine anyone wanting a gal like Dorothy to cease and desist manufacturing and marketing extremely attractive T-shirts that spell "Vegas" correctly -- something that can't help but benefit our city when worn worldwide by members of Generation X, but that's exactly what the mayor is demanding.
After learning of Dorothy's T-shirt enterprise, Goodman persuaded the LVCVA to spend an amazing amount of taxpayer money on an internationally recognized law firm
that charges up to
$675 an hour
to research who actually owns the slogan; whether the rights to the slogan could secretly be sold for a buck; and if R&R or the LVCVA could control marketing of products emblazoned with the slogan two years after the fact?

If he were a creditable civil litigation lawyer, and wasn't trying to pass the buck, Goodman would
already
have known the answers and could have saved the taxpayers lots of money.

Then last Friday, again at taxpayer's expense, the mayor jetted off to Reno, "

The biggest little city in the world,

" (I wonder if anyone owns that slogan?) to attend a settlement conference scheduled by R&R to try to shut down Dorothy's humble operation. By these two actions, its obvious who's pulling Oscar's strings.

Miller to the rescue!


I'm a sucker for a nice T-shirt worn by a beautiful model, and I also have extensive history manufacturing and marketing Las Vegas souvenir items, so I decided to become Dorothy's amicable competitor just to make a point (no pun intended). Last week I began advertising my
own
version of the "stays in Vegas" T-shirt, and Oscar hit the roof!
.
Dorothy's T-shirt model My T-shirt model. (Oh well....)


I asked one of Goodman's
favorite people
, Peter Christoff, to model
my
T-shirt to enliven a rather dull news week. Enliven -- it did!
This convoluted story starts back in the early 1970's, when my late father, Hal Miller, hired The Goodman Law Firm to analyze a threat then-made by Caesars Palace against our souvenir manufacturing business, Miller Novelty Company (MILNO).

MILNO had already made a fortune inventing and marketing the icon of Vegas souvenirs, the Casino Dice Clock, and was about to market several products that displayed the image of Strip hotels.

The threat involved MILNO marketing products that displayed the image of Caesars Palace. The hotel's attorneys said that my dad should pay Caesars a royalty, or cease and desist manufacturing and wholesaling products with Caesars Palace's image or marquee. Following extensive (and expensive) research, Jay Brown, an attorney with Goodman's firm, concluded that the image of the hotel and its marquee are public domain since they are visible from the public street.
The slogan "What happens here, stays here," or its offshoot "What happens in Vegas, stays in Vegas," has been used by everyone including First Lady Laura Bush, and has gone without trademark protection for more than two years. Unlike Caesars Palace, a private corporation, the LVCVA is a tax supported public agency, therefore their work product is even more in the public domain, and that can't be changed two years after the horse is out of the barn.

Armed with a legal opinion from Goodman's law firm, my dad held his ground and he was never again challenged by Caesars, proving that the Goodman firm's advice was legally sound.
I believe the Goodman Law Firm properly advised my father then, and I believe their advice still holds true today. Based on their findings, I will continue to advertise my T-Shirt even if I do receive a cease and deist letter from a high priced out of state law firm paid with taxpayer dollars!
Unfortunately, the founder of the Goodman Law Firm suddenly disagrees with his firm's previous findings, probably as a favor to Vassiliadis.
"The two faces of Oscar"
(From the Moncrief for Council campaign)
It may surprise you after hearing all this, but Billy Vassiliadis and I have worked together on three successful elections. I know him well. The first was in 1982 when I joined Billy and Kate Hitt on the Committee to Elect John Moran Sheriff. Our threesome formulated a highly successful campaign strategy, and I doubled as a fund raiser. Billy used Moran's election to begin his meteoric rise to prominence as a local political campaign manager. Sheriff Moran later convinced me to run for the city council. Our combined efforts proved quite rewarding
Then in 1994, I again was asked to collaborate with Billy, this time while he was in partnership with my old Las Vegas High classmate Sig. The duo was running the campaign of Bob Miller (no relation) who was running for Nevada Governor against LV Mayor
Jan Jones
. I was asked to share my extensive dossier on Jones with R&R. The secret meeting took place in a suite in the Reno Hilton where I delivered a 30 pound box of printed material to Rob Powers, then an executive with Billy and Sig's company. Rob coincidentally now works for the LVCVA.
Four years later, I was contacted once more by R&R, this time by Billy's assistant Denise Miller (no relation). She asked me to electronically send R&R an updated version of my Jones dossier. I did so, and as reported in Jon Ralston's book "
The anointed one
," Billy used my research and materials to, for the second time, effectively trounce Jones thus rendering a fatal blow to her once promising political career.
Today, if you're an ambitious politician like Goodman, then Sig Rogich and Billy Vassiliadis are good friends to have. For me? I just like to blow the whistle when guys get too big for their T-shirts.
Mayor endorsing gin to fourth graders (Las Vegas SUN) (LV Review-Journal)
(AmericanMafia.com photo)
Now back to Goodman and the possible inspiration for the "stays here" slogan.
This is the same guy who told forth graders
that if he was marooned on a desert island the one thing he would want to have with him is a bottle of gin, and that his hobby is drinking! He could be the poster boy for AA -- and he
had the
chutzpah
to say "Steve Miller is degrading Las Vegas?"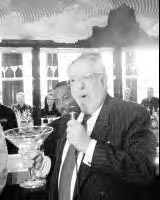 ( SAM MORRIS /
LAS VEGAS SUN
)
When a widely distributed product says "Vegas," and spells the city's name correctly, the city always benefits, though Oscar, in his loyalty to Billy, doesn't want to admit this fact. He should however, because when his face is plastered all over the screen in the movie "Casino,"
where the "F" word is used over 300 times
, it still benefits our city even though his previous job as a lawyer for murderers was a much more
negative image than our simple T-shirts!

"Degrading Las Vegas" has become an industry at city hall, and it obviously works. The casinos, pay day loan stores,
escort services,
massage and tattoo parlors are all booming thanks to Goodman's image!


Goodman photographs Playboy model


As this stupid story progresses, it becomes more and more obvious just how incompetent a lawyer Oscar Goodman actually is when it comes to civil litigation. For him to spend taxpayer's money on an expensive out of state law firm to "stonewall" until the issue cools off, and for him to spend tax dollars traveling to Reno to support Billy, proves my point.
Prior to the last LVCVA meeting, Goodman
pledged
,
"I'll be asking some very hard questions on July 12. There will be no whitewashing, no

stonewalling

!"
As the meeting approached, he tempered his words,
"I know Rossi Ralenkotter and
I think his integrity is unimpeachable
.
I'm confident that at the end of the day this will be resolved."
On the eve of the meeting, probably after realizing he was about to embarrass Billy, Mayor Goodman said: "Reputations are of course at stake whenever these issues become public."
At the eventual meeting, a very timid Goodman said nothing other than, "There will be no resolution today because of the litigation."
So much for his
"There will be no whitewashing, no stonewalling" statement!
Meanwhile, Dorothy and I continue to advertise our T-shirts with the knowledge that
Goodman's stupid remarks smack of restraint of fair trade, prohibited under the Sherman Antitrust Act, and something any
competent
attorney would know.
"The antitrust laws - the Sherman Act, Clayton Act and Federal Trade Commission Act at the federal level, and similar laws in many states-prohibit
contracts
, combinations,
conspiracies
, and other agreements in
restraint of trade, as well as monopolization and
attempted
monopolization.
"
This explanation is the opinion of the 450 lawyers at the Washington D.C. law firm
Mintz, Levin, Cohn, Ferris, Glovsky and Popeo
. What is now occurring at the LVCVA and R&R Advertising could possibly be an example of such a conspiracy, and Oscar is helping to perpetuate the crime if its determined in court that such a conspiracy is underway.
Having a layman such as me publicly telling an experienced criminal defense lawyer how to conduct his business must be an extreme irritant to a guy like Oscar, especially when he knows I'm 100% right!
Or
maybe he's pissed because I included the following statement in my T-Shirt ad:

"Be the first on your block to proudly wear one, and tell Billy, Oscar, and the LVCVA to 'Go Suck Eggs!' "



No matter where the slogan originated, the two controversial T-shirts should be on Vegas gift shop shelves in the very near future. In the meantime, as John L. Smith wrote last Friday, "
Something tells me Vassiliadis & friends have an unprintable slogan reserved for Miller."