$1 million dollars put in escrow for Buffalo Jim Barrier.
Crazy Horse Too sale to Mike Signorelli craps out.
Judge throws the book at Rick Rizzolo after
seeing a CONFIDENTIAL Agreement!
INSIDE VEGAS by Steve Miller
AmericanMafia.com
June 4, 2007
LAS VEGAS - The Sin City legal community is buzzing over garage owner Buffalo Jim Barrier winning three motions in Clark County District Court last Thursday against his landlord, convicted racketeer
Rick Rizzolo
.
Rick Rizzolo Buffalo Jim Barrier
(

LV Review-Journal

photo by Clint Karlsen) (AmericanMafia.com photo by Gene Kilroy)
First; District Court Judge Elizabeth Gonzalez agreed with Barrier's attorney Kim D. Price that Federal stays had been in effect that stalled
Barrier's harassment case
for almost three years. She ruled that NRCP 41(e), the five year rule, should be waived and Barrier's case allowed to go to trial.
Second; Judge Gonzalez dismissed Rizzolo's
defamation action
against Barrier. In September 2000, Rizzolo sued his next door neighbor for accusing the strip bar owner of racketeering -- one of the charges Rizzolo pleaded guilty to last summer.
Third; Judge Gonzalez ordered that a Writ of Attachment be granted against Rizzolo for $1 million dollars to be deposited immediately into an interest bearing escrow account in the likely event Barrier wins at trial.
After reading a Purchase Agreement never meant for her eyes, Judge Gonzalez determined that Barrier may not be able to collect if he wins. Therefore, the judge made sure the funds would be available if and when they are needed.
Prior to last Thursday, in his five year old harassment lawsuit against Rizzolo, Barrier had met with nothing but road blocks.
(
Los Angeles Times
photo)
His previous judge Nancy M. Saitta sanctioned Barrier $4,500 for "wasting the time" of Rizzolo's attorneys. She did this after making the statement: "Mr. Rizzolo has a good name in the community." Saitta ordered Barrier to pay the law firm of Patti & Sgro before leaving the courtroom. Then she dismissed the racketeering portion of his suit calling it "meritless."
In an effort to humiliate Barrier, he was forced to write Rizzolo's lawyers a check while she watched from her bench.
Her ruling and complimentary statement about Rizzolo inspired me to pen the AmericanMafia.com column "
A Judge in Their Pocket
," and share my Saitta files with the
Los Angeles Times
and FBI.
It was later discovered that Rizzolo was one of Saitta's heaviest campaign contributors and that she enjoys a close personal relationship with him and his family.
Saitta is now a Justice on the Nevada Supreme Court and was the subject of the June 2006
Los Angeles Times
story
JUICE VS. JUSTICE | A TIMES INVESTIGATION
; "In Las Vegas, They're Playing With a Stacked Judicial Deck. Some judges routinely rule in cases involving friends, former clients and business associates -- and in favor of lawyers who fill their campaign coffers," by Michael J. Goodman and William C. Rempel.
Even with this baggage, she won election to higher office.
A complete turn of events took place last Thursday in Barrier's favor when Judge Gonzalez decided to grant the million dollar attachment after Rizzolo's attorney Mark Hafer reluctantly told the court that the sale agreement with Mike Signorelli fell through. After being questioned by the judge, Hafer said: "Signorelli did not perform. He was supposed to have put $38 million into escrow by today but hasn't deposited one dollar. The deal will not close. There is no imminent sale."

(Hafer changed his story the following day saying the deal was still alive.)

Barrier's attorney reminded Judge Gonzalez that Rizzolo had been ordered by the court to give his client ten days notice of any pending sale, but he failed to so so possibly because the sale was fraudulent on its' face and Signorelli was nothing more than a straw man used to keep the place open to buy Rizzolo time with the city council and postpone his imprisonment.
To add fuel to the Signorelli - straw man fire, award winning
Las Vegas Review-Journal
columnist John L. Smith devoted his Sunday May 3
column
to the Rizzolo/Signorelli scam: "Informed sources confirm officials from the FBI, IRS and U.S. attorney's office are preparing to take over the Crazy Horse Too and liquidate it now that Rizzolo's thinly veiled attempt to sell the notorious jiggle joint to suspected straw man Michael Signorelli has turned into a bona fide belly laugh," Smith wrote.
"Despite a police report that linked Rizzolo to the new 'owner,' the City Council voted in April to grant Signorelli a permanent liquor license for the Crazy Horse Too. Now the council looks like a bunch of rubes..." "In light of the flimsy facts surrounding Signorelli's personal finances, that defense document is sure to be scrutinized for its truthfulness. And don't be surprised if you start hearing about possible obstruction of justice charges in this case," stated Smith.
At the April council hearing, several FBI Special Agents sat in the back of the chambers watching, hence Smith's "obstruction of justice" observation.
Last Thursday in court, Rizzolo's attorney argued unsuccessfully that there is no need for the million dollar Writ of Attachment since his client still owns the club and will not be transferring title on June 30 as was previously stipulated in the purchase agreement. His plea caused his client even more damage.
His amazing statement came several weeks after another sealed document reached my hands. In this document filed under seal in Federal Court, Rizzolo attorney Tony Sgro also revealed that Rizzolo is still in charge of the Crazy Horse.
I sent the entire sealed document including the above statement to the city council who previously ruled that Rick Rizzolo's ongoing involvement in the business was totally unacceptable. In fact, it was their own City Attorney Brad Jerbic who on Oct. 4 told the council:
"We want a divorce from those who pleaded guilty and the operation and management of this business."

But that didn't bother the council who did nothing even with full knowledge that their orders are being violated. They were too timid to act. When a reporter asked Mayor Pro Tem Gary Reese about ongoing problems at the Crazy Horse, he replied: "I don't go to those type places."
And Thursday, Mr. Hafer told the court that the purchase agreement was a sealed document and that an "impropriety" had occurred to allow it to be entered into evidence in the Barrier case.
I proudly published the
CONFIDENTIAL
document prepared by Mayor
Oscar Goodman's law partner
and protégé David Chesnoff on May 22 in my INSIDER E-BRIEF. My missives are sent to every attorney and reporter in Las Vegas.
If that's an impropriety, so be it.
Having heard enough, Judge Gonzalez ordered Rizzolo who is presently incarcerated in the Los Angeles Metropolitan Detention Center to immediately deposit $1 million into the escrow account for Barrier.

He's obviously still running the joint from his cell, so her order was very appropriate.

"The judge's ruling opens the door for Mr. Barrier and I to travel to California and conduct a videotaped deposition of Mr. Rizzolo in prison -- a deposition he's been ducking for over five years," stated attorney Kim Price after the hearing.

Leaving the courtroom, Barrier was all smiles. "This was the kind of victory I've been praying for. I can't wait until Rizzolo hears that he's got to fork out a million dollars. He'll probably choke on his bologna and cheese sandwich!"
The admission on the court record that the sale of the Crazy Horse Too had fallen though triggers a receiver being placed to liquidate the business by June 30 according to separate rulings by Judge Pro and the city council.

It's doubtful the council will do anything with Goodman breathing down their necks, but Judge Pro is expected to take action within the next three weeks.

Judge Pro and the council did not give latitude for any further extension of operation in the event the Signorelli deal fell through. Since no
qualified
buyer has surfaced, and unless Mayor Oscar Goodman can pull a rabbit out of his hat as a favor to his law firm's former and present clients, it's anticipated the business and real estate will be auctioned off later this summer.

Furthermore, Mike Signorelli holds the only liquor license on the address. Though he was granted the license in only six weeks without required police investigations (an obvious favor from Oscar Goodman), it would take an ordinary citizen at least six months to apply for and be granted a new license. In the meantime, the business must go dark.


Before Judge Gonzalez made her ruling, Rizzolo's attorney began to tell the court, "If the court wants to continue this punishment," but the judge angrily cut him off before he could complete his sentence.

Her action reminded courtroom observers that Rizzolo has yet to pay beating victim Kirk Henry one penny of the $10 million dollars he agreed to in his plea agreement. Henry was rendered a quadriplegic after a dispute with Crazy Horse bouncers over an $88 bar tab. I believe the misplaced word "punishment" inspired Judge Gonzalez to cut off Hafer's comment that he intended would cause sympathy for his incarcerated client.

Mayor Goodman, Gardner Jolly, David Chesnoff
Here are highlights from the agreement prepared by
Goodman and Chesnoff
-- a document never shared with the LV City Council and Judge Gonzalez (until I disclosed it), and withheld from the Federal Court until after Rizzolo was sentenced in June 2006. Note the paragraph about Confidentiality and Publicity:
Rizzolo may grant Signorelli an "extension"
The mob doesn't go down without a fight! Sources close to Rizzolo report that he's planning to try to pull another fast one on the court and city council and exercise his supposed option in Paragraph 8.03 to grant Mike Signorelli an "extension" to obtain the finances to purchase the topless bar -- finances that Signorelli has no way to obtain in his lifetime without Rizzolo's covert help.
Fred Doumani Jr.
(AmericanMafia.com photo by Mike Christ)
I suspect that Fred Doumani Sr., one of Rizzolo's closest associates, is waiting in the wings to try to help Rizzolo et. al. He may try to use his son Fred Jr. as a "Mr. Clean Face" to replace Signorelli, but it would still be the same gang running the joint if the council or Judge Pro goes along.
The Feds are fully aware another straw man may step up, and obstruction of justice charges could follow.
An extension of time or a new buyer was never agreed to by Judge Pro who was not privy to the latest Purchase Agreement until May 17. And had I not sent it to them last week, the city council may have never have seen the secret document so they could have been duped into thinking Signorelli was ready to close the deal for no money.
Rizzolo et. al. are desperate to remain in possession of the strip bar and continue skimming the nightly cash flow while the supposed "owner" sleeps in the back office.
However, after today's column in the
Review-Journal
, that won't be an easy task. The cat's out of the bag.
The city council are all afraid of offending Goodman and his law partners Jay Brown and David Chesnoff who are major political campaign fund raisers. But Judge Pro is independent of Goodman's influence and is expected to drop the hammer on Rizzolo by June 30.
In the meantime, a new attorney has vowed to re-open the
wrongful death case of Scott David Fau
. Judge Nancy M. Saitta on three occasions dismissed the 1995 beating death case as a favor to Rizzolo, then after the Nevada Supreme Court was about to reverse her decision, she acquiesced. But she wasn't through trying to help her friend get away with murder. At trial Saitta dutifully advised the jury to
disregard blunt force trauma
in their deliberations because it took Mr. Fau three hours to die after being beaten by Rizzolo's goons. The jury followed Saitta's instructions to the letter and Mr. Fau's wife and children received nothing. For her efforts, Rizzolo in 2006 helped her win election to the Nevada Supreme Court.
Rick Rizzolo and his lawyers lied to the City Council and US Federal Court about the sale of the Crazy Horse Too. Now its up to Judge Pro and the Las Vegas City Council to prove
John L. Smith
was wrong for describing politicians as "rubes" and "suckers."
And if the Crazy Horse is closed down, I hope the Feds keep a close eye on the property. I understand that Rizzolo has a generous insurance policy on the structure, contents, and loss of business earnings in the event of a fire.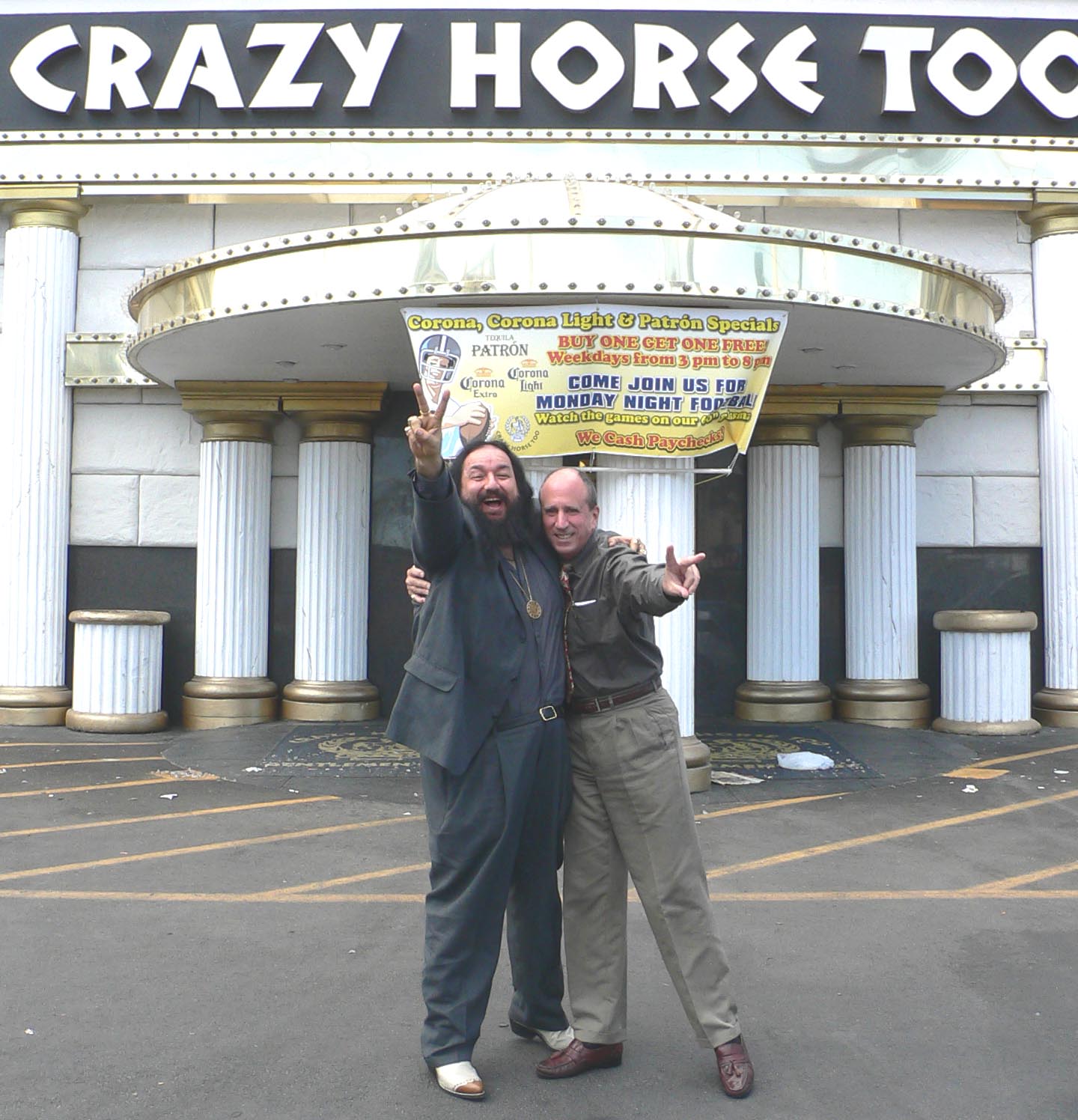 Buffalo Jim Barrier and Steve Miller on the day the City Council (temporarily) closed the Crazy Horse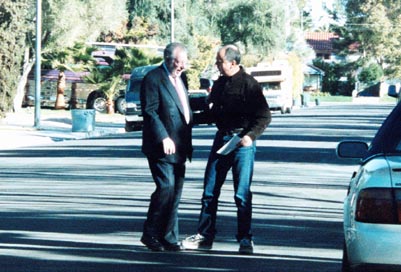 Oscar Goodman went to Steve's house to to talk him out of going after his friends at the Crazy Horse
Frankly, I'd rather be attacked by a swarm of malaria-crazed mosquitoes
than
have Miller and Barrier on my case.

- John L. Smith,
LV Review-Journal
, 07/27/05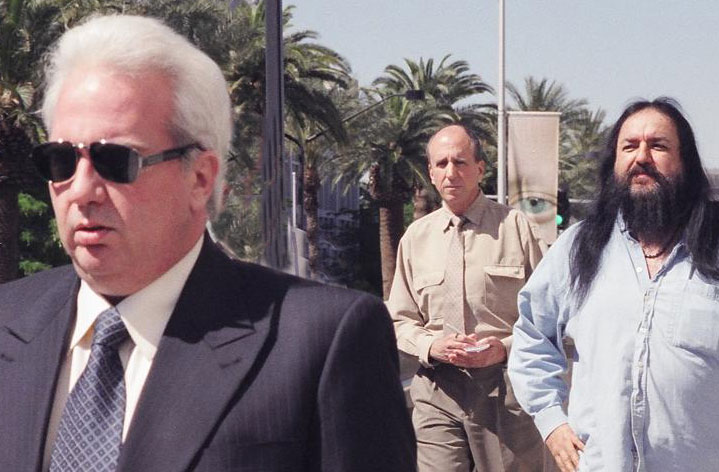 Rick Rizzolo is followed out of Las Vegas Federal Court House by Steve Miller and Buffalo Jim Barrier
after pleading guilty to racketeering and tax evasion. (AmericanMafia.com photo by Mike Christ, 06/01/06)
One of Oscar Goodman's City Hall subordinates used
his official position to keep the Crazy Horse Too open

Straw man Mike Signorelli with Goodman subordinate Jim DiFiore,
CLV Director of Business Activity, who supported keeping the
Crazy Horse open. (AmericanMafia photo by Mike Christ)
Mayor Goodman's law partner and Senator Reid's
business partner is the Crazy Horse Too's lawyer
Jay Brown (left) represents mob straw man Mike Signorelli who claimed
to be buying the Crazy Horse Too. Brown, who's name has surfaced in
organized-crime investigations
, was also Goodman's law partner, and
he and Goodman once served as
Rick Rizzolo's
corporate agents
.
(
Review-Journal
photo by Clint Karlsen)
Copyright © Steve Miller
Steve Miller is writing a true crime book on the mob's battle to keep the Crazy Horse open.