Signorelli tells the City Council he didn't know his general manager, assistant general manager, and bookkeeper's last names are "Rizzolo"

...I go down a list and I don't see the last name, being that it's very difficult to find out whose related and whose not." - Mike Signorelli

INSIDE VEGAS by Steve Miller
AmericanMafia.com
November 6, 2006



In an effort to rid the violence-plagued Crazy Horse Too of the Rizzolo family influence, the Las Vegas City Council on October 4 granted restaurant owner Michael Signorelli a ninety day temporary liquor license.

After four years of undercover investigations resulting in the conviction of 17 bar employees and its' owner, the bar that City Attorney Brad Jerbic described as a "public nuisance," and the U.S. Department of justice called a "threat to the community" was re-licensed against the wishes of FBI officials.

To make this possible, Signorelli purportedly agreed to pay $14,000 per day "rent" to convicted felon Rick Rizzolo to have the option of purchasing the dilapidated topless bar for $45 million -- a purchase price far above that of much newer venues in Las Vegas. Rizzolo is a close friend and former client of Mayor Oscar Goodman.

The Council was told that letting the bar re-open was the only way Rizzolo could pay $17 million dollars to clear his debts to the IRS and a beating victim.

The Council was fully aware but did not question Signorelli about his two bankruptcies in a fifteen year period, and a 1998 lawsuit by his employees for allegedly "looting" their pay checks at a Mesquite casino he opened, then closed one year later.

Within hours of the Crazy Horse Too re-opening, reports that the family of Rick Rizzolo, the convicted felon who was barred by the Federal Court from ever again stepping foot on his own property, were back in the topless bar holding managerial positions.

On Oct. 4, the Council stipulated that Rizzolo family members could only be on the property for another seven days to wrap up their duties and train replacements. However, on the eighth day, Oct. 12, family members were photographed by next door neighbor Buffalo Jim Barrier still coming and going from the club.

A source in the club told INSIDE VEGAS that Dominic Rizzolo, Rick's 22 year old son, had become the new general manager with Rick's brother Ralph assisting him. Ralph was arrested in February for trafficking in controlled substance. I also learned that Rick's sister Annette Rizzolo, the bookkeeper who oversaw years of skimming, was still keeping the club's books, while Signorelli was often seen sleeping in Rick Rizzolo's former office.

I informed members of the City Council of this situation. However, I excluded Mayor Oscar Goodman after I forced him to abstain because he was once Rizzolo's criminal defense attorney, and his law partner David Chesnoff currently represents Crazy Horse employees convicted of tax evasion and racketeering.

Goodman had previously insisted on presiding over the hearings after publicly stating the Crazy Horse had done little wrong, and he would vote to allow the Rizzolos to continue operating it. But after I filed a complaint with the State Ethics Commission, he groveled and has since reluctantly abstained leaving his Mayor Pro Tem Gary Reese in charge.

On Thursday, Nov. 2, LV Review-Journal City Hall reporter David McGrath Schwartz wrote an article entitled "Strip club operator accepts hiring ban. Council blocks hiring anyone with Rizzolo ties."

In the article, McGrath reports: "The City Council agreed to issue a new liquor license for Signorelli last month. He is leasing the building for $400,000 a month, with one of the conditions that no one who pleaded guilty to federal crimes be involved in the business. The license is subject to a three-month review. Council members pointed to members of the public who reported that Rizzolos continued to work there. Former councilman and relentless Crazy Horse Too foe Steve Miller has sent numerous e-mails and messages to the City Council alleging that the Rizzolos continued to operate the club. In one, dated Oct. 20, he wrote, 'Rick Rizzolo's 22-year-old son Dominic is now running the CH2 (Crazy Horse Too) with Rick's brother Ralph as the number two guy.' "

McGrath's article was in response to the Council learning of my findings, and holding an emergency hearing.

However, Signorelli didn't see it that way.

At the hearing last Wednesday, in a flurry of excuses and denials, Signorelli told the Council it was his idea to come back before them, and that he didn't know Rizzolo's family still worked for him. He also amazingly said that Jim DiFiore, the City's Director of Business Activity, was showing him how to correctly operate his topless bar.

After Councilman Steve Ross told Signorelli he was "shocked" to see him "again in such a short amount of time," Signorelli made these statements:

SIGNORELLI: "Please respond by and from please Mr. DiFiore or Mr. Jerbic or anyone..."

(Signorelli looks over toward Jim DiFiore. DiFiore remains seated).

SIGNORELLI: "I'm not back here because I did something that I didn't live up to. When I go into a facility like this and I go down a list and I don't see the last name, being that it's very difficult to find out whose related and whose not (laugh). Very candidly, I sit there hours and hours and try to find out whose on first base and whose on second, so actually I saw, I saw to call the city, and Mr. DiFiore will know himself (looking and gesturing toward DiFiore), I contacted him myself and said I may need some help. So I actually called and asked for what's happening today in a semi way myself, just so you know that. So it's not a problem I committed probably. But else, (looking at DiFiore) if I'm incorrect please tell me (gestures toward DiFiore). So its not for that reason, so you know. I was trying to ask for help, so they showed me how to do it correctly."

FULL VIDEO: http://lasvegas.granicus.com/MediaPlayer.php?publish_id=29 Slide timer bar to 9 minutes into video to see and hear Signorelli's amazing statement.

Mike Signorelli and Jim DiFiore (AmericanMafia.com photo by Mike Christ)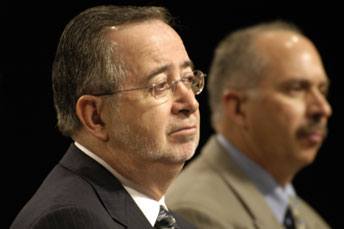 As a former council member, it's more than obvious to me that DiFiore is acting as an agent of Rizzolo/Goodman and their La Cosa Nostra friends.
It's also obvious to me that Signorelli is not competent to oversee the operation of the Crazy Horse, and was merely placed there as a pawn or straw man to allow the criminal activity to continue under the direction of Rizzolo -- possibly without Signorelli's full knowledge.
No competent business person would agree to pay $14,000 per day "rent" to a convicted felon for a shut down bar in the seediest part of town. Furthermore, reliable sources say the bar is only doing 30% of its previous business.
In the bloody old days, the Crazy Horse charged women $70 per shift to dance while many unscrupulous dancers extorted customers by inflating their credit card tabs. The club once had over 200 independent contractor strippers -- many who paid bouncers to threaten or beat up customers who balked at paying thousands of dollars in bogus charges for lap dances and liquor. Many customers complained that they were drugged before being forced to sign and affix their thumb print to credit card slips.
After Rizzolo's conviction, these facts were revealed in national media reports. Hence, the drastic drop in business.
That would mean that during the club's hey day, $14,000 per day in admissions were paid by the dancers alone, and this did not include the credit card rip offs and legitimate liquor sales that compounded Rizzolo's profits. His staff was also accused of prostitution and drug sales, though no one has been indicted -- yet.
Many question why Signorelli was so willing to pay $400,000 per month "rent" for a place with such a deplorable reputation? In order to do so, some believe he would have to continue the scams to generate that much money.
At his original licence hearing on Oct. 4, Signorelli could only guess at what the club made, and no member of the Council pressed him on that point. He didn't seem to have a clue then, and apparently still doesn't when it comes to the club's finances -- something that should have red flagged the Council members during the last two public hearings. But in the back room, some Council members are now beginning to question whether he could be serving -- inadvertently -- as a front man for the Mob?
Today it's reported that only 40 dancers remain at the Crazy Horse, and they're the ones who could not find employment elsewhere either because they were not pretty, or had problems with the law that did not faze Rizzolo in past years.
So where is Signorelli getting the $14,000 per day? His last two businesses went bankrupt. What happens if he goes into the rears? Does he forfeit to the Mob his successful Golden Steer Steak House? Does he even know what he possibly got into and the dangers he may face if he doesn't perform?
On January 3, there will be an item on the Council agenda to extend or make permanent Signorelli's liquor license. In the meantime, Rick Rizzolo will be sentenced on Nov. 16 and could get up to five years in Federal prison.
While he was described as being very intoxicated last Monday at Piero's, Rick reportedly told several witnesses that he will give a qualified candidate $300,000 cash to challenge Mayor Pro Tem Gary Reese at the next election.
Reese was the man who led the charge on Oct. 4 to shut down the Crazy Horse and fine Rizzolo $2 million dollars, and Rick reportedly hates him for his efforts.
Reese acquiesced six weeks later and let Signorelli re-open the bar, but many believe he may once again show his mettle when the temporary license comes up for renewal or to be made permanent, especially now that Rizzolo has reportedly put a bounty on his political future.
On Wednesday, January 3, Signorelli will be back for his 90 day review with Jim DiFiore cheering him on. But at last Wednesday's hearing, Councilman Steve Ross asked the City Attorney what happens after January 3?
"Mr. Jerbic. Am I to understand that if within ninety days no Council member brings this up again, that their license just expires by law? Is that correct?"
Jerbic answered affirmatively thus putting the responsibility for placing the item on the April 5 agenda solely in the hands of one of the elected Council members.
Now, after Ross' question was clearly answered, it will be interesting to see if any Council persons would expose themselves to such scrutiny April 5, or do nothing -- let the temporary license naturally expire -- and place the Crazy Horse business and property in the hands of a Federal receiver as they should have done by denying Signorelli's original application.
It's still possible that Jim DiFiore might defy Jerbic and personally place the item on the agenda, but that would contradict what Councilman Ross was told about it being the responsibility of an elected official -- it could also be illegal -- and might trigger further action by the Feds who are looking at City Hall through a microscope.
So if no one steps forward to help Signorelli/Rizzolo on April 5, then in June, according to U.S. Federal Court Chief Judge Philip Pro, a receiver will be placed in charge of the business and property, and it will be liquidated to pay back taxes, IRS fines, and beating victim Kirk Henry and his LV attorneys who have yet to receive a dime and are getting restless.
It's suspected that Henry's politically influential attorneys pressured several Council members which may have inspired the temporary license in the first place. They want their legal fees ASAP, and attaching Rizzolo and his ex-wife's personal assets takes time.
Also, during his alleged binge last Monday, witnesses report that Rizzolo bragged about losing over $6 million dollars this year gambling on the Strip. Rick Rizzolo has never offered or been asked to tap his gambling budget to pay for Kirk Henry's pain and suffering, or his fines and tax obligations.
Why? This is Las Vegas after all, and few would dare discourage a "Whale" from enriching casinos that through generous local and national campaign contributions make it possible for us to enjoy our quality of local government.
Copyright © Steve Miller