Sin City Turkey Tales
INSIDE VEGAS by Steve Miller
AmericanMafia.com
November 27, 2006

LAS VEGAS - Even though it's the beginning of the Holiday Season -- a time when turkeys should be running for cover -- our local turkeys are hiding in plain sight.

Here are a few of this week's local turkeys as presented in my latest

INSIDER E-Briefs

:
----------------------------------------------------------------------------------------------------

Subject: Like a bad nickel, Billy keeps coming back
Date: 11/26/2006 10:39:14 A.M. Pacific Standard Time
Like a bad nickel, Billy keeps coming back
Now that Nevada Attorney General George Chanos is retiring, I believe incoming A.G. Katherine Cortez-Mastro will abandon her predecessor's investigation of corruption at City Hall, and open the door for Mayor Goodman to place an item on a Spring 2007 Council agenda to reconsider
Billy Walters
' request to have the deed restriction lifted from his Royal Links land. Goodman may wait until after he's reelected to his third and last term, then as a lame duck do the favor for his
former client
thinking nothing can be done to stop him. However, there's a pending complaint with the Nevada Commission on Ethics that could still come back to
fowl
up (no pun intended) his payback scheme. - SM
Nov. 26, 2006
Copyright © Las Vegas Review-Journal
SHERMAN FREDERICK: A juice job at City Hall
A few more observations before the Royal Links Golf Course debacle fades further into yesterday's news. A good place to start is with this memorable line: "It appears that there has been a consistent pattern of political and financial favoritism...." The mayor solicited this deal with the urgency of a hooker at a stoplight... The mayor wanted to do his friend a favor and he was willing to do it at the expense of Las Vegas citizens.
FULL EDITORIAL: http://www.reviewjournal.com/lvrj_home/2006/Nov-26-Sun-2006/opinion/10989403.html


Sep. 28, 2005
Copyright © Las Vegas Review-Journal

Ethics complaint filed against Goodman

Critics say mayor violated law by voting on matters affecting former criminal defense client Billy Walters

By ED VOGEL
REVIEW-JOURNAL CAPITAL BUREAU


CARSON CITY -- Las Vegas Mayor Oscar Goodman has been hit with another ethics complaint over his involvement in issues affecting Southern Nevada golf course owner Bill Walters. Two long-time critics of the mayor, Bob Rose and former City Councilman Steve Miller, filed the complaint Monday with the state Ethics Commission.


FULL STORY:
http://www.reviewjournal.com/lvrj_home/2005/Sep-28-Wed-2005/news/3564703.html
----------------------------------------------------------------------------------------------
Subject: Ethics Commission takes jurisdiction over latest Goodman complaint
Date: 11/24/2006 9:57:57 P.M. Pacific Standard Time
Ethics Commission takes jurisdiction over latest Goodman complaint
On Friday, Nov. 24, I was informed that the Nevada Commission on Ethics took
jurisdiction
over my July 24 complaint against Las Vegas Mayor Oscar Goodman.
This means the Commission will meet in closed session sometime in the near future to determine whether to punish Goodman for doing favors for his law firm's former and present clients at the Crazy Horse Too.
If they decide he has violated state ethics law, this will be the second time in his career he's been found guilty of the same offense.
Since learning of my
complaint
, Goodman has abstained on voting to benefit his former and present Crazy Horse clients, however, sources at City Hall say he's working behind the scenes with help from City Business License Director Jim DiFiore to keep the place open.
In 1991, I had the honor of authoring the law that Mayor Goodman continues to break in his efforts to do favors for Rick Rizzolo and Billy Walters. My colleague Robert Rose and I in 2005 filed a separate complaint against Goodman in regard to Walters. That complaint has yet to be acted on, but Goodman has pledged to help Walters steal 160 acres of once-public land for pennies on the dollar after the new Attorney General is sworn in January 2.



Several years ago, Mr. Rose aroused Goodman's anger when he filed a complaint against the Mayor for using his official title to do favors for his son.
This
Review-Journal
photograph by Cariño Casas depicts Goodman's anger when the same Ethics Commission took jurisdiction over Mr. Rose's complaint.
Goodman
stated
, "If anybody tells me I can't help my son, who I love, they can drop dead," referring to 82 year old Mr. Rose.
The Commission later found Goodman guilty of violating the state ethics law.
Now I expect a another angry reaction from the Mayor such as: "If anybody tells me I can't help my former clients Rick Rizzolo and Billy Walters, who I love, they can drop dead," but this time he'll be referring to me! - SM
----------------------------------------------------------------------------------------------
Subject: HAPPY THANKSGIVING from Vegas' finest
Date: 11/23/2006 2:21:44 P.M. Pacific Standard Time
HAPPY THANKSGIVING from Vegas' finest.......
Top to bottom, L. to R: Buffalo Jim Barrier, Steve Miller, Sandy Murphy, Rick Tabish, Rick Rizzolo, Rocco
Lombardo, Sig Rogich, Billy Vasilliadis, Donna the street walker, Mike McDonald, Oscar Goodman, Steve
Wynn, Michael Jackson
ANY RESEMBLANCE BETWEEN THOSE PICTURED AND A TURKEY IS COINCIDENTAL
---------------------------------------------------------------------------------------------
Subject: Man pickets Crazy Horse Too
Date: 11/21/2006 10:24:15 A.M. Pacific Standard Time
82 year old man pickets Crazy Horse Too



LAS VEGAS - Nick Steffora says Mike Signorelli, the new owner of the Crazy Horse Too strip club, is a bankruptcy artist, and he wants the City Council to know. Now Steffora, 82, is devoting his time to picketing the bar on a daily basis.
Steffora says in 1982, Signorelli was his business partner and bilked him out of hundreds of thousands of dollars after declaring bankruptcy. He sued Signorelli in Federal Court, but said he never received a dime.




.

Steffora is now angry because during
the Oct. 4, LV City Council hearing when Signorelli was granted a six month temporary liquor license to re-open the shuttered Crazy Horse strip bar, attorney Steve Caruso bragged about his client's success in business and the gaming industry, but
failed to mention that Signorelli twice filed bankruptcy.
The public was not allowed to speak during the hearing.
After his first bankruptcy in 1983, Signorelli opened the Mesquite Star Casino in June 1998 and went bankrupt one year later. Then he was
sued by over one hundred of his employees for allegedly "looting" their pay checks of health insurance premiums.
Signorelli also told the Council he was bidding on the Riviera, and would pay
Rick Rizzolo
$45 million for the Crazy Horse after leasing it for $400,000 mo. The Council evidently believed what he had to say which infuriated Steffora who sat quietly in the audience awaiting his chance to speak.
Signorelli's attorney also told the Council his client was a respected member of the gaming industry and a highly regarded developer.
After the Council denied him the opportunity to speak, and after hearing such glowing reports about his former partner, Steffora's patience ran out, so he confronted Signorelli in the plaza of City Hall as was reported by the
Las Vegas Review-Journal
.
Though Steffora has reported two incidents regarding Crazy Horse Too employees threatening him during his picketing -- one in which a female reportedly told him "I'm going to stick that sign up your ass," -- he pledges to continue picketing until the City Council permanently removes his foe's temporary license, or as Steffora predicts, Signorelli goes bankrupt -- again. - SM
Nick Steffora, right, confronts Mike Signorelli, center, as "Buffalo" Jim Barrier looks on
Wednesday. Stefforn is a former business associate of Signorelli. Photo by Clint Karlsen.
-------------------------------------------------------------------------------------------------------
Subject: PROVIDED AS A PUBLIC SERVICE by STEVE MILLER
Date: 11/20/2006 5:33:13 P.M. Pacific Standard Time
PROVIDED AS A PUBLIC SERVICE by STEVE MILLER
On December 6, at 10:30 AM, United States Federal Court Chief Judge Philip Pro will sentence "
Pillar of the Community
" Rick Rizzolo to Federal Prison. It's expected that he will be ordered to surrender to officials at
The Federal Correctional Institution
(FCI II Medium) - Victorville in Adelanto, California during the first week of January, 2007.
For those planning a Southern California vacation after January 2, and would like to visit Mr. Rizzolo, below is a link to information on how to do so properly:
.

And for those taking the kids, its only a hop, skip, and a jump to the Magic Kingdom, so here's a link to the
Disneyland web site
to help you plan your holiday.
To prepare for my visit with Rick in the pen, I had this photo taken at Alcatraz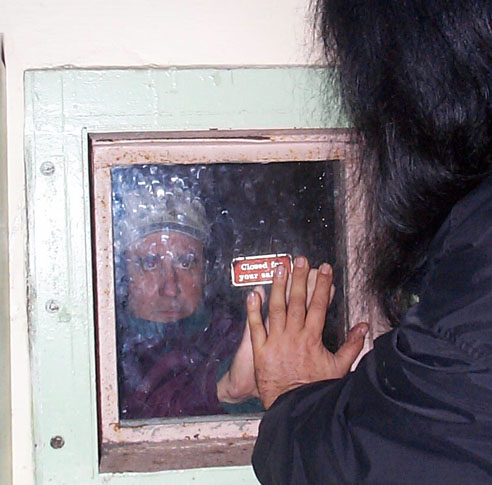 Holiday at Alcatraz...
INSIDE VEGAS by Steve Miller
AmericanMafia.com
January 12, 2004
http://americanmafia.com/Inside_Vegas/1-12-04_Inside_Vegas.html
Buffalo Jim paying his respects to yours truly in the Alcatraz Visiting Room
INSTRUCTIONS FOR SPECIAL VISITORS SUCH AS MAYOR OSCAR GOODMAN, SUPREME COURT JUSTICE NANCY SAITTA, OR CITY OF LAS VEGAS BUSINESS LICENSE DIRECTOR JIM DiFIORE:

INSTRUCTIONS FOR VISITING STRIPPERS:
SPECIAL INSTRUCTION FOR RALPH RIZZOLO:
Steve and Buffalo Jim chill out in Al Capone's cell. Alcatraz, California, December 2003
A framed 24"x 36" color portrait commemorating our visit was presented to Mr. Rizzolo
to hang in his office, but its present whereabouts is unknown.

HAVE A NICE DAY, and we're hoping to run into you during your visit to Rick at FCI Victorville!
- SM
------------------------------------------------------------------------------------------
Well, that's all I could think up for one week of E-Briefs. Sure hope they didn't offend anyone.

HAPPY HOLIDAYS!

Copyright © Steve Miller

ON THE AIR
Steve will be the guest on the Lou Epton Radio Program, Tuesday Nov. 28, 2 - 3 PM PDT. Tune in to KKVV AM 1060, or listen live on the Internet @
http://www.loueptonshow.com/
. Call in numbers: Las Vegas - 702-650-5588, out of state - 800-366-8883.
----------------------------------------------------------------------------------------------
In 1998, Steve Miller was inducted into the Nevada Broadcasters
Hall of Fame
. The selection criteria for Inductees is a minimum of 20 years broadcasting experience.
Steve believes some things that happen in Vegas should not stay in Vegas. To subscribe to his Insider E-Briefs, send your e-mail address to:
SteveMiller4LV@aol.com
. Write ADD in SUBJECT