The Crazy Horse Too
Back to business-as-usual
INSIDE VEGAS by Steve Miller
AmericanMafia.com
October 23, 2006
"But for the briefing I had from Mr. DiFiore, I think I know
what's gonna happen here."
- Mayor Oscar Goodman before he abstained
LAS VEGAS - After hearing tough statements like we're going to "clean house,"
"We want a divorce from those who pleaded guilty and the operation and management of this business;" and
"I don't feel confident going forward at this time, we need to go forward with a microscope," it was a meek City Council who sat silent last Wednesday -- listening -- not questioning -- as attorneys for the violence-plagued Crazy Horse Too explained that Mike Signorelli will pay convicted felon Rick Rizzolo $400,000 per month ($14,000 per day) "rent" for the privilege of running his topless bar.









Buffalo Jim Barrier pledges to photograph any barred person who enters or exits, and any
future beating victims (AmericanMafia.com photo by Mike Christ)

On Thursday following the re-licencing, next door neighbor Buffalo Jim Barrier placed a call to Signorelli,
the man who now officially holds the temporary liquor license
at the Crazy Horse. Barrier said he wanted to congratulate his new neighbor and talk to him about burying the hatchet.

When he asked to speak to "Mr. Signorelli the new owner," on two occasions he reportedly was told "the owner of the Crazy Horse Too is Rick Rizzolo."

Signorelli never returned Barrier's calls, nor paid a visit to his business. That's when Barrier pledged to continue monitoring those who enter and exit the business now that Rick, Bart, and Annette Rizzolo, along with 16 employees who pleaded guilty to felonies, are barred from entering the building beginning October 25. Barrier says he'll share his photos with the FBI, and several City Council members who are having second thoughts.

At last Wednesday's Council meeting, conspicuously absent was the mention of beating victim Kirk Henry after his name was the main topic on September 6 when the Council permanently revoked Rizzolo's liquor license in what many thought would be the end of the violent reign of the Rizzolos.

On Sept. 6, Rizzolo's attorneys even brought Amy Henry up to the podium to ask the council to let the bar stay open so Rizzolo could sell the place to generate the $10 million to pay her family and their Vegas lawyers. (Nothing was mentioned about attaching Rizzolo's personal assets to guarantee payment in the event the bar didn't sell, or the fact that allowing the bar to stay open would expose future Kirk Henry's to beatings.)

On October 18, the suddenly timid Council neglected to ask the obvious question as to what Rizzolo intended to do with the $14,000 per day he is supposed to receive as "rent" while he sits in prison, and why none of the ridiculously inflated rent money is going to the Henrys?

Also not mentioned was Mike Signorelli's two bankruptcies. Omitted was information about his disqualification as a buyer of the Riviera Hotel, something he previously bragged about to influence the Council into thinking he's a successful businessman, along with supposedly being a respected, successful gaming entrepreneur in Mesquite (his casino went bankrupt one year after it opened).

But most important were the lack of questions about who will now run the night club?


According to a source inside the Crazy Horse, Rick Rizzolo's 22 year old son Dominic is now running the CH2 with Rick's brother Ralph as the number two guy.
Ralph Rizzolo was arrested in Feb. for felony trafficking in controlled substances.
Dominic and Ralph Rizzolo have reportedly taken over the executive offices and are in full control of the day to day operations since the reopening last Wednesday night.
Meanwhile, folks are asking why the rent is 33% of the reported monthly gross, and how Signorelli is going to pay Rizzolo after his two bankruptcies? Has he put down a first and last month rent payment and security deposit, and how does he intend to raise the $45 million he said he'll pay to buy the 2.63 acres and building after suffering dual bankruptcies in 15 years?
These are questions that may never be asked by our silent City Council who voted in lock step to license Signorelli -- in the absence of Mayor Oscar Goodman.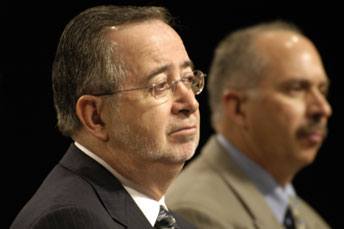 Then there was this bizarre statement from Goodman
after being told by the City Attorney he has a conflict of interest (based on my ethics complaint): "
But for the briefing I had from (City Director of Business Activity) Mr. DiFiore I think I know what's gonna happen here, and if it happens

that way

, then I guess I have to follow your advice.
" Then he left the Council Chambers.
And it happened exactly "

that way
!"
How did Goodman know his vote wouldn't be needed to help his law firm's former and present clients get back to business-as-usual?
Mike Signorelli and City Business License Director Jim DiFiore
(AmericanMafia.com photo by Mike Christ)
If Goodman knew in advance the result of the upcoming vote, then it's possible DiFiore violated the Nevada Open Meeting Law by polling Council members.
Will the City bring Dominic and Ralph in for Key Licenses? Will the new Nevada Attorney General investigate the Council's actions, and possible collusion by staff members?
It's necessary under City Code to look at those who are in charge and make the "microscopic" examination Mayor Pro Tem Reese skipped doing last Wednesday.
The safety and welfare of our citizens and tourists is in peril while the Rizzolo family continues to control the "
public nuisance
," and are not "divorced" from the business as was specified by City Attorney Brad Jerbic.
Also, there were many persons in the audience on Oct. 18 who were denied their right to be heard, and new evidence may have been presented that could have altered the vote.
The Council has until 5 PM Wednesday Oct. 25 to bring the item back for reconsideration, and one Council member has expressed interest in doing so after learning the Rizzolo's are still in charge, including Rick's nieces who will reportedly be
doing
the books in the absence of their mom Annette after she's barred. Annette was the bookkeeper during the years her brother Rick and father Bart pleaded guilty to skimming. More on her later.
Prior to the hearing, Jim DiFiore was seen conferring one-on-one with applicant Mike Signorelli and Jay Brown, Goodman's former law partner and Senator Harry Reid's facilitator. DiFiore was also spotted going into a private room marked "Communications" with Rizzolo's attorney Tony Sgro, and coming out five minutes later.

The Council voted to grant a six month temporary liquor license with a three month review to twice-bankrupt Signorelli.
During the hearing, Mayor Pro Tem Gary Reese asked Signorelli three different times how much the CH2 declares in yearly gross sales. Signorelli seemed confused, but finally replied, "I'm guessing fifteen million."
He then said his guess was probably off by as much as 20%. He did not explain why, but some speculate that the skim the defendants pleaded guilty to was at least that much. No one on the Council asked follow up questions.

Then Signorelli stated that he intended to "bring back all employees."

When Reese questioned him on the subject, Signorelli changed his answer and said he would not hire any former employees.
His attorney Steve Caruso interrupted and told the Council that his client would not hire any employee that has pleaded guilty to a felony, and all others would be considered. Then he said his client would "clean house."

No one asked how he can have it both ways?

Councilman Larry Brown asked if any of the Rizzolos would be allowed on the premises, and Caruso said that Rick, Bart, and Annette Rizzolo would be barred. He did not specify whether Ralph Rizzolo would work at the club.
Even though Bart and Annette Rizzolo are barred from the property, Jim DiFiori volunteered that he has no problem with either person.
Signorelli gave the Council his "word" that no crimes would ever occur on the premises. One man in the audience, 80 year old Nick Stefforn, groaned audibly when he heard the promise.
Stefforn was at last Wednesday's meeting to tell the Council about his business dealings with Signorelli, but never got the chance because the public was barred from testifying.
Other citizens also patiently awaited their turn to speak including residents of Meadows Village, church members and clergy, former Mesquite Star Casino employees, and Crazy Horse Too crime victims, but the Council did not allow public comment during the hearing.
According to a class action lawsuit, Signorelli's corporation "
looted
" paychecks of employees at his bankrupt Mesquite Star casino. The employees allege they learned their health insurance premiums had not been paid when they were denied claims for health care.
The Council did not question Signorelli on his financing, bankruptcies, criminal associations, or background.


Stefforn and his wife Evelyn were plaintiffs in an action to collect unpaid debts during Signorelli's first bankruptcy. He says he lost hundreds of thousands of dollars in his dealings with Signorelli.







Nick Stefforn, right, confronts Mike Signorelli, center, as "Buffalo" Jim Barrier
looks on Wednesday. Stefforn is a former business associate of Signorelli.
(

Review-Journal

photo by Clint Karlsen)

After being denied his ability to address the Council, Mr. Stefforn took out his frustrations in City Hall Plaza when he saw Signorelli congratulating Rick Rizzolo's legal team.

Then there was Jay Brown.
Oscar Goodman's former law partner and current business partner Jay Brown was observed working the room, so to speak, at Wednesday's hearing.
Brown is described as a close friend of Sen. Harry Reid who is on the hot seat over a $1.1 million dollar deal that according to the Washington Post was "...engineered by Jay Brown, a longtime friend and former casino lawyer whose name surfaced in a major political bribery trial this summer and in other prior organized crime investigations. Brown has never been charged with wrongdoing, except for a 1981 federal securities complaint that was settled out of court."
Brown and Goodman were once Rick Rizzolo's corporate Resident Agents for THE POWER COMPANY, INC.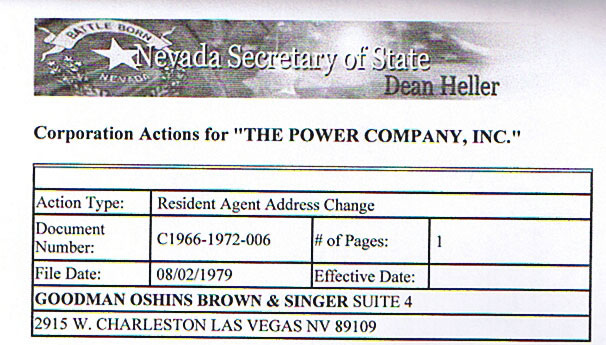 What was Brown doing at the Crazy Horse hearing?
When I observed him with DiFiori, their body English was remarkable.
Nodding in approval throughout their conversations, the same thing happened when Brown walked back across the room to sit with Sgro and Signorelli. It looked like one big happy family!
The only difference I observed between the last two Council meetings -- meetings that had drastically different outcomes -- was the presence of Jay Brown.
During the latest hearing, the once-brave Las Vegas City Council just sat there looking numb, then voted like automatons. Something was really different last Wednesday. Did Brown do what he's famous for during the weeks leading up to Wednesday's hearing? If not, then why else would someone be willing to pay 33% of his gross monthly income as "rent" and not be scrutinized more carefully?" And why were public comments squelched?
The Council was fully aware of Signorelli's two bankruptcies, the class action lawsuit, and his disqualification from a bid to buy the Riviera, but evidently dared not raise these subjects while
Jay Brown
was in the audience.
At 11 AM Thursday, three witnesses state that Annette Rizzolo accompanied by a club bouncer entered Allstate Auto and Marine Repair located next to the topless bar.
She reportedly tore up a certified letter Allstate owner Barrier sent to his landlord Rick Rizzolo demanding his garage's leaky roof be repaired.
"It was very embarrassing. I said nothing to cause her to act this way," Barrier said.

Barrier has a multi-million dollar
harassment law suit
pending against Rick Rizzolo, and says this unruly act by a family member will be used to substantiate his allegations that the Rizzolos have tried to harass him, his employees, and customers to encourage him into moving the garage that has operated in the same location since 1976. Rizzolo purchased the property in 2002 -- tried three times to evict Barrier -- but was unsuccessful.
Barrier pays Rizzolo forty-three cents per square foot for his 10,000 square feet located adjacent to the topless bar.
Signorelli purportedly pays $16.00 per square foot -- $15.57 per foot more than Barrier in the same building!
"No wonder she's so pissed off," said Barrier. "I'd be too knowing I pay such low rent, have three years remaining on my lease, and now she can't even step foot on her brother's property after this Tuesday!"
Prior to Wednesday's Council meeting, many speculated that Annette would become the club's new manager after Signorelli took over the operation.






(L. to R) Bart Rizzolo, unidentified man, Ralph Rizzolo, Annette Rizzolo,
Tony Sgro (back to camera) (AmericanMafia.com photo by Mike Christ)
Will the City bring Dominic and Ralph Rizzolo in for Key Licenses?
In 2002,
Al Rapuano
, a former client of Oscar Goodman, appeared before the City Council requesting a key employee license at the Crazy Horse.
It will also be interesting to see what happens if the Rizzolos don't voluntarily come forward for licensure! Will the City take action, or once again turn their backs on the safety and welfare of our citizens and tourists?

At that hearing, Randall Sayre, the Nevada Gaming Control Board Chief of Investigations stated, "It's no secret that we have concerns with some of the associations that he has," referring to Rapuano's close association with Nevada Black Book member

Joey Cusumano

and others.

Nonetheless, the City Council was encouraged by Mayor Goodman to license Rapuano, and they obediently did.

Rick Rizzolo and Al Rapuano

(AmericanMafia.com photo by Mike Christ)

Since that time, Gaming Control Board concerns have proven correct because Rapuano was recently convicted of multiple felonies involving the Crazy Horse, and is presently awaiting sentencing.

Now, it's again time for the Council to scrutinize licensing Rick Rizzolo's son and brother in key management positions at the Crazy Horse Too.

After not caring on Oct. 18 who would run the day to day operations, it is now necessary to look at those who are in charge.

It will be interesting to see if the Council heeds their own laws, and make the "microscopic" examination Mayor Pro Tem Reese neglected to do last Wednesday if two new persons named Rizzolo come forward for key licensure.


The first names have changed, but the game's the same. And for Signorelli, can anyone say Straw Man?


Last Friday afternoon at 4 PM, Jim Barrier's caller ID reportedly indicated a call coming from the Crazy Horse Too. He said the caller identified herself as Annette Rizzolo. He reports that her only message was "What goes around, comes around," before hanging up.

Based on those foreboding words, this sordid story is far from over. And they said the Mob left Las Vegas years ago...


Copyright © Steve Miller