"NEVADA RECEIVERSHIP, LLC lost its liquor license and breached its contracts with Defendants and absconded with approximately $450,000 of liquor and cash which NEVADA RECEIVERSHIP, LLC borrowed from Defendants to get started in business at the Crazy Horse Too."
draw the conclusion that Signorelli is simply running the business for Rizzolo, who is forbidden to do so."

Even though the federal court and city council ruled no member of Rizzolo's family could enter the premises, it was well known that Signorelli was never intended to solely be in charge of the day to day operation while Rizzolo is in prison.

Rizzolo's son Dominic, brother Ralph, Sister Annette, and father Bart were actually running the place along with a number of banned former employees while Signorelli slept in the back room expecting to be paid handsomely for the use of his "good" name and liquor license.

City politicians were intent on keeping the topless bar alive until Rizzolo was released and took some extraordinary measures to do so -- until an unexpected monkey wrench fell in the works.

82 year old Nick Steffora began picketing the Crazy Horse shortly after Signorelli took over.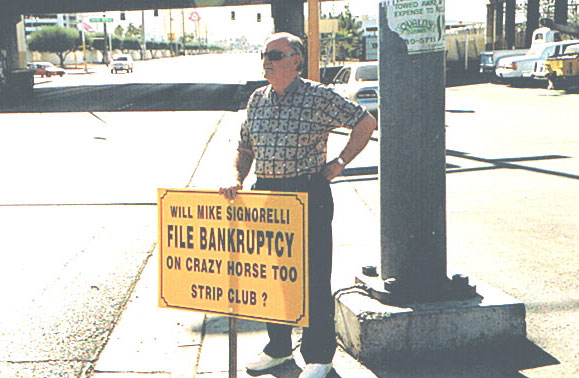 Steffora says in 1982, Signorelli was his business partner and bilked him out of hundreds of thousands of dollars after declaring bankruptcy. He sued Signorelli in Federal Court, but said he never received a dime.
In June 1998, Signorelli opened the Mesquite Star Casino and went bankrupt one year later. Then he was
sued by over one hundred of his employees for allegedly
looting
their pay checks of health insurance premiums, something he would again be accused of doing at the Crazy Horse.
When Steffora began picketing the newly re-opened bar, he noticed something strange. According to Steffora, several times each day a car would drive up to the entrance of the Crazy Horse and a suitcase would be placed into the back seat.

It's not known what was in the suitcase, but a year later based on a MOTION filed by Rick Rizzolo, it's suspected that the suitcase contained cash being skimmed from the bar's daily revenue.

The mysterious suitcase was also observed by Crazy Horse neighbor Buffalo Jim Barrier who cooberated Steffora's allegation.
While Steffora kept tabs on the suitcase, he also noticed the comings and goings of the Rizzolos. He shared his concerns with Barrier. Barrier began faxing me daily logs showing the dates and times Rizzolo family members were in the building.

Knowing the violent methods the Rizzolos used to make money in their strip club, and as a former Las Vegas City Councilman, I felt compelled to immediately e-mail the council members to inform them them their orders were being blatantly violated. A special meeting was scheduled
With Barrier and I sitting in the audience armed with
eyewitness statements and photographs of the Rizzolo family violating council orders
, and with
three TV news crews taping the proceedings,
the council was placed in a box they couldn't get out of.


On November 2, 2006, the LV Review-Journal reported:



"The City Council agreed to issue a new liquor license for Signorelli last month. He is leasing the building for $400,000 a month, with one of the conditions that no one who pleaded guilty to federal crimes be involved in the business. The license is subject to a three-month review.
Council members pointed to members of the public who reported that Rizzolos continued to work there. Former councilman and relentless Crazy Horse Too foe Steve Miller has sent numerous e-mails and messages to the City Council alleging that the Rizzolos continued to operate the club.
In one, dated Oct. 20, he wrote, 'Rick Rizzolo's 22-year-old son Dominic is now running the CH2 (Crazy Horse Too) with Rick's brother Ralph as the number two guy.' "

The council begrudgingly ordered Signorelli to fire the Rizzolo family members even though he claimed not to know who they were.


Signorelli's attorney Jay Brown -- who also happens to be the law partner of the mayor -- explained that his client was not aware that his general manager, assistant general manager, and bookkeeper's last names are "Rizzolo."

"I go down a list and I don't see the last name, being that it's very difficult to find out whose related and whose not," Signorelli told the stunned council about his executive staff.

Even in the face of overwhelming evidence that would have padlocked any other business, to show the depth of influence keeping the Crazy Horse alive, even the news of dual bankruptcies didn't discourage one member of the city council from helping Signorelli.

The

Las Vegas Sun

quoted Councilman Steve Wolfson making this amazing statement in favor of granting Signorelli a permanent liquor license to operate the Crazy Horse Too:
"
Mr. Signorelli has been in town for many, many years, and there's not been one blemish against his record.
He's a respected businessman who offered evidence of his good credit with financial institutions.
"

Following Wolfson's statement broadcast on Government Access TV and reported in the

Sun

, he received criticism that could come back to haunt him at his next political campaign. In response, he had his statement excised from the city's official transcript and from the audio and video recordings of the hearing -- a clear violation of city, state, and federal law. No legal action was taken by local officials who once considered Rick Rizzolo a "Pillar of the community" and counted on him for hundreds of thousands of dollars in political campaign contributions over the years.

Then there's Councilwoman Lois Tarkanian who last November sponsored an ordinance to allow the Crazy Horse to retain its non-conforming adult use zoning for an additional six months. Had she not done this favor, the zoning would have permanently expired on December 30, six months after the place closed, and there would be no need for today's INSIDE VEGAS column.

Signorelli complied with the council's order, and
following the Rizzolo's departure,
the skimming allegedly began. From then on, all deals were off. It was obvious Signorelli had never bargained for being left alone to operate a strip joint, something he had no experience doing. He soon became the Rizzolo's biggest enemy.


If what Rizzolo's lawyers say is true in their MOTION, coupled with eyewitness reports from Steffora and Barrier, the Crazy Horse was probably being skimmed to the tune of hundreds of thousands of dollars each week while Signorelli was running the place outside the supervision of Rizzolo family members.


It's now clear that our successful efforts to keep the Rizzolo's off the property inadvertently made it possible for them to
be ripped off on a giant scale!

Our efforts may even be used as evidence against Rizzolo's once-straw man who made a one hundred and eighty degree turn and became his arch enemy.

Though it wasn't planned that way, the irony of Barrier, Steffora, and I having something to do with helping Rizzolo defend himself against Signorelli's law suit is more than amazing!

Rizzolo's attorneys also are telling the Federal Court that Signorelli didn't pay one dime of his $400,000 per month rent on the strip bar; his payroll or sales taxes; or employee health insurance premiums as was his habit at other businesses he's owned.

Now, the Rizzolo's, or the purported buyer of the club, will be left holding the bag for additional state and federal taxes not paid during the Rizzolo's absence. Signorelli may also have to explain about the liquor that Rizzolo claims ended up at the Golden Steer.

One of Signorelli's regulars told me that Crazy Horse favorites Cristal and Dom Perignon are currently flowing like water at the Golden Steer bar along with shots of Johnnie Walker Blue -- another former Crazy Horse specialty. The only problem is that Nevada law (NRS 369.487) requires that retailers must purchase liquor only from wholesalers and may not purchase for resale from other retailers. So I suggest Mr. Signorelli begin giving away the alcoholic beverages he may have illicitly obtained from Rizzolo.

Signorelli is also facing IRS liens based on other business problems he's experienced. But that may not be his biggest problem.

Disrespecting the Mob can cause much more serious consequences than tax liens.

Then there's the pesky MOTION brought by Security Pacific Bank of California who blindly loaned Rizzolo $5 million solely on his signature several months before he was indicted. Immediately after receiving his check, Rizzolo skipped with the cash. The bank now says they were defrauded, and want to be put in first position so they can foreclose on the Crazy Horse property that was appraised by the Department of Justice for only $4.6 million.

The bank has a stockholder and former director who is a close friend of Rick Rizzolo. Ex-Las Vegas Mayor Jan Jones is suspected of vouching for her friend so the bank would forego their usual due diligence.

Now Security Pacific Bank is crying foul.

U.S. Federal Judge Philip Pro is expected to hear the bank's MOTION sometime this month. But based on a document sent to the bank by Barrier's attorney Gus Flangas informing them that Barrier has a pending harassment lawsuit against Rizzolo, along with documents and Internet links provided by me forewarning bank officials
that they were dealing with a crook
,
another monkey wrench was thrown into the works.

Now Security Pacific Bank
may have a hard time convincing Judge Pro they were defrauded; didn't know in advance of Rizzolo's criminal activities; and that his property was about to be seized by the Feds.

The bank was also not made aware that the Nevada Department of Transportation has plans to seize a 23 foot deep swath of the club's entire frontage for a road widening sometime in 2009.

So the equity for a $5 million dollar loan was just not there, and whoever convinced the bank to cut the check without doing proper research should be the one they're going after, not the overly encumbered Crazy Horse real estate that rightfully should have been auctioned off by now with the proceeds going to beating victim Kirk Henry.

If the property is not valuable enough to garner the $9 million owed to Henry, the $5 million owed the IRS, and another $5 million owed to the city, county, and state, then the federal court should liquidate Rizzolo's more-than-adaquate personal assets so he can cover future judgments.

There's also the matter of the 1995 beating death of long haul trucker Scott Fau. He died after being kicked by club bouncers District Attorney David Roger obligingly refused to prosecute. (This is the same DA who is spending countless tax dollars prosecuting O.J. Simpson for trying to get back his sports memorabilia.)

Fau's widow sued in civil court, and lost after a compromised judge mis-advised the jury not to consider blunt force trauma as the cause of death two hours after the beating. Because Mrs. Fau could not afford to hire a pathologist to educate the jury, and because Judge Nancy Saitta is a close friend of Rizzolo, the jury ruled in favor of the Crazy Horse after only two hours deliberation.

This case is far from over. Mrs. Fau has a new attorney who filed a WRIT now pending before the Nevada Supreme Court asking to reverse the jury's hasty ruling. Also, Judge Saitta was recently severely sanctioned by the Supreme Court and has lost all credibility, so there's a real chance the Fau case will again see the light of day.

With this in mind along with the threat of eminent domain and the low ball appraisal, it's a wonder that any

legitimate

businessman would be interested in buying the place anywhere near the Fed's asking price of $28 million.

Respected bankers will not touch a loan with no tangible equity to cover the debt service. So the only buyers willing to ante up
purported offers of $28 - $34 million
are obviously Mob guys who know how profitable it is to bash in the heads of bar patrons who refuse to sign inflated credit card tabs, sell dope, launder cash, and hustle prostitutes -- Rizzolo's specialties that he once bragged made the Crazy Horse worth $125 million dollars to the right operator.

Furthermore, based on their past performance, it's doubtful the mayor and council will be willing to license a new operator who's

not

associated with organized crime.

I believe only La Cosa Nostra would be willing to pay five times appraised value for such a dump. There are just too many questions still unanswered for legitimate businessmen to get involved. Questions including whether Security Pacific Bank has a right to foreclose? Will a new jury rule in favor of the Fau family? And who is going to pay the back taxes to the state of Nevada, Clark County, and the City's $2.3 million dollar fine?

Every day the place stays closed, its value and customer base declines while competitors take up the slack in newer, safer, plusher venues. The high ball offers of $28 - $34 million should be a red flag to federal officials, but they only seem interested in selling at top dollar and getting out of town.


And the most burning question: Why hasn't the government gone after Rick Rizzolo's hidden personal assets instead of trying to sell the place at five times market value? The U.S. Marshal's Office even commissioned a Washington D.C. based federal agent with expertise in real estate transactions to assist a national real estate broker in facilitating a top dollar sale. So far all the potential buyers have questionable backgrounds.

Meanwhile, the family of quadriplegic Kirk Henry has not received a dime of Rizzolo's personal money to pay their medical expenses for injuries suffered in 2001 at the hands of Crazy Horse employees when he refused to pay an inflated bar tab.


The Mob are the only ones who know how to generate enough money at a strip club to more than cover these and other potential liabilities. They will simply resume the methods used by the Rizzolos. They also know how to pay off public officials to let this happen once again.


But if somebody straight gets the club, it's expected that Rizzolo will retaliate by throwing in a bunch of hookers and drug dealers to sabotage the new owner. And as a favor to Rizzolo, several crooked cops, the DA, the mayor and several of his obedient council members including Wolfson and Tarkanian will jump at the chance of finding enough violations to revoke the new owner's liquor license in order to give Rizzolo satisfaction. You just can't get away with dissing the Mob in Sin City.
The Department of Justice promises to announce who the new owner will be sometime this month -- unless someone throws another monkey wrench in the works.


Meanwhile the joint's been dark since July 1, 2007. Taxpayers unknowingly continue to pay to keep the lights on and employ 24 hour security guards to watch over the place like it's a national treasure.


If our government would pay as much attention securing our southern border as they are to securing the Mob's shut down titty bar, this country would be a much better place.

Have a HAPPY NEW YEAR!


Copyright © Steve Miller