INSIDE VEGAS by Steve Miller
AmericanMafia.com
January 6, 2003
The New Vegas Mob?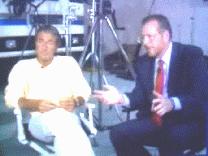 ......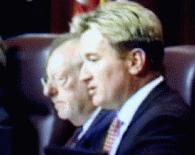 Joey Cusumano and Oscar Goodman Oscar Goodman and Mike McDonald
"The Old Mob stole from the feds mostly by skimming and evading taxes. The New Mob steals from the local and state population by controlling all three branches of government at all levels by the force of greed and cowardice." - Former Deputy Nevada Attorney General Chuck Gardner.
While the Las Vegas Chamber of Commerce and the Nevada Resort Association preach that the Mob is long-gone from the Vegas scene, a new version is emerging that is making the mobsters of old spin in their graves.
Some base their operations in Newport Beach, California and allegedly control their Nevada holdings from booths in a Vegas owned eatery in the Fashion Island shopping center. The transplanted Vegans feel safe in their nooks, but their conversations are often overheard. The Vegas expatriate's crimes of choice? Money laundering, extortion, coercion, robbery, battery, credit card fraud, dope sales and prostitution, - crimes that the Old Mob scorned.
On December 26, 2002, MSNBC TV aired an extraordinary exposé about a mobbed-up Las Vegas topless bar called the Crazy Horse Too. In the report, former Mob lawyer turned Vegas Mayor Oscar Goodman was shown sitting next to his notorious former client Joey Cusumano, a close associate of the bar's owner Frederick "Rick" Rizzolo. The question was then asked, "if Rizzolo's political connections tend to keep government officials from looking too closely at the club's liquor license?" A logical question since the Crazy Horse has the dubious distinction of having received the most police calls of any business currently operating in Sin City that has not had its liquor license revoked.
Cusumano is the "best friend in the world" and former "facilitator" of Rizzolo, a man that Goodman has been accused of doing favors since his mayoral election in 1999. Questions have been raised asking whether Goodman is turning his back on Crazy Horse problems to please his former organized crime associated client? Cusumano is also a member of Nevada's infamous Black Book of persons excluded from entering casinos, and a former lieutenant of the late Chicago Mob enforcer Anthony Spilotro, another of Goodman's notorious clients. Strange bedfellows for the mayor of a major American city, a mayor who once said he'd rather have his daughter date Spilotro than an FBI agent, a statement he has yet to live down.
Tom Letizia is the son-in-law of Freddie Glusman, a Las Vegan who owns a restaurant in Newport Beach. Glusman is another of Rizzolo's close friends. Letizia, a familiar face at City Hall, is Goodman's political campaign manager and kitchen cabinet member. He is also Rizzolo's advertising and PR director. City Hall observers question whether Letizia is serving two masters based on the Mayor's purported ignorance of problems at Rizzolo's bar.
For example, Goodman seems unconcerned that Las Vegas Metropolitan Police reported 737 responses to the Crazy Horse in the past 3 years - a number dozens of times that of any other adult business in the city. Nor does Goodman raise an eyebrow to Rizzolo employing Black Book members in key positions in his club. The Mayor's could-care-less attitude toward a business in his city that employs numerous men with Mob ties surprises few based on his past profession as a criminal defense lawyer. However, Goodman's nonchalance toward the documented 737 police responses does surprise his followers.
Incidentally, Goodman, who is guaranteed reelection this spring, is planning to go back to practicing law part time after the election. Goodman says he wants to mentor his son who just graduated law school. Speculation runs wild that one of his law firm's first clients may be Mr. Rizzolo who faces a federal grand jury probe and numerous civil lawsuits for reportedly allowing a "pattern of violence" at his place of business.
Rizzolo's bar has been the scene of numerous reported robberies, beatings, and a possible murder along with having that astounding 737 mostly ignored police responses in such a short period. But with few if any arrests and no interest shown in license revocation by the city, DA, or Metro, many are naturally asking why Vegas officials have turned their backs, especially at a time when the town is claiming to have cleaned up its act? Meanwhile, local and national TV news of violent events continue. The most recent story aired on New Year's Eve and described two incidents where Metro refused to take criminal assault complaints against club bouncers.
The most publicized Crazy Horse carnage involved Kansas tourist Kirk Henry who sued Rizzolo for allegedly letting club bouncers break his neck rendering him a quadriplegic. Another lawsuit to go to trial on January 7, 2003 involves the 1995 death of Scott David Fau who witnesses say was beaten by club employees and left to die on railroad tracks behind the bar. These two lawsuits, the federal criminal investigation, and the possible involvement of a Las Vegas City Councilman and Mayor in a cover up, guarantee to make the Crazy Horse one of the top national Vegas crime stories of the New Year - the kind of thing the Chamber of Commerce and Resort Association dreads.
Last Thursday after showing two TV news reports on violence and mob connections at the Crazy Horse Too, an amazed Jerry Nachman, Editor-in-Chief of MSNBC TV, asked his guest, KVBC TV investigative reporter Glen Meek, why no one has been arrested?
"Well, I'm still confused. If I-if somebody punched me in the nose standing on Wayne Newton Boulevard and I called the metro police and swore out an assault complaint, they'd lock that person up," said Nachman.
Meek responded, "You would think. There's some interesting things that have occurred both in this case and some other cases that we're looking at. We know, for example, there's another lawsuit filed against the club alleging that there was brutality by the bouncers, and some of the people who were in that party actually had one of those digital cameras. They took photographs of police on the scene, and, when we went back to try and find a police report, there was none...and, apparently, the police are telling some of these people, hey, you're drunk, you know, do you really want to get into this, are you going to come back and testify, why don't you just go home and forget about it," stated Meek.
On September 19, 2002, former Clark County District Attorney Stewart Bell may have given an inadvertent answer to Nachman's question about the lack of arrests. The outgoing DA told a TV audience that there is "probable cause" to proceed with prosecution on at least two of the Crazy Horse cases. He then said he wanted his successor David Roger to wait until after the civil trials end to start any possible prosecutions. When asked why no one had been prosecuted up until then for Fau's and Henry's alleged beatings, Bell responded that his office was too busy with other cases.
The problem with newly elected DA David Roger is that he received over $50,000 in campaign contributions from Rizzolo and his friends. After I wrote about his windfall, Roger purportedly returned the money. Many now wonder if Roger can in clear conscience prosecute employees of his once-biggest political supporter?
Also, in 1998, Las Vegas Councilman Mike McDonald, a former cop, was accused of doing favors for Rizzolo. Metro Internal Affairs received an anonymous letter stating, "For obvious favors received from Rizzolo, McDonald has his fellow officers target Little Darlings, Club Exotica. McDonald is always at the Crazy Horse on Industrial Road with Rizzolo. He is able to entertain his fellow officers who target the other strip joints." In the wake of the letter, McDonald suddenly resigned from Metro.
The letter was unsubstantiated but raised speculation that some Metro officers were "compromised" and were protecting the club in exchange for free "services" while on and off duty. The speculation continues to this day.
MSNBC also revealed Rizzolo's extreme sensitivity about his relationship with Cusumano, a relationship that could possibly lead directly to Goodman and McDonald. MSNBC played an excerpt from a recent video deposition of Rizzolo. Donald Campbell, attorney for Kirk Henry asked, "Do you know Joseph Cusumano?" Rizzolo's attorney responded for his client, "He's not answering based on counsel." Campbell than asked, "You're refusing to answer the question?" Rizzolo answered, "Yes."
Goodman remains stubbornly mute when critics continue complaining that the violence and crime at the Crazy Horse is spilling over into the adjoining low income neighborhood known as Meadows Village. Nearby apartment house owner Chris Christoff in 1999 filed a lawsuit against the City of Las Vegas to try to get some police attention to help clean up his neighborhood to only have the suit tossed out of court because his attorney was late submitting a brief.
Christoff said that no one at City Hall would listen then when he and his neighbors complained of bar patrons using his neighborhood as a drug supermarket, and he says no one is listening now. Christoff stated that the problems started in 1999 when the city allowed Rizzolo to expand his club without required permits or increased parking facilities.
Rizzolo expanded his bar by 6,000 square feet. When neighbors complained of inadequate parking and increased crime, Rizzolo reluctantly applied for permits for the already opened addition. The city dutifully gave him the permits and Certificate of Occupancy after the fact without requiring mandatory traffic or parking studies. They did this all knowing the addition had already opened to the public – a feat that took extraordinary juice!
After the expansion opened, Councilman Mike McDonald's aide, Doug Rankin, walked Rizzolo's people through City Hall departments and sat with them at a Board of Zoning Adjustment meeting to obviously fast track the belated permits. At one point, Rizzolo's attorneys presented the city with a lease for an adjacent overflow parking lot. It was later discovered that the property owner allegedly knew nothing of the lease and subsequently erected concrete barriers to keep Crazy Horse patrons off his property. The city, after being informed of the apparently bogus lease, failed to take action.
Councilman McDonald, the representative of the ward in which the Crazy Horse is located, refuses to vote on matters affecting the club saying he has a conflict of interest based on him using the same law firm Rizzolo uses. However, no ethics law in the state of Nevada backs up his conflict claim and many believe that he subversively influences the city's actions that affect Rizzolo. Up until 2000, McDonald lived rent-free in a half-million dollar golf course villa owned by the family of Cusumano. When I wrote a story about his digs, he immediately moved out. Like Rizzolo, McDonald refuses to discuss the Cusumano issue.
Oscar Goodman has been asked on several occasions to bring the Crazy Horse before his council to show cause why the bar deserves to keep its liquor license after police records reveal nine assault and six robbery cases involving Crazy Horse employees over a two-year period, along with the 737 police responses.
In answer to my inquiry why the bar license has never been challenged by the City Council, the Mayor tersely stated, "I'm not doing Joey Cusumano any favors" though I did not bring up Mr. Cusumano's name at any time during the conversation. That was in October 2001. Since then, the mayor sponsored an ordinance to let the club expand - again - while he remains mum on the subject of numerous customers allegedly being beaten or threatened when they object to their tabs, and the club's propensity to hire men with Mob ties.
In the meantime, when recently asked about Cusumano, Rizzolo said "That guy's my best friend in the world, but it's not like Joey Cusumano and I hang out together anymore.... I don't want to jeopardize my licenses." (Hello!)
Now that the Crazy Horse story is national news, maybe next time they should show a little footage from the movie "Casino" where Goodman plays himself. Art imitating life-imitating art? Only in Vegas.
Copyright © Steve Miller

email Steve Miller at: Stevemiller4lv@aol.com

---