With friends like these, we don't need enemies!
INSIDE VEGAS by Steve Miller
AmericanMafia.com
January 15, 2007
Wynn entices Michael Jackson to move to Sin City
First, Steve Wynn brought us a pipe dream called the "
Fremont Street Experience
;" a sixty million dollar canopy and street closure that distracted from Downtown gaming revenues while disfiguring our city's icon --
historic Casino Center
. After he and ex-city Mayor Jan Jones saw that their taxpayer funded experiment was about to flop, both sold their stock in the Golden Nugget and abandoned Downtown for greener pastures on the Strip located in the county -- Wynn to his new resort hotel, and Jones to a position as VP of Harrah's where she helped
remove
the last of our Downtown's major attractions, the Horseshoe World Series of Poker, and place it in one of Harrah's Strip hotels. Since their hasty departure and the scorched earth they left behind, the Horseshoe went broke; the Golden Nugget twice changed hands; and Downtown
gaming revenues have fallen
an average of 6% per year.
Now the man often described as a "visionary" is gifting our humble community with none other than Michael Jackson!
Fresh from the oil rich Kingdom of Bahrain, Jackson has taken up residency in -- where else? Sin City.
I've confirmed that the once-gifted entertainer and his children have moved into a 10-bedroom, 11-bath, 20,000-square foot private estate owned by San Francisco real estate tycoon
Luke Brugnara
, who last year tried to buy the Crazy Horse Too topless club (another LV embarrassment), but his offer was squelched in favor of a straw man. (More on this later.)
Jackson, who
said
: "Why can't you share your bed? That's the most loving thing to do, to share your bed with someone," in response to questions about his relationships with young boys, will have a 3,000-square foot master bedroom with a 2,000-square-foot closet (for toy storage?), along with basketball and tennis courts.
He's reportedly here to prepare for a Vegas premier. Jackson is expected to replace a show that
flopped
at the new Wynn Las Vegas resort in a showroom being redesigned and dedicated to Mr. Wynn's friendship with the fallen pop idol. But based on the less than stellar reception Wynn's "Avenue Q" show received, Jackson tickets may be hard to sell to anyone over the age of thirteen.
It's not yet known whether unescorted pubescent boys will be welcome in the casino or have reserved front row seats in the showroom, but it's planned that Jackson will attract more than little boys to his performances, and that may be the impetus behind Wynn's less-than-civic minded action in bringing him here.
While living in the male dominated Middle East, Jackson enamored himself to neuvo riche Arabs who are expected to become
Whales
at Wynn's casino after Jackson's show opens and they learn Las Vegas unconditionally welcomes their petro-dollars.
.
In the Kingdom of Bahrain, Jackson was photographed wearing a black tunic and veil traditionally worn by Arab women.
But in the
Kingdom
of Vegas, he'd be wise to switch to cowboy garb. The locals around here don't cotton much to men dressing like Arab women.
Jackson's emergence in Vegas -- especially at the Wynn -- harkens memories of February 26, 2004 when the
Las Vegas SUN
headline
read: "Feds search house of Steve Wynn's brother." "Las Vegas executive Kenny Wynn, the brother of casino-hotel magnate Steve Wynn, recently was served with a search warrant at his home in connection with a
child pornography
investigation, according to law enforcement sources."
Then on March 29, 2004, the SUN
reported
: "No charges have been filed against Wynn, and federal officials would not comment on the search warrant, which is sealed."
We were never allowed to know the details of the investigation because there were only two news stories ever written on the subject. Such news is commonly blacked out or sealed if it offends prominent local people.
Jackson was also exonerated of all charges though his legal tangles were much more publicized.
Nonetheless, Ken Wynn is a "Pillar of the community," a keynote speaker at the Urban Land Institute, and currently holds a key gaming license at the Wynn resort -- the same place that's about to covet Michael Jackson.
He was also the
construction manager
for the Fremont Street Experience during a two year suspension of his gaming license for a narcotics violation.
Based on the standards of a town that elects and reelects a
mob lawyer as mayor
, maybe Michael Jackson will be called a "Pillar of the community", or be named our next
Man of the Year
!
Steve Wynn by enticing Michael Jackson to Vegas is proving our town is truly
The Last Resort
.

****

Rizzolo sentencing Tuesday. Straw man faces three month review Wednesday.
Convicted strip bar owner
Rick Rizzolo
will appear for sentencing before U.S. Federal Court Chief Judge Philip M. Pro on Tuesday January 16, at 1:30 PM.
Rizzolo who was once referred to as a "
Pillar of the community
" by a
City Councilman
, and described as having a "
good name in the community
" by Judge Nancy M. Saitta, was convicted last year of racketeering and tax evasion. In a U.S. Department of Justice
News Release
dated June 1, 2006, Rizzolo's strip bar, the Crazy Horse Too, was described as a "serious threat... to the community."
Though the Federal Government intended to permanently close the criminal enterprise, and despite Las Vegas City Attorney Brad Jerbic describing it as a "
public nuisance
," the Las Vegas City Council in October defiantly voted to allow the bar to reopen for a six month period, possibly as a favor to Rizzolo's old attorney, Mayor Oscar Goodman.
A Three Month Review of the
present operator
is scheduled during the morning session of the Council on Wednesday, January 17. Goodman has a
conflict of interest
and will not vote, though his wishes are clearly known throughout City Hall.
(AmericanMafia.com photo by Mike Christ)
The operator, Mike Signorelli, has been shadowed at each of his Council appearances by City Director of Business Activity Jim DiFiore who appears to be helping him.
A special City Council hearing was called in November after I disclosed that Signorelli
still employed
three members of Rizzolo's immediate family. It was apparent at the hearing that Signorelli was incapable of explaining without DiFiore's help just why he violated the Council's order that no Rizzolo step foot on the property.
At the hearing Signorelli nervously said, "Please respond by and from please Mr. DiFiore or Mr. Jerbic or anyone..."
"I'm not back here because I did something that I didn't live up to. When I go into a facility like this and I go down a list and I don't see the last name, being that it's very difficult to find out whose related and whose not (laugh). Very candidly, I sit there hours and hours and try to find out whose on first base and whose on second, so actually I saw, I saw to call the city, and Mr. DiFiore will know himself (looking and gesturing toward DiFiore), I contacted him myself and said I may need some help. So I actually called and asked for what's happening today in a semi way myself, just so you know that. So it's not a problem I committed probably. But else, (looking at DiFiore) if I'm incorrect please tell me (gestures toward DiFiore). So its not for that reason, so you know. I was trying to ask for help, so they showed me how to do it correctly."
FULL VIDEO: http://lasvegas.granicus.com/MediaPlayer.php?publish_id=29 Slide timer bar to 9 minutes into video to see and hear Signorelli's amazing statement.

Somehow the Council bought his strained story, and he was forced to immediately remove his general manager, assistant general manager, and bookkeeper.

This past week I learned that several persons will visit with members of the City Council in their City Hall offices and ask them to deny Signorelli an extension of time to operate the club.
They say they'll tell the Council members that Rizzolo has no intention of following Federal Court orders to sell the club; he turned down legitimate purchase offers; and that Signorelli is simply a straw man put there to stall the court until Rizzolo is released from prison and can resume covertly operating his criminal enterprise.
One of the persons stated he received a call from Signorelli's attorney Steven Caruso threatening to sue for "tortuous interference with private enterprise" if he makes any contact with public officials.
Judge Pro ordered the bar be sold by June 2007, and though two qualified buyers have made offers, Signorelli who has twice declared bankruptcy and cannot produce a financial statement, was the only buyer considered qualified by Rizzolo who must approve the purchase. This reinforces suspicions that Signorelli is merely a straw man working at Rizzolo's behest.
A
civil racketeering lawsuit
recently filed in Federal Court quotes Rizzolo telling a buyer he wants to keep a piece of the action and that Signorelli has no money and has not paid a penny in rent since taking over the business.
Caruso's threatened litigation is a perfect example of a
SLAPP suit
; a "strategic lawsuit against public participation," and if filed should be summarily dismissed.
Two thwarted buyers say they're not intimidated by Caruso's threat, and fully intend to contact City Council members prior to Wednesday's hearing. One is even so put off by Caruso's threat that he's now volunteering to appear in person at the hearing and tell his story from the podium.
Also, Nick Steffora, a former business partner of Signorelli who says he lost hundreds of thousands of dollars in one of
Signorelli's bankruptcies
, is also attempting to contact members of the Council to tell them about his experiences with the man Caruso described as a "highly successful gaming entrepreneur and restaurateur."
As we did in June, INSIDE VEGAS will cover the two hearings and let you know the results in next week's column.
"Frankly, I'd rather be attacked by a swarm of malaria-crazed mosquitoes
than have Miller and Barrier on my case." - John L. Smith,
LV Review-Journal
, 07/27/05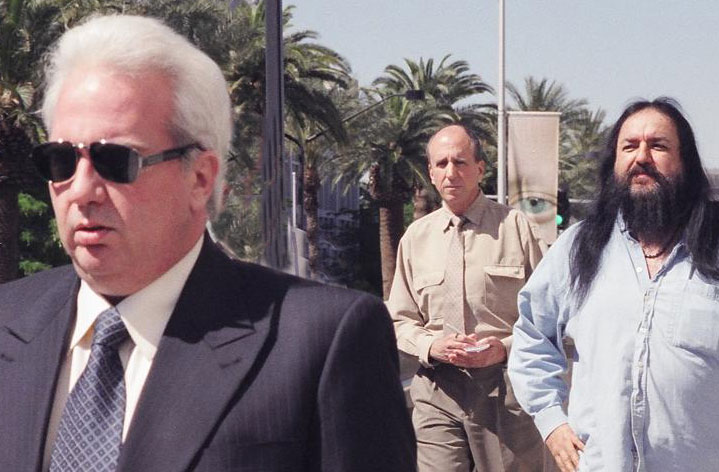 Rick Rizzolo is followed out of Las Vegas Federal Court House by Steve Miller and Buffalo Jim Barrier
after pleading guilty to racketeering and tax evasion. (AmericanMafia.com photo by Mike Christ, 06/01/06)

Copyright © Steve Miller
.