* * *
---

---
The last Public Enemy No. 1 of the Depression era, Alvin "Creepy" Karpis reportedly compiled a record of fifty-four aliases, fifteen bank robberies, fourteen murders, three jailbreaks and two kidnappings. Roaming the country to evade capture (or worse), Karpis regularly hid out in northeastern Ohio, where he and the remnants of the infamous Ma Barker Gang perpetrated the last great American train heist in Garrettsville. His criminal career came to an end when J. Edgar Hoover and his famed G-Men apprehended the man they wanted more than any other in New Orleans. From there, Karpis found himself confined on Alcatraz Island, where he spent nearly twenty-six years--more than any inmate in the prison's history. Historian Julie Thompson tells the true story of Karpis's life and career, a riveting tale taking readers from rural Kansas and Ohio to the bustling streets of the Big Easy and into the bleak innards of "the Rock."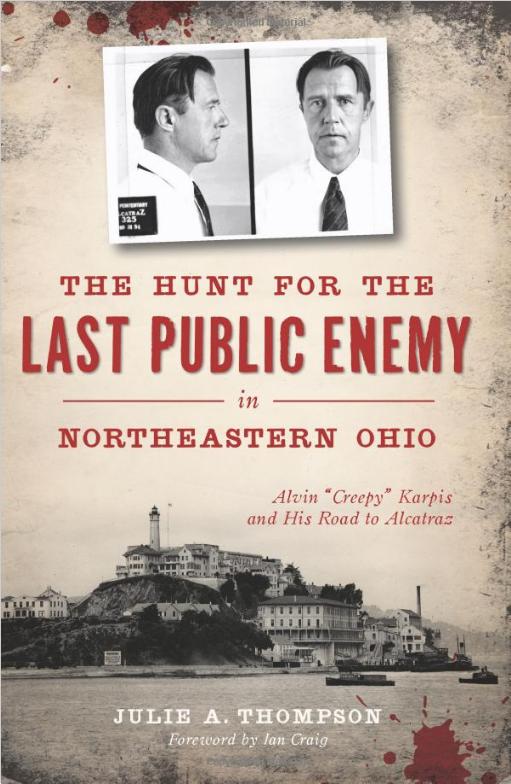 The Hunt For The Last Public Enemy In Northeastern Ohio
     The "Roaring Twenties" were hopeful with economic prosperity but witnessed the fierce and heated 18th Amendment passed on January 17, 1920. Despite its intended purpose, forbidding the manufacture and sale of alcohol gave rise to a new age of rebels and lawlessness. As a result, rival gangs, many born of Eastern and Southern European immigrants and led by business-type racketeers like the powerful Al "Scarface" Capone and George "Bugsy" Moran, conducted their corrupt affairs in professional settings throughout Chicago and New York.
     In an attempt to expand their territories, these racketeers became proficient in explosives, pistols, and the "trench sweeper" of World War I—better known as the Thompson submachine gun. Many of these gangsters, such as Capone, crossed state boundaries preventing the local police from extending beyond their own borders to capture these savvy criminals. This crime wave symbolized grave disorder in the American democracy, and many citizens would have been happy to declare martial law.
     At the conclusion of the 1920s, the big-city business criminals such as Capone and his New York criminal associate, Charles "Lucky" Luciano, were replaced with a new breed. Historian Storm Wallace stated these lawbreakers lacked education and even the most basic work history as many of them were the sons and daughters of farmers and hillbillies. These new "back-road bandits" were driven into their lawless pursuits by hunger and desperation. Most recklessly emulated the outlaws of the Old West, such as Jesse James and Billy the Kid. Unlike their urban predecessors, these Midwest bandits hardly lived the Hollywood lifestyle. At the height of Al Capone's power, he was accumulating an annual income of around $30 million. The back-road bandit and eventual public enemy Alvin "Creepy" Karpis was netting just over $50,000 per year.
     The gun battles of the 1920s made way for the "Dirty 30s" when the "American dream became the American nightmare." From Indiana to Texas, these 1930s bandits are described as criminals who "moved swiftly and hit without mercy." In 1933, the country recorded 12,000 murders, 50,000 robberies, and 3,000 kidnappings. Like modern-day cowboys, these criminals utilized the Thompson submachine gun, capable of dispensing 550 slugs a minute, in lieu of the obsolete Wyatt Earp rifles. To make their grand getaway, rather than a mustang, they hopped onto the running boards of a Ford V-12 with loads of power.
     In her letter to the editor of the American History Journal dated December 2004, Beverly Meyer of Walnut Creek, California, wrote of her own father's witness to one of Alvin Karpis' bank robberies in Nebraska in 1933. As a little girl of about 5 or 6-years-old, she recalled that her father was in a meeting on the second floor of the bank building when Karpis and his bandits robbed $40,000 and took hostages as they left on their way out of town. Ms. Meyer stated, "The gang made them [hostages] ride on the running boards so the sheriff wouldn't shoot and then released them….The gang also spread tacks behind their car."
     In 1933, it was estimated there was a minimum of 1,300,000 serious crimes known to the police. According to FBI Director J. Edgar Hoover's official report from 1935, one out of every 84 people in the United States was "subjected" to injury or death through the "workings of mass criminal activities." Because many of the nation's police departments were inadequately trained in active law enforcement practices and intelligence gathering, the FBI had to assume the role it plays today.
     Gangster sightings were all the rage in the 1930s in the northeast part of the country, particularly in Ohio. These murderous gangsters were feared yet revered as folk heroes or modern-day Robin Hoods. Every criminal from Ma Barker's gang to George "Machine Gun" Kelly hid out in Cleveland for a time with the help from local law enforcement officials. John Dillinger was also known to skulk in the shadows of Ohio. In fact, Dillinger robbed his first bank on June 10, 1933 in New Carlisle (Clark County, southwestern Ohio), escaping with $10,600. Dillinger was captured in Dayton and sent to the Allen County Jail in Lima, but his gang rescued him in October in a bloody jailbreak. Consequently, Allen County Sheriff Jesse Sarber was shot to death during this raid.
     Adding to the growing list of gangsters "on the lam" in Ohio, bank robber Charles "Pretty Boy" Floyd was captured March 8, 1930 in an Akron home. Even Floyd himself would admit that this was not his finest hour as police found him hiding under a bed on Lodi Street in Goodyear Heights. Floyd spent three months in the Akron City Jail before being transferred to Toledo. He then made a daring escape from a train bound for the Ohio Penitentiary in Columbus, but federal agents finally caught up with him in October 1934 in a cornfield near East Liverpool. Floyd was fatally shot by Melvin Purvis and his agents. The sight turned into chaos after federal agents gunned Floyd down.
     Less than one year after Floyd's death, Alvin Karpis successfully held up a mail truck in Warren, Ohio, and then an Erie Railroad train in Garrettsville, Ohio, with a never-before-attempted escape by airplane to Hot Springs, Arkansas. Karpis then made his way to New Orleans by spring 1936. It was Karpis who pulled off the last great train heist in American history in the sleepy village of Garrettsville on November 7, 1935.
     To date, this published work is one of the most comprehensive and scholarly analysis of notorious gangster Alvin "Creepy" Karpis, depicting both his personal life and criminal career. More importantly, this work discusses the enormous influence garnered by the Federal Bureau of Investigation following Karpis' train heist—a crime taking place just three miles from my own backyard. The core of this analysis closely contrasts the rise of Karpis against the formidable top G-Man, J. Edgar Hoover.
     Throughout the duration of Hoover's frenzied pursuit of Karpis, Hoover found himself competing with and building on the investigative work of the United States Postal Service. The USPS claimed jurisdiction in the case and became obligated in the initial investigation. As discussed by Alcatraz Historian Michael Esslinger, this last great train robbery in American history, pulled off in the historic village of Garrettsville, Ohio, bolstered Hoover and his G-Men into "national prominence."
     Given the widespread economic depravity during the 1930s, many folks in American society had less animosity for these bank-robbing outlaws than they had for the financial institutions that foreclosed on homes and farms across the country. From the cinematic charm of the city of Cleveland, to the dusty gravel back roads of rural Ohio, and to the icy and unforgiving waters just off the coast of Alcatraz Island, this story reads like a scene out of an old black-and-white movie.









THE HUNT FOR THE LAST PUBLIC ENEMY IN NORTHEASTERN OHIO

The Local Connection
     Years after a rather successful career plundering the Midwest, Karpis recalled with a mutter of contempt: "I made [J. Edgar] Hoover's reputation as a fearless lawman. It's a reputation he doesn't deserve . . . I made that son of a bitch."
     Today, this quote by Kapris holds a special interest for the residents in the small town of Garrettsville, Ohio, a historic village of fewer than 2,500 people. With sprawling farm houses set high above the few winding main roads, Garrettsville is seemingly a quiet town far away from the crime that is rife in big cities such as Cleveland, New York, or even Chicago. Yet, today, no one would be the wiser that during the fall of 1935 this quiet village brimming with history, Midwest charm, and beautiful landscapes would unwittingly become the site of a Wild West train caper and the last successful train robbery in American history, led by the FBI's Public Enemy No. 1.
     It is often said that: "In a small town, nothing ever happens." Brace yourself, everything is about to change. This is a not-so-nice story about a criminal who became a hunted outlaw by what was to become the premier law enforcement organization in the world. That outlaw's legacy is introduced with a local story that amassed lasting national implications and which paved a path for Alvin "Creepy" Karpis (the last Public Enemy of the Depression era) to Alcatraz Island.
On the Rocks
     As students of U.S. Penitentiary-Alcatraz history, the path to a true understanding of the infamous prison leads directly to an exploration of the notorious 'gangster era' in America. The study of this history also lends itself to the discovery of key figures who exemplified this dangerous period in American history.
     The government's response to this threat would result in a federal crackdown on organized crime, and it would also lead to the creation of America's first 'super-maximum security' prison on Alcatraz Island in the San Francisco Bay. Any exploration of either the gangster era or the USP-Alcatraz will surely include the true-life story of a colorful, yet sometimes-deadly individual who dominated both the era and the inescapable federal prison. Alvin "Creepy" Karpis was this dangerous decade's final Public Enemy Number One. He would ultimately serve the longest sentence ever served at USP-Alcatraz.
     The following literary work clarifies the social structure of American culture during the late 1920s and early 1930s which gave rise to the emergence of timeless criminal folk heroes such as Al "Scarface" Capone, John Dillinger, and the subject of this study—Alvin Karpis—kidnapper, bank-robber, criminal mastermind, supposed murderer, and fugitive extraordinaire.
     This is a compelling story of daring criminal conspiracies, the period's public perception of lawlessness, and the creation of the Federal Bureau of Investigation and of its perennial leader, J. Edgar Hoover. This work traces the emergence of this extremely cagey federal fugitive, his elusive path as leader of the Karpis-Barker gang, his eventual capture and extreme incarcerations, and better years after release from a life sentence.
     The author of this close examination of this gangster-era icon, devoted historian Julie Thompson, has her roots firmly planted in Northeastern Ohio. Julie, having been raised in the usually hushed village of Garrettsville, illuminates the importance of this unsuspecting setting for a brazen great train robbery with a never-before attempted escape by airplane. Julie brings to light the mechanics of the gangster era's progression, illuminating the local histories of numerous American "breadbasket" Midwest states. The result was lasting national implications. Criminal associations included fellow infamous outlaws like George "Bugsy" Moran, George "Baby Face" Nelson, Kate "Ma" Barker and her boys (originally the Barker-Karpis gang), and other nefarious connections made through these contacts.
     Many of the Karpis-Barker gang's crimes and hideouts inhabited many cities within Ohio, including Cleveland, Akron, the Canton area, Toledo, Ohio, and even 'down South' in the secluded criminal hangout of Hot Springs, Arkansas.
     New and gripping details emerge through this exploration on the planning and execution of Alvin Karpis' sensational federal crimes. Many titillating stories will enthrall readers featuring the roles of tommy guns, dynamite, and creative getaway vehicles. Planes, Trains, and Automobiles often played lively roles in Alvin's crimes which makes this a worthwhile immersion into the daring details of these often wild escapades.
     Alvin Karpis was ultimately sentenced to a term of life in federal prison for his felonious kidnapping capers. Consequently, this life sentence imprisoned Karpis at Alcatraz for a record-setting 26 years (nearly), and he endured time on 'the Rock' during all three decades of the institution's history.
     Surprisingly, USP-Alcatraz was never full to capacity during its 29-year history. The U.S. Army had expanded the military prison to 600 cells during the year 1912. When the Feds took over in 1934, they were never able to fill the prison. There just weren't enough "worst-of-the-worst" criminals deserving of this level of containment or punishment.
     Alvin Karpis was not one of these undeserving occupants. USP-Alcatraz had been extensively remodeled by the Bureau of Prisons from 1933 to 1934 with the goal of securely confining the gangster-criminal element of Karpis' kind. Alcatraz was designed to receive America's most dangerous who were now destined to serve long sentences in the new escape-proof federal prison.
     In 1935, the drawn-out hunt for Karpis as a federal fugitive and spearheaded by Hoover and Co. had been a constant source of embarrassment for the newly-designated Federal Bureau of Investigation. As the top G-Man, or Government Man, Director J. Edgar Hoover was especially the target of criticism. The desperate and prolonged hunt for Karpis evolved into a source for exaggerated newspaper coverage and sensationalized pulp fiction.
     The national press, as well as Hollywood movie production companies, became infatuated with the intriguing federal hunt for Alvin Karpis. This interest in Karpis was coupled with the highly-publicized prosecution of the sensational mob boss Al Capone, his transfer to U.S.P. Alcatraz, and to the alluring mystique of 'the Rock'.
     Immediately following the dramatic scene of the Garrettsville train robbery, numerous federal government agents, commonly referred to as G-Men, were dispatched to the Northeastern Ohio area to search for the elusive chief suspect Alvin Karpis and his numerous accomplices.
     Throughout the previous eight decades, this last great train heist in American history has been widely adopted as the backstory of Garrettsville local lore. This dramatic local history has been cemented in the choice for the athletic mascot of the area's high school, known as the James A. Garfield High School "Fighting G-Men" and author Julie Thompson's own alma mater.
     Follow the extensive search for this last Public Enemy No. 1, stretching out over nearly three years to its culmination in the sensational capture by Hoover and his coveted FBI. Also, discover the significant roles in this pursuit provided by law enforcement officials in Ohio, especially those efforts put forth by the U.S. Postal Service Inspectors and the use of new investigative science, including latent fingerprinting techniques.
     Ultimately, this published work, prepared with tireless dedication by the author Julie Thompson, presents a fresh opportunity for an understanding of the complexities involved in the rise and fall of this more un-classic than classic American gangster. This study also helps clarify the blurry legacy of J. Edgar Hoover as the famed nemesis and captor of Alvin Karpis.
     The following is an invaluable discovery of the forces driving America's gangster era and a welcomed work for historians and explorers of this timeless period. Enjoy getting to know Alvin "Creepy" Karpis, his daring criminal escapades, amazing evasions of capture, his historic sentence on 'the Rock,' and his ultimate freedom. Thanks Julie for your exhaustive efforts, determination, and successful publication of this work! The legend of America's Last Public Enemy Number One, Alvin "Creepy" Karpis, lives on! Enjoy, and we'll hope to see you all on 'the Rock'!