Special to AmericanMafia.com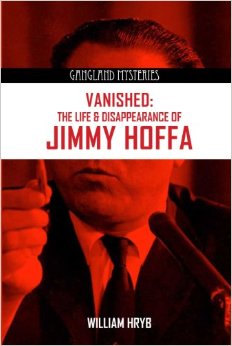 Vanished: The Life and Disappearance of Jimmy Hoffa
by William Hyrb
Vanished...
     Nearly forty years after Jimmy Hoffa vanished from the face of the earth his disappearance still remains one of the biggest mysteries in crime history. At his zenith, Hoffa was reputed to be the most powerful figures in North America. The labor boss was never seen again after July 30, 1975 marking one of the most unexplainable cold cases ever. In his new book titled Vanished: The Life and Disappearance of Jimmy Hoffa, freelance journalist William Hryb attempts to unravel the five-decade long riddle.
     The author painstakingly takes the reader behind the scenes of the man who made the Teamsters the most formidable labor union in the United States. Alleged to have close ties with organized crime, Hoffa became the target of sensational congressional hearings into organized crime spearheaded by Robert Kennedy. Hryb describes in vivid detail the life and times of Jimmy Hoffa, an iconic American character whose fascinating story comes alive in this intriguing one-of-a kind narrative.
Vanished: The Life and Disappearance of Jimmy Hoffa

* * *
EXCERPT
---
NUMEROUS SEARCHES FOR HOFFA'S BODY TURNS UP NOTHING
Just weeks after Hoffa went missing, FBI agents compiled a list of nine strong potential suspects. The FBI knew Hoffa had gone to the Machus Red Fox Restaurant in Bloomfield Township in Michigan and was picked up in a certain car, supposedly to meet with Detroit mobsters Tony "Jack" Giacalone and New Jersey Mob kingpin "Tony Pro" Provenzano to iron out some differences. But that's where it ends. The case still haunts the FBI because it has never been solved. Even though the FBI believes Hoffa was "rubbed out" by the Mafia, the questions remain: who killed him and where are his remains if there are any? In the years that followed his disappearance, there have been numerous searches for Hoffa, all of them going nowhere. An extensive dig at a Michigan farm several years ago turned up nothing. Another dig in 2012, at a suburban Detroit home's drive-way, came with no results. Wild rumors where Hoffa's body might be still persist.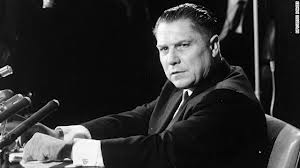 James Riddle "Jimmy" Hoffa
(born February 14, 1913 – disappeared July 30, 1975)
Over the years, all kinds of gossip where Hoffa's remains were disposed of have come and gone with no evidence. Rumors that his body was entombed under Section 107 at the now-demolished Giants Stadium in New Jersey; hidden in the concrete foundation of Detroit's Renaissance Center; stashed under a horse barn; thrown into the Florida swamp; buried in a backyard swimming pool in Bloomfield Hills; weighted down in the Detroit River; crushed in a wrecking yard compactor; dissolved at a fat-rendering plant; buried in a gravel pit; and squeezed into a oil-drum and thrown into the toxic-waste dump in New Jersey made headlines but little else. Nobody has been arrested for the Union leader's likely murder, and his final seconds remain a mystery. With a thinning of those who were close to him, the enigma gets deeper and more mysterious. "Unfortunately, this has the markings of a great who-done-it novel without the final chapter," Prosecutor David Gorcyca was quoted as saying a few years ago. At the time, new DNA evidence, he said, was not enough to support state criminal charges in Hoffa's disappearance. The most recent disclosure (June 2013) had Jimmy Hoffa's body buried in a shallow grave about 20 miles from the Machus Red Fox Restaurant where he was last seen alive. In January of 2013, Tony Zerilli, a well-known Detroit mobster who was locked up in prison at the time of Hoffa's disappearance said in an interview to New York's NBC 4 News, "I'm as certain as I could possibly be. If I had money, I'd like to bet a big sum of money that he's buried there." He went on to declare, "I'd like to just prove to everybody that I'm not crazy." Zerilli has just come out with his self-published book titled
Hoffa Found
that was released earlier in the year but with no tangible evidence that his claim was true. Along with other famous vanished personages, the notorious labor leader's disappearance will be the source of rumors and speculation for years to come.
Steven Brill, in his book titled The Teamsters, said, The Mob had control of one of the nation's major financial institutions and one of the very largest private sources of real estate investment capital in the world. Frank Fitzsimmons, Hoffa's successor, was a pushover for the Mob. Through Fitzsimmons, the Mob had access to a massive pension cache, favorable contracts and preferential handling. In later years, Mob control of the Union became strikingly evident when the FBI bugged a New York nightclub called the Parma Boys Social Club where they recorded Anthony "Fat Tony" Salerno discussing an upcoming Teamster presidential election of Roy Williams in June 1981. Frank Fitzsimmons had died of cancer in May of that year and Williams was favored to succeed Fitzsimmons. The evidence uncovered in the wire-tap ended up convicting Salerno in 1986 of rigging the election of Roy Williams. The Genovese crime family boss was later identified by federal prosecutors as a senior member of "The Commission," the ruling council of the five principal crime families in La Cosa Nostra.
Anthony "Fat Tony" Salerno, the cigar-chomping, gruff crime boss, ruled the deadly 200-member Genovese family, having influence over labor unions in Cleveland, the concrete industry in New York City, and considerable clout over the Miami waterfront. Howard Abadinsky, a professor of criminology at St. Xavier University in Chicago and author of several books on organized crime, said, "He was extremely powerful."Abadinsky compared Salerno to the reputed head of the Gambino family, Paul Castellano. "Castellano was perhaps first among equals, but Fat Tony would have been the other most powerful figure on the East Coast." Three years after the law caught up with the seventy-eight year-old gangster, he entered the prison system in 1989 with sentences of 100 and 70 years on separate federal racketeering convictions. The grim-reaper finally caught up with "Fat Tony" Salerno when he died of a stroke at the Medical Center for Federal Prisoners in Springfield, Missouri, in July 1992. Salerno was portrayed by actor Paul Sorvino in the gangster movie Kill the Irishman depicting "Fat Tony's" role in the gangland war between the Irish Mob boss Danny Green and the Cleveland Italian Mob led by Salerno.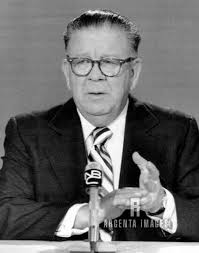 Frank Edward Fitzsimmons
(August 7, 1908 – May 6, 1981)
Emerging from prison two days before Christmas in 1971, Jimmy Hoffa was a bitter man. Before going to prison in 1967 to serve a 13-year prison sentence, Hoffa had made it clear to Fitzsimmons that he still would be the boss and retain his title until he got out. Fitzsimmons was expected to follow orders. His major task was to get Hoffa out of jail and back into his office as president of the Teamsters. His hand-picked caretaker successor, however, was beginning to get used to being the boss and was thinking about how he was going to keep the perks and power he now relished. Hoffa and Fitzsimmons had known each other since the 1930s when he joined the Teamsters as a dock worker in 1934. He later started driving a truck and became a business agent for a Detroit Teamster Local in 1937. Over the years, he was a loyal lieutenant of Hoffa's, but with Hoffa's legal troubles mounting, he began to distance himself from his long-time friend. Fitzsimmons became aware that it was an almost im possible task to have Hoffa freed with the Democrats in power. Colleagues of Robert Kennedy still controlled the Justice Department and were not going to be lenient on Hoffa's case. Meanwhile, Fitzsimmons' meager efforts to spring his boss from prison was greeted with disdain by government officials. The Democratic machine had no intention of releasing Hoffa and wanted him locked up as long as the law allowed. It soon became apparent to Fitzsimmons that Hoffa would remain in prison for a long time.