* * *
Special to AmericanMafia.com
[
Excerpted from
Queenpins: Notorious Women Gangsters from the Modern Era
]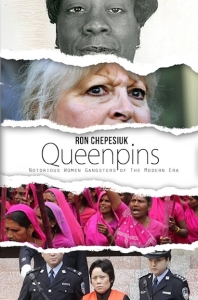 Queenpins: Notorious Women Gangsters from the Modern Era
by Ron Chepesiuk
     Perhaps more than
any other country, Mexico has seen a surge in the number of women swelling the ranks of criminal groups during the early 2000s. The booming Latin American drug trade is the big reason for this development. The Mexican cartels rose to prominence in the late 1990s after the takedown of Colombia's powerful Medellin and Cali cartels, and since then, the country has dominated the Latin American drug trade. Today, Mexican drug cartels control 70 percent of the narcotics flowing into the U.S., which translates to an estimated $13.6 to $48.4 billion annually in illicit earnings.
     Given the huge profits, rampant corruption permeates Mexican society, while the violence associated with drug trafficking has reached a crisis level, mainly because the Mexican government abandoned the passive stance it had adopted towards the country's drug cartels in the 1990s and early 2000s and went after them. Felipe Calderon, Mexico's newly elected president, sent 6,500 troops to the state of Michoacan in December 2006 to end the drug violence there. The result has been traumatic for Mexico. The country has had to deal with shocking assassinations that have included beheadings and other gruesome murders, raging gun battles, an epidemic of kidnappings and a breakdown of law and order. From Calderon's election to August 2010, Mexico's violence claimed more than 28,000 people.
     And there seems no end to the carnage. According to the tally kept by the Mexican newspaper Reforma, the death toll for the first ten months of 2010 surpassed 2009's full year's tally by more than 50 percent.
     Mexico's drug wars have had a significant impact on Mexico's female population. In 2010, Mexico's National Women's Institute reported a 400 percent increase over the previous three years in the number of women imprisoned for federal crimes involving drugs and guns. "The numbers continue to grow in spite of the violence we are witnessing," Howard Campbell explained to the Dallas Morning News in July 2008. Campbell did a study on women and the drug cartels in Mexico that was published in the winter 2008 edition of Anthropological Quarterly.
     Why Mexican women are becoming felons is not clear. Some, such as Karla Robles, are entering the drug game because they believe they can make easy money. Robles thought working as a drug mule would be a lucrative way to support herself and her new born baby. A drug cartel recruited her because it believed that, given her gender and age, she would attract little suspicion at the airport. "It was easy money and I enjoyed spending it," Robles recalled. "Shoes, clothes, bags, nightclubs…..it just went." The young girl did not think of the consequences, and in December 2007, she was caught and sentenced to ten years in prison.
     In an interview with USA Today on December 2, 2010, Luis Jorge de la Pena estimated that 40 percent of the women convicted of drug-related crimes were coerced to become drug couriers by their husbands. "Normally, there were cases of women knowing what their husbands had done, but they were convicted as accomplices for not denouncing them," de la Pena explained.
     One woman named simply Josephina by the Mexican authorities to protect her identity told police in Laredo, Texas, that she had gotten involved with the brutal Mexican paramilitary groups known as the Zetas when she 17. The Zetas, which are often identified as Mexico's most dangerous drug cartel, originally began as a private mercenary army for the Mexican drug cartels but have since gone independent to become a force in the international drug trade. Josephina trained in Zeta camps and she came to fear what the organization would do to her family if she ended her association with them. "I would do whatever task was asked of me," the young girl revealed in the police video.
     Other Mexican women have moved beyond working as drug couriers and have become actively involved in extortions, kidnappings and even assassinations. Eunice Ramirez had two jobs. By day, she would work as a hostess at corporate functions, political rallies and sporting events. By night, she joined a kidnapping group where she used her good looks to set up men for abductions. She kept this up until she was arrested in October 2010.
     After competing in the Mexican beauty contest, Nuestra Belleza Mexico 2008, Laura Zuniga went on to win the coveted Miss Hispanic America in Santa Cruz, Bolivia. Later in 2008. Just months thereafter, however, Zuniga ignited a national scandal when she was arrested in Mexico for allegedly carrying illegal guns and about $53,000 in cash. Zuniga said she had been kidnapped by her boyfriend, Angel Orlando Garcia Urquiza, whom she identified as leader of the Juarez drug cartel. Laura claimed innocence when the authorities asked her if she knew anything about her boyfriend's illegal activities. Laura was dethroned as the Hispanic American queen, even though a judge found no evidence that she had been involved in criminal activity and released her from police custody in January 2009.
     A few of the female narcos have risen to the highest levels of the Mexican criminal world. These queen pins have a role model whose criminal career extends in time to the beginnings of the Mexican drug trade. Ignacio Jasso, AKA La Nacha, organized one of the first Mexican drug cartels in the 1920s, and operated a heroin business from her middle class neighborhood in Ciudad Juarez. Her main customers were heroin-addicted U.S. soldiers whom she serviced after ruthlessly eliminating her competition. One report from a 1933 Mexican newspaper noted that "La Nacha travels frequently through the streets in her luxury car that she just bought, and it seems she has some important influences and this why she has not been captured." More recently, The Newspaper Tree: El Paso's Online Newspaper wrote that la Nacha was the first drug trafficker in Juarez to sell marijuana, heroin and cocaine." Her discreteness, good business sense and willingness to 'grease' the palms of government officials, allowed her and her gang to move about without having to engage in violent confrontations," the paper wrote.
     Women gangsters like Maria Guadalupe, a native of Durango State, who arrived in Ciudad Juarez in the early 1980s, were inspired by Ignacio's career. "The key is not to let any male dominate you, either in the head or in the heart. It's all business," Maria Guadalupe explained in an interview. "At least that's my philosophy, and one that I believe has kept me alive all these years."
     Maria was an ambitious drug dealer who often represented the Juarez Cartel's interests in Colombia. The cartel operates primarily in the Cuidad Juarez-El Paso area, extending along the west Texas and New Mexico borders and into Arizona from Hermosito, Mexico. The cartel is one of Mexico's most powerful, controlling billions of dollars worth of drugs entering the U.S. from Mexico.
     . "I've never killed anyone," Maria said. "But that does not mean I'm afraid to use my .45. Don't underestimate me just because I'm a woman."
     Guadalupe was part of the Quintero-Soto drug trafficking organization that trafficked in methamphetamine, cocaine, and crack, moving the drugs from Mexico into the U.S., specifically to Phoenix, and then on to major U.S. cities, including Dallas, New York and Chicago. The organization also engaged in money laundering and bulk cash shipments by utilizing the secret compartments in vehicles to hide and ship money from the U.S. to Mexico.
     On May 20, 2009, Guadalupe pled guilty to money laundering. Three months later, a U.S. District Court sentenced her to 37 months in a U.S. prison to be followed by three years of supervised release.
     Enedina Arellano Felix, another queen pin, is allegedly one of the leaders of the Tijuana Cartel, one of Mexico's most violent cartels based in the Mexican city of Tijuana. Born in 1961, Enedina is the sister of former cartel leaders Ramon Arellano Felix (killed in 2000) and Eduardo Arellano-Felix (arrested in 2008). Following the murder of Felix and several of her other brothers, she became increasingly important in the Tijuana cartel According to the Daily Beast, an online publication, those close to Enedina describe her as reserved, calculating and highly intelligent. Eredina is one of 31 women on the list of drug smugglers sought by the DEA and FBI for extradition to the U.S.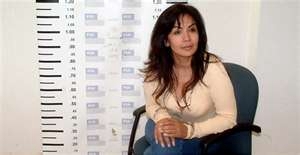 Sandra Avila Beltran - the "Queen of the Pacific"
     Mexico's most powerful narco drug lady is Sandra Avila Beltran, a striking brunette who comes from Mexico's criminal aristocracy and loves luxury and high fashion. The public has come to know her as the "Queen of the Pacific" in recognition of the important role she has played in developing drug smuggling routes along the Pacific Coast. In assessing Sandra's place among Mexico's drug traffickers, Patricio Patino, Mexico's Assistant Secretary for Public Safety, told
Newsweek
magazine: "Sandra's rise basically has to do with two circumstances: her ties to a family that has been involved in drug trafficking over three generations, and a physical beauty that made her stand out as a woman."
     The queen pin moved large loads of marijuana to the U.S. from Mexico that sometimes amounted to 15,000 pounds a load, as well as cocaine shipments as large as 700 kilograms. A U.S. indictment that seeks the extradition of Sandra to the U.S. details the movement of more than $20 million in U.S. currency into the U.S. and to banks in the Cayman Islands, as well as the acquisition of real estate holdings, in Texas and California, that include ranches, airstrips and residences.
     Sandra has become so famous that her persona is now part of Mexico's popular culture. A band called Los Tucanes of Tijuana has even composed a narco "Narco Corrido" folk song with lyrics that pay tribute to Sandra as a "very powerful lady" and a "big player in the illicit business." This Mexican ballad focused on drug smugglers, has been compared by some critics to Gangster Rap. The lyrics of this "Narco Corrido" speak in laudatory terms of the drug smuggler's illegal activities, including murder.
     One of the "Narco Corrido" songs pays homage to Sandra Avila Beltran as follows: "All the guests arrived at the mountain party in small private helicopters. Suddenly, they hear a buzzing sound and saw a chopper landing. The boss ordered everyone to hold their fire. Out comes a beautiful lady, dressed in camouflage and donning a cuerno (AK-47). Everyone knew immediately who she was. She was the famous Queen of the Pacific… the strong lady of the business, a true heavyweight."
     Sandra's great uncle
is Jose Quintero Payan, a powerful Mexican narco who in June 2007 was extradited to the U.S along with fourteen other gangsters. According to the U.S. indictment, Quintero's drug trafficking operations span the area from South America and Mexico to the U.S. and the Cayman Islands.
     Sandra is reported to be close to Ismael Mayo Zambada, a top drug dealer from the Sinaloa Cartel. The drug lord has made the Forbes list of the world's wealthiest and most powerful people, but he has had little opportunity enjoy his riches. Mayo Zambada remains a fugitive with a $2 million bounty on his head for information on his whereabouts. In an April 2010 interview with a Mexican newspaper, Mayo Zambada admitted: "I'm terrified of being incarcerated. I think I would kill myself (if I was captured)."
     Sandra is also the niece of Miguel Angel Felix Gallardo, a former big-time drug lord who is serving a 40-year sentence for the murder of a U.S. DEA agent, Enrique Salazar Camarena. On February 7, 1985, Camarena was kidnapped in broad daylight from near the American consulate in Guadalajara. The U.S. government demanded that the Mexican authorities find Camarena, but they resisted. So the U.S. Customs Service launched Operation Camarena along the Mexican border. Every car entering the U.S. was carefully searched for Camarena, the intention being to create bottlenecks on both sides of the U.S. American border and force Mexico's hand. When Camarena's tortured and bludgeoned body was found on March 5, 1985, he became the first DEA agent to die on Mexican soil.
     Known as "El Padrino" (the Godfather), Felix Gallardo linked up with Colombian drug cartels and became the Mexican connection for the Medellin Cartel headed by the infamous Pablo Escobar. Felix Gallardo's arrest helped expose the widespread corruption in Mexican politics and law enforcement.
     It is believed that Felix Gallardo's capture compelled Sandra to become a major player in the drug trade. She used her beauty and sex appeal to get ahead in Mexico's criminal world, but she also had the business savvy and the ruthlessness an aspiring queen pin needed to claw her way to the top. She spent a decade helping to forge alliances between drug traffickers in western Sinaloa State and those in Colombia, and along the way, she not only seduced drug lords but also corrupted law enforcement officials.
     Her first husband was Jose Luis Fuentes, a crooked commander of the Mexican federal judicial police, who bore her one son. Fuentes called Sandra "My Queen" and spoiled her rotten by sending her on expensive clothing and jewelry shopping sprees to Puerto Villarta and other Pacific Coast resort towns. Fuentes was eventually killed by colleagues in the federal judicial police, and Beltran soon married Rudolpho Lopez Amavizca, another corrupt law enforcement official who headed Mexico's National Institute for Combating Drugs. Drug traffickers are believed to be responsible for Lopez Amavizcu's murder in 2000 in a hotel room in the northern city of Hermosillo in 2000.
     In addition to
her marriages, Sandra took on many powerful men in the drug trade as lovers. Her romantic conquests included such powerful drug lords in the Sinaloa organization as Ismael "El Mayo" Zambada Garcia, and Ignacio "Nacho" Colonel Villareal Zambada Garcia, a former farmer who rose through the ranks of the Sinaloa cartel in large part because of his ability to bribe Mexican law enforcement officials and forge alliances with other cartels.
     Zambada Garcia has been featured on America's Most Wanted, the program, which noted that the U.S. State Department is offering up to $5 million for information leading to his capture. Ignacio Colonel Villareal smuggled multi tons quantities of cocaine in to Texas and Arizona during the early 2000s before he was killed on July 29, 2010, during a shootout with Mexican police. They found $7 million in cash in the house where he was killed.
     Sandra's most important
connection was Colombian drug lord Juan Diego Espinosa Ramirez (AKA Tiger) with whom she got involved in the late 1990s. Sandra was a good student and she listened carefully to the advice of her Colombian boy friend. Sandra and Ramirez Espinosa used a large network of women to bring suitcases filled with money to Colombia and other destinations in South America to pay for drug supplies. Espinoza Ramirez also helped the Queen of the Pacific build her alliances so that she was able to control cocaine shipments from the Valle del Norte in Colombia to the ports of Western Mexico. Espinoza Ramirez was one of Colombia's most wanted drug lords until his capture in Mexico City in September 2007.
     Sandra was a public relations genius who charmed her contacts in Colombia, but also showed that she could take care of problems when need be. Michael Vigil, a former head of international relations with the DEA, told one reporter, "Sandra was ruthless. She used the intimidation tactics of Mexican organizations." In other words, the queen embraced the violence that came with the territory.
     While moving cocaine from Colombia to Mexico, Sandra also established a number of legitimate businesses to launder the enormous sums of money she made from drug trafficking, including a string of beauty salons and a real estate company that handled more than 200 properties in Sonora State.
     Despite her legend, Sandra managed to stay below Mexican law enforcement's radar screen for a decade and avoided arrest, even though informants had implicated her in drug smuggling activities early in her criminal career. Her fortunes began to change in December 2001 when Mexican authorities seized a tuna boat in the port of Manzanillo and found nine tons of cocaine worth more than $80 million. Cell phone records found on the boat tied Sandra to her Colombian boy friend.
     The Queen of the Pacific was now a major target of the Mexican authorities who began scrutinizing her finances and business activities. Among other discoveries-the queen pin had laundered money through the purchase of 225 real estate lots, two houses and a tanning salon in the city of Hermosillo, Mexico. The authorities got a break in July 2002 when they detained two women who were carrying more than $2 million in cash. The women cracked under interrogation and provided valuable information that implicated Ramirez Espinosa and exposed Sandra's money laundering operation in Hermosillo.
     The queen pin got another bad break when her son was kidnapped in the northern city of Guadalajara and the kidnappers demanded a $5 million ransom. Sandra decided to go to the police for help, but they got suspicious when they learned that the size of the ransom was $5 million. Who was this woman who could pay a ransom that large? Sandra decided to handle the kidnap negotiations herself, but the press got wind of the kidnapping and reported that Queen of the Pacific paid a $3 million ransom. Sandra said the ransom was less, but the kidnapping had given her a high profile.
     The Mexican authorities were now hot on Sandra's trail. As a result of their investigation, Sandra was charged with conspiracy to traffic in drugs and money laundering. Meanwhile in Miami, Sandra was indicted on separate drug smuggling charges that U.S. authorities hoped would lead to her extradition. By now, the Queen had gone underground to avoid arrest, taking the name Daniela Garcia Chavez and living quietly in a middle class Mexico City neighborhood. Mexican authorities intensified their search and were able to track Sandra to Mexico City where they found that she was still maintaining her lavish lifestyle, driving a BMW, frequently dining at Chezwok, an expensive Thai restaurant, and having her hands manicured in ritzy salons frequented by Mexican TV stars.
     When 30 Mexican federal agents swooped in on a Mexico City diner to arrest the queen, they found her calmly drinking a cup of coffee. Wearing skin tight jeans and spiked heels, the queen pin asked the police if she could apply her makeup before they videotaped her being transferred to the woman's prison. In the videotape, she is seen smiling to the camera, walking downstairs on the arm of a federal agent. As two female guards handcuff her, she laughs and makes small talk. When the police interrogated her, she is seen on camera describing herself as just a housewife who made a little money "selling clothes and renting houses." When the police ask why then was she in custody, she replied sarcastically, "Because there is an arrest warrant asking for my extradition."
     Sandra was transferred to a Mexico federal prison in the northern Mexico City outskirts to await proceedings that the U.S. hoped would lead to her extradition. At the proceedings, she told the judge, "I like to be called the 'Queen of the Pacific," and when taken away, she told the clerk of court, "Have a nice day."
     On October 5, 2007, a Mexican judge ordered Sandra to stand trial in Mexico. She had no plans, though, to go quietly into the night. She complained about conditions at the woman's prison, claiming her cell had insects, or as she put it, "noxious fauna." She protested that the ban on bringing food from restaurants into the prison violated her rights. She asked guards for extra soap, her lawyers for extra makeup and prison authorities for extra time to put on the makeup before facing cameras. Sandra managed to wear figure hugging clothes, high heels and fashionable sunglasses. Obviously, Sandra was incarcerated under a different set of rules.
     Julian Sherer, a Mexican journalist, arranged interviews with the imprisoned queen pin and published a biography about her. The queen pin even had several Botox injections to her face. Press reports indicate that the plastic surgeon was admitted to the prison by a person in charge of the medical area. News of Sandra's plastic surgery caused a furor, and the prison's director and hospital chief were fired, and an investigation launched.
     In December 2010, a Mexican judge acquitted Sandra of the drug trafficking, money laundering and organized crime charges. Many observers were not surprised, given the corruption in the Mexican judicial system. But two months later, she was sentenced to one year in prison for illegal arms possession. Neither the Mexican government nor Uncle Sam were sure how the court rulings would affect the U.S. extradition request, even though Mexican law allowed suspects to be extradited to the U.S. even when they are facing trial in Mexico.
     ``The story of the Queen of the Pacific still has no ending, but she clearly has become one of the most famous drug traffickers in Mexican history. If Hollywood has its way, Sandra Avila Beltran will soon become an international celebrity. Her life has already inspired a novel by Spanish author Arturo Perez Reverte, which is reportedly being made into a movie starring Eva Mendes, Jack Hartnett and Ben Kingsley. Stay tuned.
* * *
## Ron Chepesiuk
is award winning freelance investigative journalist, documentary producer and Executive Producer and co-host of the Crime Beat radio show (
www.artistfirst.com/crimebeat.htm/
) . He is a Fulbright scholar and a consultant to the History Channel's Gangland documentary series. His true crime books include "Drug Lords, Black Gangsters of Chicago, Gangsters of Harlem Gangsters of Miami" and Sergeant Smack: The Lives and Times of Ike Atkinson. Kingpin, and his Band of Brothers.
-- 30 --