* * *
Special to AmericanMafia.com
[
Tony DeStefano introduces his new book
Mob Killer: The Bloody Rampage of Charles Carneglia, Mafia Hit Man
]
Mob Killer: The Bloody Rampage of Charles Carneglia, Mafia Hit Man
by Tony DeStefano
     Growing up in the shadow of his well known brother and mobster John, loner Charlie Carneglia wanted in the worst way to be accepted as a gangster. In New York's Howard Beach the mob life in the 1970s and 1980s was king and Charlie wanted to be accepted as a tough guy. The late John Gotti ruled the Gambino crime family from his social club and it was there that Charlie Carneglia got his start, eventually working his way from associate to mob soldier, with deadly consequences. Charlie quickly earned a reputation as a killer, notching up a number of hits and was suspected of killing a court officer. He also earned the reputation as a man who could make bodies disappear with acid, something federal witnesses said he did to the man who had the misfortune to accidentally kill Gotti's son Frankie.
     Now, the new book "Mob KIiller: The Bloody Rampage Of Charlie Carneglia, Mafia Hit Man," (Pinnacle True Crime), by true crime writer and journalist Anthony M. DeStefano, explores the strange life of Carneglia and his ultimate demise at the hands of the FBI and some of his most trusted associates. "Mob Killer" traces Charlie's working class background and the way he rode on the coattails of his brother John to gain an entrée into the Mafia. Unlike John, Charlie was volatile, prone to drug and alcohol abuse which made him unpredictable and feared on the street. Yet, he had a soft spot for his aging mother Jennie, caring for her as she became old and infirm before dying at the age of 96. He also liked young children, watching out for them.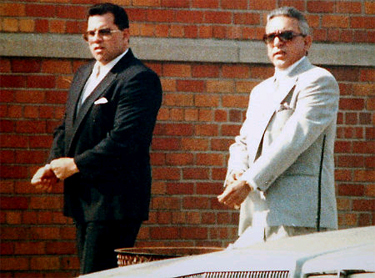 Photo submitted into evidence in Brooklyn federal court showing Charlie Carneglia (right) walking with John Gotti Jr., outside a funeral home.
     But like with many in the mob, Charlie's friends turned on him, cracking under FBI pressure. A jury convicted Charlie in 2009 in Brooklyn federal court of racketeering and responsibility for four murders. The panel couldn't agree on whether he had a role in the killing of the court officer. Charlie is now in federal prison for life and although a formal appeal of his conviction was denied he is trying to get a new trial.
     "Mob Killer," by the author of "The Last Godfather: Joseph Massino and The Fall of The Bonanno Crime Family," details the dying days of Gotti's old empire through the story of Charlie, the last true believer in the mob life.