* * *
Special to AmericanMafia.com
[
Excerpted from
Straight from the Hood: Amazing but True Gangster Tales
]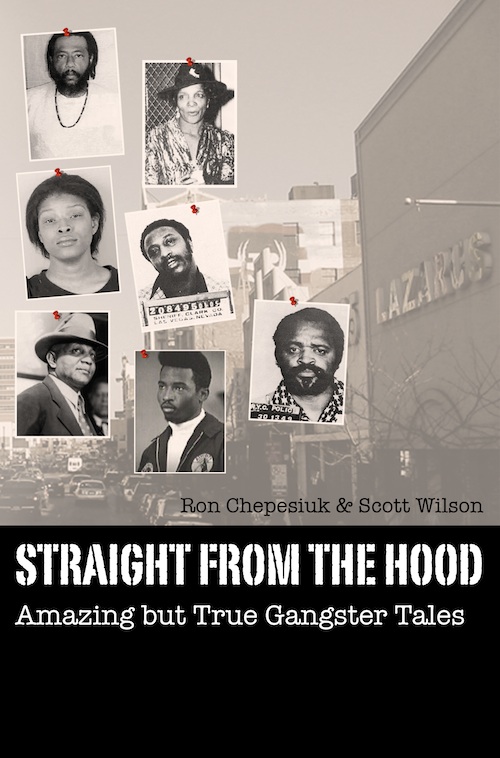 Straight from the Hood: Amazing but True Gangster Tales
by Ron Chepesiuk
     In the 1940s, the Chicago Mob, which was known as the Outfit, was slowly but surely taking over the numbers racket in the Windy City. Eventually, however, one man stood in its way: Teddy Roe, a brash and cocky policy king, whom, like many of his compatriots in the Black Belt, Roe did not like or trust the white Mob. The leader of the white Mob's campaign to take over Chicago's numbers racket was Sam Giancana, a ruthless, nasty gangster who had no respect for black people. Roe regarded Giancana as a snake who had been thrown into the backyard of Chicago's Black Belt to cause harm.
     Born on August 26, 1898, in Galliana, Louisiana, the son of a tenant farmer, Louisiana, Teddy Roe moved to Little Rock, Arkansas, as a young boy. It's unclear whether he served in World War I, but by the 1920s, it is certain that he was still in Arkansas working as a bootlegger. In 1923, Roe married and moved to Detroit to work in the auto industry. After losing his job, Roe migrated to Chicago where he settled in the Southside and got a job working in a tailor shop that the Jones brothers owned. In reality, the shop was a front for their Harlem-Bronx policy wheel where Roe worked as a full-time book keeper while pulling numbers on the side at a drawing held at another policy wheel five blocks to the south on South Indiana.
     By the early 1950s, Roe was doing so well as a policy king that he could spend $50,000 to decorate his flat at 5239 South Michigan. Teddy Roe had a fondness for the finer things in life. He wore custom made suits, monogrammed silk shirts, alligator shoes, painted ties and wide brimmed hats.
     Teddy Roe was a tough guy with a quick temper. He was mouthy, but he could back his rap with his fists, and he never backed down from a fight. Giancana got frustrated when he realized that sweet talk and intimidation, the carrot and the stick, would not work on the brash policy operator. Roe and Giancana butted heads several times. In 1945, for instance, Giancana tested Roe's mettle by trying to shake him down, warning him that Giancana had the full weight of The Outfit behind him. But Roe just laughed at him, vowing never knuckle under to any white gangster.
     On one occasion, rumors swirled that Teddy Roe had narrowly escaped a kidnapping. Those in the know said Roe left the Boston Club at 8 p.m., got into his Cadillac and drove south toward Wabash. As he approached 47th St., he noticed a car was following him. He turned east and floored his car's accelerator.
     Roe screeched his car to a halt near 47th and Vincennes Avenue, got out and started running. The sedan following him pulled up the curb. Four men jumped out and gave chase, but Roe managed to escape through an alley.
     With his fellow policy operators going down one by one as a result of The Outfit onslaught, Roe became the Policy Man in Chicago, and he took over all of the gambling between Roosevelt and Halsted streets. By now, he was making more than $1 million annually, and Chicago's black community loved him for his brave stand against the white mob; it made him a folk hero. Indeed, Roe had no intention of cutting and running. The Outfit tried to work out a deal with him, but he refused, even after his men started showing up dead in alleyways. Shots were that put his wife and kids in danger were fired and his house, bombed.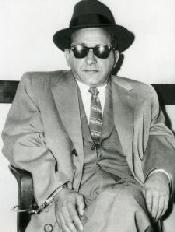 Sam Giancana
     Giancana tried to sweeten the proposed departure and make an offer Roe could not refuse. The emerging godfather personally met with Roe and offered him $250,000 in cash to quit the policy racket.
     "I'd rather die first," Roe told Mooney.
     "Well, my friend, you just might," Giancana replied.
     Finally, Giancana met with his chief lieutenant Fat Lenny and some of his soldiers in early June 1951 on the Lady Lu, a yacht the gang rented and moored at Burham Harbor. They worked out a simple plan: Follow Roe to determine his schedule and then kidnap him. Once a hefty ransom was paid, kill him.
     Shortly after midnight on June 19, 1951, Caifano and three other mobsters began tailing Roe, who was traveling in his Lincoln. They flashed the lights of their sedan, sped up and ordered Roe to pull his car to the side of the road on the crowded South Parkway. The mobsters got out of their car and walked toward Roe's Lincoln. They identified themselves as state attorney police.
     "Show me identification," Roe demanded. "How do I know?"
     But the would-be kidnappers failed to produce any identification. They jumped Roe and tried to drag him out of the car. Roe was a cautious man and he always carried a gun. He pulled it out and started shooting. Caifano was hit with a bullet to the temple that ripped through his brain and killed him. A bullet hit another of Roe's assailants in the shoulder. The mobsters scrambled back to their car and fled.
     When the police arrived, they found Fat Lenny's lifeless body lying on the street looking like a dead beached whale. Roe was reportedly hiding in the bushes. There were no witnesses and the subsequent investigation uncovered no hard evidence about what had really happened.
     The police booked Roe for murder and put him extra heavy guard in Cook county jail, following reports that he might be whacked in his cell. To thwart any plot to poison him, Roe's meals were especially prepared outside the jail.
     Roe was arrested, but, soon after, the charges were dropped and the legend of Teddy Roe, "The Robin Hood of the Southside" mushroomed. Roe thumped his chest by repeating his vow to the press; "They'll have to kill me to take me."
     The killing of Fat Lenny shocked the Mob. It was not use to being challenged and having its murder plots go haywire, let alone to have some South Side black punk take out one of their own. On the night of August 4, 1952, two men parked their gray 1950 Chevy behind tow sign boards in a vacant lot across the street from Roe's home at 5239 Michigan Avenue. Fifteen minutes later, the Chevy backed out of its hiding spot and stopped at a red light 53rd and Michigan Avenue. Joseph Turner, a black service station attendant noticed the Chevy and thought the occupants were police men checking for speeders.
     He strolled close to Chevy and asked: "Are you guys checking cars?"
     "No, no, everything is alright," one of passengers in the car assured him. Turner walked back to the station; in a few minutes, he quit work for the day and went home.
     At 10:55 p.m. Roe told his wife, Carrie, he was leaving the house, but did not say where he was going. A few minutes later, five shots rang out. Carrie ran to the window and shouted; "Teddy!" No answer.
     She called the police and ran out of the house. To her horror, her husband's bloody body lay sprawled in the street. Five blasts from a 12-gage shotgun had hit Roe in the back, face and jaw. He was packing a revolver, but he did not have a chance to pull it out and defend himself. Roe was pronounced dead at the scene. Ironically, an ambulance took Roe's body to Provident Hospital, the same hospital to which medics took Fat Lenny after Roe shot him.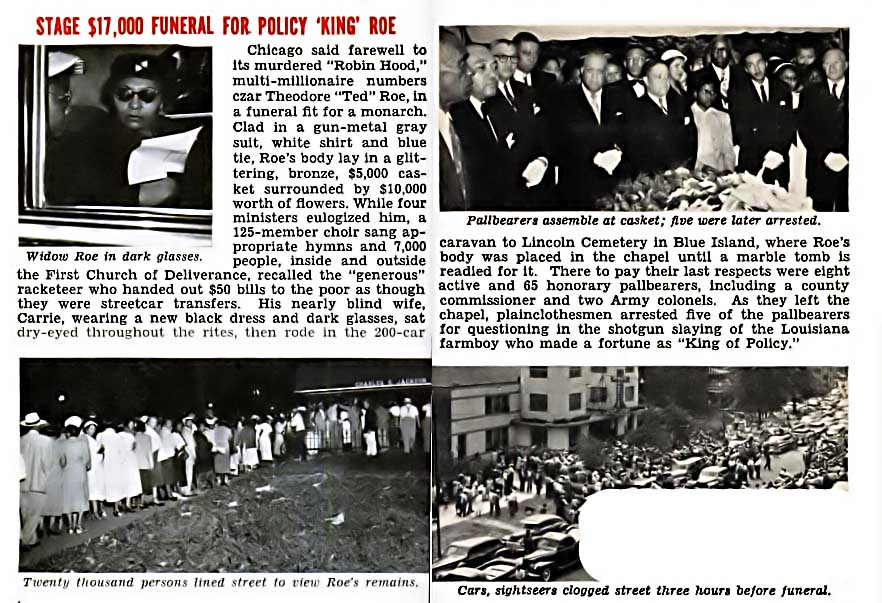 The hit was front page news in Chicago and a sensation on its Southside. At 53rd and Michigan, young news boys hawked their papers, shouting: "The king is dead!" Police had no clues in the killing, and its investigators could not agree on who killed Roe: The Outfit's hired assassins or independent racketeers, determined to move in on the last lucrative Black controlled policy wheel.
     A year later, a police spokesman insisted: "The Theodore Roe investigation is very much alive as far as we're concerned." But the trail was as cold as Chicago in January, and the murder was never solved. It remained one of the estimated 300 unsolved organized crime slayings in Chicago that had stymied police for nearly a half century since the rise of Al Capone.
     People knew, though, who had whacked Teddy. It was confirmed in the early 1970s when the FBI caught Giancana on tape, explaining why it had taken so long to rub out Roe. "I'll say this. Nigger or no nigger, that bastard (Roe) went out like aman. He had balls. It was a fuckin' shame to kill him."
     About the Authors
     Ron Chepesiuk
is award winning freelance investigative journalist, documentary producer and Executive Producer and co-host of the Crime Beat radio show (
www.artistfirst.com/crimebeat.htm/
). Chepesiuk is a contributing writer to Americanmafia.com. He is a Fulbright scholar and a consultant to the History Channel's Gangland documentary series. His true crime books include "Drug Lords, Black Gangsters of Chicago, Gangsters of Harlem Gangsters of Miami" and Sergeant Smack: The Lives and Times of Ike Atkinson. Kingpin, and his Band of Brothers.
     Scott Wilson is a freelance journalist who has done work for publications such as Don Diva Magazine and Hip-Hop Weekly. He currently writes for the website Planet Ill (www.planetill.com/), as well as his own blog Scott's Introspection Section (www.scottsmindfield.com/). He has also been interviewed by Rap Entertainment Television (www.rapentertainment.com) for a documentary on former heroin kingpin Leslie "Ike" Atkinson.
-- 30 --