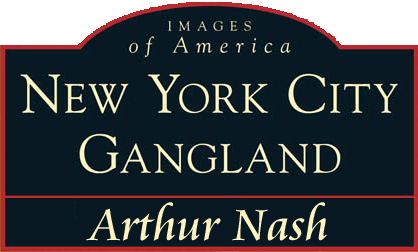 * * *
About the Author
Arthur Nash
is a freelance archivist and a major contributor of historical objects to the National Museum of Crime and Punishment in Washington, D.C., as well as the Las Vegas Museum of Law Enforcement and Organized Crime, also known as the MOB Museum. In 2006, Nash introduced "MADE In America," the first public exhibition addressing gangland's enduring impact on our nation's pop culture. He currently resides at the landmark Hotel Chelsea in New York City.
* * *
About the Book
     Throughout the United States, there is no single major metropolitan area more closely connected to organized crime's rapid ascendancy on a national scale than New York City. In 1920, upon the advent of Prohibition, Gotham's shadowy underworld began evolving from strictly regional and often rag-tag street gangs into a sophisticated worldwide syndicate that was--like the chocolate egg crème--incubated within the confines of its five boroughs.
New York City Gangland
offers an unparalleled collection of rarely circulated images, many appearing courtesy of exclusive law enforcement sources, in addition to the private albums of indigenous racketeering figures such as Charles "Lucky" Luciano, Al "Scarface" Capone, Joe "The Boss" Masseria, "Crazy" Joe Gallo, and John Gotti.
reviews


     Art Nash's new book interweaves the history of organized crime in New York city with photos from his own extensive collection of images and artifacts related to organized crime. Many of the photos are previously unseen and come from the families of mobsters and law enforcement sources. It's a fascinating pictoral history which, if I may say so, nicely complements some of Arcadia's other organized crime histories.
Enjoy it (or else)!!!
(John B. River Forest, Ill.)

* * *

     New York City Gangland by Arthur Nash is the most refreshing true crime book to come out in recent years. Unlike most books that are filled with recycled facts and photographs, NYC Gangland is stocked full of incredible never before seen photographs and riveting stories of NY's most infamous hoodlums as well as the lesser known, though equally captivating, characters that never quite reached the same notoriety as their notorious contemporaries. Using these rare photo's the author does a fantastic job at setting up moments in time where you as a reader can experience the struggles and accomplishments of many iconic mob figures and the gangbusters who pursued them. These fascinating previously unpublished photo's allow readers to finally place a face or image to names, locations, and events that many authors have written about in the past but were unable to depict. Also noteworthy is Nash's superb literary content that delicately mixes his extensive knowledge and research on the subject with personal anecdotes gathered from family and friends of the very subjects covered throughout the book. As an avid reader of 20th century organized crime I recommend this book to anyone with an interest in the history of the mob, NYC, or crime photography. Truly a must read and a wonderful addition to any book library!
(Frank M. New York City)

     Photographed by the author, Brooklyn Chief Rackets Investigator Michael F. Vecchione displays the lead bullet that ended Ferdinand "The Shadow" Boccia in 1934 on the orders of Vito Genovese – who fled the United States to evade justice. On the morning this image was made, Vecchione began prosecuting a senior F.B.I. operative accused of leaking confidential information to the Columbo crime family.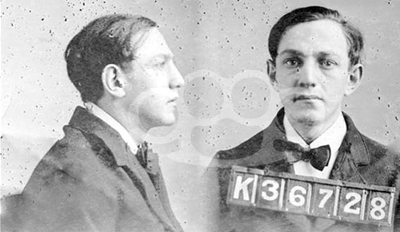 In this previously unknown image dated December 19, 1919, an 18 year-old Arthur Flegenheimer— yet to be re-christened "Dutch Schultz"— is portrayed at the start of his first and only incarceration. The future "Beer Baron of the Bronx" was paroled the very next year by a prison Warden named Brewster, oddly enough, and would hurriedly become the most vindictive and feared bootlegger of the Prohibition Era.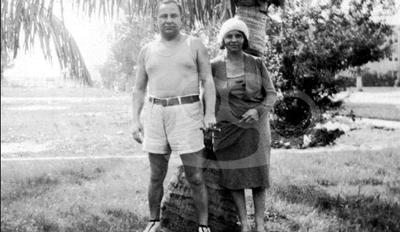 On holiday circa March 1930, Guiseppe "Joe the Boss" Masseria bridged an evolutionary gap between "Black Hand" mafia extortionists and a more innovative generation of racketeers represented by Salvatore "Lucky" Luciano. Each were among 19 arrested for patronizing an illegal gambling hall that Police said occupied an entire floor of their Miami resort hotel.

     He'd have entered history as "Snorkey" instead of "Scarface" if not for his upbringing as a New York City street tough and an encounter with the blade of a Brooklyn thug in a barroom on Coney Island's bowery. Alphonse Capone (in a classic Jantzen swimsuit) exported his criminal acumen to Chicago in time for the start of Prohibition, causing greater carnage there than any other gangland practitioner. Here, the gang boss cradles a nephew, Ralph "Risky" Capone.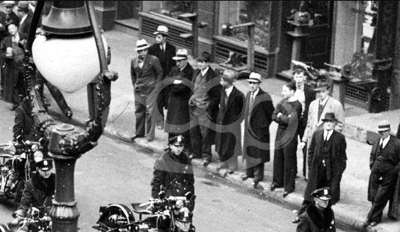 Among the spectators eyeballing a parade of NYPD motorcycles outside Police headquarters in Little Italy and inadvertently captured a Department photographer were several of New York City's most conspicuous bootleggers including (starting fourth from left in dark fedora) Benjamin "Bugsy" Siegel, Meyer Lansky, Vincent "Jimmy Blue Eyes" Alo and his close friend, waterfront gangster Eddie McGrath.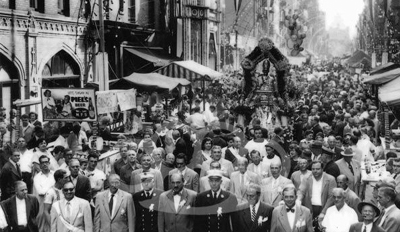 Underworld characters mingle with Police, merchants and the Roman Catholic Church in this mid-1930s portrait of the San Gennaro Feast in Manhattan's "Little Italy" district. The annual rite is rumored to be dominated by racketeering interests since its inception more than a century ago and when – in the 1990s – Mayor Rudolph Guiliani challenged the mafia's foothold, the cost to taxpayers was more than $100,000 greater than when mobsters installed the festa's traditional lighting displays.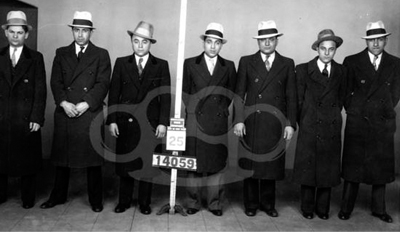 The fedora-flaunting felons of "Murder, Inc." engage in an impromptu stare-down with an NYPD photographer circa 1933. A combination of less-than kosher Jewish assassins and equally disreputable Italian triggermen, these thugs-for-hire settled hundreds of scores for the New York City underworld until their disintegration in 1940.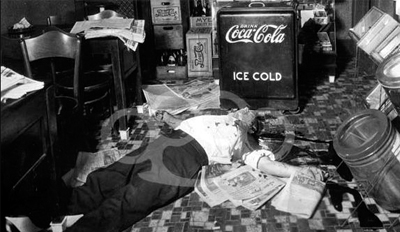 In late 1936, the slogan "Ice Cold" might have described both the killers of Joe Rosen and the candy shop proprietor himself – seen executed amid copies of the New York American. That early Sunday morning, eighteen bullets would silence testimony that union rackets boss Louis "Lepke" Buchalter feared Rosen might deliver to the King's County District Attorney.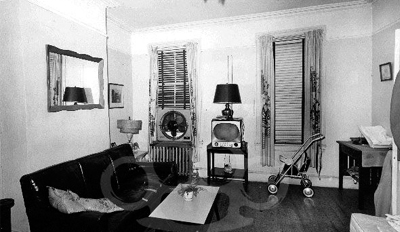 Typical of innumerable dwellings that dotted the sidewalks of working-class but gang-controlled neighborhoods like Brownsville, Ocean Hill and East New York in the borough of Brooklyn, this address on Dean Street was the boyhood home of future organized crime figure John Gotti, and was lwithin walking distance of the storefronts that just over a decade earlier the contract killers of "Murder, Inc." employed as their base of operations. (Author's Collection.)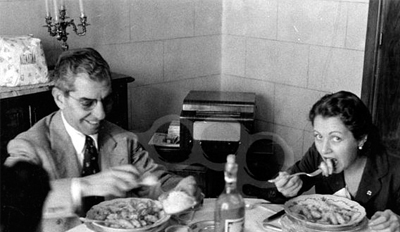 Salvatore "Lucky" Luciano, buoyant in this private snapshot as an exile in Naples, Italy, relaxes at home with longtime girlfriend Igea Lissoni. Luciano spoons grated parmesan, not heroin or cocaine, nonetheless he spearheaded the now-infamous "French Connection" drug pipeline from the comfort of his spectacular Italian villas.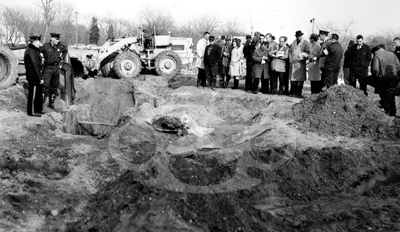 Anthony "Tony Bender" Strollo was the Joey Gallo gang's most powerful supporter during their rebellion against Joseph Profaci, but that relationship abruptly ended upon Strollo's kidnapping and murder in April 1962. Born in lower Manhattan, Strollo likely died at this mafia graveyard in Jackson Township, New Jersey where underworld enforcer Harold "Kayo" Konisberg confessed he sunk Strollo's body in a Prohibition-era whiskey mash pit, seen unearthed by the F.B.I. in 1967.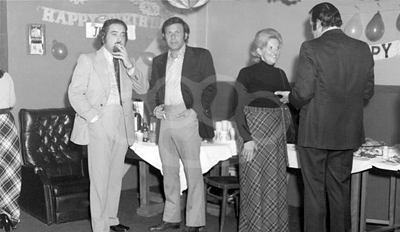 Peter "Pete the Greek" Diapoulas (inhaling) was "Crazy" Joe Gallo's bodyguard during the fatal pre-dawn shootout at Umberto's Clam House in 1972, as well as the only person prosecuted in connection with the event – for possessing an unregistered firearm. His handgun was unloaded at the time of his arrest because his remaining live rounds had been cleverly emptied into the widow's handbag.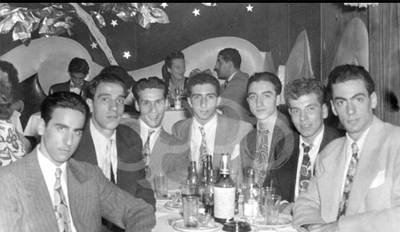 Bookmakers mix with leg-breakers at the mob-controlled "Latin Quarter" nightclub in Manhattan. Seated third from the right is a young burglar named Joseph "Joe Yack" Yacovelli who 20 years later was appointed leader of the Columbo organization and credited with dispatching the team of gunmen that killed "Crazy" Joe Gallo as he dined with family on his 43rd birthday.