Mafia Author, Commentator and Host of AmericanMafia.com
     Wiseguy-turned comedian/actor Frank D'Amico passed away June 1st, 2008. He was 53 and suffered from Diabetes. Born in Mt. Vernon, New York, young Frank was well-liked by local mobsters and became a knock-around type who once ran a nightclub and bookie joint. But the scores and high life didn't last long. Frank's heart was way too big for the evils of organized crime. His first job was as a bodyguard for his mobbed-up uncle. Frank considered himself "a cowardly lion with a hulking exterior," so the job would make for good comedic material when he flunked out of the mob and began his career bringing laughs to fellow union members on a Teamsters picket line.
     Frank's stage career began in East Coast venues like McQuire's Comedy Club on Long Island. An appearance on Comedy Central caught the attention of a movie director, and Frank landed his first role. He appeared in movies, and television series including The Dukes and NYPD Blue, and was a sketch player on The Tonight Show with Jay Leno. During down time, he enjoyed relaxing on his boat, Bon Appetit, with a cigar in one hand and a glass of Dago Red in the other.
     I had the pleasure of meeting Big Frank (he was six-feet five inches and reached 400 pounds) at the Golden Age of Gangsters convention in Chicago during a 2004 weekend. Frank did an evening performance for the conventioneers, but the laughs didn't start there. From the time the convention doors opened, Frank fired his jokes full-auto. There were the one-liners: "I went on a 14-day diet and all I lost was two weeks." And there were stories like when he had his foot run over by a tire. Big Frank pulled the offender right out of his seat and wound up pummeling the guy—damned near to death. But he's got a heart. When the beating was over, he was nice enough to help the guy back into his wheelchair…
     At the convention Frank was touting his book, Stand Up Guy – the Larger than Life Stories of a Candy Store Gangster. In the often-hilarious and sometimes poignant book, readers learn the three biggest mistakes an aspiring mobster can make, and how Frank made all of them. He writes of his phobia of midgets and love of his parents, especially his mother.
     "In over thirty years, my mother never lost her faith in GOD to get through the crippling pain of rheumatoid arthritis and her daily struggles to live an ordinary life. Her perseverance to enjoy life and bring joy to others was truly inspirational… In my darkest hours, I would find myself running home to my mother; no matter what my problem was, she always knew how to help me bring to light a resolution…
     We all create our own destiny with each and every choice we make. In the end… I was woken up to the meaning of integrity…. thanks Mom."
     And thank you for the laughs, Frank. You're an inspiration and will be missed.
Rick Porrello – Host of AmericanMafia.com
Also see http://www.bigfrank.tv/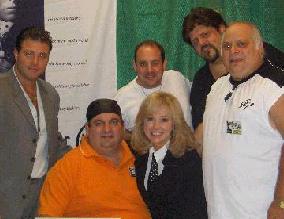 Frank D'Amico (in orange shirt) at the Golden Age of Gangsters convention, along with (left to right) artist Michael Bell, me, author Georgia Durante, convention founder Harry Lawrence, and Pat Reale, Frank's manager.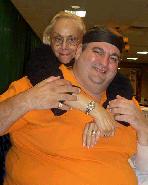 Frank with Antoinette Giancana, daughter of Chicago mob boss, Sam Giancana.
And God Called His Angels
God was sad. His plans for the Earth were not going according to his plan.
He called his angels about him and asked. What can I do? The angels murmured to each other, then Gabriel moved away from the group, set down his trumpet, approached God and said."There is nothing you can do. You have said many times that your children must work out their problems amongst themselves." God nodded and said, "I know." Gabriel raised his hand and said, "But we have an idea." God perked up and listened, "there is someone who will make you laugh. He'll make you forget about the problems on Earth and . . . . " God stood and looked around Heaven. "Who is it?" Gabriel said, "He's not here. He's down on Earth. His name is Frank D'Amico and he's a very funny man." God nodded, "I know him, but it's not his time." Gabriel said, "Yes, Lord, that's true, but if you call him, Frank will understand and his friends will know that he has important work to do in heaven, or you wouldn't call him so early." God smiled, "I'm not comfortable with this." Gabriel whispered in God's ear. God nodded, That's true. He has suffered. Bring him to me." Gabriel went to Frank and told him that God needed him. Frank said, "Let's go." That was on June 1st, and God hasn't stopped laughing since…Thank you Frank!
Joseph Miller of Miller/ Gregson Productions
---