* * *
Please enjoy excerpts from Frank's new book
"The Mafia and the Machine: The Story of the Kansas City Mob"
Excerpt from chapter 1: Welcome to the Machine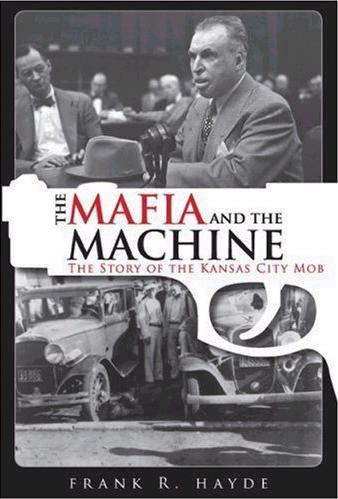 The Mafia and the Machine,
by Frank R. Hayde.
On March 13, 2007 a demolition crew in Las Vegas, Nevada engineered a dramatic implosion that brought the Stardust Hotel and Casino crashing to the ground on which it stood for a half-century. Among the crowd of cheering spectators was a scattered collection of old-time gamblers who couldn't bring themselves to applaud the destruction of the legendary landmark; folks who never quite took to a corporate style Sin City and remained nostalgic for an era personified by Frank Sinatra, fleshy female floorshows, and that illicit group of entrepreneurs know as the Mafia. Witnesses to the destruction that day did not have to look very deep into the Stardust's history to see the reflection of a legacy that originated in the streets of Kansas City. It was a legacy that wore the face of a tough Italian immigrant but which had its roots in an Irish-American experience that began in a time and place known as the wild-west.
The wild-west era of bandits on horseback was not so distant from the gangster age of the motorized, big-city mobster. In Kansas City, where the Kansas and Missouri Rivers meet in a dark and turbulent confluence, the two time periods flowed seamlessly into one another as a rush of immigrants converged on the rapidly growing stomping grounds of Wild Bill Hickock and Wyatt Earp. The Jessie James Gang was still robbing area trains and spending the loot in Kansas City gambling dens when a penniless son of Irish immigrants named James Pendergast arrived from upriver at St. Joseph, Missouri in 1876.
A stout and hearty man, young Jim found work in an iron foundry and leisure in the same gambling dens that the James boys frequented. In 1881 he placed a long shot bet on a horse named Climax and won enough money to go into business for himself. For Pendergast, the choice was clear; he would open a saloon. The fact that there were already 200 saloons in a town of only 50,000 was no deterrent to the garrulous Irishman. He picked a spot on St. Louis Avenue in the West Bottoms and affectionately named his saloon the Climax.
The West Bottoms today is a semi-derelict warehouse district of old red brick buildings and arched underpasses. Occasionally, some life is injected into the Bottoms when an event such as the American Royal is held at Kemper Arena, the glass and concrete stadium that used to be home to the Kansas City Kings NBA basketball team. Most of the time, its streets are quiet since the only people who actually live in the Bottoms are homeless. In the late nineteenth and early twentieth centuries, the West Bottoms was a dynamic mix of heavy industry, agriculture, and rollicking nightlife. Dominating the district were some of the largest stockyards in the nation, with 320 acres of wooden pens housing millions of head of western cattle bound for the eastern market. A few blocks away on Union Avenue was the city's first train depot. Later to be replaced by the magnificent Union Station on Main Street, the original train depot was the landing spot for thirsty travelers eager to partake of Kansas City's infamous openness. Near the state line on West Ninth Street was the "Wettest Block in the World," named so because 23 of the 24 buildings housed saloons. Union Avenue itself was a brightly lit corridor of debauchery where hustlers and con men stood at the ready to take advantage of the nabobs fresh from the train. The official Census Report of 1890 describes the West Bottoms as such: "From Mulberry Street east to the ward line was a low class of Negroes. Along the river, west of Mulberry Street, were large slaughter and packing houses, fertilizing works, and railroad depots and yards. On both sides of Ninth Street were junk shops and second hand clothing stores. In other portions of the ward the residents were chiefly Irish, German and native laborers." The Census Report also describes a plethora of "gunshot wounds" in the West Bottoms.
It was out of this heady mélange that Jim Pendergast began assembling the political machine that would control Kansas City for much of the next century. His Climax saloon catered mostly to the laborers who lived and toiled in the Bottoms. With his bow tie, bushy mustache and affable personality, Pendergast was both approachable and responsive. He would cash their paychecks at the bar, lend them money, or drop off a load of coal on a cold winter night….
Excerpt from the Chapter Little Italy
…All but forgotten in Little Italy lore is Kansas City's own North End. Known today as Columbus Park, it remains against all trends a proud Italian neighborhood anchored around the Holy Rosary Church, where the Parish Priest is a still a native Italian and a centuries old Sicilian tradition known as The St. Joseph's Table is the hallmark annual event. The neighborhood is walled in by the produce market square on the West, the Missouri River to the North, a housing project on the East, and old downtown rising across the freeway to the South. Fire hydrants painted in the Italian tri-color stake out the boundaries and line the narrow streets of old but cheerful red brick homes with iron grillwork and statues of St. Christopher in small, tidy yards. It is a tenacious clinging, for despite the flags, Madonnas, and other visible icons, the Italian American community in this neighborhood is nowadays several hundred small and the restaurants and delis mix aromas with Vietnamese specialty shops. Once upon a time, however, it was home to 12,000 crowded Italians, 85% of Sicilian extraction and all of them worth at least one vote to Tom Pendergast.
The earliest reference to the "Mafia" in Kansas City came in a Star article dated November 24, 1897:
"An Italian, known to few and to no one by his name…was dragged from his miserable quarters, his head crushed with a brick, the deadly stiletto plunged into his neck, deliberately, carefully, at the most vital points, and he was left for dead in an alley. The man's neighbors claim absolute ignorance of the whole matter. None of them knew of his death, all of them seem to be shocked by it, and they murmur "Mafia" with bated breath…"
In the early 1900's, while Big Tom was holding court at the Jefferson Hotel, the North End was struggling with a crime wave that baffled local police unfamiliar with Omerta. In 1911, there were five murders in one week in Little Italy. In the ten years between 1909 and 1919 forty murders, including the killing of a woman shopkeeper, went unsolved. Many of them were committed with sawed–off shotguns dropped at the scene. When witnesses or victims were questioned, they knew nothing. What investigators were able to piece together was that a sinister organization, known alternately as the Mafia and the Black Hand, was at work in the Italian enclave. Their modus operandi was to leave a polite but cryptic written warning, sometimes featuring an ominous black handprint, demanding money from a neighboring businessman. The neighbor could either pay up or suffer violent consequences. Joseph Raimo, an Italian policeman, was assigned to the North End in hopes he could penetrate the silence. The unfortunate countryman was shot-gunned to death while walking his beat at Fourth and Holmes. A brigade of twenty-five officers led by another Italian named Louis Olivero, raided Little Italy to comb the streets and apprehend suspects. Twelve men and an arsenal of weapons were brought in from the neighborhood saloons but the officers were unable to obtain any useful information from the Omerta-bound suspects, all of whom had bail bondsmen and lawyers at the ready.
The violence reached its darkest in 1919 when a man named Paul Catanzaro murdered an eight-year old boy named Frank Carramusa. Carramusa's father was a fruit peddler who couldn't put together enough money to pay the Black Hand what they said he owed them. Catanzaro was caught in his murderous act and nearly beaten to death by outraged neighbors. Officer Olivero saved Catanzaro's life by arriving on scene and arresting him, but once again Omerta prevailed and Catanzaro was never convicted. In a cryptic twist of fate, the murdered boy's brother, Carl Carramusa, would later join the Mafia and become brothers in blood with Paul Catanzaro. As for Officer Olivero, his home was bombed and honest Italians avoided him for fear of what might happen should they be suspected of informing. It wasn't long before the murder of officer Raimo was forgotten and it was business as usual in Little Italy. The Mafia was an insular problem that attracted little attention outside the neighborhood.
Excerpt from the chapter: The Boss Gets Bigger
With his increase in power came the responsibility to serve not only his working-class constituents of the river wards, but Kansas City's large middle-class as well. With the city expanding to the south, Tom moved his headquarters, which came to be known as the Jackson County Democratic Club, to the second floor of a modest brick building at 1908 Main Street. There he maintained an unpretentious office that was imposing in its austerity. Boss Tom came and went through a secret entrance as a line of favor seekers stretched outside along Main Street for two or sometimes even three blocks. It was a democratic line, where prominent businessmen, lawyers and politicians waited behind barbers and bums. Supplicants squirmed in the uncomfortable chairs of the front waiting room before being ushered into the inner sanctum by a beefy six-foot-three-inch retired riverboat captain named Elijah Matheus. Once inside, they encountered the Boss sitting at a roll-top desk beneath the only decoration in the room – an old cartoon of Alderman Jim holding a ballot box. Tom talked very little during his four of five minute meetings. He would generally listen to people's problems and send them off with verbal instructions or a handwritten note directing someone else to oblige the person's request. Oftentimes people were told where they could or couldn't open a business, which doctor to use, how much rent to charge, or whom to hire. Such edicts reinforced the notion that Tom Pendergast was an autocrat and the Machine a dictatorship…
…From his base at 1908 Main St., Tom also continued the Pendergast tradition of protecting the vice industry. No one loved Tom Pendergast more than the city's gamblers, for not only did Tom bet and lose prodigious sums of money (wagers of $50,000 a day were not uncommon), he did whatever he could to promote and expand the industry. He led a Kansas City contingent to the Kentucky Derby every year to bet on his own horses. He ignored Missouri's ban on pari-mutuel betting and opened the Riverside racetrack five miles north of town where crowds of up to seventeen thousand would gather illegally. The racetrack paved the way for plush casinos like the Green Hills Club and the Cuban Gardens. Soon after, slot machines began appearing in mom and pop businesses all over the city. The Kansas City Star noted that children had free and easy access to the one-armed bandits and were squandering their milk money. Pendergast painted gambling as a proletarian issue in an interview with St. Louis Post-Dispatch reporter Ralph Coghlan:
Coghlan: "We understand that Kansas City is one of the most wide-open towns in the United States. Is that true?"
Pendergast: "If by calling the city wide-open, you mean gambling and poker games where the poor man obtains his recreation just as the big men do in their clubs, it is wide-open. I wouldn't put a stop to it."
Excerpt from the chapter: The Celebrity Gangster
…Lazia returned to Little Italy two months before the war ended without serving any time in the military. He owned some taxicabs with his father for a short time and then purchased a carnival business. He also applied his talents to bootlegging, gambling and politicking…
…"It is since Mr. John Lazia organized the 'North Side Democratic Club' in 1928 that the Italians can really say they have a political organization of which they can be proud," wrote Giovanni Schiavo in his 1929 book, The Italians of Missouri. "Prior to Mr. Lazia's advent the Italians cannot be said to have ever shown a united front. They were divided and did not count for much. They were simply satellites of the Irish political boss, Mr. 'Mike' Ross." Little Italy now had its own form of Home Rule and Tom Pendergast had himself a new friend and partner. Lazia was Tom's natural choice for unofficial Commissioner of Crime.
He was also the official new boss of the North Side Democratic Club, located at Fifth Street and Grand Avenue. Lazia kept a luxuriously furnished office complete with bookshelves filled with literary classics. "It was not my privilege to receive a good education, but I have educated myself. Reading good books has helped me and I advise my boys to do likewise." With his influence extending beyond the boundaries of Little Italy, Lazia became a local celebrity; a downtown dandy who put his swarthy good looks and stylish clothes on exhibit during his frequent strolls of the city streets. He propelled his trim, welterweight figure with a crisp, confident stride, pausing to give a few coins to a panhandler or engage in an articulate conversation with businessmen and their admiring wives. If Lazia stopped on the sidewalk at the intersection of Twelfth and Baltimore, it meant that he was available without appointment to favor seekers whose numbers swelled as times got worse during the Great Depression. When the crowds got too large or too pushy, Lazia's bodyguard, Charley "The Wop" Carollo would insert his ample body and act as a buffer. Many of the same people who crowded around him at Twelfth and Baltimore ate at the free soup kitchen that Lazia sponsored in the North End. In Little Italy his popularity and generosity earned Lazia the nickname "Brother John." He chewed gum almost constantly, a habit that extenuated his youthfulness and downplayed his ruthlessness. When he wasn't walking, Lazia motored about in a bulletproof car, for even though he had achieved political legitimacy, he was first and foremost a racketeer.
The crown jewel in Lazia's gambling empire was the luxurious Cuban Gardens, a Monte Carlo style club and casino near Pendergast's Riverside horse track. The Cuban Gardens was a far cry from today's Missouri riverboat casinos where tank-topped men in ball caps fill up at the all-you-can eat buffet. Tuxedoes and gowns were required and so was a connection to get inside, where the attendants were as sharply dressed as the guests, only with guns bulging under their cumberbuns. On stage was a big band dressed in Spanish costumes playing swing and saucy Latin dance music. For recreation, Lazia would retreat to his palatial compound at nearby Lake Lotawana, which consisted of three homes, a servants quarters and a private beach from where he would launch his high-powered speedboat and splash waves on prosperous and respectable Kansas City professionals.
Excerpt from the chapter: Double Murder at the Democratic Club
…On April 6, 1950, Nick Penna had dinner at the Binaggio home and then chauffered his boss to the Last Chance Tavern. Penna and Binaggio arrived about 8:30 pm and met Charlie Gargotta, who immediately engaged in a short, whispered conversation with Binaggio. When Binaggio and Gargotta turned to leave, Penna followed but Binaggio told him not to worry, that he wouldn't be needed and that he and Gargotta would be back in 15 or 20 minutes.
At about 3:00 am the next morning, cab driver Walter Gambill parked his cab near the First District Democratic Club and walked toward his regular, all-night diner located a few doors down from the club. When he passed in front of the club, Gambill heard water leaking inside. He contacted the police dispatcher who sent two officers to check things out. The policemen pushed open the unlocked door and laid eyes on Charlie Gargotta, lying supine on the floor in a widening pool of blood oozing from four bullet holes in the back of his skull. In the rear of the room, water from what turned out to be a clogged toilet from the second story hotel meandered past the feet of Charlie Binaggio, who was stretched back in his desk chair, also with four bullets in his brain.
Robbery was immediately ruled out as a motive since Gargotta still had two thousand dollars in his pockets and Binaggio still wore his diamond studded belt buckle. What the gangsters didn't have on their persons was as telling as what they did; neither man was armed, which suggested that they did not feel threatened by whomever it was they were meeting with. Nick Penna, who was armed when they left him at the Last Chance Tavern, had been ordered to stay behind. The killers, apparently well-known and trusted by their victims, had pulled off a professional job, taking care to collect their shell casings and wipe away prints. Four bullets to the head was reminiscent of the Fred Reneger hit three years earlier. The coroner determined that the shootings had occurred at 11:00 pm at the earliest, which suggested that the meeting had lasted approximately two hours. Gargotta, himself an experienced assassin, had been making his way toward the door when he was shot and had grabbed the window blinds as he fell, breaking off several of the slats as he went down. Either he had sniffed danger and was trying to make an escape or he had set up the hit on Binaggio and been "dismissed" before the killers shot him from behind.
Naturally, there were no live witnesses to the crime. The media, however, was quick to make metaphorical witnesses out of President Truman and Governor Smith, whose oversized portraits looked down on the scene of the crime from their prominent positions on the clubhouse wall. Gangland hits always made good copy but the political overtones of this one made the story particularly juicy. The Star's Washington office received more phone calls than it had since Truman was elevated to the Presidency and the local Western Union office set a new record for the number of words sent over the wire. The story appeared on front pages nationwide…
… Law enforcement was as busy as the media in the aftermath of the murder. The day after the slaying, three young Italian-American men were arrested on a concealed weapons charge including a tough-as-nails 23-year-old named Carl DeLuna. DeLuna and his pals were released on bond and never tied to the slaying but Carl Deluna would figure prominently in the KC underworld in the years to come. Other men who were rounded up were also connected to the Mob: Max Jaben, Fonzie DeMayo, James Duardi, John Mangiaracina, and old stalwarts Tony Gizzo and Tano Lococco were all questioned and released. In Denver, two gamblers produced alibis upon questioning. In St. Louis, Ralph Caleco, John Vitale and future family boss Tony Giardano were grilled for five hours but gave up nothing. Ballistics tests on the bullets were checked for matches in Chicago to no avail. Big time New York bookie Jules Bender was questioned after it was learned that he received a telephone call from Binaggio's widow a few hours after the murder. Nothing ever came of it. The investigation went international when a Mexican Police Chief notified American authorities of a gathering of American and Sicilian Mafiosi in Tiajuana that was underway when Binaggio was killed. Attending the Tiajuana confab were at least two mobsters thought to have contributed to the Governor Smith election fund. They were Tony Lopiparo of St. Louis and Frank Coppola, brother of the infamous Trigger Mike Coppola from New York City. Some sources in law enforcement who had access to underworld informants believed that Binaggio's killer was a Tiajuana based hitman known as Little Joe, whose trademark was four bullets to the brain and whom some insiders would also suspect in the killing of New Jersey gangster Willie Moretti several years later. The Binaggio investigation was similar to the one following the Lazia hit in the sense that it was thorough and exhaustive without producing any hard evidence. The killers were never apprehended but the double murder at the Democratic club would come back to haunt the national crime syndicate by spawning the most significant congressional examination of organized crime in the nation's history.
Excerpt from the chapter: The River Quay Saga
…While the drinks flowed and the money poured in, Machine-appointed liquor control agents were busy shaking down bar owners and commiserating with the mobsters. The family-friendly daytime atmosphere of the Quay suffered as go-go bars and X-rated theaters opened up. Meanwhile, the Cammisano brothers approached their old friend and business partner David Bonadonna to see what he could do about getting his son Freddie to back off the vice business and let them wet their beaks in the lucrative parking racket. Freddie Bonadonna resisted and went with city councilman Robert Hernandez to see William Cammisano. The councilman's presence did nothing to quell Cammisano's temper. According to Bonadonna, Cammisano threatened to "kill anyone who got in his way, including politicians." After the meeting Hernandez commented that it was like a scene from the Godfather. The real thing of course, was a whole lot scarier. In March of 1976 two men broke into Fred Bonadonna's home and clobbered his teenage son with baseball bats. Two months later Bonadonna and Councilman Hernandez maneuvered to deny Joe Cammisano a new liquor license application…
… A month later, in the wee hours of March 28, 1977, two colossal explosions flattened a two-block-long building owned by Freddie Bonadonna in the heart of the River Quay. The building housed two adjacent saloons that were reduced to smoking craters surrounded by piles of rubble. Investigators estimated that over 100 pounds of dynamite had been used. Some neighboring buildings were also badly damaged. Another night club called the Warehouse was destroyed as was the Aron Bag and Container Company. Many multi-story buildings had their windows blown out. The Quay began to resemble an urban war zone. The Warehouse was torched a second time and arsonists also burned the aptly named Godfather Lounge.
Fred Bonadonna, by now thoroughly rattled, gave in to his wife's pleas and began providing information to the FBI. His family soon went into hiding through the federal Witness Protection Program.
The Speros, however, were still on the street and not about to give in. In late July of 1977 they bombed Uncle Joe's Tavern into oblivion. It was another property crime, with no casualties other than the River Quay itself, which went from the place to be seen to the place to avoid. The River Quay was dead by late 1977, an eerie urban landscape of boarded-up and bombed-out buildings studded with creepy peep shows –a phantasmagoric monument to Mob war.
Thank you for reading these excerpts.
Click title for availability:
"The Mafia and the Machine: The Story of the Kansas City Mob