Just as the new year began, on January 1, 2008, Salvatore "Bill" Bonanno, son of Giuseppe "Joe Bananas" Bonanno, namesake of the Bonanno organized crime family, suddenly passed away. Bill was seventy-five years old, but considering that his father died little more than five years ago, in his nineties, it came as a shock to everyone who knew him.
In looking at some of the comments posted in various newspapers that announced his death, I was surprised at some of the animus from some of the contributors. It doesn't take a genius to know that these people love to talk without knowing what they're talking about. I guarantee not one had ever met the man.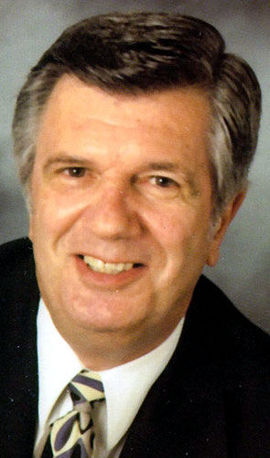 Bill Bonanno.
I only met Bill once, but had had some dialogue with him through mutual friends occasionally over the years. He was a gentleman, in fact more than I was in one particular exchange, who I considered a victim more than a predator. I have a steadfast belief that sons of mob higher ups should be automatically barred from membership. Bill was an example why. His early life was much more sheltered than any of those who clawed their way through life, stealing, fighting, doing all the things to rise above impoverished beginnings. Bill had the potential to step up in mainstream society if he hadn't had its course changed by his father, a self-absorbed, ego-driven man whose real mob legacy is that he was chased out of New York and became responsible for Rudy Giuliani's "Commission Case," where top members of New York's mob were ultimately sent to prison for life. I have heard him referred to by members of that family as a rat more than once because of his declaration in his book, "A Man of Honor," that a ruling commission ruled over major organized crime matters. He will not be remembered by those who know inside mob workings as the regal figure he thought he was, much like his mentor Salvatore Maranzano, who was murdered to make way for a more modern organization, but as a rat in more ways than one. What they won't remember is that one of the worst things he did was turn his own son's life upside down.
It is to Bill Bonanno's credit that while he did not grow up in the rough and tumble way most mobsters did, he did the best he could to live up to his father's expectations and, unlike other mob scions like Michael Franzese, didn't trade someone else's freedom to secure more of his own, and did nearly twelve years in prison. It was during his later years that Bill blossomed into the writer and businessman I believe he was always meant to be.
Bill Bonanno did not choose a mob life; his father chose it for him. If there is any bad feelings by the public for a Bonanno it should be for Joe Bonanno. To the family and friends of Bill Bonanno, I send sincere condolences. To Bill: R.I.P.
* * *
---
Click these links to purchase Sonny Girard books online.....
Blood of Our Fathers: A Novel of Love and the Mafia
Snake Eyes
Sins of Our Sons
---
Learn more about these novels at www.myspace.com/sonnygirard
---
Other Features by this author:
By Sonny Girard, Feature Articles 403
"When We Were Kings"
A contemplative look back at the good old days of mobdom, brought on by the half century anniversary of the infamous Appalachian Convention.
By Sonny Girard, Feature Articles 400
Lansky and Miami
Outside of Las Vegas, there is probably no city in the United States that owes more of its development to the mob than Miami.
By Sonny Girard, Feature Articles 396
Arrivederci, Little Italy
The current demise of Little Italy can only be compared to the decades-long downward plunge of Atlantic City and Miami before their rebirths. Little Italy will have no such rebirth.
By Sonny Girard, Feature Articles 393
"Turning Mob Myths, From the Inside and Out, Inside-Out"
Some myths have been so ingrained in the public consciousness that gangsters themselves now believe them.
By Sonny Girard, Feature Articles 385
Why So Many Rats Today?
I asked a friend how many men who had testified against the mob since Joe Valachi had been caught up with and killed? He said, "None."
By Sonny Girard, Feature Articles 381
Good Friends Who Did Dumb Things
In the course of my life in the streets, I have had some friends, who did some really dumb things that resulted in their deaths.
By Sonny Girard, Feature Articles 379
To Mob Wannabes:
As someone who lived most of my life in organized crime, trust me, guys, there's nothing left to wannabe.
By Sonny Girard, Feature Articles 376
AMNESTY:
Fooled you, huh? You thought I was talking about illegals crossing the Mexican border.
By Sonny Girard, Feature Articles 374
The Best True Mob Story
In the case of traditional organized crime, you're watching American history unfold.
By Sonny Girard, Feature Articles 322
Snake Eyes
Sonny Girard, a former mobster, decided to have his protagonist be caught between three agencies: the GRU (Soviet Military Intelligence), the FBI, and…you guessed it…the mob.

SONNY GIRARD BIOGRAPHY

:

     Though born on the Lower East Side of Manhattan, Girard spent most of his formative years in the Red Hook and Navy Yard sections of South Brooklyn. Making little use of an IQ of close to 150, he instead chose to follow the path of the only people in that desperately poor neighborhood who seemed to have money: "wiseguys."

     By the time a three-and-a-half year undercover operation by New York's Organized Crime Control Bureau, targeted at Sonny Girard, was culminated with the arrest of seventeen, Girard was characterized by the New York Post as "…a middle echelon member" of one of New York's five mob families. As a result of the arrest, Girard was sentenced to three years in State Prison, which he served to maximum time in Sing Sing, Dannemora, Downstate, and Arthurkill.

     In 1985, Sonny Girard was convicted of racketeering, under the RICO statute, by Rudolph Giuliani's office, and was sentenced to seven years in federal prison. During that term, which he also served maximum time on, Girard became interested in writing. Along with another inmate, who had sold a manuscript to a major publisher, Girard helped form a fiction writers' workshop. It was during that time that Girard completed his first novel, BLOOD OF OUR FATHERS (Pocket/Simon & Schuster, hardcover, June, 1991; softcover, May, 1992).

     Due to his experience in and ability to communicate about organized crime, the author has been in demand from various television shows and newspapers as an expert on various crimes, including organized crime activities. He recently appeared on Fox Network's "National Enquirer T.V.," to analyze the authenticity of HBO's hit show "Sopranos," Fox News Channel's "The Edge," with Paula Zahn, to discuss John Gotti's legacy, and "The O'Reilly Factor," regarding the disappearance of Chandra Levy, and ABC's "Politically Incorrect," with Bill Maher, for "Mob Week." He was also called in to consult with the screenwriter of record on "Mickey Blue Eyes," starring Hugh Grant, Jeanne Tripplehorn, and James Caan. Italy's RAI T.V. has done a biographical piece on Girard, as have Italian national newspapers "Corriere Della Sera" and "Il Tempo."

&copy 2005
---