Mafia Author, Commentator and Host of AmericanMafia.com
June 26th, 2007
The Chicago Mafia case is just in time to fill the void in available mob drama caused by David Chase's rude drop of the curtain on Tony Soprano. But this is not entertainment.
     As Sammy Davis Jr.'s teenage drummer during the early 1980s, I had no idea what was going on behind the entertainment and gambling scenes of glittery Las Vegas, where "Mr. D" performed several months out of the year. I would learn a few years later when I began researching the unsolved murder of my grandfather, Raymond Porrello, a Cleveland mob leader killed, along with three of my uncles, during the years of Prohibition. It was our own "family secret," a part of history that none of the adults wanted to share with their curious children. My curiosity sparked research that culminated in a writing career led by my first book , The Rise and Fall of the Cleveland Mafia a partial family history.
     During the time that seven Porrello brothers reigned supreme in Cleveland, Meyer Lansky was a powerful Jewish mobster who, along with Charlie "Lucky" Luciano, would sit at the top of American organized crime by the early 1930s. A future gambling magnate, Lansky started investing in the Nevada desert with his underling Benjamin "Bugsy" Siegel. They purchased the Flaming hotel and Casino. Only days after his baby opened for business, Siegel caught three high-powered slugs in his head. It was organizational justice for mismanagement and theft of syndicate seed money.
     By the 1940s Las Vegas was well on its way to becoming the entertainment and gambling capital of the world. And by the early 1980s, the Mafia, a secret criminal organization (and part of a national organized crime syndicate) whose corrupt nature was brought to American from Sicily during the late 1800s, still controlled most of the city.
     There was no Las Vegas Mafia, per se. The criminal influence came primarily from the Mafia "families" of New York, Cleveland, and especially Chicago. In the 1980s as I looked past Sammy Davis Jr. and into the faces of enthralled Caesars Palace audiences, Tony Spilotro was on the streets of Las Vegas enforcing the edicts of his bosses back home in Chicago to make sure they got their cash. Most of it came from the "skim," money stolen from millions flowing into the casino counting rooms. Casinos secretly owned by the Mafia.
     When Spilotro turned renegade and his ways reckless, it attracted more and more heat from the law, until, like with Bugsy, the bosses ordered his elimination.
Who is charged with what?
     It's dubbed the Family Secrets trial after the FBI code-name for the investigation. The indictment was returned in April, 2005 and announced by the FBI, IRS and US Attorney's Office. Numerous law enforcement agencies aided in the investigation. (See Appendix A) Fourteen defendants were originally named, but after guilty pleas, a natural death, a 77-year-old ruled too sick to stand trial, and at least one defection, only four key Chicago Mafia members and an associate remain to fight the charges against them.
     As would seem likely with a case that includes crimes dating back so far, the quartet of Windy City wiseguys do not include young men. They are Joey Lombardo, 78, Frank Calabrese Sr., 70, Paul Schiro, 70, and James Marcello, 75. Marcello is reputed to be the top boss. Lombardo is head of the Outfit's Grand Avenue Crew, one of the Chicago mob's three sub-groups. Originally there were six crews.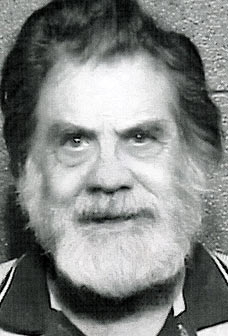 Mug shot of Chicago Mafia capo Joey Lombardo after his arrest in early 2006. He had been on the lam for six months.
     Like every Mafia or La Cosa Nostra branch, the Chicago crime family, better known as the Outfit, exists to make money. And they rely on corrupt or corruptible public officials to help. Also on trial is retired Chicago cop, Anthony "Twan" Doyle, 62. An associate of Frank Calabrese Sr., Doyle is accused of keeping Calabrese informed about the murder investigation of hitman John Fecarotta. Doyle allegedly passed along, to a jailed Calabrese, messages designed to determine whether his brother Nicholas Calabrese was cooperating with authorities.
     The underlying crimes in the Family Secrets case are the typical selection of preferred mob rackets and methods: loansharking, bookmaking, extortion, income tax evasion, income tax fraud, and the use of intimidation, violence, murder and obstruction of justice to further their goals. Much of the indictment details the illegal use of electronic gambling machines. The US Attorney will attempt to recover over $10-million through the RICO or federal racketeering law's asset forfeiture provision.
Why is this mob trial different?
     The Chicago Mafia trial is remarkable for the span of time that the alleged crimes encompass and the number of murders it covers. Eighteen cold case homicides from 1970 to 1986 form the core of the case. Two of them will ring familiar with mob buffs and movie fans who have seen the 1995 movie Casino directed by Martin Scorsese, starring Robert DeNiro, Sharon Stone and Joe Pesci, and based on the book coauthored by Nicholas Pileggi.
Joe Pesci and Robert DeNiro as Chicago wiseguys in the 1995 movie Casino.
Viewers will remember the murders of the fictitious "Nicky Santoro" (played by Pesci) and his brother, beaten viciously to death by other Chicago mobsters. The scene was based loosely on the 1986 murders of Spilotro and brother Michael. (John Fecarotta was reportedly one of the Spilotro killers and did a poor job of body disposal. After the Spilotros were found in a shallow grave near an Indiana cornfield, Fecarotta was punished. In September of 1986, he was found dead of gunshot wounds.)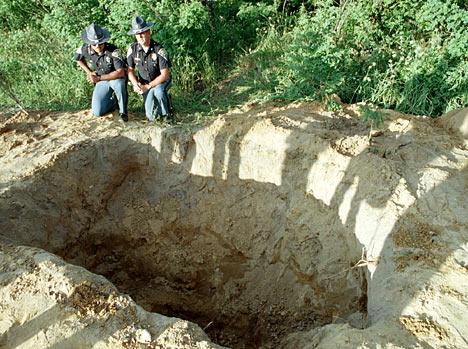 Crime scene photo showing the Indiana grave where the Spilotro brothers' bodies were buried after their brutal murders at the hands of fellow Chicago wiseguys.
     If the number of ranking mob defendants and murders alleged is not enough, the depth of betrayal makes the Chicago Mafia trial stand out. In a most dramatic example of how the erosion of loyalty has contributed to the decline of the mob's power, the Family Secrets case pits brother against brother and even father against son. Former hitman Nick W. Calabrese, brother of defendant Calabrese has joined the long list of mobsters who, over the past two decades or so, have decided to betray omerta, the Sicilian code of silence, and trade secrets for leniency. He is expected to testify against his brother. And even more shocking is the case of Calabrese's son, Frank Jr. He secretly taped his father in the exercise yard of a federal prison and has agreed to testify against him.
What fascinates us about the Mafia?
     Despite the toll that the Mafia has taken and continues to take on our country's economy and soul, many of us find entertainment in their stories. The wiseguy life is a sharp and cocky, cash-driven subculture who originally secret ways have been revealed and made famous in books and film. Sure they can come across as good fellas, and some are not complete strangers to doing some good, but ultimately the colorfully monickered gangsters accomplish their deeds through deception, intimidation, violence, and murder. In our society, for worse, these are all proven elements of stories that sell.
     Their reputation for violence not only serves to smooth the dirt roads they travel, but also affords them protection from outsiders. ("Don't fuck with that guy, he's connected.") And we find intrigue in an organization that professes loyalty to the brotherhood (though betrayals have never been more commonplace) and exhibits a disdain for the law. (How many of us don't occasionally have the desire to break the law?)
     So many mob titles have been written and gobbled up by readers that the book industry should have an Organized Crime category separate from True Crime. And to make the popular film adaptations more palatable, screenwriters use tools of fictional characterization to make the players, killers at heart, likeable to us. We know Tony Soprano is a career criminal with no commitment to his community or country. He has killed with his bare hands. He routinely cheats on his wife. And he is a father creating a shameful and damaging legacy for his children. But there is something we like about someone who loves and respects his bitter and depressed mother, takes pride in providing for his family, and organizes a Christmas party for the neighborhood children. The unintended effect is that Mafia films, especially for more impressionable viewers, tend to glamorize that lifestyle.
But that's entertainment.
What does the future hold for the American Mafia?
     The American Mafia was born in the 1920s, grew quickly during the 1930s, thrived during the 40s, 50s, 60s and 70s, has been hit hard by the law since the 80s. But they continue to exist today. With a ready (though perhaps more cautious than ever) supply of men ready to replace those who die, are imprisoned, join WITSEC, or fade into semi-retirement, it will remain impossible to eliminate the Mafia. As always they will adapt and persist, though will likely never have the power, ability to corrupt, and earning potential they had during their heyday.
     Robert D. Grant, FBI Special Agent-in-Charge of the Chicago Office, says, "While [the Family Secrets] arrests will have a significant and long-term effect on the operations of the Outfit, it does not signal the end of their reign in Chicago. We will continue with our efforts to eradicate what has been one of the most prolific organized crime enterprises in the United States."
     And then of course, the Mafia is organized crime, but organized crime is not just the Mafia. Russian, Asian and other ethnic crime groups continue to takeover territories and rackets lost to La Cosa Nostra. But the full time and part time criminals of the American Mafia will always be there, lurking in the background and watching for opportunities that offer fast and big cash. But ever vigilant are the dedicated men and women of the FBI and other federal and state police agencies. The wiseguys out there won't want to forget-about-that.
***
     Rick Porrello, a Cleveland-area police lieutenant, is the author of three organized crime books, the latest of which is Superthief, winner of ForeWord Magazine and IPPY Awards. His title To Kill the Irishman – the War that Crippled the Mafia is in development for a motion picture. Rick is currently coauthoring an as-yet untitled biography of Meyer Lansky with Lansky's daughter Sandra Lansky. He is represented by Peter Miller, of PMA Literary and Film Management.
     A commentator on the general history of the American Mafia, Rick recently appeared with Chris Jansing on MSNBC to offer his observations about the last episode of The Sopranos. He can be reached by e-mail at rick@rickporrello.com
Appendix A
Law Enforcement Agencies involved in 2007 Chicago Mafia case
The indictment was announced by Patrick J. Fitzgerald, United States Attorney for the Northern District of Illinois, Robert D. Grant, Special Agent-in-Charge of the Chicago Office of the Federal Bureau of Investigation, and Byram Tichenor, Special Agent-in-Charge of the Internal Revenue Service Criminal Investigation Division in Chicago. The Operation Family Secrets investigation results from work that members of the Chicago FBI's Organized Crime Task Force began in the 1980s. The task force was comprised of FBI agents and detectives from the Chicago Police Department. The FBI wishes to give special thanks to Chicago Police Detective Robert S. Moon, who died in November 2004 after a long battle with cancer. The investigation would not have been successful without Detective Moon's hard work and dedication. The FBI also thanks all of the retired task force agents and detectives because the investigation also would not succeeded without their countless hours of effort. Valuable assistance was also provided by the following agencies: Federal Bureau of Prisons; Bureau of Alcohol, Tobacco, Firearms and Explosives; Chicago Police Department's Cold Case Squad; Rockford Police Department; Bensenville Police Department; Wood Dale Police Department; Cook County Sheriff's Office; DuPage County Sheriff's Office; Will County Sheriff's Office; the State's Attorney's Offices in Cook, DuPage, Lake and Will counties; Phoenix Police Department; Orange County, Calif., Organized Crime Intelligence Unit; and FBI offices in Phoenix, Miami, Pittsburgh and Detroit. The government is being represented by Assistant U.S. Attorneys John Scully and Mitch Mars, Chief of the Organized Crime Section.
Appendix B
List of murder cases in the 2007 Chicago Mafia "Family Secrets Trial
Michael Albergo, also known as "Hambone," in or about August, 1970, in Chicago;
Daniel Seifert, on or about September 27, 1974, in Bensenville;
Paul Haggerty, on or about June 24, 1976, in Chicago;
Henry Cosentino, on or about March 15, 1977;
John Mendell, on or about January 16, 1978, in Chicago;
Donald Renno and Vincent Moretti, on or about January 31, 1978, in Cicero;
William and Charlotte Dauber, on or about July 2, 1980, in Will County;
William Petrocelli, on or about December 30, 1980, in Cicero;
Michael Cagnoni, on or about June 24, 1981, in DuPage County;
Nicholas D'Andrea, on or about September 13, 1981, in Chicago Heights;
Attempted murder of Individual A, on or about April 24, 1982, in Lake County;
Richard D. Ortiz and Arthur Morawski, on or about July 23, 1983, in Cicero;
Emil Vaci, on or about June 7, 1986, in Phoenix;
Anthony and Michael Spilotro, on or about June 14, 1986, in DuPage County;
John Fecarotta, on or about September 14, 1986, in Chicago.
&copy 2007
---