* * *
     Max "Boo Boo" Hoff was born in 1892 in South Philadelphia, a son of poor Russian-Jewish immigrants. After quitting school, Boo Boo worked for several years in a cigar store where the service also included gambling. His salary was raised from $12 a week to $15 after the proprietor noticed how his amiable personality appealed to customers.
But Boo Boo wanted to be his own boss. So, in 1917, he packed up his charisma, left the cigar store, and started his first gambling operation in the section of Philadelphia now known as Society Hill. There was a poolroom on the first floor and a dice game usually was going full blast upstairs.
Boxing played a big role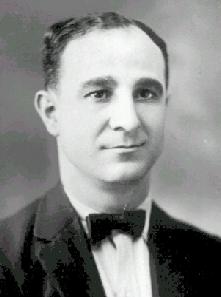 Max "Boo Boo" Hoff
Boxing was more than a front for his other activities; it played an important role in Boo Boo's life. In the late 1920s, he had a large stable of prizefighters, and staged boxing matches for many years at several Philadelphia sites. None of his boxers won a world championship, but several were highly ranked contenders in a period when boxing was a widely popular form of sports entertainment. In 1928, Boo Boo's stable became Max Hoff Inc., the first group of fighters in the nation to be incorporated.
     One of Boo Boo's most publicized ventures in boxing was the $500,000 lawsuit he filed against Gene Tunney and his manager, Billy Gibson, in 1927. The suit was based on a disputed agreement, which Hoff claimed was signed by Tunney and Gibson the day before Tunney's first fight with heavyweight champion Jack Dempsey in 1926. Tunney won the historic battle, fought in a rainstorm before a crowd of more than 120,000fans¡ªincluding several governors and U.S. cabinet secretaries, a bevy of Hollywood and Broadway stars, and captains of industry¡ªat Philadelphia¡¯s Sesquicentennial Stadium (subsequently known as Municipal Stadium and JFK Stadium before it was razed) in South Philadelphia.
     Boo Boo said he loaned Tunney and Gibson $20,000 to bind the contract. The deal called for Boo Boo to receive 20 percent of Tunney's boxing earnings and to be joint-manager, with Gibson, in exchange for the loan.
     Hoff and Gibson signed the contract, but Tunney wrote "Eugene Joseph Tunney" on the document. His real name was James Joseph Tunney.
     Despite his insistence that he had a strong case, Boo Boo mysteriously dropped the suit in 1931, without discussing a possible settlement with Tunney's lawyers.
Making a fortune during Prohibition
     Boo Boo kept a lower profile with his other activities until the late 1920s. Although he made his first million from small-time gambling operations while he was still in his twenties, it wasn't until the Prohibition Era, 1920 to 1933, that he and his cronies made a fortune by taking advantage of opportunities offered by the Volstead Act and corrupt police, politicians and banking officials. His bootlegging operations included an office with 175 phones and a weekly payroll of $30,000 in 1920s dollars.
     Illegal booze manufacturing and distribution operations were netting Boo Boo's syndicate an estimated $5 million annually by the late 1920s. Transposed into current dollars, those profits would add up to more than $60 million today.
     Boo Boo enjoyed the good life that went with being one of the nation's richest gangsters. He hosted elaborate parties, where stars of the sports and entertainment worlds partied with his cronies. One New Year's Eve, he rented a hotel ballroom for a party in honor of Al Jolson, a top Broadway entertainer at the time and the star of "The Jazz Singer," the first "talkie" moving picture. The doors to the ballroom were opened to anyone in evening clothes, and Boo Boo reportedly didn't know half of the hundreds of guests.
Boo Boo never smoked or drank. His idea of fun at parties was to shoot tiny tinfoil pellets at guests with a rubber band. He paid a boy to keep him supplied with the pellets. Some said he could hit a target from as far away as 50 feet.
Grand Jury investigation
     Philadelphians found out about his bootlegging operations when they read newspaper accounts of a Grand Jury investigation, conducted over a seven-month period in 1928 and 1929. Boo Boo, who wore a different outfit each of the eight times he was called to the stand, was one of 748 witnesses who testified. Although Boo Boo insisted that he "was never connected to the liquor industry in any way, shape or form," Philadelphia District Attorney John Monaghan characterized him as "King of Philadelphia's Bootleggers."
     Despite mountains of circumstantial evidence against him, Boo Boo wasn't indicted because he "had scrupulously avoided signing any documents connected to the undercover operations," according to a New York Times reporter.
Here are just a few details that were revealed by the Grand Jury investigation:
•  Boo Boo and his cronies set up The Franklin Mortgage and Investment Co., a front for several alcohol companies they took over and operated. As an example of the magnitude of the operations, consider that one of the plants under the syndicate's control processed 357,000 gallons of denatured alcohol in just one three-month-period. After it was detoxified, the alcohol¡ªoften fictitiously labeled as "hair oil" or "perfume"¡ªwas railed in 50-gallon drums to points on the East Coast and in the Midwest.

•  Boo Boo's association with the Union Bank and Trust Co. in Philadelphia enabled him to finance the bootleg syndicate via a $10 million money-laundering scheme. That's equivalent to more than $100 million today. Normal banking procedures were waived, allowing Boo Boo to open 14 accounts, using the names of phantom depositors. The bank¡¯s president was forced to resign after it was determined that he had served as a dummy owner of several blocks of Atlantic City real estate, worth millions of dollars, which were actually bought by Boo Boo and his friends.

•  To ensure delivery of illegal booze to speakeasies and restaurants, members of the Philadelphia Police Department were paid off handsomely by bootleggers and bar owners. It was estimated that the bribes paid to cops by saloonkeepers totaled $2 million a year, in excess of $20 million today. Of the 87 officers (including several inspectors, nearly half of the precinct commanders and many detectives) who were questioned, many of them were fired or resigned because they couldn't explain how they could afford sharp increases in their bank accounts, and real estate and stock holdings. One said he had made $7,000 in two years playing craps in the Navy; another said he generated thousands of dollars by raising canaries.

•  Edward S. Goldberg, owner of Military Sales Co., operated out of the I. Goldberg store in Philadelphia, admitted he had sold machine guns and bulletproof vests to Hoff. On one raid, 450 machine guns were discovered in the store's basement. In 1929, the New York City police complained that more than half of the guns they had confiscated recently had been purchased in Philadelphia.

•  The $500,000 (more than $5 million now) worth of choice European liqueurs and champagne--seized in a 1925 raid after a barge transported the cargo from a ship in the Atlantic, towed it up the Delaware River to Rancocas Creek and landed it near Mount Holly, N.J.--was traced to Boo Boo's gang. Although Boo Boo and 50 of his men were arrested in the raid, they escaped conviction because they used fictitious names, skipped bail and never went on trial.
Luck runs out
     A New York Times reporter noted that Boo Boo "was often arrested but never jailed, often accused but never convicted." However, Boo Boo's luck ran out, especially after Prohibition was repealed in 1933. The IRS sued him for $21,000 in unpaid income taxes; his home in the Cobbs Creek Park area of Philadelphia was sold by the sheriff for $1,500, and his car was sold to cover $240 in back garage rent. It had a bullet hole in it.
Also, he was arrested at Philadelphia's 30th Street Station for attempting to pass a counterfeit $20 bill. Although he also was accused of tearing up several thousand-dollar bills and washing them down a drain in the station's lavatory, he was acquitted.
     And hard luck forced him to sell his last entertainment venture, an ice cream parlor known as the Village Barn near the University of Pennsylvania campus.
     Boo Boo died broke on April 27, 1941, at the age of 48. His second wife found his body in the bedroom of their West Philadelphia home. His death was initially suspected of being a suicide because an almost-empty bottle of sleeping pills, which he had been taking for three years, was found on a table near the bed. However, an autopsy determined that he died of a heart ailment.
Parry Desmond is writing a book about Boo Boo Hoff. If you have more information about Hoff, please contact Desmond at Parry37@aol.com.