PROLOGUE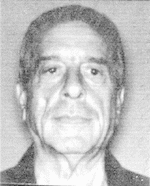 Greg Scarpa, Sr.
In 1983, Federal Prosecutors in Manhattan obtained a conviction against a rogue former Officer of the CIA, Ed Wilson, on charges he tried to hire a Mafia hitman to murder several people, including a Federal Prosecutor in the U. S. Attorney's Office for the Southern District of New York. The 'Mafia hitman' in this case was in fact an FBI agent, Lindley DeVecchio, who was 'acting' as a ruthless killer in order to gain the confidence of Wilson. DeVecchio was very convincing in his role, and Wilson soon instructed his son to convey monies to the 'Mafia hitman' as part of their contract for murder.
Ed Wilson was sentenced to what should have been the rest of his life in prison for these crimes, as well as his previous conviction in Houston Federal Court, in which a jury convicted Wilson for smuggling weapons to the rogue government of Libyan dictator Muamar Qadafy. Now, all these years later, Ed Wilson is a free man, while the man who 'pretended' to be a Mafia murderer, agent DeVecchio, is now accused of being an accomplice in four Mafia murders.
Few of those familiar with either men could have predicted just a few years ago how dramatic would be such a 'reversal of fortune' for both. Wilson's unlikely savior came in the form of a former CIA officer assigned by the Courts to handle the former agent's Appeal of his various convictions. That attorney, David Adler, uncovered evidence of prosecutorial misconduct in the Houston trial, which prompted the outraged Judge to throw out the conviction. Adler also told the Media he believed it likely prosecutorial misconduct occurred in the other cases, including the murder solicitation case in New York.
In DeVecchio's case, his troubles stem from his association with one of the most vicious and evil drug dealers and Mafia murderers in American history, Colombo Family associate Greg Scarpa. For four decades, Scarpa was protected in his crimes against America because of his status as an FBI Informant. Long before DeVecchio became an agent of the Federal Bureau of Investigation, Scarpa was a favorite of a man who for many years publicly claimed that the Mafia did not exist; FBI Director J. Edgar Hoover.
The Mafia, did, in fact, exist, and co-existed with the FBI for decades in an uneasy, often-contradictory and unpredictable alliance of evil. Until his death due to AIDS in 1994, Greg Scarpa was among those criminals who most benefited from this alliance between those who swore to uphold the law and those who swore in a blood ritual to break the law. Scarpa managed to swing both ways, loyal to both his crime Family and the FBI. As a result of such treachery, Greg Scarpa, drug dealer, Mafia hitman, and FBI Informant, literally possessed a 'License to Kill.'
THE PEOPLE OF THE STATE OF NEW YORK VS. R. LINDLEY DEVECCHIO
On March 30, 2006, an Indictment was unsealed in State Court in Brooklyn, charging retired FBI agent Lindley DeVecchio with 4 counts of second degree murder. Those charges are:
COUNT ONE
DeVecchio allegedly supplied information to his Informant Greg Scarpa indicating that a young woman, Mary Bari, was providing information to the FBI in regards to her former boyfriend, "Allie Boy" Persico. At the time Allie Boy was on the lam, hiding out in Florida, and Scarpa was believed to fear that her co-operation with the FBI could lead the authorities to his whereabouts. Thus, on September 25, 1984, Scarpa lured Bari to his Brooklyn headquarters, the 'Wimpy Boys Social Club,' under the guise of offering employment to her as a waitress. Once inside, Scarpa and accomplices, including his son, Greg Scarpa, Jr. wrestled young Bari to the floor, whereupon she was shot several times in the head with a handgun. Scarpa and crew then dumped Ms. Bari's body on the street as if it was trash, an indication of the Mafia's contempt for those who co-operated with the FBI. Apparently, what no one in the Colombo Family knew was that Scarpa himself was an FBI Informant, and that was how he was able to obtain the information regarding Ms. Bari.
COUNT TWO
Agent DeVecchio allegedly acted in concert in the murder of Colombo Family member Joseph DeDomenico, who was shot to death on September 17, 1987. DeVecchio is believed to have learned, through his work on the Organized Crime Task Force, that DeDomenico, a member of Scarpa's crew, was hiding tribute money due Scarpa by engaging in burglaries that he did not disclose to his crew boss.
COUNT THREE
Agent DeVecchio allegedly acted in concert in the murder of a teenager, Patrick Porco, who was a friend of Scarpa's young son Joseph Schiro. DeVecchio allegedly told Scarpa that Porco had been questioned by police in Brooklyn's 62nd Precinct about a murder Porco was believed to have been involved in, along with Scarpa's son Joseph. Porco was gunned down on May 27, 1990.
COUNT FOUR
Agent DeVecchio allegedly acted in concert in the murder of Lorenzo Lampasi, who was aligned with the rival Orena faction of the Colombo Family during the internal war of the early 1990s that left a dozen people dead. DeVecchio allegedly gave to Scarpa information culled from law enforcement surveillance which revealed Lampasi's habit of getting out of his car to lock the gate to his home. Lampasi was murdered in the early morning of May 22, 1992, as he was locking the gate to protect his family inside their home.
DEVECCHIO'S ARRAIGNMENT
At his arraignment, retired agent DeVecchio pleaded Not Guilty to all charges. Joining DeVecchio in a show of support were 45 current and former agents of the FBI who signed a legal document that sought to have DeVecchio freed on his own recognizance while awaiting and during his trial. These agents, among others, have banded together to form a legal defense fund for DeVecchio which can be found at their website, 'The Friends of Lin DeVecchio Trust,' at http://www.lindevecchio.com/ Many of these agents are among the most respected in recent FBI history, some of whom have literally risked their lives in the fight against organized crime.
These agents filled the Courtroom to capacity during the proceedings, in which Defense attorney Douglas Grover sparred with Prosecutor Michael Vecchione, who stated that this case was the worst case of corruption in the history of the United States. Vecchione promised to bring into Court civilians, FBI agents, and members of Scarpa's crew to prove his case against DeVecchio.
Grover dismissed the allegations as "nonsense," blaming much of the case on Scarpa's wife Linda Schiro, who had purportedly told authorities "I stay out of the kitchen." This was a reference to the infamous "Kitchen 302" legal report by DeVecchio as to what Scarpa allegedly reported to him during visits in the kitchen of Scarpa's home.
During jury deliberations in the 1995 trial of Vic and John Orena, one of 3 Colombo Family War trials - all of which were derailed by the revelations regarding DeVecchio's relationship with hitman Scarpa, - jurors set a legal precedent by asking Judge Edward Korman for evidence not entered at trial. The document in question was DeVecchio's 'kitchen 302." Judge Korman and the Defense attorneys did not even know such a document existed, nor did the jurors; the jurors just ASSUMED such a document existed and asked the Judge to provide it. Under questioning from Judge Korman, red-faced prosecutors conceded the document in question did in fact exist. After reviewing the document, the jurors acquitted all defendants on all charges and demanded of the Prosecutors why it was DeVecchio had not been indicted for murder. Several jurors expressed their outrage with members of the Media as well.
Years later, when DeVecchio was arraigned on such charges, Prosecutor Vecchione attempted to put the allegations against DeVecchio in the broader context of contemporary American history by noting to the Judge that two members of Congress, Senator Charles Grassley and Congressman Bill Delahunt, both of whom serve on their respective Judiciary Committees, have an ongoing interest in the Court proceedings against DeVecchio. Such interest reflects the work of Congress in exposing murders and murder frame-ups committed by FBI agents that have come to light in recent years.
In December, 2001, members of Congress offered a public apology to Boston residents Joseph Salvati and Peter Limone, who spent 30 years in prison after having been framed by the FBI for a murder they had no part of. Key evidence examined were documents prepared by FBI Agent Paul Rico that revealed the names of the real murderers in that case, documents illegally kept by the FBI from the accused as "exculpatory evidence."
The information regarding the Salvati and Limone case grew out of the prosecutions in Boston of FBI agent John Connolly, who was convicted of illegally providing information to members of the "Winter Hill Gang," mostly Irish gangsters, who, like Greg Scarpa, were protected for years in their career of drug trafficking and murder because of their status as FBI Informants. Agent Connolly is currently facing a murder charge in Florida regarding a mobbed-up businessman, as was FBI agent Paul Rico, who died before he could be brought to trial.
The Salvati and Limone case also is similar to that of Martin Taccetta of New Jersey, who was convicted for the 1984 murder of a Mafia associate. A secret 1991 FBI memo revealed that the FBI knew that Taccetta was not at the murder scene, 'exculpatory evidence' the FBI unlawfully withheld from him at his trial. The FBI has still not turned over all documents relevant to this case and Taccetta remains in a Federal prison for a crime the FBI says he did not commit.
DEVECCHIO'S DEFENSE
Statements by DeVecchio's attorney Douglas Grover suggest that DeVecchio's defense is likely be that he has been framed by Mafia wiseguys seeking the overturn of their convictions that agent DeVecchio helped secure.
Do innocent people get framed in New York?
The answer is yes, and agent DeVecchio most certainly has knowledge of two such cases that occurred during the time he was on the job, those being that of NYPD Detective Joe Simone, who was accused of leaking information to the Colombo Family, and Dr. Thomas R. Stevens, a local political leader charged with solicitation of murder.
Both cases occurred in 1993. In December of that year, just days before his scheduled retirement, agents of the FBI arrested Detective Joe Simone, a subordinate of DeVecchio's on the Colombo Squad of the joint NYPD-FBI Organized Crime Task Force. Simone was accused by Colombo associate "Big Sal" Miciotta of selling information to the Colombo Family during the Mob War of the early 1990s. However, during his trial in Federal Court in Brooklyn, the case began to unravel, and it was clear to the jury that Simone was not the Mob's mole on the Organized Crime Task Force. After just deliberating two hours, the jury returned their verdict, and 10 of those jurors waited outside the Courthouse in the cold, November rain to console Detective Simone and his family.
Eventually, "Big Sal" Miciotta would be kicked out of Witness Protection Program, after the Feds had detected him in numerous lies on the Witness stand. Miciotta, however, would get a second chance when he later gave information to the Feds that discredited Luchese Family Underboss Anthony "Gaspipe" Casso, who made many sensational claims when he was first arrested, among them that he had hired two "Mafia Cops," Lou Eppolito and Stephen Caracappa, to assist him in the commission of several of the 3 dozen murders he confessed to. The "Mafia Cops" case would languish unattended for years until the Brooklyn District Attorney's office revived it in 2003, after which it was later taken over by the Feds.
The bizarre case of the murder solicitation trial of Dr. Thomas Stevens also provides a disturbing example of how people can be framed for crimes they did not commit. Dr. Stevens, a prominent local Republican political leader, was arrested by the U. S. Attorney's Office for the Southern District of New York in September, 1993 on murder for hire charges. That this sort of prosecution was being made by Federal prosecutors, instead of State prosecutors, was highly unusual. In fact, the Southern District had not handled such a case in over a decade, when agent DeVecchio had set a trap for rogue CIA Officer Ed Wilson.
In this new case, the Southern District had seized jurisdiction when one of the figures in the case had asked the Defendant to call him on his beeper, claiming to have information about what the Defendant said was a conspiracy to frame him. Dr. Stevens did just that, not knowing that the '917' number of the beeper phoned over into New Jersey, crossing State lines and thus giving the Southern District predication regarding wire and mail fraud in the course of the commission of an alleged crime.
Some months earlier, Dr. Stevens had appeared in May, 1993 on the ABC news program NIGHTLINE, during which in an interview with Ted Koppel he and two other former members of the political party UNITED WE STAND expressed their criticism of party leader H. Ross Perot. After Stevens' appearance, he claimed several young men in New York engaged in a smear campaign against him, ultimately resulting in his being indicted for allegedly trying to hire an Informant claiming to be "Louie the Hitman" from the Luchese Mafia Family, to murder a political rival involved in the alleged smear campaign.
At least two of these men were caught on tape making threats against associates of Stevens while claiming to be FBI Informants. On the eve of the trial, this reporter turned over such tapes to Steven's attorney, as well as the U. S. Attorney's Office, which asked for an Adjournment of the trial. The day after New York Post columnist Neil Travis ran a story based on these tapes, the Southern District dropped the charges against Dr. Stevens. At a Hearing to conclude the case, the Judge dismissed the charges "With Prejudice."
Thus, should agent DeVecchio claim that he has been framed for crimes he did not commit, such a claim in New York would not be unprecedented.
to be continued
Related Features by this author:
MOB WAR! Murder, Deception, and Intrigue Inside New York's Colombo Mafia Family
http://www.americanmafia.com/Feature_Articles_9.html

Murder - American Style! Atypical Murder Cases and the Evolution of Organized Crime
http://americanmafia.com/Feature_Articles_4.html
*
James Ridgway de Szigethy can be reached at JAMESDE@prodigy.net.
---