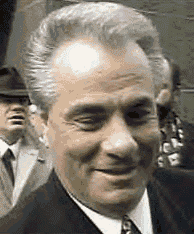 John Gotti.
     If money and brains is power the Gambino mafia is here to stay. When Gambino crimeboss John Gotti was alive years ago he spoke about the new 'blood' inducted into the family. During a walk-and talk session with other wiseguys at the Ravenite club he praised the business savvy of Richard Martino and Salvatore Locascio' potential to use hi-tech schemes to earn millions for the family. Unaware the FBI recorded every word the Teflon Don said, "We need guys like Martino and Locascio who can "do more than killing".
     "Ten years from now, these young guys we've straightened out, we'll be proud of them", Gotti boasted.No doubt the Gambinos were proud of wiseguys like Martino and Locascio who funneled millions into the family organize crime enterprise but federal authorities is gearing up to put the men in the slammer for a long time. Both are scheduled for trial in February 2005--charged in a multiple count indictment for operating the largest internet fraud, pornography and telephone scams in U.S. history. Authorities estimated the Gambinos earned over $400 million.
Gambino Capo Richard Martino - charged in the largest telephone and porn scam in U.S. history.
     Indictments issued between March 2003 and February 2004, federal prosecutors assigned to Eastern District in New York indicted Martino, Locascio and movie producer Norman Chanes including additional defendants on charges of racketeering conspiracy, wire fraud and money laundering stemming from the scams that advertised "free tours" of porn sites that billed the viewers credit card with unauthorized fees.Martino's scheme was cleverly planned;the Gambino capo purchased a bank and telephone company that bilked the U.S. government and cell phone users out of millions. Bruce Chew, 57,the chief executive of Crescent publishing group that operated the porn web sites were among those also indicted on similar charges including bank executive Kenneth Matzdorff from Belton Missouri. Recent news about the case reported that movie producer Norman Chanes(also indicted) might become government witness against the Gambino defendants. Each defendant has pled not guilty declaring they done nothing wrong. Initially months ago when the indictments were issued, Brooklyn U.S. attorney Roslynn R. Mauskopf alleged the defendants bilked internet users out of approximately $230 million by advertising bogus "free tours" of porno web sites owned by the defendants.
     But that amount increased to $430 million in February when a new, separate indictment accused Locascio, Martino and other defendants with participation in a "cramming" scheme to fraudulently bill consumers for unwanted voice mail and other services through a company identified as USP&C. "The estimated income figure is near a billion dollars", said New York FBI agent Pasquale D' Amuro. The investigation is still ongoing as the jury trial approach for the defendants.
     "The defendants created a web of lies and deception to trap unwary consumers on the internet", Mauskopf told the court. Millions of dollars went from consumers' bank accounts into the defendants' pockets".
Gambino Salvatore (Tore) Locascio, also charged in the scam.
     Authorities stated the hi-tech multi-million dollar schemes only show that a new generation of wiseguys has rewritten the way they do business since losing much of its grip on the gambling industry, construction unions and other traditional sources of income.The elaborate scams ran from 1996 to 2002, according to federal prosecutors Eric Komittee and Jeffrey Goldberg. Prosecutors are also seeking $430 million in forfeitures from the defendants. FBI records explicitly details the scams: When viewers logged onto porno sites that advertised "free tours" in exchange for credit card information it was a mob-style offer that couldn't be refused because the browser's "back" button on the computer was temporarily disabled; the viewers could not exit from the screens. Unaware though, as they clicked throughout the web site charges up to $59.99 were billed to the visitors credit card. The phone scams, tactially the same, were also detailed in the new indictments issued in February 2004. Advertisement placed in magazines, newspapers and T.V. shows offered free samples of sex action, psychics, sports and horoscopes to customers who punched in the "800 numbers" on their telephones.
     As customary, when the mafia is involved nothing is free. When the caller dialed the "800 number" the calls triggered monthly fees attached to subscribers' local phone bills, a tactic known as "cramming". Profits from the schemes were laundered through shell corporations back to the Gambinos as a "tribute" prosecutors indictments stated. The scams, wrote assistant U.S. Attorney Linda Lacewell in a letter to court, were "worthy of the most sophisticated white collar criminals".
Gambino Mafia Rips Off The U.S. Government And Cell Phone Users
---------------------------------------------------------------------------
     For years, after the imprisonment of Gambino crimeboss John Gotti and many high-ranking wiseguys and mafia turncoats spilled their "guts" against other mafisos' to save their hide, stories circulated throughout the mob world that federal authorities practially destroyed the power-base of the Italian mafia leaving the organizations in ruins. Whether or not if this was true depends upon the perceptions of law enforcement and the wiseguys still around today.Rico convictions, in fact, weaken the mafia infrastructure but they still have force in certain areas of corruption. An FBI organize-crime agent estimates that "ten percent of America's active mafia soldiers are locked up or dead". As for the Gambinos, while racketeering lawsuits and convictions diminished control of large-scale money operations and the unions the Gambino crime family cooked up a scheme that reached out and touched millions of internet and phone users across the globe. Nobody was spared. Even the U.S. government took a 'hit' from the Gambinos. FBI uncovered a web of deceit indicating that Gambino capo Richard Martino , a computer whiz, and mob associates ripped off millions from a little-known government-supervised fund that subsidizes rural phone companies by imposing a charge on cell phone users or anyone who made a long distance calls on a land-base line.
     According to authorities and court records, Martino bought a communication service in 1996---a service identified as Casstel county telephone company. Casteel was located in a small town called Peculiar Missouri (pop. 2,600). The scheme involved Martino and other Gambino associates as silent partners in the phone company. Prominent businessman Kenneth Matzdorff was hired to act as the sole owner. FBI said the reason Martino bought the phone company was to use the company's 8,000 customers as cover for "cramming"---the same tactic utilized in the internet schemes, offering free tours of sex sites but the viewers credit cards were billed for payment.
     From 1997-2004, Casstel received millions from the Universal Service Fund to serve customers in rural towns like Peculiar and nearby Main city and Gunn city, court records show. USF reported the agency only had figures available dated back to 1999, and since then $22.5 million were distributed to Casstel. Of the $22.5 million the money came from phone users. Anyone who made a cell phone or long-distance call contributes a percentage to the USF and FCC. Portions of the money was spent to pay Casstel's bills, including "computer consulting" provided by the nearby Overland Kansas Data Center---a computer business owned by Martino. An informant told FBI the bills for Overland 's consulting were inflated up to 10 times their actual worth, according to an affiadavit by FBI agent Beth Ambinder. The informant further said the money was laundered through a company called FSE consulting, owned by Martino's brother, Daniel, then funneled to Overland, then back to Casstel. Daniel, 53, is the Assistant Professor of chemistry at a suburban New York college.
     "This arrangement had the effect of defrauding the Universal Service Fund", FBI Ambinder wrote, indicating the USF funds were taken by Martino, his mob associate brother, and Gambino captain Salvatore Locascio, the secret owners of Casstel. Martino's scheme, using his ownership in Casstel, to rip off the government service fund went surprisingly, undetected. Here's why: When millions of dollars from the USF were distributed to Martino's businesses, the FCC, which has the power to audit phone companies funded by USF, the agency never questioned the exorbitant consultant fees at Casstel, FCC officials acknowledged.
Gambino Mafia Buys Bank
---------------------------------------------------------------------------
     During federal authorities pursuit of evidence involving mafia communication operations they stumbled upon a scheme that Tony Soprano never thought of. Members of Gambino mafia paid millions for a bank to use as a cover to operate the internet porn and phone scam orchestrated by Richard Martino and associates. FBI indicated that Martino hired a legit businessman to buy the Garden city bank in Garden city Missouri(population 63,808). The front man was identified as no other than Kenneth Matzdorff,47, the same person who helped Martino buy the phone company. FBI uncovered the secret deal during an October 2003 raid of Mical/Telecom online, a business owned by Martino located on Third avenue in Manhattan, New York. Records and correspondence information discussed using Garden city as a merchant bank for purposes of credit-card processing.
     "That was important to Martino for his internet porno scheme", an FBI spokesman said. FBI further indicated that Martino gave Matzdorff $3 million in February 2001 to buy the bank. Matzdorff was indicted in July 2004 on similar charges against Martino and the Gambino associates. Matzdorff acted as front man for Martino, the clan's computer whiz, in connection with the acquisition of Garden city Bank, FBI Ambinder reported in court filings. Records also showed that one of Martino's mob associates, Anthony Marano, wired $500.000.00 to Matzdorff and his wife six days before they bought the bank. Another company owned by the Gambinos, LEC LLC Inc. backed up the $2.5 million loan that paid the balance. Described as a major financial contributor to Missouri elected officials,Matzdorff is listed as the president of LLC and USP&C both identified as shell companies used by the mob to launder proceeds from illegal operations. Records show the most shares in LLC are owned by Martino and his supervisor Salvatore Locascio, a close associate of John (Junior) Gotti.
     Matzdorff has pleaded not guility in federal court in New York and its not known if he may become a government witness. His attorney, Stan Mortenson, of Washington, said the complaint was "without basis" and that Matzdorff would "pursue an appropriate defense".
     Indicted Defendants: (1) Salvatore Locascio D.O.B 12-17-59 : Address: Naples, Florida and Scarsdale, New York . (2) RIchard Martino D.O.B. 11-11-59 Address: Harrison, New York. (3) Zef Mustafa D.O.B. 9--8-61: Address Pelham New York: (4) Norman Chanes D.O.B. 1-27-47 Address: New York city. (5) Daniel Martino D.O.B. 6-23-50: Address Hawthorne New York. (6) Andrew Campos D.O.B. 2-17-69: Address: Eastchester, New York. (7) Thomas Pugliese D.O.B. 2-2-57 (8) Lawrence Nadell D.O.B. 3-16-48: Address: Holmdell, New Jersey. (9) Yitzhak Levy, also known as "Issac Levy" D.O.B. 4-5-66. Address: New York city. (10) Kenneth Schaeffer D.O.B. 10-29-68: Address: Pelham, New York.
     Gambino mafia started the internet porn business in 1996 when Martino and co-defendants opened an adult entertainment business in Manhattan. The internet porn was actually a spinoff from the 1-900 sex chat numbers operated by Martino and Bruce Chew.
     FBI Assistant-Director, Kevin P. Donovan, stated: "The charges demonstrates the adaptability of the Gambino crime family. Martino's scheme netted the family hundreds of millions of dollars, befitting his status as the 'biggest' earners of all time for the Gambinos".Authorities admitted the Gambino internet operation based in Manhattan was the most sophisticated they ever investigated;the operation had a unique infrastructure of more than 64 companies, foreign bank accounts, automated credit card billing systems and elegant web sites and software designs. Martino funneled millions of dollars(approximately 40 millions) into the Gambino enterprise, with 8 millions contributed to his crew chief, Salvatore Locascio, the son of Gotti's consigliere Frank Locascio. Locascio was convicted of murder and racketeering charges in 1992 along with the Teflon Don and sentenced to life without parole in federal prison.Sexually explicit contents featured on the porn sites were taken from magazines published by Crescent Publishing Group. Defendant Bruce Chew was identified by prosecutors as CEO of Crescent that published numerous adult magazines such as Playgirl,High Society, Climax and Young Girls. Chew is accused of assisting Martino to create elaborate schemes to fraudently bill charges to credit cards. Chew was no stranger to federal government. In 2001, Federal Trade Commission fined the sex publisher $30 million to settle claims that he billed internet users for "free sex tour" access. Crescent gained notoriety in 1999 when editors published photos of actress Jennifer Aniston sunbathing topless. Aniston sued Crescent, claiming a paparazzi photographer scaled a neighbor's wall to shoot the unauthorized photo. Aniston won a large out-of-court settlement.
     Thousands of complaints from consumers and credit card companies over the illegal fees deducted from credit and bank cards exposed the massive internet scam. When the Federal Trade Commission conducted an exhaustive investigation it wasn't until a separate criminal investigation by FBI following the money trail that led directly to the Gambino family. Lawyers for Martino and Locascio acknowledge both millionaires encountered previous legal suits against their businesses but the attorneys insisted the new charges is unfounded. "The only cramming in these cases is the government has taken prior civil investigations to structure an organize crime indictment", says attorney Maurice Sercarz, who represents Locascio.
Turncoat Action: Will Defendant Norman Chanes Become Government Witness?
---------------------------------------------------------------------------
     Dirty work is 'burning' at the crossroad in the upcoming hi-profile Gambino trial. Recent news about the case reported that millionaire advertising executive and movie producer Norman Chanes might testify against the Gambino defendants. In court filings, Chanes, previously convicted in a 1985 fraud case, insists he was unaware of Martino's organized crime connections or that Martino paid millions to Locascio. Chanes further explains that attorneys he consulted said the fraudulent advertisement actually complied with the law. An article in Newsday said, Chanes' attorney, Laura Brevetti, emailed the co-defendants lawyers saying, "my client will no longer be part of the joint defense strategy". Court record show when Chanes appeared in court on November 19th, the court accepted a waiver, a typical process that Chanes will cop a plea. Such manuvering is a signal the producer is preparing to help the government take down the Gambino defendants. "It is clearly a shock in terms of strategizing", one attorney said.
     Rumors among the wiseguy circle is that Chanes has already told federal authorities how Martino once beat and tortured a British porn executive. Of Jewish decent, Chanes is also a well-known philanthropist who owns a $4 million Central Park West duplex and a $11 million beachfront mansion in the Hampton area---one of New York's most exclusive neighborhoods. Chanes was once listed as a celebrity client by caterer Francesca Events, next to Cates & Kline, Joe Liberman, Al Gore and Bill Clinton. In 2000, he co-produced "Blue Moon", starring Ben Gazzara, Rita Moreno and Soprano cast member Vincent Pastore. Gambino co-defendants should worry if Chanes decides to 'roll' over and help the government. In 1982, Chanes pled guility in a case involving the sale of fake binoculars and immediately agreed to testify against his close friend and 'partner and crime' Monroe Cain.
     "He was one of few people I've dealt with who'd do anything to stay of jail", a law enforcement agent told a New York Daily news reporter."He'd give up his mother, his father. Caine was a good freind but Chanes had no problem with that".
     When Gambino Richard Martino,45, was arrested on Thursday, December 9th 2004, and charged with felony assault and tampering with a witness rumors were affirmed that Chanes was cooperating with the feds including Bruce Chew. FBI Beth Ambinder announced that in 1992, Martino engineered the beating of a British porn executive over a million dollar business deal. The victim was employed by Richard Desmond, owner of Northern & Shell, an adult entertainment and publishing firm in England. Martino felt he'd been cheated out of $1million in magazine ads and insulted by Desmond. Taken for a ride in a limousine the victim was punched, slashed in the face; 'shocked' in the genitals with a Taser and threaten with death.
     "We want our .....money back", the assailants told the helpless victim, FBI reported. A review of the affidavit identifies the source that gave information about the beating with the code name "CS-2". Anonymous sources said "other information in the document" refers to Norman Chanes. Based on other court records information that "CW-3" appears to be Bruce Chew, the CEO of Crescent Publishing. Chew is also indicted along with Martino. If convicted, of the charges in February 2005, the defendants face up to 5 years in prison on the wire fraud conspiracy charge; 15 years on the credit card fraud conspiracy and 20 years in prison on the money laundering conspiracy charge.
     Prosecutors also filed forfeiture suits seeking $230 million; personal assets worth $20 million including homes, businesses and exlusive properties worth millions of dollars owned by the defendants. The federal cases were assigned to U.S. District Judge Carol B. Amon in Brooklyn, New York. Assistant U.S. attorneys Linda A. Lacewell, Eric Komitte, Tracy and Sharon Knuckles and Sharon Volckhausen will prosecute the case. Each defendant has pled not guility and under the law presumed innocent until a jury decide otherwise. Watch for updates about this story that will appear periodically on Americanmafia.com
     Special greeting: Editor, news directors, webmaster and the dedicated authors of Americanmafia.com wish all fans who read the website a M E R R Y   C H R I S T M A S and a Happy New Year in 2005!!!.
P.S. Any comments? Give us your thoughts. Contact Clarence Walker, at mafia101@myway.com or CWalker261@excite.com
Important warning: In accordance with federal law, Title 17 U.S.C., Section 107, the entirety of the material in this story is not for reprint or distribution. Such action violates copyright laws and constitutes plagiarism. Thereby use of material without prior consent from the author, credited news sources or publishers of americanmafia.com and its news media affiliates are prohibited.

&copy 2004
---