Who's the most famous Mafia Gangster in America Today? John Gotti is dead. Joe Bonnano's dead. Other famous ones - Al Capone, Paul Castellano, Lucky Luciano, Bugsy Siegal, Joe Colombo, Carlos Gambino and Meyer Lanksy - are long gone. Most Americans, if asked that question, would probably answer The Sopranos, but The Sopranos are fiction. Throughout history, real-life mafia criminals have been the most feared and heralded group of people during the 20th century. As these gangsters faded from existence, their reputation still dominates the American psyche. Americans are fascinated by the mafia.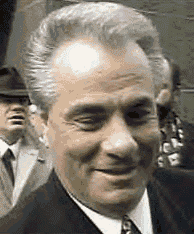 John Gotti Sr.
(born Oct. 27th 1940 and died June 10th 2002)
     Among mafia clans, few organized crime figures captivated the attention of the American public like John Gotti Sr. (born Oct. 27th 1940 and died June 10th 2002). If the history of legends (good or bad) never dies then it's worth retelling the life history of a Gambino mafia kingpin like John Gotti whose popularity engrained itself into the American culture so dominant Gotti became an urban legend - respected, loved, hated and feared by many. Gotti ruled the Gambino family with an iron fist. He commanded respect and demanded fellow Mafiosos' treat him like the pope. When Gotti ascended upon the prestigious (mafia boss) throne the clan had 23 active crews, approximately 300 made (inducted) members and more than 2000 associates (men hoping to become permanent members by committing illegal work for criminal enterprises). The Gambino infrastructure was the same of New York City's four other American mafia groups: the Bonanno, Colombo, Genovese and Luchese factions. At the head was the boss, the under boss and the consigliore who relayed instructions to the capos of the crews. Traditional mafia bosses avoided media spotlight but Gotti loved it. The New Your press dubbed him the 'Dapper Don' for his sartorial style; the 'Teflon Don' for remarkable ability to keep criminal charges from sticking. "He was a thug in a great-looking suit," said Juliette Pappa, a reporter for WINS radio in New York, who covered Gotti criminal trials. "He was the first media don," said J. Bruce Mouw, former FBI agent who supervised the bureau's Gambino squad that produced compelling evidence that convicted Gotti. "He never tried to hide the fact of being superboss."
     Known throughout history, Gotti seized control of the Gambino family by executing predecessor, Paul Castellano in 1985. For those who loved Gotti described him as the most generous, respectable and finest person - providing the exception he wasn't in overdrive conducting mafia business. Andrea Giovino knew Gotti very well. "I liked John. Yes, I did. He was a gentleman around women. If somebody cursed, he would say, 'There's a lady sitting here. Don't use that language'."
     Bruce Cutler, Gotti's former attorney, praised him as a unique person. "He's the most remarkable man I've met," Cutler said in an interview before Gotti died. "If you think of the name John Gotti, what it conjures up, you see a person who affected the world."
     Daughter, Victoria Gotti, a famous novelist, once said her father was a commanding figure like any other dad. "We had to remain a close-knit family," she recalled. "And I think growing up, my dad executed the values and morals that he wanted us to take through life." Law enforcement rivals obviously viewed him totally differently. Former FBI Mouw told reporters, "John Gotti is a stone-cold killer responsible for the deaths of several individuals. He was a vicious and ruthless boss." A testament of Gotti's ruthless nature was revealed during a secretive investigation on December 12th 1989, an FBI wiretap recorded Gotti saying, in reference to a wise guy's murder, the crime boss stated, "He's gonna die because he refused to meet when I called. He did nothing else wrong." A ruthless operator, indeed, still most people adored him. "I think he's good for 101st Avenue," a woman told Time magazine in 1986 when Gotti frequented the area. Gotti's photo appeared on the front cover of Time Magazine. "If it wasn't for Gotti," the woman assured, "the neighborhood would be destroyed by drug addicts."
A Rising American Gangster Icon
     Steadily rising up in control of supreme 'power' - handsome and charming - he wore his silver hair in a swept-back coiffure while stylishly decked in expensive ($2000) hand-tailored suits accessorized by $400 hand-painted floral silk ties. Even his bold, stride and broad shoulders as he sauntered down the streets of New York represented respect. Gotti once remarked to Sammy "the Bull" Gravano, the under boss, "This is my public, Sammy, they love me." Under the spotlight, Gotti savored the public adulation, unblinking stares, thumbs up, handshakes, fans desperate to meet him and to hear cheering voices from crowds, in reference to FBI obsession to convict him, "Go beat them, Gotti."
     A lavish spender, the crimeboss would purchase brandy liquor costing $1,000 a bottle and always nonchalant if he lost $250,000 or more in a dice game. Like a Hollywood celebrity Gotti signed autographs and posed for pictures with tourists and devoted fans either on the streets of New York or outside the Ravenite Social Club in Manhattan where he conducted mafia business. When Gotti went on trial on separate occasions, he denied being a mafia boss. In response to media questions asking if he was a mob boss, Gotti replied with a grin, "I'm the boss of my family, my wife and kids." Earning millions from organized crime activities, Gotti insisted he was nonetheless a $100,000 a year plumbing supply salesman. Mob defectors told authorities Gotti boasted that he emulated Albert Anastasia, the founder of Murder, Incorporated, a group of killers used by the mafia in the 1930s and 40s to carry out gangland executions. Gravano, the informant who gave Gotti the 'Kiss of Judah' by helping feds to convict the don, said Gotti acquired a gift for guile and ruthlessness by reading Machiavelli's Prince. Secretly recorded tapes by FBI and testimony from Mafiosos revealed Gotti as a narcissistic tyrant with a furious temper who betrayed allies and mercilessly ordered the slayings of Gambino loyalists suspected of being informers or disrespected him. Law enforcement said Gotti's lust for supreme domination of organized crime and wealth led to a recklessness that unraveled his downfall and undermined the Gambino family by insisting that Gambino crews meet frequently and directly with him. Nevertheless, did he know he provided prosecutors with evidence to obtain court authorized bugs that convicted the entire Gambino hierarchy in the 1990s?
     Throughout the late 1980s and early 1990s, federal and state authorities filed numerous charges of racketeering, loan-sharking, assaults and criminal conspiracies against Gotti but he won an astounding three acquittals by juries. The feds knew Gotti murdered Castellano but had no hard evidence to prove it. Yet they persisted to nail the crime boss on any charges that would 'stick'. In one Rico case, which carried a maximum life sentence, a jury acquitted Gotti on all charges. The verdict, though, was tainted by the foreman of the jury, who was later convicted, for accepting a $60,000 bribe to vote for acquittal. This shocking loss was the most humiliating defeat the Justice Department ever suffered against the mafia. Another major assault and robbery case against the 'Teflon Don' was also dismissed due to an uncooperative witness. FBI and prosecutors grudgingly conceded that Gotti's supreme legal victories fed into his big ego of being invincible. He was the symbol of resistance to law enforcement since notorious Al Capone sixty years earlier. Despite setbacks, the FBI pursued the elusive Gotti relentlessly. During FBI surveillance work and if he spotted them, Gotti was known to cheerfully taunt them. Rubbing fingers together, he would snap, "Naughty, naughty, naughty." In 1990, prosecutors tried him for attempted murder of a construction union president. Like perfect clockwork, again Gotti was acquitted despite evidence of secretly recorded tapes installed at the Bergin Club, where Gotti's voice was heard discussing ways to shoot the victim, including testimony from a co-defendant who implicated Gotti. The co-defendant participated with Gotti to execute the plot. In that case, a New York police officer was charged with supplying the Gambinos the names and addresses of the jurors which possibly played a role for Gotti's acquittal. Still the FBI kept pursuing the famous gangster.
The Government's Secret Weapon
     Untouchable and unstoppable, the mob boss beat the government into shame. Gotti's defiance of the FBI and gangster popularity was a media dream. They couldn't get enough of 'Dapper Don'.
     It was a mutual love affair. Either through luck or undeserved mercy, Gotti's ego, more inflated than ever, began playing tricks - tricks filtering into his psyche the law would never convict him. But Gotti's loose tongue, deadly as poison, is what destroyed him. An FBI tech squad installed wiretaps in an apartment above the Ravenite Club, where Gotti held secret sessions with the family. For months, the wiretaps recorded the boisterous Gotti, Gravano and consigliere, Frank Locascio, discussing evil works of murders and other felony crimes the clan committed. The FBI stormed the place in December, 1990 and proudly arrested Gotti and his crew. Although Gotti once proved invincible, the government possessed a secret weapon. Turncoat Sammy Gravano, the underboss, who confessed to nineteen murders, would betray Gotti and break the omerta silence by testifying against him in exchange for a mere five years in federal prison. On April 2, 1992, Gotti and Locascio were convicted in Federal court; Gotti convicted on all thirteen counts, including racketeering and five murders. Locascio was convicted on identical charges. Both were sentenced to life in prison without parole.
     Outside the courtroom, thousands of chanting, flag-waving Gotti supporters protested. Standing before nationwide TV cameras, James M. Fox, the head of the FBI office in New York, proclaimed, "The Teflon is gone … the Don is covered with Velcro and all the charges stuck."
     Soon afterwards, while in prison, Gotti's quest for 'power' never wavered. He appointed a commission to make his son, Jr. Gotti, the acting Gambino crimeboss to secure the Gotti's family position to receive a hefty share of the Gambino profits.
     Jr. Gotti was not a smart crimeboss. Stupid, amateurish mistakes befelled him. The FBI indicted him. Jr. Gotti pled guilty to federal racketeering charges in 1999, receiving six years and five months in prison.
     After serving ten years behind bars in Marion, Illinois, where authorities kept him solitarily confined twenty-three hours daily, the famous mobboss died of throat cancer at 12:45 pm on June 10, 2002 at the U.S. Medical Center for Federal Prisoners in Springfield, Missouri. Gotti was sixty-one.
     Even in death, many referred to Gotti as the last don because of his charming style, captured the imagination of the American public like no other mafia criminal; the icon of the American gangsters. Again, if it's true, legends never die, the legacy of John Gotti still lives - touching the souls of people from all walks of life, people who still respect and love him. Our moralist society may not accept it but Gotti's name has become as 'Americanized' as, guess what, "apple pie." Just watch TV. Daughter, Victoria, idolized the Gotti legacy when she started the new reality show, Growing Up Gotti. The popular show aired this past August has become a huge success, generating the largest A & E audience (3.2 million viewers). Unlike the Sopranos, the popular HBO series, which is about make-believe mafia guys, Growing Up Gotti is about real people who are descendants of a once real-life underworld legend, none other than "Teflon Don Gotti". Victoria Gotti told reporters she did the show to dispel rumors she's "the godmother" or that her family is the real-life Sopranos. "Look, I love my father and I love my family," she told AP news. "But the show is my life. I don't represent anyone else. It's about me and my children. I want to make sure they do good in life." Depending which version is accurate, either the glory days of the mafia are practically over, or the remaining hard-core Mafiosos are keeping such a low profile in fear of the mob rats lying in wait to help the law take away whatever life they have left. Yet there's evidence the American mafia isn't as dominant as it was decades ago. Rico laws and mafia informants have sent many gangsters to prison which damaged the mafia's entire infrastructure; betrayal has become a typical theme song of the Italian-American mob. To be a Mafioso today, some law enforcement says, is like joining "a dying breed of criminals." Referring to Mulberry Street in New York's Little Italy knowledgeable sources have lamented the fact the popular street isn't what it once was. These days what is seen on Mulberry are tourist from across the globe, the area is now a mall. Years ago, Mulberry Street was "Wiseguy Way" or no way, a place where real-life mobsters congregated, where crazy Joe Gallo got whacked and John Gotti ruled the land. The Bergin Hunt and Fish Club where Gotti ran the Gambino crew and hatched the plot to murder Paul Castellano has been subdivided into a butcher shop and delicatessen. Another famous place called the Ravenite Club in Little Italy frequented by Gotti is gone also. Ravenite Club is known throughout Gotti's history as the location where he popularized the "walk-talk" with confidantes is now a ladies boutique owned by a Hong Kong designer. Buried in a cemetery in Queens, New York, Gotti's tomb shares space with deceased Mafiosos like Carlos Gambino, Joseph Profaci, Carmine Galante, Joe Colombo and Lucky Luciano. Their graves are tourist attractions.
A Brief Commentary
     There's more interesting history about John Gotti's life that many people isn't aware of unless they've read the books written about him. Back in 2001, journalist Clarence Walker wrote a feature story titled Life Behind Bars, about John Gotti published on americanmafia.com. Gotti's popularity is so phenomenal, it's been three years since the story ran and I still get tons of emails from Gotti's fans worldwide expressing die-hard devotion for the deceased crime boss. Here's more of Gotti's history. Read on.
John Gotti Jr.
Guilty of Murder? Or Guilt by Association?
     Like father, like son. John Gotti Sr. was a convicted murder but John "Junior Boy" Gotti denies committing murder or that he commanded Gambino soldiers to kill for him. Federal authorities have a different story. They say, in fact, "Jr. Gotti is a murderer, just like his father." In the underworld, if a person is a mafia crimeboss, having rivals and enemies murdered or viciously assaulted is an act of doing brutal work in the business. Once 'Teflon Don' went to prison in 1992, his departure left the Gambinos desperate for a leader.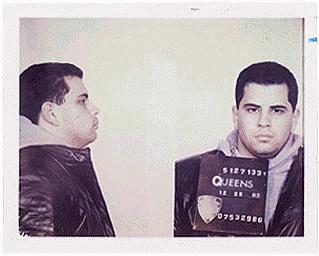 John Gotti Jr.

     "Make no mistake about it. Yet another generation at the top of the Gambino chart will be gone, whether you're John Gotti, Paul Castellano or John Gotti Jr., it doesn't pay to be number 1." Lewis Schilliro, acting director of the New York FBI office commented.
     Gotti's brothers, Peter and Richard, were nominated as the boss but veteran wiseguys deemed both unqualified. A prosecutor familiar with the Gambino operation expressed dim views of the Gotti clan. "Richard Gotti is an ex-garbage man and not the sharpest knife in the drawer." Gambino's Nicky "Little Nick" Corozzo and Leonard DiMaria were prime choices to replace Gotti Sr. but Teflon wanted Jr. Gotti to assume leadership. In a ceremonial mafia-style induction, years earlier, crime boss Gotti Sr. gave Jr. Gotti a special wedding gift (married April 22, 1990) when he enshrined his offspring into the Gambino mafia as a caporeigm.
     The intenseful debate to find a Gambino leader continued for months while Gotti, restricted to solitary prison confinement, often made phone calls to lawyers and confidantes to contact Gambino bosses to relay his commandments and decisions regarding the family business until the national mafia commission intervened. In a meeting held by Vincent "the Chin" Gigante, the Genovese crime boss, Gigante ruled that Gotti Sr. must abandon the Gambino throne. As thunderous voices rumbled throughout the session, again, to keep selected kinship in 'power', Gotti anointed Jr. Gotti as boss. This counterpunch repelled the mafia commission because they viewed Jr. as being no more than his father's figurehead, a gangster without street smarts. Some members even agreed with an organized crime writer, referring to Jr. as, "the poster boy for the Generation X mobsters."
     Depending on which underworld sources are true, to avoid a war, Gotti reportedly agreed to let Nick "Little Guy" Corozzo become his successor and have his son step down momentarily. Actually, Corozzo, a veteran gangster, like Gotti, came through the hard-knock ranks under Dellacroce. Corozzo was Gigante's choice to replace Gotti. He'd been indicted on federal racketeering charges with Dellacroce in 1985. "Initially, Nicky Corozzo did not want the job," an informant told the FBI. "But Peter Gotti called him and said, 'What are you waiting for? You deserve it.'" Corozzo took the job. Gotti's dominance persuaded the commission to obliged another decision to have Jr. Gotti maintain a supervisory position to assist Corozzo, brother Peter, and John "Jackie Nose" D'Amico to run the family and resolve conflicts over their joint rackets. Another reason many wiseguys did not want Jr. Gotti to succeed Gotti Sr. was that nepotism (favoritism) is frowned upon in mafia culture. The irony of Gotti's decision to appoint Jr. as boss was that Gotti himself disapproved when boss Carlos Gambino made Paul Castellano, his cousin, his successor. As crime boss, Corozzo's reign ended when the FBI nailed him on Rico charges in 1996. Corozzo's arrest gave leeway for Jr. Gotti to either become permanent or acting crime boss. FBI Agent Mouw would later comment, "John Gotti has done horrible things in his lifetime. He made lots of widows, but one of the worst things I saw him do was make his son acting boss. That was sealing his son's fate."
     Fate bestowed consequences upon Jr. Gotti when the FBI indicted him on racketeering and loan-sharking charges. Arrested on January 21st 1998, Jr. was later released on $10 million bond. On September 3, 1999, Federal Judge Barrington Parker assessed Gotti a term of seventy-seven months in prison.
     "I'm a man's man," the younger Gotti said in a hushed courtroom crowded with supporters and reporters. "I'm here to take my medicine."
     Following Jr.'s downfall, Gotti Sr. berated his son's "stupidity that led to his arrest" with profanity laced words more acceptable for a comedy script. During videotaped conversations between Gotti, daughter, Victoria, and brother, Peter, at Marion Federal Prison. He called Jr. an "asshole," "imbecile," and a "babbling idiot." Adjudging Jr. guilty of "stupid acts" for allowing the FBI easy access to nail him, Gotti said he should be sent to an "insane asylum." He pointed out to Victoria and Peter that only a "crazy" man would leave (in a basement) a list of names, a list bearing Jr.'s prints, the names of men inducted into the Gambino mafia. "This is stupidity down the line," he decried. See americanmafia.com (Clarence Walker's Gotti feature) for more details about Gotti's tirade against Jr. Gotti and Carmine Agnello, Victoria's husband. Apparently Gotti's memory failed to remind him it was either stupidity or being unconcerned about serious consequences that he was responsible for his son's arrest when he inducted him into the mafia. Evidence shows it was Gotti's boisterous mouth and defiance of law enforcement that brought him down and the hierarchy of the Gambino family.
     Previously scheduled for release from federal prison on September 7, 2004, federal authorities in July gave Jr. Gotti a 'bad' surprise, announcing new indictments against him for attempted murder of guardian angle founder Curtis Sliwa, securities fraud, extortion and loan sharking, including two murder conspiracies. Gotti's lawyer says, "There's not a thread of evidence to connect him with the new charges except for the hearsay information by FBI informant Michael (Mikey Scars) DiLeonardo."
     Gambino soldiers, Joseph "Lil Joseph" D'Angelo and Michael "Mikey Y" Yannotti and Louis "Louie Black" Mariani, were also indicted in the Sliwa's assault. FBI sources have reported that Nicky Corozzo, former acting Gambino crime boss, and highly-respected Capo who recently finished serving a racketeering sentence in June, 2004 will possibly be indicted along with Gotti in the Sliwa's assault including murder conspiracies. Manhattan federal prosecutors declined comment about new possible indictments against Corozzo and other names mentioned.
     The FBI says there's evidence to prove Jr. Gotti ordered crew members "to teach (Sliwa) a lesson" for berating the now deceased Gotti Sr. as a low-life gangster who deserved life in prison for racketeering and murder. Sliwa was shot and critically wounded by two men who picked him up in a stolen taxi cab outside his East Village apartment for transport to Sliwa's early morning, WABC radio talk show on June 19, 1992 - four days before Gotti was sentenced to life in prison without parole.
     Sustaining three shots (both legs and back), Sliwa underwent operations to repair internal damage. Miraculously surviving a life-threatening attack, still undeterred, the outspoken Sliwa went on radio accusing Jr. Gotti responsible for the assault. Federal indictments identified Mike Yannotti as the person who shot Sliwa and Joseph D'Angelo as the fictitious cab driver. Both men became 'made men' into the Gambino clan after shooting Sliwa. FBI informant, Michael DiLeonardo, fingered Jr. Gotti and Nick Corozzo as the supervising culprits in Sliwa's attack. Questions should have been asked if known: Why was Yannotti allowed to become a permanent Gambino wiseguy after shooting Sliwa, when, in fact, he murdered two Gambinos in a drug deal? Newly discovered evidence obtained by authorities connects Yannotti to the murders that occurred on January 27th 1996. Gambino associates, Robert Arena and Thomas Maranga, both twenty-six, were murdered as they rode together near Brooklyn, New York.
     Maranga, a real-life gangster, played a bodyguard in the movie Bullet, an action flick released after he was murdered, starring Mickey Rourke and the late Tupac Shakur. Police found a pager belonging to Yannotti near the crime scene which made investigators suspect him of being involved. Now, there's a rat singing for authorities to finger Yannotti as the actual killer. More on this later.
     For Sliwa, indictments against Jr. Gotti are a vindication of a twelve year struggle for justice. "I hope to live to see them all go straight to hell," says Sliwa. Although pleased with the indictments, the Guardian Angel founder says he knows his life is even more in danger and has hired a bodyguard. "I know ... I've got a huge target on me now," Sliwa told reporters. This guy (Jr. Gotti) has been indicted and facing the rest of his life in prison."
     When Victoria Gotti heard Sliwa accusing her brother and family of targeting him for a mob hit, she gave New York columnist Ben Widdicomb an unflattering quote during the launching of her TV Show, Growing Up Gotti. Obviously referring to Sliwa's fabrication of heroic rescue efforts as a Guardian Angel, the mob boss daughter said, "You got to look at Sliwa's record. He's a storyteller." As an insult to Gotti's mafia legacy, after he died in 2002, Sliwa dishonored the "Teflon Don" with these sarcastic words, "Goodbye, John, I wish you burn in hell!" Accusations and indictments aside, let's analyze the pending evidence gathered so far against Jr. Gotti to determine either more than likely or not if he's a murderer as the law says he is. The FBI has accused Gotti of orchestrating the murders of Thomas and Rosemary Uva including the attempted murder of Sliwa and another wiseguy. Gotti and co-defendants has pled not guilty.
Tape Recorded Conversations:
Proof Of Guilt Or Speculations
     FBI authorities said that on December 24, 1992, Jr. Gotti, with blessings from imprisoned father, Gotti Sr., authorized the brutal execution of Thomas and Rosemarie Uva. Gambino and Bonnano clan accused the couple of robbing numerous social clubs in Brooklyn and Manhattan owned by the families. The FBI has reported having witnesses including informant DiLeonardo to connect Gambino soldiers Dominick (Skinny Don) Pizzonia and Ronald (One Arm) Trucchio as the gunmen hired by Jr. Gotti to kill the couple near the Ozone Park area.
     According to FBI reports and gangland news, the FBI tape recorded several of Gotti's prison conversations during visitation with relatives and associates. Affidavits filed by FBI Agent Gerard Conroy details this recorded conversation. Conrad wrote, "Jr. Gotti stated that if 'DeLeonardo tells the authorities the truth, the Gotti's are finished'." Information obtained from FBI affidavits filed in federal court in Albany, New York and gangland news sources, Jr. Gotti, during another recorded conversation mentioned he'd consulted an attorney to negotiate a plea bargain regarding allegations of the alleged murders and the attempted murder of Curtis Sliwa, charges leveled against him by turncoat DiLeonardo.
     Gotti allegedly said he would cop for ten years to settle any forthcoming charges. If, in fact, true, Gotti's willingness to cop a plea to such charges before the FBI actually filed the charges suggests guilt or guilt by association with the mafia turncoats whose purpose is to implicate anyone targeted by federal authorities to get a reduced sentence for crimes they committed.
     Throughout tape recorded conversations from March 2003 through July 2003, Jr. Gotti berated his uncles, Peter and Richard Gotti, for disloyalty to Gotti Sr. He said both uncles promised his father as he lay dying of cancer they would support his widow, Victoria, Jr.'s mother, and daughters. "All those promises were lies."
     Recorded tapes further captured Jr. complaining that the Gambino family was in disarray, eaten from inside and out by mob rats and "pieces of shit", out to make an easy buck. "There's no real men left."
     Castigating himself for being a Gambino Mafioso, Gotti stated, "I'd rather be a Latin king." Another mob rat also connects Gotti with murders.
     According to Salvatore "Good Looking Sal" Vitale, a Bonanno (turncoat) underboss, said Gotti told Bonanno crime boss, Joe Massino, that contrary to what he'd heard that Bonanno soldiers, Anthony "Lil Anthony" Donato and Vincent "Vinny Gorgeous" Basciano had murdered the Uva couple was not true.
     Claiming guilt, Gotti reportedly told Massino, "We (Gambinos) took care of it," according to FBI informant, Sal Vitale. It's worth noting that during the FBI's recorded investigation, Jr. Gotti denies involvement in the murders. He never outright confessed to any crimes though authorities insist that Gotti's inferences about the suspected crimes corroborated information provided by informants which directly connects him.
     On September 5th 2003, Gotti told associates that he was not responsible for the murders. He accused Bonanno consigliere, Anthony Spero, and Gambino Capo, James "Jimmy Brown" Failla of having the Uva's murdered because the Uva's robbed clubs owned by Spero and Failla. Worried about facing prosecution for the murders, based on hearsay info provided by DiLeonardo and Vitale, Gotti conceded the feds "might indict him because of his name." He further admitted turncoats, DiLeonardo and Sal Vitale, are valuable government weapons against the Gambinos. Authorities are stacking the deck against Gotti as witnesses exposed other murder plots.
     Informants told the FBI that Gotti attempted to kill mob associate James "Jimmy Easy" Saracco when he rebuffed Gotti to move his gambling and loan shark operations out of Gotti's Howard Beach and Ozone Park area. Saracco was a member of the DeCavalcante mafia. Initially unable to whack Saracco, a group of Gotti's clan finally collared Saracco at Cross Bay Boulevard and beat him almost dead. Now Saracco, an FBI informant, age forty, will testify against Gotti. Arrested for extortion and other felony charges while on parole, Saracco began cooperating to stave off a long prison sentence.
A Cold Case Investigation
     In a cold case homicide probe, the FBI and Manhattan's D.A. office are also investigating the possibility that on March 13th 1983, Jr. Gotti, engaged in a club brawl, stabbed a man to death. Details are sketchy but the FBI insists Gotti is responsible for the murder. The Manhattan D.A. office declined comment. More details from americanmafia.com about this low-key homicide probe are forthcoming as developments are reported.
     Another probe has surfaced among the pending allegations. The FBI is currently investigating Gotti's involvement to kill a prison official. A FBI spokesman issued a news release this year implying that the Gambino mafia targeted Warden Bill Hedrick. Warden Hedrick ran the Federal Prison Hospital in Springfield, Missouri where Gotti Sr. died of cancer. Numerous litigations filed by the Gotti family against the warden complained of inadequate medical treatment for Gotti Sr. They sternly alleged that the prison's policy of keeping Gotti in solitary confinement without proper treatment would cause imminent death. Relatives said the cancer started when prison officials left an untreated abscess in Gotti's mouth. When relatives and family lawyer pleaded for authorities to allow the specialist John had used in the free world for dental work to visit the prison and treat the severe infection, the request was denied. A testament of Gotti's human compassion while preparing to undergo cancer surgery, he lamented, "Better me than some poor kid."
     Word of the plot to harm the warden surfaced in 2002 during the racketeering case against Gotti's brother, Peter. The FBI reported that the reason Jr. Gotti wanted the warden "whacked" was because of mistreatment of his father while suffering from cancer and eventually died. Prison officials declined comment.
Attorney Claims (FBI) Foul
     Attorney Gerald Shargel once said, "There seems to be a scorched-earth policy against the Gotti family."
     Jeffrey Lichtman, Jr. Gotti attorney, accused the FBI of contriving the current charges against Gotti to fulfill a goal of destroying the Gambinos. Lichtman told reporters that Gotti "had nothing to do with the Uva slayings or any other crimes lodged against him. Gotti was overheard speaking about the murders only because federal prosecutors mentioned the murders during my efforts to negotiate a plea bargain before the indictment was filed." Lichtman vilified prosecutors saying, "The charges were invented by the government. There's no evidence to back it up and John Gotti Jr. denies it."
     When a reporter asked Lichtman, "If Gotti was innocent, then why seek a plea bargain?" the abrasive attorney responded, "The government somehow leaked information of bringing a case and John knows, having the name of Gotti, it's not easy to get a fair jury trial." Lichtman added, "It was the feds who played dirty and undermined the legal process, not Gotti. It's very difficult," Lichtman explains, "to negotiate a fair plea bargain when the government is nearby listening in on your client's legal strategy." Referring to FBI recorded conversations of Gotti discussing the informants' allegations against him, Lichtman says, "My client's words were those of a desperate man willing to start a new life. Words he spoke on tape are not the words of a mafia capo or boss." Lichtman insists, despite the fact the FBI recorded Gotti's conversations for over a year, "Not one time did Gotti confess he committed murders or the shooting of Curtis Sliwa."
Epilogue
     As Gotti sits in a cell reserved for terrorists (without bail) charged with multiple federal crimes - murder, attempted murder and racketeering - he's facing up to 130 years in prison, which means Gotti's future is uncertain. If, in fact, he's innocent, can anyone named Gotti get a fair trial or perhaps beat the rap? On Wednesday, October 6th 2004, Magistrate Judge Frank Maas in Manhattan, New York Federal Court, ruled that Gotti remain in jail without bail on the new charges. Rejecting Gotti's request to post a $10 million bail, Maas expressed doubt about Gotti's clam of defecting the mafia to write children's books. "My son is innocent," Gotti's mother, Victoria, told New York Daily News reporters. "It's frightening the government will call "crybaby" cowards ... caught in their own nefarious deeds to send someone away for life." During one of the tape recorded conversations, Gotti reflects upon life's harsh reality in the Gambino family. He spoke disappointedly about father, John Gotti Sr. "My father loved me, but how much love to bring me into this life." In a humble-toned voice, Gotti dispensed brotherhood advice to friend, John Ruggiero, about organized crime. "Don't get in the mafia," he warned Ruggiero. There's a biblical saying, "What a man soweth is what he shall reap." Now harvest time has been sowed and someday life's consequences will meet its fate. Like father, like son, the Gotti legacy still lives on.
The End
P.S. Any comments? Give us your thoughts. Contact author, Clarence Walker, at mafia101@myway.com or cwalker261@excite.com.
Important warning: In accordance with federal law, Title 17 U.S.C., Section 107, the entirety of the material in this story is not for reprint or distribution. Such action violates copyright laws and constitutes plagiarism. Thereby use of material without prior consent from the author, credited news sources or publishers of americanmafia.com and its news media affiliates are prohibited.
Sources and quotes used for this story include:
1. New York Daily News
2. New York Post
3. Gangland News
4. FBI Pres Releases
5. americanmafia.com
6. Mafia Historical Archives


&copy 2004
---