As many of you know, the first ever national gangster history convention was held outside Chicago on September 10, 11 and 12. I am proud to have been involved with the planning and promotion of this unique event. The Golden Age of Gangsters was the brainchild of Harry Lawrence, a hulking tatoo artist who looks like an enforcer for the Hell's Angels. Harry is from Greater Cleveland and put in a tremendous amount of time and effort to bring his vision to life. He has a longtime interest in organized crime history and operates Mob Wear Clothing.
     Harry, his wife and his crack crew came in two days early and did a superb job setting up the room which was complete with appropriate displays, whiskey barrels and old photographs. There were about fifty vendors on hand—too many to mention in this short piece. They came from as far as Liverpool, England.
     Guests came in from surrounding states and even Canada. Many of the conventioneers were authors like Rose Keefe who just released Guns and Roses, the story of Dion O'Banion, Patrick Downey who penned Gangster City and Chicago crime historian John Binder who wrote The Chicago Outfit. Rick Mattix, author of Public Enemies: America's Criminal Past and Thompson Submachine Gun expert was there along with his wife Linda, a real pistol. There were producers, crime experts, lecturers and a representative from the Chicago Police Memorial Association. A tour company was on hand offering rides to the St. Valentine's Day Massacre location and other historic Chicago crime sites. Gangster era collectors displayed or sold memorabilia like photos and documents, Detective Magazine articles, bricks from the old Lexington Hotel where Al Capone had his headquarters and even the notorious mob boss's scarf. Sam Giancana's daughter Antoinette (portrayed by Susan Lucci in Mafia Princess) was on hand to sell her pasta and sauce.
     The AmericanMafia.com table was across from the lovely Georgia Durante, former mob wife, stunt car driver and author of The Company She Keeps, and talented artist Michael Bell, who has a sideline painting organized crime figures and mob actors. Actors on hand included John Fiore and Joe Gannascoli. John has had roles on Guiding Light, Law and Order, Meet the Parents and Sopranos. Joe currently plays Vito Spatafore on Sopranos. And Clem Caserta (A Bronx Tale) was on hand too. Some of the actors and producers had televisions set-up playing copies of movies, trailers, documentaries and biographical sketches. At times it seemed there was some competition for audio space. The winner, ironically, was Jimmy Whispers's crew with their infinitely looped copy of A Bronx Tale—the typical conjugations of the all-purpose curse word slicing through the room every minute or so.
     The Sopranos crew was kept busy posing for pictures with guests purchasing autographed still shots of the show. My table wasn't as busy as the Sopranos but I did have a few people who wanted to take pictures with me too. Actually there was just one. Well actually the guy didn't want to take a photo with me. He asked me to take a picture of him with Georgia Durante...
     And of course how could you leave out wiseguy-turned funnyman and actor Big Frank D'Amico. Unless of course you didn't have room. (Frank is bigger than JoJo the Whale.) But he's got a big heart and brought big laughs to our section of the room throughout the weekend. Oftentimes at my expense. (He sat directly across from me.) Frank signed copies of his new book Stand-Up Guy and did his routine after the convention Saturday night. Frank likes to make fun of mobbed-up tough guys but I'm sure he was a no nonsense player in his day. Frank had a freak accident outside the convention hotel. Some guy ran over his foot with his tire! Big Frank pulled the offender right out of his seat and wound up pummeling the guy—damned near to death. But again, Frank's got a heart. When the beating was over, he was nice enough to help the guy back into his wheelchair…
     I had a ball, met a few readers and a few more AmericanMafia.com visitors and made a lot of friends. Harry Lawrence is already scoping out venues for the next one. Word is we might be moving in on the Big Apple in 2005. You'll find out at AmericanMafia.com.
RP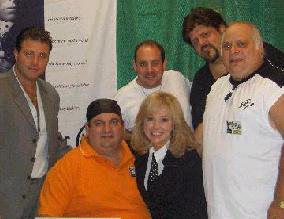 Michael Bell, Frank D'Amico, me, Georgia Durante, Harry Lawrence (in next to me) and Pat Reale, Frank's manager.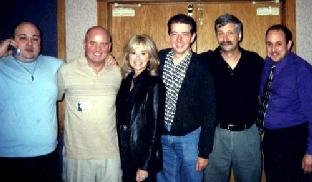 Dominic Capone, Detective Magazine writer Tom Prior (from Liverpool, England), Georgia Durante, Pat Downey. John Binder, me.
| | |
| --- | --- |
| | |
| A Capone collectible for sale. | Best-dressed-guest? |
| | |
| --- | --- |
| | |
| With Rose Keefe. | Capone collector Mario Gomes. |
Antoinette Giancana with
Big Frank D'Amico.
With actor John Fiore.
The Sopranos table. John Fiore and
Joe Gannascoli.
Georgia Durante snags two, young
dapper guests. Lucky them!
Georgia with friend Tommy.
Actor, writer, producer Michael Cipiti
working the door.
With Michael Bell.
An impromptu aria. A guest
(and impressive tenor!) serenades
Ms. Giancana. Frank D'Amico impatiently
waits to finish a joke.
| | |
| --- | --- |
| | |
| Rick Mattix. . | Me, Harry Lawrence (right) and one of his Harry's Henchmen. |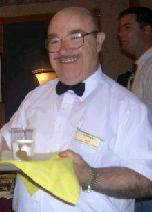 No, not Paul Ricca, but everbody's favorite waiter.
&copy 2004
---