Al Guart, New York Crime Journalist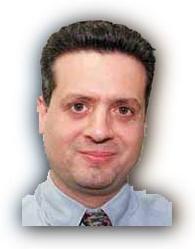 ---
Al Guart is a crime journalist and reporter from the New York Post. Al's coverage includes terrorism and organized crime. This is one in a series of regular columns by him, exclusively for AmericanMafia.com.
---
JOHN GOTTI WRITES
By Al Guart
---
     My pager went off one evening last September, revealing an unfamiliar name and phone number. At the time, I was hoping for a good tip after penning a story for the New York Post that revealed John Gotti was stricken with throat cancer. In tabloid journalism, you keep the story going - or your competitors will. I dialed the number.


     On the other end, a street-wise black man from The Bronx asked me for Gotti's new address at an Illinois medical prison. He said he wanted to send him a get well card and a book on boxing. I was intrigued. Why would a black guy care about a white, imprisoned- for-life mob boss?


     Thomas Staple Summers explained Gotti was a hero to many blacks because he stood up to the establishment and never backed down. He said Gotti was an inspiration to him when he did time for a crime he declined to shed light on. He said that he returned to his cell in 1992 and wept when he learned Gotti had been convicted. ``You know, in the pen you can't be seen cryin','' Thomas said.


     Then Thomas revealed he had exchanged letters with Gotti. I had never heard of a letter from Gotti being made public and wondered whether the so-called ``Dapper Don'' had a little-known pen pal pastime. We set up a meeting for the next day but Thomas flaked out. A few days later we met, and with great trepidation, he showed me the original handwritten letter and envelope sent by America's modern Mafia legend. It was sent from prisoner number 18261-053 at the U.S. Penitentiary in Marion, Ill. on Nov. 7, 1997.


     It was clear Gotti wrote in response to Thomas. His point-by-point letter covered many topics. He dubbed informant Salvatore ``Sammy Bull'' Gravano a ``yellow dog'' and insisted ``You can't make a guy a rat. Rats are born, not made.


     ``As for that punk dog Sammy, he was never was one-tenth of what he made himself. Just a scared weasel,'' Gotti declared.


     The reputed head of the Gambino crime family denounced as cowards a group of New York cops accused of torturing a Haitian immigrant with a plunger. ``Just another case of scared cops gang-abusing a harmless man. One on one they will run every time,'' Gotti wrote.

     ``Doing what they did with the plunger handle is a perverted, degenerate act,'' he opined. ``Yet the ...public stands still.''


     The 58-year-old reputed gangster backed embattled boxer Mike Tyson, saying he'd lost a bet on a bout with Evander Holyfield. ``I lost 500 push-ups on it,'' he recalled.


     Gotti held out hope that his court appeal would spring him from prison and referred to federal law enforcement as the ``rat government.'' And he attacked the media for being under the government's spell, writing one-sided stories complete with the most unappealing photos. ``Too bad more people aren't wise to this,'' Gotti wrote. At first I disagreed, but then I realized how many of my colleagues parrot any allegation made by law enforcement with little forethought, balance or due diligence.

     John Gotti struck out at the government's pursuit of his family, saying, ``You're right about them trying to (mess) with my family. But they're of good stock - and we're ready.''

     Jumping easily from one topic to another, the man once called the ``Teflon Don'' for his ability to beat criminal charges kept upbeat, even stating he felt ``like a twenty-one-year- old.''

     Reading the letter, I caught a glimpse of Gotti, the man, defiant, sitting in his nine-by- five prison cell for 23-hours-a-day. Still thumbing his nose at the feds like he did when he was out on the town, donning expensive suits and popping out of limousines. But now, instead of upscale Italian restaurants, he ate alone the cafeteria food brought to him in a plastic tray. He still placed bets on sports games, but not with untraceable cash. His wagers were now backed by the currency of prison, push-ups.

     From the bleak desolation of his cell, Gotti was moved by a down-and-out ex-con's letter with a Bronx postmark. From his pent-up world, Gotti reached out to a kindred spirit. He left no trace of regret for the way he lived his life. No remorse, no surrender. His closing words: ``Stay strong and feel as good as I do. We can't lose.''


     But with every stroke of his pen, Gotti was keenly aware authorities read all his mail and record his every word. If harsh prison reality had him, he wasn't going to let the ``rat'' government in on it. He wouldn't give them that satisfaction. His missive was just as much a message to his voyeurs as it was to his newfound fan. I could almost picture Gotti, with a menacing sneer, pounding his chest and reciting for his ever-present audience the words of rap pioneer M.C. Hammer: ``You can't touch this.''

---