---
Steve Miller is a former Las Vegas City Councilman. In 1991, the readers of the Las Vegas Review Journal voted him the "Most Effective Public Official" in Southern Nevada. Visit his website at: http://www.SteveMiller4LasVegas.com

---
Mike's journey from the little house to the Big House

INSIDE VEGAS by Steve Miller
AmericanMafia.com
July 30, 2007
.
Officer Mike McDonald Officer McDonald's old house
Councilman McDonald makes a new friend Councilman McDonald's new house


LAS VEGAS - Ex-Las Vegas City Councilman Michael J. McDonald is currently the subject of an IRS
tax fraud investigation. A federal grand jury will convene in several weeks to hear the government's case against McDonald. An Indictment is expected soon thereafter.

But like Al Capone, an IRS investigation is just the tip of the iceberg.

While he sat on the city council between 1995 and 2003,
McDonald was
best known for being the pawn of two topless bar owners, and doing the bidding of a shady golf course developer and the local trash collection company. In eight years, he went from a $42,000 per year cop to a multimillionaire real estate developer/business consultant though he never built anything other than his own $1.75 million dollar residence, and his only known consulting job was for a little known topless joint called Pleasures that reportedly paid him $30,000 per month for his "consulting services." Now the Feds want to know how he did it?


Until he was ousted from the council in 2003, the popular McDonald was considered Las Vegas' golden boy of politics. Then a bleached blond, he was often mentioned as being future mayor or governor material, was an accepted member of Vegas high society, and a member of the exclusive House of Blues Foundation.

In the meantime, he was working his old job as a bicycle cop for the Las Vegas Metropolitan Police Department, but his years on the force were about to come to an abrupt end when the Sheriff learned of his connections to organized crime.

While a cop, McDonald was accused of using his position to help his high school buddy, topless bar owner Rick Rizzolo.
This soon led to a $5,000 per month "consulting" gig with Rizzolo's Crazy Horse Too, the free use of a villa on the Canyon Gate Country Club,
unlimited guest privileges at Rizzolo's $3 million dollar beach front estate in Laguna Beach, and full comps at Piero's in LV and the Ritz in Newport Beach. (Piero's and the Ritz are owned by Freddy Glusman who is listed as a partner in a land deal with the husband and son of current LV Councilwoman Lois Tarkanian.)


Rick Rizzolo in June 2006 was sentenced to one year and one day in Federal Prison for racketeering and tax evasion.

(AmericanMafia.com photo by Chris Christoff)

The million dollar villa was owned by Tony Tegano, the father in law of Rizzolo's closest friend Joey Cusumano -- a member of Nevada's Black Book. (Tegano is also listed as a partner in a land deal with Councilwoman Tarkanian.)


"McDonald is always at the Crazy Horse on Industrial Road with Rizzolo. He is able to entertain his fellow officers who target the other strip joints," stated a 1998 letter to the LVMPD Internal Affairs Bureau.
But that didn't faze McDonald. In 2000 he even went so far as to refer to Rizzolo as a "Pillar of the community" at a council meeting.


For the $5,000 a month and the free luxury digs, McDonald harassed nearby club owners, especially Mike Galardi and Ray Pistol. He also mounted a campaign to force Rizzolo's next door neighbor Buffalo Jim Barrier to move out of his auto repair business of 30 years so Rizzolo could expand into his space without having to pay to buy out the lease

McDonald's first big mistake was when he attempted to squelch Presidential Advisor Sig Rogich's plan to convert his office building property into a competitive gentleman's club called Treasures.

McDonald dispatched city workers to measure the distance between Sig's property and the nearest school hoping it was too close and would stop the issuance of a business license. When that failed, McDonald helped Rizzolo's sister Annette set up a phony church across the street from the property in order to kill the project.

When this was revealed in the local press, Sheriff Jerry Keller told the LV SUN:
"
We felt the crimes had been predicated, and the probable cause shows that they were
."
However,
the District Attorney refused to prosecute which has been the norm in all cases involving Rick Rizzolo for many years.

McDonald resigned from the police department a few months prior to the Rogich story going public.

Instrument: 19990802-00466 Book/Instr: 19990802 / 466
Document Type: Oath - Revoke, Recorded: 08/02/1999 10:07:59
ReRecorded: N Remarks:
Requestor: METROPOLITAN POLICE LAS VEGAS
1st Party: METROPOLITAN POLICE LAS VEGAS
2nd Party: MCDONALD, MICHAEL J
After leaving the P.D., McDonald tried to set up his own City Police Department by hiring all his high school buddies as Marshals. This put him in the cross hairs of Mayor Oscar Goodman who wanted full control at City Hall.

In the meantime, several friends and I started a "Recall McDonald" campaign.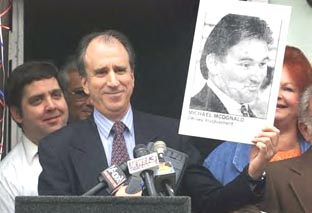 Steve Miller

holds a photo of Las Vegas City Councilman Michael McDonald on Thursday as he plays "Ring of Fire" by Johnny Cash on a tape recorder during a news conference. The conference was called to announce a recall effort against McDonald.


(Photo by Steve Marcus -

Las Vegas SUN)

One evening during the period the City was considering McDonald's new police department idea, a boozed up Goodman was caught by a local TV news crew as he left a social function. Goodman called McDonald a "government rat," a "wimp," the "lowest form of human being," and a "sleazeball," adding that he had "no use" for McDonald and was "going to get rid of him."
Several weeks later, Goodman signed my Recall McDonald Petition.

The recall failed after a box containing several thousand signed petitions turned up missing. The volunteer who had possession on of the box was never heard from again.

Knowing McDonald's council position was secure, Rick Rizzolo arranged a meeting of his two close friends and asked them for a truce. Shortly thereafter, McDonald and Goodman teamed up to intensify the harassment of Buffalo Jim Barrier and Mike Galardi.
Three years later In 2003, in respect to Rizzolo's truce, Goodman placed a "Re-elect McDonald" sign on his front lawn next to his own, and endorsed Rizzolo's lap dog.

During the election, I worked to convince voters that McDonald was a stooge for Goodman's former and current criminal defense clients including Rizzolo and golf course developer Billy Walters. He lost the election. On the eve of his defeat McDonald draped himself in the American flag and sought solace from his mentor.


Now the IRS is looking into Mike McDonald's finances. They even went so far as to reportedly use the Patriot Act to accomplish their goals. But one of the most intriguing aspects of this case came in testimony during the "Operation G-Sting" trial when Mike Galardi told the jury that he had been "bribing" McDonald $5,000 per month while he was on the city council. Galardi was later sentenced to thirty months in Federal Prison for bribing public officials in Las Vegas and San Diego.


Mike's Rolex McDonald and Galardi in San Diego

According to sources close to the investigation, Galardi in 2000 became sick and tired of being harassed by the City at the behest of Rizzolo/McDonald. He decided, as the old saying goes, "If you can't beat em, join em," and started paying McDonald tribute along with awarding him a Rolex President watch with a diamond bezel worth over $25,000.



Other bribes were suspected of coming from the trash company and a golf course developer though this information has yet to be confirmed.

When McDonald championed Republic being awarded a five-billion-dollar exclusive franchise two years before it was due for renewal, and without allowing competitive bidding, I filed an ethics complaint against him because he accepted at least $30,000 in campaign contributions from persons associated with the firm.

Five billion dollar exclusive franchises don't come cheap.


(Photos by
Las Vegas Review-Journal
)
Steve watched as Councilman McDonald was questioned by the State Ethics Commission about favors he did for Republic Silver State Disposal. Following the hearing, McDonald showed anger because the Commission found
probable cause
to conduct a full hearing.





Though the complaint put a spotlight on McDonald's questionable behavior, he was found innocent of all charges.

(LV SUN photo

)



Four years after being removed from public office, a much heavier Michael McDonald is facing the fight of his life. As he knows all too well having been a police officer, the Federal Government, especially the Internal Revenue Service, does not launch an exhaustive highly publicized investigation and impanel a grand jury unless they have hard evidence. The Feds don't like to be embarrassed.

I'm sure they're looking into that $30,000 month "consulting" contract, and whether it constitutes the laundering of pay off's for his service to to the trash company or golf course developer.

Also, his journey from that 1,095 sq. ft. bungalow on Carmen Blvd. that he shared with his parents until 1999, into his current 5,676 sq. ft. custom house he built on the corner acre at 2520 Pinto Lane, has got to have piqued the interest of the IRS.

In the modern day world of Sin City, I'm sorry to say the saga of Mike McDonald is not an anomaly. However, based on his years as a cop, and his knowledge of how ex-cops fare in prison, it will be interesting to see if he cuts a deal with prosecutors.

If so, with McDonald's help, the "Big Fish" the Feds have been after since 2002 may soon be in their net. And Rick Rizzolo may soon be joined by some old friends at the Big House.

Copyright © Steve Miller
---
* If you would like to receive Steve's frequent E-Briefs about Las Vegas' scandals, click here: Steve Miller's Las Vegas E-Briefs
Copyright © Steve Miller

email Steve Miller at: Stevemiller4lv@aol.com

---