* * *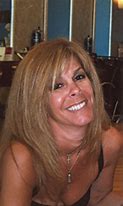 Maria Stewart
There have been a few books and films made from a women's point of view when it comes to the mob yet with the story that Maria Stewart lays out for us it is quite different and compelling with a dark history behind it. Books written from a women's point of view include Antoinette Giancana and Rosalie Bonanno one the daughter of a mob boss and the other a wife of one. Maria was neither and was an outsider looking in. Her aunt Theresa Ferrara was in the thick of the mob while Maria, only 18 at the time was somewhat of a spectator.
Maria was the niece of Theresa Ferrara. Theresa was in deep with the infamous Robert's Lounge crew of Henry Hill, Jimmy Burke and Tommy DeSimone. It wasn't the best crew to be connected to but Theresa was a wild one and was attracted to that crowd. She ran around with them and was allegedly dating Tommy D or Angelo Sepe. She was privy to some of the action these criminals dabbled in and that may have resulted with her demise at their hands.
Her demise unraveled on February of 1979 when she answered a call at her salon Apple Haircutters. She was told she can make a quick score if she met someone at a specific location. The last person she spoke to was her eighteen year old niece, Maria. Theresa left to never be heard from again. This of course was a traumatic event for the young Maria. Her disappearance triggered Maria to question it and investigate what happened.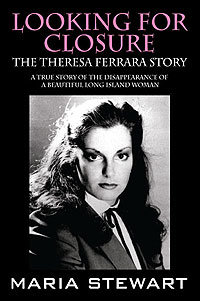 Looking For Closure
The Theresa Farrara Story
At the time she received very little information. Hence, that is when she decided to do her own leg work and began to gather details and as the years passed and with the advancement of technology she was able to help her research. In her book,
"Looking for Closure: The Theresa Ferrara Story"
she breaks down the story and her journey for the truth.
"We were like sisters than niece and aunt. I found out after she disappeared that she was involved with the wise-guys responsible for the Lufthansa heist. It was amazing to me that the FBI could not help, her murder and many others at the hands of these men who are glorified on film. None of these murders were ever solved or the money ever found."
It was believed that after Theresa was caught with cocaine in a club the authorities offered her an opportunity to either relay info on the crew or go to jail. She obviously was up against a wall and had no other alternative. This can be one of the possibilities for her disappearance. Maria of course wanted to get to the bottom of it hence she began her mission on her book.
Maria already had a book signing and has been interviewed on shows like The Book Review and the Village Connection. Currently she is working with director Sal Rinella (Good Friday) to bring the book into script form. They currently have a screenplay and are working on getting it into a major film.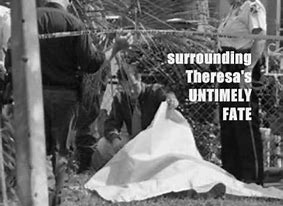 Click image for short video
Her goal is to expose a true story from a woman's point of view connected to the underworld. She would like to take the earnings from the book and open a foundation in her aunt's name. It's a riveting book with information that would be new and shocking to anyone who followed the Lufthansa case. Look for her book on Amazon, Barnes & Nobles and anywhere books are sold.