* * *
Dual Mission was written after Playboy magazine did an exclusive on my prepaid calling card investigation, which was featured in the September 2014 issue. Although the story had some great highlights, there were a few key investigative points that were not completely accurate. Nonetheless, at the time, I was so excited that they were writing a story about my work as a special agent, I didn't bother to push back...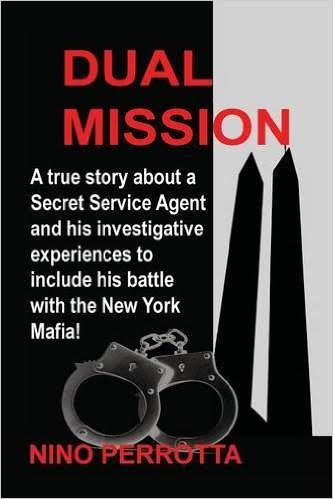 Dual Mission
So I wanted to set the record straight on both the challenges I personally faced as a young agent who was completely dedicated to working investigations in NYC for an agency; United States Secret Service that had a primary mission of protecting the President of the United States of America. I also wanted to explain the great work we accomplished during a period of time that was not only in the past but gone for ever since our office was destroyed years later by the horrific act of September 11, 2001.
So with a great deal of fortitude and commitment, I embarked on making cases wherever and whenever possible. The investigation into low-level mobsters and associates of the Gambino Crime Family started with my contributions as a task force member to the New York State Organized Crime Task Force and later when asked to re-join the team as a special agent where the focus was on John Gotti "junior". These accomplishments were all to me a total dream come true since as a young child I dreamed about being a mob buster since my personal exposed to the elements of La Cosa Nostra at the family business left a bitter taste.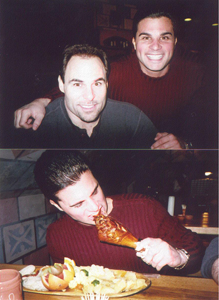 Nino & fellow Agent in Hungary
The book weaves the reader from my time in Sofia, Bulgaria fighting Russian and Bulgarian organized crime to my mom and dad's "Salumeria" Deli to various cases along the way. But the meat of the book is the challenges I faced with balancing the dual mission of the Secret Service. A secret, you cannot do both well. Many want to say it is possible and I am telling you it cannot be done. Today more than ever with cyber security and the financial fraud to include counterfeiting all being perpetrated at lightning speed across a borderless arena cyber space, you cannot be a "jack of all trades" and expect to successfully investigate such crimes...
Dual Mission provides the inside look at what really happened during the Gambino crime family investigation that basically started as a low level gambling case originally focusing on a target known as Lenny Minuto a Lucchese crime family associate. In 1993 there was a great deal of "fall out" regarding corruption within the boxing world and the tight grip the Gambino's had of the sport at one time and how they wanted to regain that hold.
Initially the Secret Service unsuccessfully tasked two seasoned agents to look into the prepaid calling card evidence that was provided by Ercole "Echo" Guadioso of the New York Organized Crime Task Force. Echo in frustration called me in confidence and asked me once again to push the New York Field Office to allow me to handle the case. He wanted me back on the case and both Vince Heintz and Echo wanted the Secret Service to join in the battle with organized crime.
Within a short period of time on the job, the Secret Service top brass were already looking at me as a "up and coming" star and with that credibility in place, I was able to walk in to my immediate supervisor's office Assistant to the Special Agent in Charge Marty Walsh's office and successfully pitch the case and allowing me to run with it. WALSH a great man who had trust me, gave me the green light to proceed and I honestly never looked back.
Within months I had recreated the fraud scheme, identified witnesses and also provided necessary support to other elements of the case. I recall that one day when Special Assistant United States Attorney Vince Heintz's keen eye spotted Gambino soldier Craig DePalma driving away from Federal court house and under house detention and thinking to himself knowing where DePlama lived and immediately concluding that the direction he was heading was not to his designated home detention. Within seconds from his call to me I mobilized a local surveillance team headed by SA Michael Breslin and we successfully located DePalma with little surprise meeting with a construction owner and other mob associates. In fairness Heintz later admitted that he had called the FBI to assist and they regrettably declined stating they would need to get approval to activate a surveillance team.
When I focused on Denny McLain, it was obvious based on my months of interaction with him, that the man was a career fraudster and that he had "busted out" his company Tel Central Communication. McLain that he was ready to serve them had given members of Cosa Nostra to include John Gotti "Junior" and folks like Genovese crime family Alphonse "Allie Shades" Malangone the word. Denny wanted to satisfy them since they had the distribution but also failed to properly set up his firm to successfully commit the large scale fraud the mafia had intended to execute. So although they had busted MCI and other telecommunication carriers for millions of dollars in a short period of time they had all the intentions to do more damage with Gotti's card Liberty Tel and others.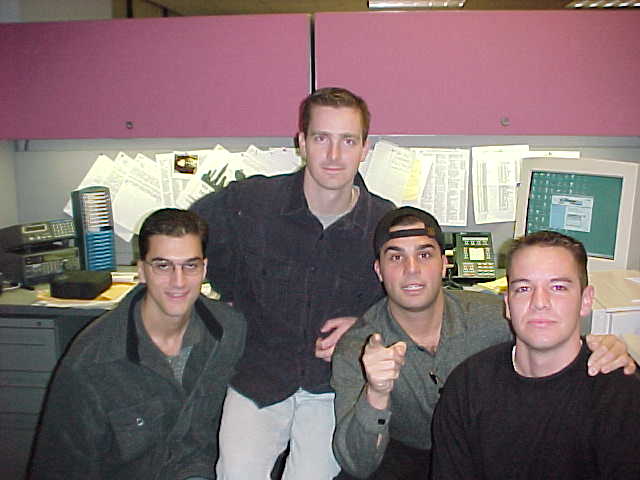 Here I am at 7 WTC with the baseball cap a signature look! I got SA Chris Funk behind me SA Pete Cavicchia to his right and SA Mike Ball to my left! The dream team!
Just to briefly describe the phone card scheme, a typical phone-card firm likes Tel Central contracts with a long-distance provider with the intent to sell thousands of cards to consumers. They immediately ramp up the distribution, which is controlled by the mob and also by selling phone cards at below market long distant rates. Then within 3 to 4 months because the company fails to pay the carrier, the customers' cards are deactivated because the carrier shuts down serve. In addition to Tel Central, Communications Network Corp. (Conetco) began selling phone cards in the summer of 1995, and by spring of 1996 it was activating more than $20 million worth of cards a month.
When Conetco went bankrupt late in 1996, it left WorldCom with more than a $94 million in unpaid invoices. So within basically 6 months the mob realized that with false excuse of hey we made bad business decisions and muddies the waters with excuses like those McLain used where he accused the carriers of over billing and you have the "key" ingredients for success!!!...Now what the mob didn't realize was that as they were scheming, they were being recorded by OCTF.
At the time, Brooklyn federal grand jury was investigating the alleged fraud and later this was folded into my investigation. We knew from "sources" that the firm was tied to a Gambino crime family now headed by Gotti "Junior". Other reputed Gambino mobsters tied to the firm include Joseph (Joe the German) Watts and John (Jackie the Nose) D'Amico, sources say.
The prepaid calling card case evidence and cooperating witnesses to include the wiretaps would have buried the New York mob. So during the plea deal due to restitution both Gotti senior and his son junior, were not going to allow the Gambino's to plea to the phone card scam. This was fine with me since if it weren't for the 1995 wiretap affidavit that I swore too Gotti "Junior" would never have been indicted in 1998 but then again what do I know…
I hope you enjoy Dual Mission. It can be purchased via on line at Amazon books!
Yours,



Nino