* * *
It is rare that we hear of Jewish gangsters anymore as in the days of Meyer Lansky, Bugsy Siegel or Murder Inc.. Of course we are bombarded about the Italians but we are sometimes introduced to the Russians, Albanians, Asians or even Greeks. But Jewish tough guys are few and very far in between nowadays. Until recently out of the shadows of the mob comes Ronnie Kerner, a legend of sorts in his own circle and also one of the underworld's best kept secrets.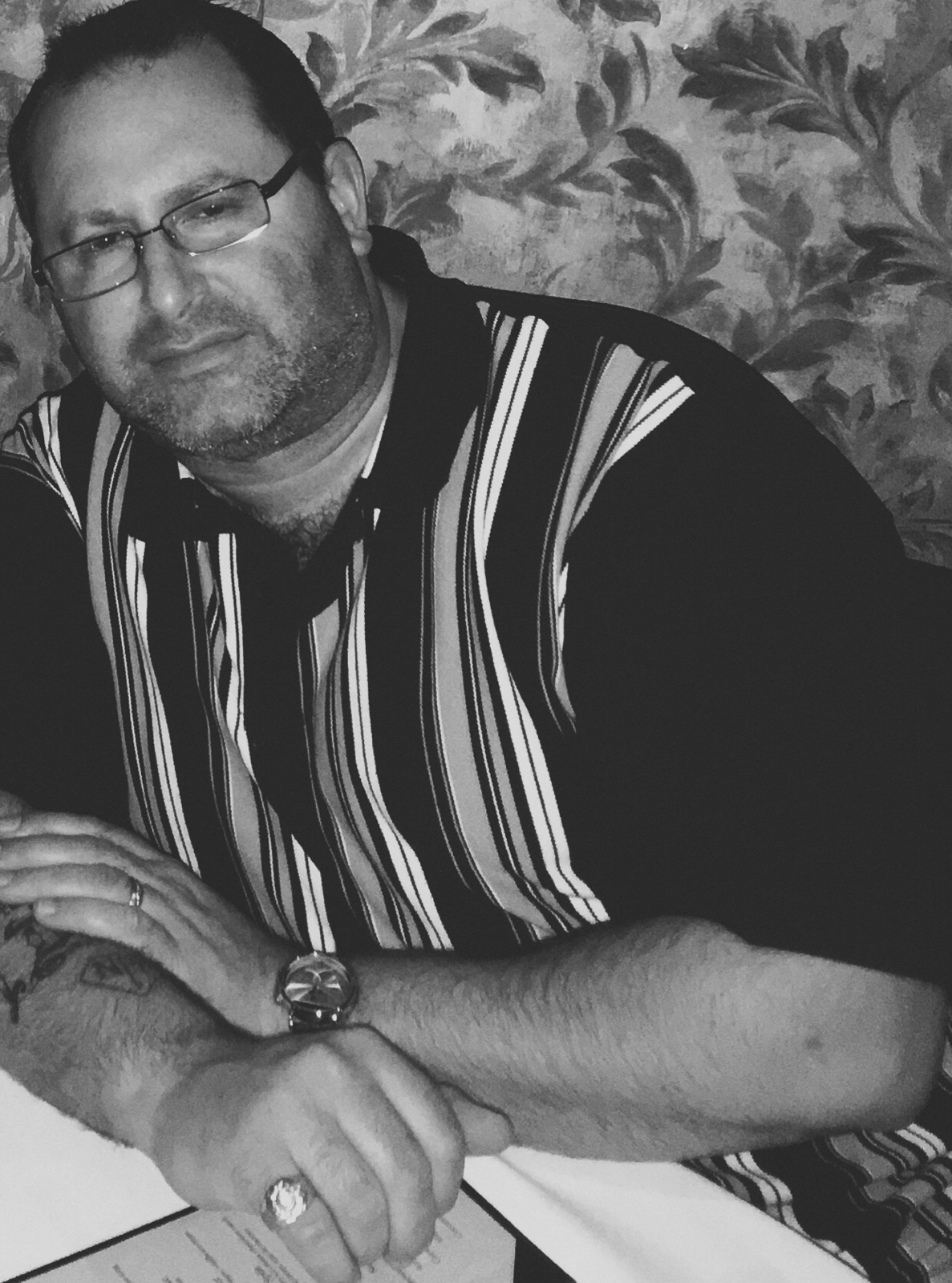 Ronnie Kerner
Many have never heard of him, but plenty have. But there is a reason for that, he always stayed one step back from the spotlight that many crave (i.e., John Gotti Sr.). Ronnie was a trouble child growing up in Manhattan even though he did not come from poverty. His "so called" reason to rebel stemmed from an ugly divorce. Ronnie came from a broken home and developed a low self-esteem and looked for acceptance to find his way.
His mother always tried to do best by him as did his step-father, who he considers his real father who legally adopted him. But all the help and alternate schools could not tame his inner demons. As a teenager he joined a gang and learned the ways of the streets. Faced with the reality that he could not hold a legitimate job due to his disrespect for authority, the streets were the best remedy. The only outlet that served some purpose was boxing to let out his aggression. His Dad even put a punching bag in his room. Ronnie soon befriended street toughs who were associated with OC made members and began to gravitate to them. At this time he was in his twenties where he started to affiliate with them closer. His major problem at this time was his out of control drug habit.
Ronnie's step-father and mother tried to help in some way and even pushed him to go to rehab, which he did but even that did not help. All the while he was running around with wise-guys from every different crew. He was closest to the Gambino's, via his relationship with Lenny DiMaria, who was a captain and his nephew Joey. Ronnie grew up with Joey and became close to Lenny.
It was at this time that he began spreading his wings across the mob spectrum. Among the Italians he learned the inns and outs of "the life". His mentor being Lenny was a welcomed bargaining chip when things went south. At one point he slapped around a known made guy who wanted retribution. But Sonny Franzese's crew along with Carmine Q (close friend of Sonny's) checked the details of the incident and realized that Ronnie was in the right. This sealed his reputation on the street.
The bigger issue was his growing drug habit. His coke habit was spiraling out of control. Ronnie became a liability in his own self-destructive state due to his low self-esteem. He was not who he truly was as a person hence the "boys" and his family urged him to seek help. Ronnie was unhappy with who he was and used the coke as the escape. In his mind nothing mattered whether he lived or died.
He finally went to rehab at the CARON Foundation Drug Rehabilitation on his own will. After completing his time there he came out more ruthless, cunning and sharper. Now without the drugs to blur his thoughts he was a fine tuned machine and a dangerous one as well as a diplomatic one. His connection to the wiseguys only enhanced his criminal habits. He began building his contacts in the boxing world as well with individuals like Vito Antefurmo, Paul Molinagi and Gerry Cooney. Ronnie also entered into the underground boxing circuit and even joined as a partner with Cedric Kutchner of Gotham Boxing Promotion Company. He would eventually be on the cusp of the Pro Boxing world.
During this time he was pinched on non-Federal NYPD pinches including fraud and multiple assault charges. But by 2013 he was arrested by the FBI for Hobbs Act Extortion a major OC charge and conspiracy. The government gave him a deal to serve 3 to 5 years which he agreed to. But an odd situation occurred to change his sentencing where his daughter needed him due to a twisted homicide case in Update New York (which he was called in about and cleared). The mother of his daughter ended up being incarcerated in connection to the homicide and Ronnie was given full custody. He raised his daughter on his own as a mother and father. Presently, he is re-married with two sons and his daughter.
As for the charge they offered him a downward departure with 3 years inside but based on the testimony of his daughters psychiatrist he would do one year at the FCI in Danbury. Upon his release he would be on house arrest and 3 years on paper. Before being sent to his new "home" he was at the MCC in Manhattan. The MCC has been the first stop for many a wiseguy from Vincent "The Chin" Gigante to everyone in-between. During his short time at the MCC he went into withdrawal due to not having his prescription drugs and assaulted an inmate. The inmate did not fight back knowing Ronnie's rep. Ronnie was unresponsive in the "hole" and ended up in a coma for 5 days at a local hospital. When he was better he was transferred to FCI Danbury.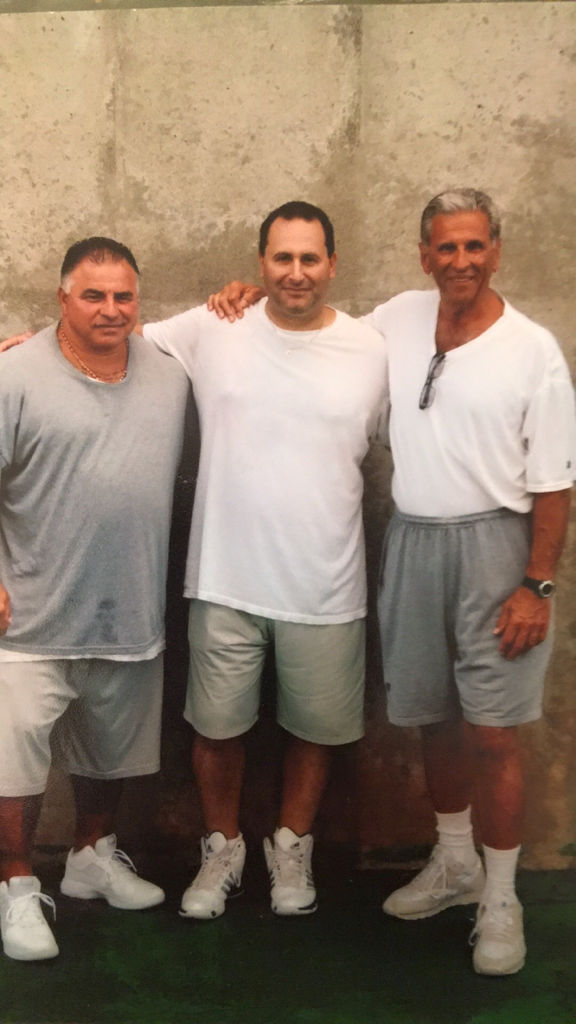 (left) John "Mighty" Carlo
(center) Ronnie Kerner
(right) Anthony "Tony D" Palumbo
- the prison yard at Danbury FCI
While inside, he was greeted by many "street guys" and white collar Jewish criminals. He developed friendships with leaders of the Bloods, The One Percenters and even the Mexican cartel. Ronnie was nick-named the "Senator" due to his ability to cross each crew with ease. But his main contact was Anthony (Tony D) Palumbo (Genovese capo) who he looked at as a father figure as he saw him as a son. Besides Anthony, Ronnie had close ties to Bonanno capos Bobby (Little Bobby) Lino and Pete (Peter Rabbit) Calabrese. His knack for diplomacy developed into what almost never happens in prison. Inner prison politics often dictate that you do not befriend those outside of your circle. His personality enabled him to broker some issues (mostly business issues) amongst rival groups. Ronnie had the negotiating tactics of Arnold Rothstein and the ruthlessness of Louie Lepke. Many a time he had Eliahou Weinstein accompany him on business transactions.
While he was inside many would "hook" him up with almost anything he needed i.e.: from magazines to a steak dinner. Whether it was a member of the Trinatarios or the Bloods they always made an attempt to link Ronnie up with what he desired. Ronnie was recently released and is on house arrest. His life is now on a different path with a new family to look after; "the streets" are not a draw any longer. Ronnie is beginning to focus on being a venture capitalist and an investor in legit business. Besides that he has also caught the acting bug. Soon to come will be a book detailing Ronnie's exploits beginning from an affluent family, to a street thug / addict, boxer then wiseguy to finally a legitimate entertainer.