James "Buddy" McLean and the story of the Irish Gang War
     On September 2, 1961 a group of longshoremen, teamsters, hoodlums and their girls gathered for a party in Salisbury Beach, Massachusetts, a run-down seaside town. After hours of drinking, 22-year-old Georgie McLaughlin was staggering and starting trouble. McLaughlin wasn't an average drunk though; he was the youngest and wildest member of the McLaughlin Brothers gang, a Charlestown outfit that controlled the gambling and loan sharking business in Boston.
     The McLaughlins forged strong connections with Italian organizations by carrying out contract murders for the Genovese Family in New York and the Angiulos in Boston. Business, however, was the furthest thing from Georgie's mind that day in Salisbury when he grabbed the breast of Ann Hickey, a woman at the party with her husband Bill, a grocery store employee, and his friend Red Lloyd, a roofer. (In Boston, retellings of the story always note that, to be fair, Ann did have extraordinary breasts). Bill pushed McLaughlin away and became furious, but on the advice of Red, let it go.
     The drinking continued and the earlier incident resurfaced when Georgie mouthed off about Ann's amazing breasts. Bill pulled his fist back and punched Georgie in the face, followed by a few more blows for the disrespect of his wife. Georgie swung back wildly but couldn't land a single punch, angering him even more. Across the room, Red sighed and thought he better break it up before they busted up the cottage. He poured a glass of booze for Georgie and motioned for Bill to back off.
     "Georgie, that's enough now."
     Georgie grabbed the glass out of Red's hand and smashed it in his face. Red was far bigger than Georgie and when he pulled his fist back and landed a right hand into Georgie's nose, McLaughlin was down for good.
     "Now what are we going to do?" Bill looked over at Red. Red decided Georgie, unconscious and covered with blood, needed a hospital. But as they drove, Georgie started to make gurgling noises and Red and Bill thought he might not survive. Not wanting to be on the hook for murder but trying to save their victim's life they compromised and left him off on the hospital's front lawn. McLaughlin survived with just a badly broken nose. His gangster brothers, however, wanted revenge – Irish revenge.
     The McLaughlins traced their Irish ancestry to County Donegal, bandit country in the far north of Ireland. No one held a grudge quite like the Donegal Irish; they were tough, fearless and refused to back down. The beating of their brother Georgie was an insult to the local crime franchise the McLaughlins built along the docks and at the Charlestown Navy Yard.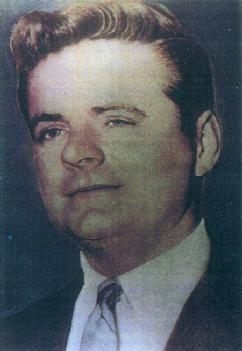 James J. "Buddy" McLean
     So they went to see the gangsters who controlled Somerville, Red and Bill's hometown: James J. "Buddy" McLean, the unofficial Irish godfather of the north side of Boston, and Howard T. Winter. There was no more respected figure in the Boston underworld than McLean, the originator of the Winter Hill Gang. A racketeer and longshoremen, McLean earned his reputation as a tough guy in Somerville's Winter Hill neighborhood – a bustling, working class neighborhood that ran along the city's main thoroughfare, Broadway, and included plenty of dive bars and lounges. Years later then District Attorney John Kerry would call "Howie" Winter "The number two mob boss in New England," but for now he was McLean's most trusted associate.
     For one week after the beating the McLaughlins had kept a low profile. According to Citizen Somerville by Bobby Martini and Elayne Keratsis, the definitive account of the Irish Gang War, Georgie McLaughlin's brother Bernie finally went to McLean's home and demanded Donegal-style payback. "I want 'em dead Buddy," Bernie McLaughlin screamed as Buddy opened his front door.
     Red and Bill were from Somerville but they weren't even in the rackets. Buddy gave his visitor a long look, but did not ask him in. "Is that so?"
     Bernie McLaughlin was fuming, red faced. "They gotta go, Buddy, those fuckin' bastards! This ain't right." He was shaking now waiting for Buddy to agree.
     "Bernie," Buddy drawled as he leaned against the doorway, "your brother was way out of line. This is one I suggest you let go of, it's not worth it." He shut the door on Bernie.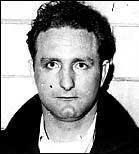 Howie Winter
Next, Bernie sought out McLean's right hand man, Winter. Bernie, his older brother Edward (Punchy) McLaughlin and another thug pulled up alongside Winter as he was walking down the street and invited him into their car. "I got in," Winter said, "but I had a feeling there was a good chance I'd never get out."
     As Howie slid into the backseat, Punchy McLaughlin – considered to be the most reasonable and least crazed of the bunch – got to it. What did Howie think of the incident in Salisbury Beach? Howie demurred; he hadn't been there.
     Bernie interrupted and pushed for the Somerville group to set up Red and Bill for murder. "We need your help to do this thing," Bernie growled. "You with us?"
     Howie paused for a long second. "What did Buddy say?"
     "What do you mean, what did Buddy say? I'm asking you now," Bernie said.
     Howie carefully replied, "However Buddy feels is the way it is and I'm not going to go against what he's already told you."
     "Get out," Bernie finally grumbled and Winter exited, thankful to be alive.
     The next night Buddy's wife was watching television and heard their two dogs barking. She looked out the window and saw movement in the shadows. There were men in the driveway. When she screamed to Buddy he grabbed his luger from the closet and burst out of the house. He started firing at the men, one of whom he recognized as Bernie, as they rounded the corner and jumped into a car.
     The next morning, a neighbor showed McLean wires hanging from the bottom of McLean's car. Underneath the hood he found a bomb made of plastique wired to the ignition. It was official, Buddy McLean and the Somerville boys were at war with the McLaughlins. The war they spawned – a war that began not over money or territory but over a lot of beers and a single breast – would last 15 years and claim at least 60 lives.
Buddy McLean: 'Face of an Angel But He Fought Like The Devil'
     The life of James "Buddy" McLean is a classic rags to riches gangster saga. Born in 1929, he'd been orphaned at a young age and later adopted by immigrant Portuguese parents. By the seventh grade, he met Howie Winter and the two friends soon quit school to work full-time on the docks in Charlestown. Two years later, at age 14, they were both union members at the Teamsters Local 25.
     In 1955, Buddy married a local Portuguese nurse, had four children and moved into a modest home on Snow Terrace in the Winter Hill section of Somerville. With a growing family he and Winter started a bookmaking business to supplement their incomes.
     McLean was medium-sized with blond hair, boyish good looks, and piercing blue eyes. He was tough and had distinguished himself in many barroom fights. His reputation was that he could fight forever due to his daily run at the Tufts University track.
     Despite his fearsome reputation he was well liked in the underworld and his crew spanned ethnic lines. Even Raymond Patriarca revered him. On an FBI wiretap he was caught calling McLean "a real sweet guy" and "a facilitator." With Winter, McLean made biweekly trips to the Federal Hill section of Providence to meet with Patriarca and discuss various deals.
     The Winter Hill Gang, as led by McLean, dabbled in everything from numbers and loan sharking to truck hijackings and waterfront pilferage. The gang consisted of some of the most hardened old-school hoods in Somerville including Winter, a former cop turned gangster named Russell Nicholson, a veteran thief from Charlestown named Tommy Ballou, a two-bit thug named Alex "Bobo" Petricone and Joseph "Joe Mac" McDonald, a legendary strong-arm man whom Southie gangster Pat Nee called "probably the toughest guy that ever was. Joe Mac was one of those rare people who was fearless without being a psychopath. He was utterly without fear of anybody or anything or any situation, but he was also a very likable guy." The Winter Hill Gang gathered at a bar known as Tap Royal, at the Winter Hill Athletic Club, or at the 318 Club (later known as Pal Joey's), all on Broadway.
     Buddy McLean was the acknowledged leader because he was a man of action. So on the day he found a bomb underneath his car he immediately began stalking Bernie McLaughlin. Then on Halloween day, McLean and two friends – later identified as Bobo Petricone and the corrupt cop Russell Nicholson – sped into City Square, Charlestown just before the noontime whistle.
     The car screeched to a halt next to a parked tractor trailer as Bernie exited the Morning Glory Lounge. Buddy jumped out and emptied his gun into Bernie in front of almost one hundred witnesses. He ran back toward the tractor, slipped underneath and emerged to hop into the waiting car. The trio sped back across city lines as McLaughlin lay bleeding. One man even strolled up to the local bully, leaned over him and said, "Bernie you poor bastard, you're dying and the guy who did this should get a medal."
     When McLean and his crew got back to Somerville, legendary cop Joe McCain caught a glimpse of Bobo Petricone's black Oldsmobile turning onto a side street in Winter Hill. Just a moment earlier a bulletin had come over the car radio that Bernie McLaughlin had been shot and three assailants had fled the scene in a black Oldsmobile with its trunk open to hide the license plate. McCain told his partner to follow the Oldsmobile saying, "I'll bet we find Bobo's car, and I bet they did Bernie."
     Walking up the alley, McCain found Petricone's black Oldsmobile pulled off the street, the engine still warm and its trunk lid in the fully upright position, obscuring the license plate – matching the bulletin's description. Minutes later, backup arrived and McLean, Petricone and Nicholson were arrested for Bernie McLaughlin's murder. But not one witness at the scene would offer evidence against McLean and he was sentenced to two years on a gun possession charge.
     [Bobo Petricone eventually left Boston for Hollywood, changed his name to Alex Rocco and made a career for himself playing tough guys and heavies in the movies, most notably as Moe Greene in The Godfather. When he returned to Boston in 1972 to play a bank robber in the prototypical Boston crime drama The Friends of Eddie Coyle he introduced actor Robert Mitchum to Winter Hill Gang members.]
     The very week McLean was released from the penitentiary, Georgie McLaughlin shot and killed a man he heard saying nice things about Buddy at a party in Roxbury. Only Georgie shot the wrong man. When he heard the comment, he left to get a gun, returned, and wrongfully shot Billy Sheridan, an innocent bank teller.
     Now the murders came fast and furious. On May 3, 1964, ex-con Frank Benjamin was running his mouth about how he was going to take out the whole Winter Hill Gang, starting with McLean. A gunman loyal to Winter Hill shot him in the head. The killer severed Benjamin's head and wanted to put it on Punchy McLaughlin's doorstep but he decided against it. The next day, Benjamin's body was found in the trunk of a stolen car in South Boston. His head was buried in the woods.
     A week later the Charlestown side struck back, killing Russell Nicholson, the six-foot four ex-cop whose gambling and drinking habits got him involved with the Winter Hill Gang. One month later, McLean would get his revenge and the infamous saga of Dottie from Dorchester, the Irish gang war's leading lady, would begin.
---