* * *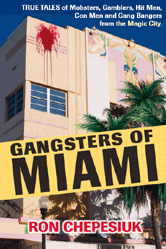 Gangsters of Miami -
   by Ron Chepesiuk
     Meyer Lansky became the most important gangster to head south and settle in the Greater Miami area. In 1929 he moved to an ornate Spanish style home on Biscayne Bay where, it was rumored, he threw a party on February 13, 1929, the night before the St. Valentine's Day Massacre. Lansky was the first to recognize that the Greater Miami area would become a lucrative center for casino and off-track gambling and that La Cosa Nostra could invest its illicit profits in the hotels, real estate and nightclubs of the growing local economy.
     As Prohibition came to an end in the early 1930s, many of Lansky's associates planned to stay in the business they knew—booze—but Lansky, as usual, was one step ahead of his fellow gangsters. For him the future was gambling. Henry Flagler, the so-called "Father of Miami," had introduced gambling casinos to his resorts and hotels, even though gambling was officially illegal. In the late 1800s and early 1900s, illegal gambling in the form of casinos, Bolita, and horse racing parlors was popular in Miami and many other Florida communities. The casino at Edward Bradley's Beach Club in Palm Beach managed to operate without any problem from 1898 to 1945. Bolita, a type of lottery, was popular in Cuba in the 19th and early 20th centuries and brought to Florida in the 1980s where it flourished among Hispanics. Many forms of Bolita exist, but in the basic game, 100 small numbered balls are placed into a bag and mixed thoroughly. Bets are then taken on which balls are drawn.
     But nowhere did the future of gambling look brighter than in Miami where gambling and vice had been operating illegally and without impunity since the city's founding in the late 19th century.
     A Miami grand jury reported in 1923 that "in much of the city, residents and tourists alike could find numerous street machines, punch boards and other gambling devices that even little children may play without being molested." At night during the tourist season, one could see men in evening clothes escorting women with bobbed hair and smart fashion outfits from one casino to another.
     Police did raid the gambling establishments from time to time, but their operators always seemed to be forewarned. Nobody important was arrested, just the working Joe, who was brought before the judge and slapped with a small fine and sent home. In the hierarchy of payoffs, the gambling joint paid the beat cop who paid the sheriff who paid the police chief.
     Still as the Depression deepened, Florida had to do something about gambling. It was illegal at the time and the state was losing millions of dollars. When tourists came to Greater Miami, they stayed a few days and then headed for Havana or New Orleans where gambling was legal. So to give a boost to the local economy, Florida legalized slot machines in 1935. Before long, almost every establishment in downtown Miami seemed to have a one-arm bandit. One contemporary recalled; "Downtown, slot machine parlors replaced small bars and it was hard to find a quick lunch." Statistics showed that slot machines became a cash cow for the State. In a two-year period alone, slot machine pulled in $65 million, with the State's share more than $2 million.
     The slot machines and gambling activities spurred the creation of a fervent anti gambling organization known as the Law Enforcement League of Dade County. The League sponsored a number of injunction suits against some of Greater Miami's best-known gambling establishments that the police were reluctant to close down. The local gambling community, however, began spreading rumors that the League was a tool of outside gambling interests who were trying to move into Miami.
     The League could not slow down Miami's gambling express. By the time Florida legalized slot machines in1935, the Mob was firmly established in Greater Miami. For Lansky, the move to the Miami area made a lot of sense. Cuba was literally a stone's throw away, and thanks to his close association with Cuban dictator Fulgencio Batista, Lansky had valuable interests in Cuba. Now he could fly the 90 miles to Havana on a moment's notice.
     Little Augie Carfano had a gambling operation in Miami when Lansky arrived. Carfano had every right to operate in Greater Miami because the Mob had declared Miami an open city and any gangster could settled there, provided he was in good standing with the Mob. So Lansky had no problem with establishing himself at first in Broward Country. Lansky quickly acquired business interests and investments in Greater Miami that included casinos, nightclubs and racetracks. Among Lansky's horse and dog track investments were the Hollywood Kennel Club, the Tropical Park, located south of Miami near Coral Gables, and the Gulf Stream Racetrack in Broward County at the intersection of U.S. 1 and Hallandale Beach Boulevard.
     As he had done in New York, Lansky operated behind the scenes, pulling strings. Lansky worked with his old associate Moses Annenberg, head of the Nationwide Wire Service. All bookies had to go through "The Farm," his gambling operation in Hallandale, which allowed Lansky to take control of the Miami area's gamblers. By 1948, the Miami Herald newspaper estimated that the number of the Lansky-owned gambling interests in the Miami region totaled about 50.
     By the early 1940s, Miami had all but rebounded from the Great Depression, and tourists were flocking to its beaches, nightclubs and gambling venues. Reader's Digest hailed Miami's 1940 tourist season as "the greatest in the history of Miami." Miami had built fifty new hotels since 1939 and they were swarming with tourists. The magazine predicted that 500,000 visitors would have spent a total of about $80 million by the time the summer season ended in April. It did not take long for visitors coming to Miami to find a card game, crap table or roulette wheel. As one contemporary revealed, "You could go all night and every night of the week, without covering the bistro belt."
     After the war gangsters continued to flood into Greater Miami, establishing more gambling joints, investing in the local economy and corrupting public officials. Joe Adonis and Jake Lansky operated large casinos in Dade and Broward counties. Detroit's Purple Gang hung out at the Grand Hotel. Cleveland mobster Alfred "Big Al" Polizzi ran the Sands. The influx of the criminal underworld was causing serious problems for Florida's legitimate pari-mutuel betting industry. The S and G. Syndicate and its principal operators (Jules Levitt, Samuel Cohen, Harold Salway, Charles Friedman and Eddie Rosenbaum) were Miami's biggest illegal bookmaking operation. The S and G Syndicate operated like a legitimate business from a plush office in Miami Beach, controlling 200 bookies in Miami and Miami Beach. As Anne Armbruster explained in her book, The Life and Times of Miami Beach, "the members of the S and G were regarded as responsible citizens who brought money into the community and contributed to local charities."
     But not everybody in Miami was happy with what was happening. In 1946, a group calling itself the "The Secret Six" organized to stop illegal gambling once and for all. The group consisted of some of the city's most prominent pillars: James L. Knight, Miami Herald publisher; Dan Mahoney, Miami Daily News publisher; Frank Kazentine, principle owner of radio station WKAT; McGregor Smith, president of the Florida Power and Light Company; George Whitten, principal owner of Burdines; and John Clark principle owner of the Hialeah Race Track.
     The Secret Six merged with the Dade County Bar Association to form the Crime Commission of Greater Miami. Headed by former FBI agent Daniel P. Sullivan, the Commission decided on a plan of action to expose the rats that were controlling the illegal gambling industry from the shadows. Sullivan, began investigating the Miami crime scene and gathering information.
     Meanwhile, the Miami Herald and Miami Daily News published articles with home addresses of gamblers and background about them. Several radio stations broadcasted a program titled "The Sinister Blot," which exposed an alleged gangster every week and called for his expulsion from Miami. The first show in early April fingered Jules Berman, an ex New Yorker arrested several times on charges of grand larceny, burglary and homicide. "In the past three years," the radio script read, "Berman had been in the habit of carrying a pistol on his person. He is still making a living out of gambling operations. If the police were on the job, they would keep such characters under constant investigation."
     The radio stations tried to embarrass the local authorities into action; instead the radio show operators were given a lecture on constitutional rights. "I'd like them (the radio show) to tell us how we can get rid of the crooks," demanded Miami police chief Walter Headley. "If there is no charge pending against a man with a criminal record, he can live here as long he likes."
     So would this campaign only be full of sound and fury signifying nothing? After all, Miami's history has shown that its experience with gambling has been one of unofficial tolerance followed by occasional bursts of reform. This time, though, there was a good chance the campaign could make an impact. Miami's anti-gambling campaign coincided with a national anti-gambling campaign that was shaping up in Washington.
     In November 1950 the first major U.S. Senate investigation of organized crime was underway. Chaired by Estes Kefauver, a tall and broad-shouldered but courtly senator from Tennessee, the investigation, popularly known as the Kefauver Hearings, was held live on television from May 30, 1950, to May 3, 1951.
     The Kefauver Committee held hearings and heard testimony from 600 witnesses, several of whom were high profile godfathers of La Cosa Nostra in Chicago, New York City, Cleveland, Detroit and ten other cities. Many of the country's leading gangsters, including Meyer Lansky and his brother Jake, were on the Committee's hit list.
     Some of the out-of-state gangsters the Committee named as actively controlling gambling in Florida resorts included Joe Adonis, Frank Erickson, Vincent Jimmy "Blue Eyes" Alo, "Trigger Man" Mike Cappola, all of New York; Sammy "Game Boy" Miller of Cleveland; and Jose Massei and Willie Bischoff, alias "Lefty," of Detroit. Kefauver wrote that his Committee came away from the Miami area "shocked and disgusted" by what they heard and learned at their meetings.
     As the Kefauver Committee hearings showed, the corruption in Miami was out of control. Gangsters were paying an estimated $1 million annually in bribes to law enforcement officials. As much as $90,000 was reportedly spent to elect municipal councilmen whose annual salaries in the late 1940s were $3,000.
     Remarkably, the Kefauver Committee considered Meyer Lansky of such insignificance as a Miami crime figure that it did not call him to testify, although the names of Meyer and his brother Jake cropped up time and again in the testimony. The Kefauver Committee did not even mention Meyer Lansky's name in its first two interim reports. Only in the final report did the Kefauver Committee correct its oversight by stating, "Evidences of the Costello-Adonis-Lansky operations were found in New York City, Saratoga (Florida), Bergen County, North Carolina, New Orleans, Miami, Las Vegas, cities along the West Coast and Havana, Cuba."
     Lansky finally appeared twice before the Kefauver Committee in New York City, but the Little Man refused to answer any questions. Still, the American public found the Kefauver Hearings fascinating viewing, and Lansky, the gangster who liked to work in the shadows, had now become a public figure.
     The corruption that came to light in the Kefauver Committee hearings marked the end of an era, and it forced the Miami authorities to crack down on open gambling. Gambling bookies still operated and high stakes card games continued, but now they were low key and out of sight. You had to look hard in the hotels to find gambling action. In a few years time, gambling in the Caribbean and Las Vegas became legal, and Miami lost its lofty standing as a big-time gambling center. It would make no difference to Meyer Lansky, though. As always, the gangster was ahead of the curve.
Contributing writer Ron Chepesiuk (
dmonitor1@yahoo.com
) is award winning freelance investigative journalist and documentary producer. He is a Fulbright scholar and a consultant to the History Channel's Gangland documentary series. His true crime books include Drug Lords, Black Gangsters of Chicago and Gangsters of Harlem. His two forthcoming books include The Trafficantes
:
Godfathers from Tampa, Florida The Mafia, CIA and the JFK Assassination (an e-book in February, 2010) and Sergeant Smack: The Lives and Times of Ike Atkinson. Kingpin, and his Band of Brother (June, 2010).